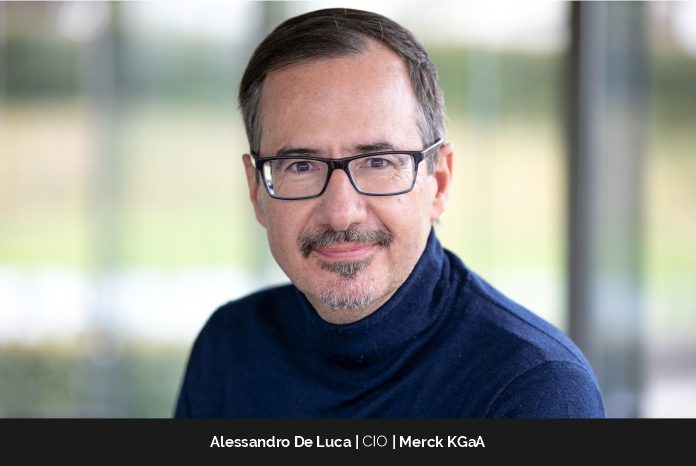 The CIO role is still evolving as digital transformation efforts and organizational shifts like those described by Adobe's Stoddard advance. While CIOs once relied solely on their technical talents to advance their careers, today's most successful CIOs also excel in other areas, including communication, bridging gaps between groups, and empathy, all of which are crucial during periods of significant cultural change. Though they may be regarded as "soft skills," any CIO will tell you that these are the most difficult abilities to learn.
Alessandro is a Merck group CIO and leads the IT for all Merck. His goal is for IT to become the partner of choice for the business for digital technology enablement to support the company's growth.
Alessandro joined Merck in Switzerland around ten years ago as Global Head of Supply Chain for the Healthcare business. In September 2021, he assumed the role of Merck Group CIO.
Merck KGaA
Merck KGaA is a leading global scientific and technological corporation with 58,000 employees in 66 countries. The Merck team is totally committed to research and development, where the firm has more than 7,500 professionals working for it. Three business segments make up the company: healthcare, life sciences, and electronics. Merck KGaA was founded in 1668 in Germany, and the whole team is proud of its heritage.
The Beginning of a Career and Learning
Alessandro began working for Procter & Gamble as a Process Engineer in a Manufacturing Plant (Pomezia site) in 1991 as a newly graduated engineer. He collaborated closely with technicians and the maintenance team to enhance the efficiency of the production lines. This was incredibly enlightening for him because he had to deal with actual technical issues (not the ones from the books) and people management, another ability that is rarely taught in universities!
Alessandro holds both a civil engineering and a nuclear engineering degree. Alessandro worked for Procter & Gamble for a number of years in senior roles in operations, engineering, and supply chain management before joining Merck. He has operated in countries such as China, Russia, Venezuela, Spain and several Eastern European countries and has been based in Italy, Belgium, Switzerland, and Spain.
During these early years, he gathered three key learnings about what it means to be a good leader and he adopted these learnings throughout all his career:
Put people first on your agenda.
Do what is right as if the company was yours.
Get your hands dirty. What counts is the execution, not the PowerPoint slides.
Global Recognition
Alessandro has won numerous awards throughout his career, but he probably feels most proud of the Wall Street Journal interview they conducted with him in 2016 regarding his work on "Self-Driving Supply Chains," a concept that is now well-known in the field but was at the time highly novel and almost revolutionary.
Alessandro was named a "top 100 leader in healthcare" by the IFAH (International Forum for Advancements in Healthcare) in 2019.
In 2017, he was interviewed by the Wall Street Journal and several other newspapers about his ground-breaking work in "Self-Driving Supply Chain."
In 2016, he was elected "The Inspirational Leader of the Year" within the Merck BioPharma division.
In 2015, he was awarded the No. 1 Pharma "Most Influential Supply Chain Executive in Europe" (among the top 5 across all industries) by the SCM magazine.
The Role of Group CIO
According to Alessandro, the healthcare industry is going through a revolution driven by the confluence of two elements:  science and technology. The companies that are able to master these two elements to the benefit of their patients and customers will certainly thrive. He shares, "we can humbly say that this is our vision."
As the Group CIO at Merck, his mission is to drive the digital technology roadmap to create value for the company's customers and patients worldwide and to support the company's growth in an effective and efficient way. The firm's IT strategy is built upon 4 strategic pillars:
IT operations continuous improvement
Effective and efficient operating model
State-of-the art technology
Diverse and inclusive organization
Alessandro defines himself as a pragmatic leader. He states that progressing across these four strategic areas while balancing the daily activities (and emergencies) is the challenge of his regular day at work.
The Responsibility of Being in Healthcare
Alessandro believes that working in an industry such as healthcare is both a great privilege and a great responsibility at the same time. The general purpose is to contribute to the health and well-being of every patient and human being in the world, and this is truly fulfilling.  He opines, "If we look at how much scientific progress has been helping humanity to eradicate diseases, fight poverty and starvation, and, more recently, to cope with the deadly pandemic, we should be proud. But we cannot stop here, as so much is still to be done. Today, we can leverage new technologies to access an enormous quantity of data and to be able to process all this information in a very powerful way."
Alessandro firmly believes that the marriage of science and technology will cause the healthcare sector as a whole to adopt precision drugs, individualized therapies, and preventive care that will positively improve lives.
Keeping Balance
To reconcile personal and professional lives and to find the right balance, Alessandro tries to perform a "digital sabbatical" of nearly 36 hours every weekend by switching off his phone, laptop, and tablets on Friday night and switching them on only on Sunday late morning. This allows him some time to totally disconnect from the continuous information flow that everyone must deal with every day and to invest time with his family, doing sports, reading books, or playing chess.
Learn from Each Challenge
A career is made of ups and downs. As Alessandro sees, learning from setbacks (the down moments) is extremely important for an individual as well as for an organization. The key is to find the right balance between the humility to accept a failure (and learn from it) and the courage to always strive for excellence combined with "intelligent" risk-taking. He asserts, "We have all made mistakes throughout our careers and overcome significant roadblocks. What matters most is how we react to these challenges that might happen to us and how we bounce back from them." In this context, Alessandro finds it very inspirational to quote from one of the most appreciated world's leaders, Nelson Mandela, who said: "I never lose. Either I win or I learn."
Success in Alessandro's Words
For Alessandro, success is a "relative" term rather than an "absolute" one. A person is said to have succeeded when they have made an organisation, a team, or a project better than when they discovered it. Better, not worse, not the same; ideally, noticeably better He claims that although it might seem unimportant, it is, and that if everyone embraced this way of thinking, people would undoubtedly live and flourish in a better world.
In Alessandro's situation, he is working to continuously improve the Merck IT organisation, little by little.
Heading to Aligning with the Change
As we know and as we experience every day in our personal and professional lives, the world is changing faster and faster. The leaders of the future cannot rely on static knowledge, nor can they hope to manage in the same way they did in the past. On the contrary, success will depend on our ability to adjust our ways of thinking, learning, managing and, eventually, being. Alessandro truly believes that the source of competitive advantage for an organisation as well as for an individual is in his or her capability of continuously learning. He adds that, in fact, if work is learning and learning is the work, then leadership should be all about enabling learning and personal/professional development in a very inclusive way.