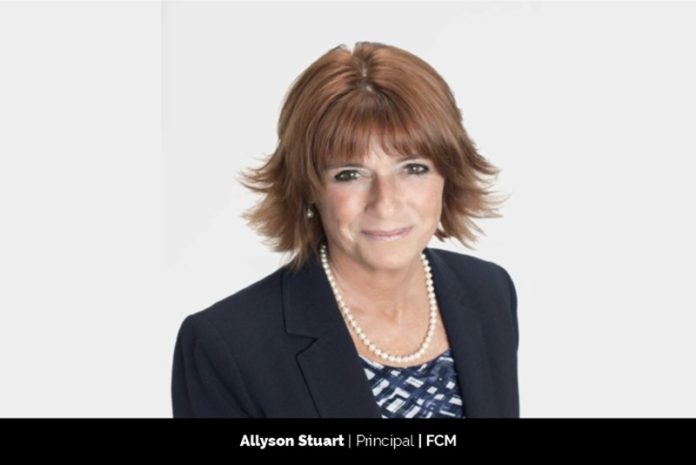 Allyson Stuart, a multi-award-winning Executive and Principal at FCM, has a gift for getting her foot in the door — and taking up residence. With over three decades of experience in Global Technology, Operations, and Talent Management, her leadership journey is a testament to her willingness to defy norms and embrace risks as part of the highest-ranking Fortune rated companies and Inc.'s 5000 fastest-growing private companies.
When asked about how she views her success, she provides a unique perspective: "Success is an ongoing journey and not a destination. I believe it's a continuous state, where accomplishments occur at various points, at any age, in different aspects of life and they all deserve to be celebrated, regardless of size."
For Allyson, success has included reaching the C-Suite, earning both individual and team awards for innovation and leadership, and earning publications throughout her career. Her work with diverse communities and veterans, helping employees find their voice and realize their potential, and the hope of brightening someone's day through acts of kindness constitute a fulfilling and recurring success for her.
But for Allyson, success goes beyond what she has done in her business career. Success has also meant creating lasting memories with her husband, children, and grandchildren, and witnessing their achievements. To her, all these successes have deserved equal celebration, and she sees no reason to let any of it weigh more in the balance of her life's work.
An Unconventional Path to the Top
Allyson firmly believes that taking risks, regardless of background, is truly the way to discover one's strengths, preferences, and dislikes, and move forward. Her message is clear: "Logic, curiosity, and compassion can bridge knowledge gaps. If you spot an appealing opportunity, don't be afraid to leap – what do you have to lose?"
Her first leap into risk-taking occurred in high school when she noticed the absence of a girls' soccer team. Undeterred, she approached a men's varsity coach who challenged her to gather one hundred signatures of interested girls. She surpassed the requirement and the all-female soccer team was born, going on to win two state championships.
Her career in the business world almost didn't begin at all. Initially aspiring to be the world's greatest interpreter at the United Nations, she earned a college scholarship for foreign languages. However, a pivotal moment in a French poetry class led her to switch majors to journalism.
After college, Allyson faced a choice: writing obituaries or selling statistical quality control software, a field she knew nothing about. Driven by her risk-taking, she chose sales, excelling despite the product's shortcomings. This led her to collaborate with technical experts and delve into IT to solve her clients' queries, consequently embarking on her business journey.
After venturing from Sales to IT, she shifted from Medical IT to Finance IT, despite her lack of financial expertise and being advised to "play it safe." As she thrived in this and larger subsequent roles — spanning everywhere from software testing, technical support management, network administration, and Quality Engineering and Risk Management as examples — her need for a challenge continued pushing her to new heights.
Perhaps her boldest move was transitioning from client-side work with a team of 200 to managing 4000+ on the vendor/partner-side with the belief that success does not hinge on the size of your team or being perfectly qualified for a role, but rather leadership, the propensity to collaborate, and embracing change.
Allyson's multifaceted experience, combined with a people-centric approach, propelled her into the C-Suite, where she assumed roles such as Chief Quality Officer, CISO, Technology Control Risk and Regulatory Officer, and Global Head of various Service Management and Human Capital functions.
This journey has equipped her with the expertise to advise top global companies on transformation strategies, yielding enterprise-wide OpEx savings up to $650 million and productivity increases of 93+ percent. Allyson's vision has centered on creating innovative, disruptive solutions that enhance efficiency, streamline operations, and minimize unnecessary business risks.
She has earned 23 industry awards and earned recognition in publications for her work in emerging technologies and digital transformation, spanning areas like CLOUD, CI/CD & DevOps ready automation, robotics, AI/ML-data driven visualization, predictive application performance, and self-healing production environments. Awards include prestigious accolades such as Test Management Team of the Year, Testing Team of the Year, Best Functional Automation, and Overall Champion at the Software Testing Awards. She gives full credit to what she describes as "the exceptional teams I've had the honor to lead" for these successes.
Allyson points out that her language and journalism skills didn't go to waste, however. She conducts technical and motivational training globally as a Harvard Business School and American Management Association certified Trainer and Coach, relishing in opportunities to educate others. She also pursued her passion for languages, finishing studies in French and embracing her husband's Mexican roots, occasionally earning the playful nickname "mujer loca" (crazy woman) — a title she's proud to hold.
Turning Naysayers into Fervent Supporters
In her career, Allyson has encountered and conquered challenges that continue to drive her as a female leader. The persistent hurdle she has faced is the skepticism of the "naysayers" who doubt her ability to achieve her goals. One notable recurring challenge she's tackled is building Shared Services, a task she's accomplished many times in her career.
Often, Allyson has been entrusted with the task of restructuring Technology and Operations teams that span many countries — which were previously segregated in siloed business areas — and consolidating them under a central umbrella. This endeavor requires a comprehensive approach, analyzing everything from workforce and location to vendors, tools, costs, and potential innovations like automation. The process involves baselining, blueprinting, planning, designing, and ultimately delivering a streamlined solution.
However, this approach is not without its critics. Many times, the voices of resistance have come from the heads of departments whose resources were being reallocated, and who held the purse strings for Allyson's initiatives. She has faced statements like, "My people will disappear into a black hole," "You have a target on your back, let's see if you can remove it," and, "I can do it better; I won't invest in your efforts."
Allyson thrives on these challenges, delving deep into the underlying concerns and making it her mission to simplify her clients' lives through cutting-edge services and innovation. Throughout her career, Allyson has adhered to four guiding principles:
Embrace perspectives and ideas from all levels and locations in a firm, especially from those who may not have had a chance to be heard.
Believe that nothing is unattainable; a positive mindset is essential.
Maintain transparency in all actions, continuously incorporating client feedback (including the resistors) into the design process.
Inject a sense of fun into the work to foster a positive and creative atmosphere.
Thanks to Allyson's leadership and her teams' efforts, they have built and operated remarkable award-winning services and innovations. These examples include proactive cyber vulnerability detection, versatile automation frameworks, AI-driven data and test environment management, vendor governance, risk assessments, and advisory services.
As for the naysayers, Allyson's approach of involving them in the solutions have turned them into some of her strongest supporters, clients and even team members.
Converting Setbacks into Strength: Lessons in Resilience and Mentorship
Allyson has endured notable challenges in her career — both personally and professionally — that have helped her learn valuable lessons about resilience and the power of mentorship.
One pivotal moment occurred during the aftermath of 9/11. Only a few days after being caught at the World Trade Center towers and narrowly surviving the tragedy, she was called into her divisional CEO's office and offered a major promotion that she turned down because she wouldn't leave her grieving team behind. Unfortunately, her role was subsequently eliminated along with her team.
This setback led to a turning point in Allyson's career. Thanks to her former boss, Andy Brown, she was recommended to another executive, securing her a position on the Problem and Crisis Management Team and enabling her to find positions for much of her former team. Andy became her mentor, and his belief in her was instrumental in her career success. This experience ignited Allyson's passion for ensuring everyone has access to mentors and sponsors.
Another challenge she faced in more recent years was dealing with an autoimmune condition that left her unable to walk or function. Despite her struggles, she initially hesitated to admit her limitations, fearing it might be perceived as weakness. However, a moment of vulnerability occurred when she needed assistance at an event, and her boss stepped in to help.
It was then that her CIO, the late Kim Hammond, shared her battle with cancer and encouraged Allyson to prioritize her health. Kim's support, along with CTO Scott Marcar, gave Allyson the confidence to embrace her condition and work out arrangements that allowed her to thrive while working from home.
Years later, at a different company, during a visit to her team in China, Allyson faced a physical challenge while climbing the Great Wall. Her team, fully aware of her condition, rallied around her and helped her reach the top, demonstrating the power of teamwork and shared empowerment.
As a leader, Allyson always aims to inspire her teams to achieve the extraordinary, but learned then and will tell you now that, "Leadership is a reciprocal relationship." Her team's support and resilience continue to equally empower her.
A History of Championing People
Amid the complexities of technology, Allyson prioritizes people. Recognizing that IT relies on its workforce, she has championed over 150 people programs, encompassing learning and development initiatives, career role frameworks, communities of practice, change champion programs, mentoring initiatives, and employee engagement committees, among others. Her dedication to coaching, motivating, and empowering employees, acknowledging both their successes and their efforts, has left a profound impact on organizations.
One standout achievement she fondly recalls is the creation and launch of a groundbreaking global mentoring program. Unlike most programs aimed at high performers or requiring explicit requests, this initiative, conceived by Jen Gonzalez, a Director at Deutsche Bank, aimed to make mentorship accessible to anyone, anywhere in the world.
Through secure link goal matching, automation, and the collaborative efforts of dedicated employees across eight regions, the program achieved global reach and facilitated mentorship for over 2,500 employees in 33 countries, running successfully for two years.
Diversity, Equity, and Inclusion (DEI) have been at the heart of Allyson's people program implementations, and she is committed to making them a proactive priority. She has heard firsthand accounts of employees facing bias and discrimination throughout her career, from a pregnant woman being told to hide her pregnancy because she was up for promotion to an employee from Africa being told he couldn't deliver presentations because no one would understand his accent. Stories like these have driven Allyson to work ardently toward affecting change in the workplace.
When working with companies to enhance DEI, certain red flags catch Allyson's attention. The first is when companies focus solely on hitting numerical targets for leadership roles or tracking employee demographics for bonus purposes. Second, she's concerned when firms pursue DEI because it's merely "the right thing to do."
Allyson maintains that successful DEI initiatives involve genuine conversations with people from all backgrounds and levels, asking them what makes them feel safe and empowered. This real, heartfelt feedback serves as the foundation for effective change, and it has been the bedrock of over 100 diversity-based programs she has launched in her career.
These programs span initiatives such as:
Executive-led DEI Roundtable Discussions – a safe space for Employees to openly discuss their thoughts on inclusivity with top leadership
"The Road to 100 – "Hiring Great Women to Open Roles" and "The Power of Women" – Tips for attracting women to roles in Finance and IT
"Interviewing without Bias" training and live Unconscious Bias role-playing scenarios.
"Equal Pay for All" project with anonymous hiring and promotion processes
"This is Me" talks featuring individuals with disabilities and LGBTQIA+ individuals sharing their experiences
Support programs and accommodations for expecting mothers, facility renovations to be ADA compliant, and enhanced remote working environments for autistic employees.
"It's My Time" – coaching programs for selected women globally
"Spotlight on Rising Talent" – employees showcasing achievements with executives in a social atmosphere
Fully funded awareness events and hiring fairs covering "PRIDE Power" – LGBTQIA+, Society of Hispanic Professional Engineers (SHPE), the Black Employee Network (BEN), and Veterans on Wall Street (VOWs)
"Backpacks to Briefcase" – college to career transition training and job rotation programs for Graduates
"Return to Work" advisory sessions and career fairs to help people re-enter the workforce after life changing events
DEI outreach programs, online resources, and internationally coordinated diversity celebrations honoring various communities
This list is not exhaustive, and Allyson welcomes further inquiries from readers seeking more details on these and other initiatives.
A Passion for Hiring Veterans
Much of Allyson's family has a strong military background, spanning various branches of the Armed Forces. Her father, a World War II Navy veteran under Admiral Halsey's five-star fleet, experienced harrowing moments, including surviving Typhoon Cobra. Yet, when he penned his autobiography, the wartime chapter seemed conspicuously absent.
Similarly, her nephew, a Gulf War Marine door-gunner, seldom delved into the details of his service upon returning home. These experiences illuminated the profound impact of military service, regardless of one's role. Allyson strongly believes that those who sacrifice and defend the lives and freedoms of Americans deserve unwavering support.
Her commitment to veterans takes on many forms, including assembling care packages for overseas deployment, facilitating first aid drills, conducting mock interviews, coaching, participating in recruitment events within veteran networks, and ultimately, hiring veterans. She is deeply impressed by veterans' organization, adaptability, creativity, humility, and politeness. Allyson is driven to help them transition into corporate environments, offering them meaningful and challenging roles in which they can excel.
One cherished memory is her involvement with the Doe Fund, an organization dedicated to rehabilitating unhoused veterans by providing housing, skills training, and employment opportunities. Allyson assisted unhoused veterans in refining their resumes and honing interview skills to help them reintegrate into the workforce. Her spirited approach, demanding enthusiasm and positivity, made the experience rewarding for both her and the veterans she mentored. Laughter punctuated their sessions, highlighting the transformation from anxiety to confidence.
Allyson lauds nonprofits like the Doe Fund and Soldier On, which restore dignity to many whom she considers the "most brave among us." Veterans have consistently proven to be exceptional employees in her experience. She urges companies to invest in hiring and educational programs for veterans, recognizing the transformative potential they bring to organizations.
It's Never Too Late
With her long-tenured career and in-depth expertise in Technology and Operational strategy, Allyson transitioned to FCM in early 2022. FCM is a privately held full-service consulting firm dedicated to assisting the world's foremost private equity investors and their portfolio companies in unlocking financial potential and expediting growth. In less than a decade, FCM has helped its clients generate over $20 billion in enterprise value.
This has been a great late-career move, as Allyson passionately aligns with FCM's values. At FCM, accountability and operational experience are at the forefront. The team, composed of seasoned leaders, leverages executive experience to provide hands-on support for transformation initiatives.
Allyson's versatile role spans due diligence, organization design, third-party engagement, process simplification, strategic and risk assessments, and Shared Services implementation. She thrives in this diverse environment, using her skills to support each unique client in achieving enduring success.
Advice for Women Striving to Impact the World
Allyson has mentored or coached over 200 women striving to make their mark in the world, each facing distinctive challenges. Drawing from her own life experiences, she offers six valuable pieces of advice:
Treat everyone equally: Allyson's mother, a homemaker, imparted wisdom that transcends titles and a message Allyson continues to deliver. Treating maintenance staff and company presidents alike fosters genuine connections. Women should resist the urge to treat executives differently; authenticity trumps pedestals. Kindness, regardless of one's role, goes a long way.
Be authentic: Reject societal stereotypes imposed on working women. Speak when you feel it's relevant in meetings and embrace your authentic self, whether it means wearing bright colors or sporting exotic nails. Be unapologetically you.
Advocate for yourself: Don't assume your manager knows your aspirations. While some managers invest time in understanding their teams, others may not. Take charge of your career; set up meetings and express your goals. Prepare what you want to convey, practice beforehand, and remember that it's okay to be nervous — nervous energy fuels confidence.
Don't tolerate uncomfortable situations: If you find yourself in an uncomfortable situation, leaving is always an option. Trust that there's always a way out. It's not your responsibility to change those who put you there. Whether facing abuse, negativity, or unfair treatment, prioritize your well-being. Taking action, including involving HR or authorities, is also important. Never settle for less than the respect, recognition, and safety you deserve.
Stay true to yourself: Upon earning a promotion, resist the urge to change your collaborative and appreciative nature for a command-and-control approach. Your achievements and leadership qualities got you there; maintain your values and approachability.
Declare your non-negotiables and stick to them: Make sure your non-negotiables in work-life balance are known and don't change. Communicating your boundaries with your employer, like attending family events or medical appointments, is key. A truly supportive leader will appreciate your honesty and make accommodations.
In Allyson's case, spending time with family, enjoying her specialty hot chocolate every morning, taking walks with her husband, and watching sports with her son and daughters keeps her energized, all of which she can do because of her understanding work environment.