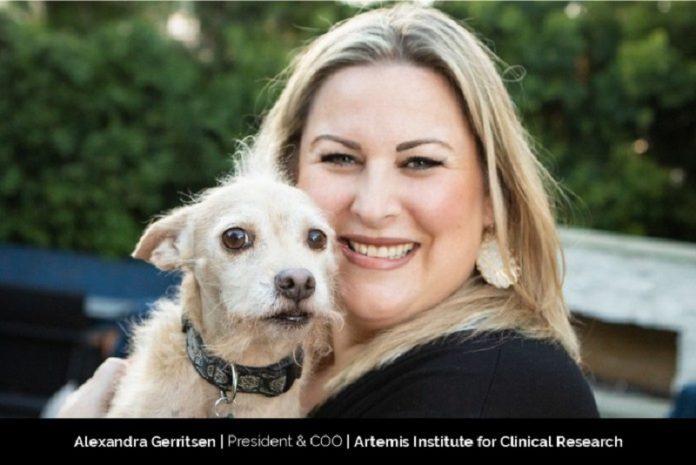 Clinical research and trials have increased significantly, especially since COVID-19. Normally, successful leaders involved in clinical research find their success in drug development. For Alexandra Gerritsen, President and COO of Artemis Institute for Clinical Research, her team's success is her success. Meaning, she feels it is her job to be in service of others. When she told us her purpose, she said, "I help people become their best selves to drive business results; because when I am at the end of my life there will be people who are better because of me."
The strong inspiration
Being a challenge-loving person, she had never worked in the medical space before. With little technology advancements over the past decade, the clinical trials industry was prime for technology development. She says, "When Vishaal, the founder, first reached out to me about this position, I saw an incredible potential in an industry I have never worked in that was ready for some disruption. When I joined, we did an incredible technology push and saw efficiencies gained immediately in our Sales and Marketing team and luckily, we were in a decent position when the pandemic hit."
When COVID-19 shattered the world in 2019, the need to use efficient technologies became a necessity. 2021 is looking to be Artemis' best year yet, and much of that is due to the technologies we have implemented over the last 18 months.
She feels proud that Artemis is one of those companies that find their real purpose in prioritizing patients, advancing medicine, and improving the World. She personally feels happy to work for a firm that is committed to making the world a better place to live in every day.
Stumbling Blocks on the way
Alexandra knows that lessons learned from challenges and mistakes are the biggest. She feels one challenge completely transformed her as a person. She says, "It was when I was in my first Director role. As a collegiate athlete, most of my life was spent playing sports and focusing on winning. While I loved being on teams, I valued the "getting it done" over the most important aspect of being a leader – building relationships. There was a time in my career where I accomplished every goal set out for me, but my team was miserable, and I was moved out of my existing role to manage another team. It was at that moment that I chose to invest in a business coach for myself and really reflect on my definition of success." Then, she realized success mainly revolves around building everlasting relationships with the people around you.  Alexandra believes good relationships is the most important aspect of running a good department, business unit, or company. She states, "What was once a weakness for me is now my biggest asset. As a leader or the President of a company, you cannot disrupt, transform, and hit goals without the buy-in of your team. I truly care personally about every person I work with, I get to know them and their motivations, so that I can help them be their best self. It is the relationship that I build today that allows me to be successful in business."
Comprehensive services and values of Artemis Institute for Clinical Research
Serving in Southern California in San Diego and Riverside, Artemis Institute for Clinical Research began its operations in 2008 when a like-minded group of colleagues sharing great clinical research experience, decided to add professionalism and a more streamlined process of conducting clinical trials. There were three core pillars responsible for the success of Artemis namely: prioritizing patients, advancing medicine, and improving the world. They are still the same to date.
Both its locations have ample resources to conduct complex clinical research trials on behalf of their sponsors and study patients. Till now, the institute has completed 350+ successful trials in 20+ therapeutic areas.
Alexandra says, "At Artemis, we conduct clinical trials on behalf of our study sponsors while keeping the patient at the center of our efforts.  By combining our team's expertise with our core purpose and core values, Artemis has gained a reputation throughout the industry for the high quality of our data and for the professional quality of our relationships."
Being a people-oriented company, Artemis emphasizes on striving for their core purpose by living our core values. She shares, "We have built our business and conducted our clinical trials with a patient-centric focus where we strive to not only offer the best patient experience but provide high quality data to our sponsors. Everyone here at Artemis works towards not only bettering the clinical trial experience but pushing for innovation and constant improvement to ensure that Artemis continues to be known for our reputation for excellence throughout the industry."
Artemis' Five Core Values are:
We Put our Patients First
We Deliver the Best Customer Service
We do the Right Thing
We Work as a Team
We value Continuous Improvement
The core values are at the center of the Artemis culture and our patient and sponsor experience.
Redefining clinical trials
As the company keeps looking for new technological advancements and processes, Artemis has pushed the industry one step ahead.
She says, "Since starting with Artemis, I have worked with the team to implement Salesforce for patient recruitment, launched e-source and e-regulatory systems, and much more. Salesforce has allowed us to improve the efficiency of the team through automated lead generation, automated emails and text messages to patients, and the addition of a virtual contact center has allowed the team to automate their outbound and inbound calls." The team is able to be more efficient and effective while handling a higher volume of patients interested in participating in our trials.
Clinical trials are the best way to forecast what works and what doesn't work in humans that cannot be learned in the laboratory. They are crucial for the advancement of medicine. She adds, "Without clinical trials, such as those we conduct at our sites, we would not have breakthrough mRNA research that has led to record breaking vaccine rollouts for the COVID-19 pandemic. Without research and our fantastic clinical trial participants, new medical breakthroughs and disease prevention would not be possible!"
Life before and after Joining Artemis Institute for Clinical Research
Alexandra holds an extensive background in technology and operations, and she is super passionate about leading transformations within companies. She loves working in high-performance cultures and cultivating the existing talent while maintaining high employee engagement.
She says, "Before Artemis I was the Vice President of Customer Experience and Transformation at Cali Bamboo, an e-commerce company that sold flooring, fencing, and decking. I was responsible for the overall customer satisfaction of our product as well as the technology platforms we used. I was also part of their executive team that helped grow the company from $80MM a year in annual revenue to a $140+MM in 2.5 years. My favorite moments being at Cali was when we won Best Places to Work in San Diego in 2017, 2018, and 2019."
Before that she has also worked as a Director of Operations at an entertainment and gaming company called Buzztime. She even worked as a Program Manager at Technology Associates where her responsibilities included working directly with the US government and travelling the world to implement the best in practice technology for the Marine Corps and Navy.
Although she received 2019's Top Technology Executive in San Diego by San Diego's Business Journal and Industry Era's Top Female COO's of 2021, her most cherished experience doesn't include any award but rather an employee recognition. She says, "When I left Buzztime, one of my team's (Shout out to the Buzztime's Warehouse Team) dedicated their ping pong table to me and sent me a photo of it with a card. They added the words "Alexandra L Gerritsen Memorial Table est. 2016". I have had it framed on my desk since that day. The best recognition I have ever received was that team highlighting the impact I made on their lives. Their gratitude and that gesture meant the world to me.:."
After joining Artemis, Alexandra has managed the day-to-day operations for the business. Being a driven woman, she is constantly looking for ways Artemis and the team can learn and grow. Key performance metrics and brainstorming sessions along with coaching and mentoring of the team are her key areas of focus today.
Attaining Work-Life Balance
Every day is unique and different for Alexandra but maintaining a work-life balance is key to her success.
She shares, "I love to workout and have invested in a home gym – I have a Peloton, Hydrow, and Tonal (even my gym is high tech!). My husband and I have four rescue dogs that we love to hang out with, especially on weekends. I have learned to have non-negotiables with regards to work hours. I make sure my weekends are as free as possible, so I have time to rest and recharge."
Further, she tries to take at least two vacations a year to make sure she gets ample rest time from work and time away from the office. She loves having a 2-hour "think time" daily for higher creativity however, there are days she struggles to fit that in.
She says, "I am truly passionate about what I do and the team of people who work with us." She feels our company values and core purpose help the employees understand the impact they can make every day on our company and the people we connect with. "Work is not work," she says, "when you love what you do and the people you work with."
Charting Future plans for Artemis Institute for Clinical Research
Alexandra says, "My plans for Artemis Research this year is to have our highest engaged team of employees ever, which I know will lead to our best revenue year yet! We have had our best quarter in the company's history in Q1 2021, thanks to the dedication and commitment of our team. I also want to continue to transform and bring in ideas from the other industries I have worked in so we can not only be the best research site network out there, but one of the best companies operating today."
We asked Alexandra for three pieces of advice she would give managers and aspiring leaders today, and this is what she said:
1) You are only as good as your Team
Any leader in any organization can only be successful if they have a good team of people working with them. To be successful in this job, you cannot be an individual contributor, you are a team leader. A leader's job is to help our individuals be successful, through coaching, removing barriers, and encouraging continuous improvement and feedback at all levels.
2) Fail fast and cheap
Try everything once, but they key to success is to know when your idea was not a good one. There is no room for ego in this role.
3) If you don't ask, the answer is always "No"
Women have a much harder time asking for things, more money, more responsibility, more time off, and the list goes on. If I do not go after what you want, you will never have it. It is important to speak up if you have a good idea, need something for yourself or your team, because the worst you are going to hear is a No, but you may just get a yes!