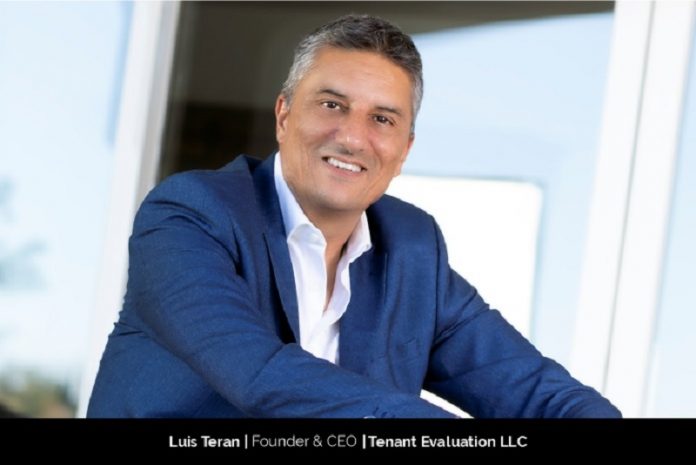 Carrying out a dynamic entrepreneur leadership career in organizations with a rich mix of operations, internal/external processes, and business development, Luis Teran, Co-founder and CEO of  TenantEvaluation, is a technical savvy who is revolutionizing the process of tenant screening by infusing the power of digital technologies.
TenantEvaluation, which is free for the Condominium Associations, is a virtual assistant secure online service that completely onboards residents from beginning to end. Having intimate knowledge of operating results and profitability and being an expert leader, Luis is paving the company to new heights. The company has processed 7 figures tenant applications and counting since 2007 and provided instant checks on the clients by the nation's largest instant criminal database with 430 million + records.
Brewing the idea of TenantEvaluation
Luis graduated as a systems engineer and worked for several companies as a consultant, including Royal Caribbean, Home Depot, Carnival, and more. Throughout his career, he has done everything related to technology, from networking to programming to fixing computers, and has been involved in infrastructure and security projects. He adds, "I started as a programmer and fell in love with computers, program software, and technology. That passion keeps growing."
After taking the three-day seminar with Anthony Robbins, Luis had a revelation. The seminar totally changed his perspective, and he realized that he could achieve anything with strong determination and focus. Always fascinated with the world of business operations, he conceptualized the idea of Tenant Evaluation to put all his skills and experience together and develop something totally unique. He adds, "Tenant Evaluation was born out of a personal need. In 2007, I was part of a board of directors on a Miami Condominium and learned how background checks were conducted. Applicants would fill paper applications with their personal information, and that document would get stored in a file cabinet. In view of identity theft, it seemed inconceivable to me that confidential data was still being stored that way, so I visualized a user-friendly online platform that would raise the bar on data security and protect applicants' identities."
He believes that business success is about dreaming an idea, solving a problem through technology and executing it better than anybody else, and the Tenant Evaluation platform is a living example of his belief.
The team started out with a $2,000 investment and, after studying different solutions in the market and programming, they created a basic software to process the information. The risk paid off, and now they are letting the company grow organically. Luis adds, "We don't want to be a victim of our own success. Innovation and purpose have been our goals from the beginning, and positive thinking has guided our process."
Never stop hustling
Luis expresses, "I come from a generation that believed that if we fell off and burnt ourselves, the only option was to get up and keep going. When you have that mindset, only a few things can actually knock you down." He believes that challenges make a person stronger. It is important to understand that on the road to success, there will be several bumps that will test one's character and personality. In those adversities, a person has to keep his head high and constantly move forward without being the victim of unfair and tough circumstances.
Every new company faces obstacles, especially when the company is trying out something completely new. Starting off as the small kid on the block, one has to compete with the competition to mark one's unique identity.  Believing in the quote, "When life gives you lemons, make lemonade," he mentions that the best way to overcome challenges is to become creative, craft better solutions, and be the best at implementing them. He adds, "Tenant Evaluation provides me with the opportunity to continue growing professionally and adding value to society.  In our company, we don't go through hundreds of meetings to make decisions. We go by what we think is going to work. We prioritize safety and implement it."
While climbing the ladder of success, Luis also realized the importance of the greater good. Rather than just being concerned about the revenue, he has widened his horizons to take the company to the next level and beyond. He says, "My mindset has changed. Instead of living paycheck to paycheck, I'm now responsible for other people and am constantly thinking about how we can adjust costs and promote employee longevity. As an entrepreneur, I strive to keep doors open to new opportunities, keep our reputation for excellence throughout the industry, and keep growing so we can offer more jobs and services."
Revolutionizing the industry with Tenant Evaluation
Tenant Evaluation is the future of digital onboarding. Being an online platform for tenants and buyers, it uses technology to process and analyze applicant's information. Luis states, "We verify all aspects of applications, from criminal records, credit reports, bank account verifications to evictions, and allow applicants to upload documents required by community associations. Upon opening your account, we acquire your current application documents and digitize them for online applicant use. This way, we are able to create mandatory fields that you need for each applicant to review and sign."
Convenience and safety are two core strongholds of Tenant Evaluation that hold the structure high for everyone. The home application process can be a rather expensive, confusing, and time-consuming procedure, but the team at Tenant Evaluation has managed to convert it into an accessible, affordable, and streamlined experience.
With the fraud-prevalent environment that the Internet can be, identity protection is the prime goal for everyone at the company. Once the application process is completed, our AI removes all confidential information from the system. Nothing is stored, and the community associations never have access to an applicant's private information. Luis adds, "We have an entire team dedicated to maintaining Level 1 certification. Since our inception, we have securely processed seven figures applications."
Everything is achieved by the strong culture embedded in the in-house team of the company. Tenant Evaluation fosters a culture of long-term engagement through trust, loyalty, and a committed workforce. Luis mentions, "We are dedicated to cultivating the existing talent we have. Presently, the company has 50 employees, and some of them have been with us for over ten years."
Luis was born in Colombia and had to suffer the tragic loss of his father at an early age, so his mother worked very hard to raise him on her own. This upbringing had a formative impact on Luis and sparked a spirit to help the women's community. Sharing his efforts in uplifting women's community, he expresses, "When we decided to create a company, I established that part of our social impact would be to give women opportunities to develop better careers. Seventy percent of our current workforce is comprised of women, and we enforce equal pay."
Man on a Mission
Luis visualizes taking the company to the top height. For that, he has led the team to offer a wide range of solutions to the customers.
The company offers excellent application processing services where they provide easy-to-read reports by reviewing all the elements of the applicants.
The team even provides customizable solutions where applicants can enjoy the perks of the electronic document. "Data collected through the Tenant Evaluation website will automatically auto-populate into your electronic screening packet, making the process easier for your applicants!" Luis adds.
Besides a wide range of services and undaunted customer support, the team provides their clients with instant nationwide background and international checks. Luis adds, "Not only do we have the most comprehensive and the largest nationwide list of databases-statewide, federally, and internationally, but also all requisitions for searches can be done 100% electronically while guaranteeing maximum privacy. Our turnaround time can range from one hour to a day to receive reports."
Being the leading provider of technology-based solutions for tenant application processing and background screening, the company specializes in condominiums and works exclusively with property managers to improve its services and software as it moves ahead.
A Walk through the CEO's day
As the CEO of Tenant Evaluation, Luis has hands-on experience in handling different internal/external processes and business development. Being a dynamic entrepreneur, he is a specialist in augmenting operational efficiency, revenue growth, as well as overall profits.
Following Lao Tzu's leadership approach, "A leader is best when people barely know he exists when his work is done, his aim fulfilled, they will say: we did it ourselves."
He is well aware of operating results and thus, guides the teams to execute process improvements to propel them ahead. He also keeps great people around so that they can help in making the right decisions whenever they have to and also run the business in a perfect manner.
He further adds, "I embody the vision of how we are going to hit the target, provide a competitive salary, and a roadmap on where they need to go and how to get there, but each and every person on our team is encouraged to lead and execute projects. Ultimately, the credit for our company's success goes to my team."
For him, his best recognition involves adding more clients who implement their platform as a leader. Not only this, but he also regards his year-to-year growth to be between 25 percent.
Maintaining a fully balanced personal and professional life
Currently, Luis is at that point in life where he has understood the importance of having more time with the family. He says, "I definitely have achieved a better balance in life, but money is not the most important aspect of it. Time is the most valuable asset I have, and I spend as much of it as possible with my family – they are my priority."
Since he and his wife have been married for 20 years and have two kids together. He loves to pick them up from school together and organize different family activities that are enjoyed by all family members.
He is firmly following the footsteps of Marge Kennedy's adage, "In truth, a family is what you make it. It is made strong, not by the number of heads counted at the dinner table, but by the rituals you help family members create, by the memories you share, by the commitment of time, care, and love you show to one another, and by the hopes for the future you have as individuals and as a unit."
Having everything he wants, he feels that as he loves the place he resides in, with his dream family that he loves the most and enjoys his work and whatever he does, he feels super motivated and charged from the inside.
He shares, "I believe in appreciating all I have and the opportunities that come my way. I am grateful for everything. I am healthy, see the sun, my kids are happy; I have a lovely wife and a successful company. I consider myself very lucky."
Progressing Tenant Evaluation Forward 
Tenant Evaluation carries a promising future ahead with significant growth prospects. Luis is continuously working on growing the future goals and aims to push the company to reach the #1 position in the market. He has formulated an excellent strategy that will focus on process enhancements for making a lasting impression on the customer's minds.
Luis plans to harness the power of blockchain as well as smart contracts to create a new company Zinc.tech advance its services to another level. Thus, all their real-world solutions will now be backed by the latest technology for handling condominium fees and deposits. Such advancement will create automated refunds eliminating the need to have property managers deal with check deposits, refunds and NSF.