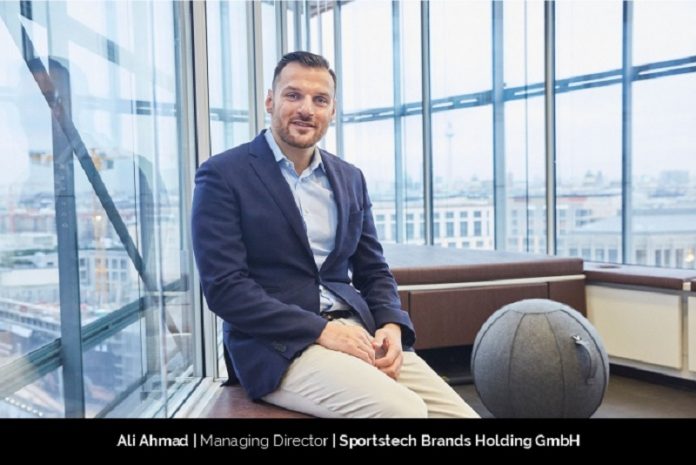 "Success cannot be forced; however, with courage and necessary risk-taking, the chances increase a thousandfold" is a favorite quote of Ali Ahmad, the Managing Director of Sportstech Brands Holding GmbH. The quote also sums up his professional life succinctly. His entrepreneurial story is about risks, challenges, defeats, courage, bold steps, and triumph after the struggle. Without the benefit of a privileged background, he has built a successful company from scratch, and now, he is just a few steps away from seeing it join the coveted Unicorn club. Ali is a prime example of someone who has converted challenges into wins.
Ali is also a self-confessed success addict. But, for him, success does not mean fattening his bank balance and becoming rich. He is more interested in creating new challenges and setting bigger goals, which also keeps him motivated. This quote, which is another favorite of his,
"Downfalls are painful, but from them, you learn the most. So don't just see the problem, see the solution," offers a glimpse of how he deals with setbacks.
No downfall has wavered Ali's indomitable will to win, and whatever the crisis, he always chooses to 'not' give up. He fights his way back after defeats. And competing among the best and staying hungry are part of his strategy for professional advancement.
Once he achieves success, Ali believes in defending it with all his might and braving the pain they bring. And, for him, "the real win" is when one maintains a balance by developing one's personal life, family success, as well as professional one – there has to be harmony between them.
The Start in Entrepreneurship 
A family crisis made Ali embark on the road to entrepreneurship at a young age. His parents' painful deportation to their country of origin, Lebanon, from Germany forced him to learn how to handle responsibilities at a very young age of 14. "We came from very simple backgrounds and my parents had to return to the war-torn area with zero euros," Ali says.
Following the deportation of his parents, Ali picked up the computer and started building his first online store and e-commerce. For him, it was the only way he could overcome his grief and send money to his parents so they wouldn't have to live on the streets in Lebanon. Ali says, "That's how my career as an entrepreneur started!"
His parents had never broken a law in their entire lives. The image of them being taken away from home like serious criminals and taken to the airport haunts Ali to this day. He didn't see them for eight years after their deportation. "I could only talk to them on the phone because a call to Lebanon at that time cost over a euro a minute," he recalls.
"But giving up was never an option for me, no matter what setbacks I had to face," Ali adds.
Complete Solution for Home Fitness
Ali established Sportstech Brands Holding, a home fitness brand, to provide customers with a complete fitness experience. He wants to offer home fitness equipment featuring the best design and best functionality at an affordable price – 70 percent less than competitors' cost, which is around 5,000 or 10,000 euros.
"The customer receives a product, which is in no way inferior to the overpriced brands, and we are constantly setting new standards with our products," Ali says.
He hopes to see Sportstech revolutionize the home fitness market by offering customers everything from a single source: innovative connected home fitness equipment with a community effect – through the Sportstech Live App – to fitness apparel, fitness nutrition, smart scales, fitness towels, water bottles, and other products. He also wants to see customers associate the Sportstech name with the complete solution for home fitness.
The "Brands" in the company's name encompasses another brand called Bluewheel. It is another emerging brand that Ali and his team have been able to position very well in the Electro Mobility Market over the past four years. "Bluehweel accounts for about 15 percent of total sales, and the trend is upward," Ali says.
In 2018, Sportstech won "The Top 50 Fastest Growing Companies in Germany" award, and according to Ali, it put him among some of the most influential leaders in the retail industry.
Overcoming Hurdles
Hurdles were plenty when Ali founded Sportstech Brands Holding. One of the biggest ones was the lack of capital to run his business properly and expand it. He looked in vain for bank's support. One of the ladies at a bank told him that she had to close nine out of ten accounts she opened after a year, at the latest, due to lack of funds. Undeterred by her comments, Ali told her that his company is "the one out of those ten that will not have such problems – neither after one, nor after ten years."
From that point on, Ali decided to look for alternatives, and his focus shifted completely to customers. "I had set myself the goal of developing products for customers that were tailored to their needs in terms of design, functionality, and price," he points out. "As a result, I succeeded in getting customers to participate in our pre-sale promotions." It enabled them to generate 90 percent of their sales with customer funds and without delivering the goods directly.
"This strategy has worked well," Ali adds. "To this day, we generate 40 percent of our sales through pre-sales."
When Ali faced another setback, he learned a new lesson again. Amazon wrongly suspended Sportstech two years after he started it. Although it later unlocked it, Ali vowed to never back a single horse and not depend on one company or person. From then on, he built up an online store team, and since then, the share of sales from their own online store has been growing.
"We currently generate 55 percent of our sales outside of Amazon," Ali says. "We generate 45 percent through Amazon. We continue to operate on several tracks and have opened three local brand stores in major German cities – more will follow."
The Wizard's Strongest Expertise
Ali's strongest expertise is in product management. He sees himself more as a CPO than a CEO and spends most of his time developing the best products with the Product Managers. He is always ready with his valuable inputs and helpful information, which could help his team take the products to the next level.  "This is also because I have almost 20 years of experience with the Chinese market," Ali says. "I even lived in China for two years myself."
He points out that his suppliers have nicknamed him "The Wizard" because he manages to enchant customers with new products and designs. It also makes them buy from them rather than from their competitors who have been on the market for 30 or even 100 years.
Ali is also an expert in marketing his products. "Having taken the first steps of my self-employment in online business, I was able to gain very important experience there and in marketing at an early stage," Ali says. It means that he has the acumen to help his company's e-commerce experts deal with any challenge.
Sportstech does not release a new template or new release without considering his input. Ali points out his people "really value" his detailed eye for design. But this does not mean that he is an authoritative leader. He believes in focusing more on trust than on blunt control.
"My employees appreciate my cordial and familiar way of dealing with them," Ali says. "I offer my people freedom of action and actively support them in achieving common goals. I don't give up on any of my colleagues without a fight."
Handling Diverse Tasks
As Managing Director, Ali handles a very diverse range of tasks. He dedicates a lot of his time to development of new projects, such as the in-house app Sportstech Live, and lets his DNA flow into product development. "From design development to release, I stay involved," Ali says. "I bring my expertise to all of our core and support processes. I pass this experience on to my team and support them in making the right decision."
Ali's normal workday starts early in the morning, with 15 minutes of body weight training. Then he walks to the office. At that time, his coffee and Lapacho tea are still warm, his height-adjustable desk is up, and the treadmill, underneath it, is ready to run. The first thing that Ali does is review the company's performance from the day before, and after that, checks rankings on Google and Amazon. "Then I start working through open tasks and decisions that need to be made in our task management tool Wrike," Ali says, adding that he also attends three meetings a day, devoting almost three hours to them.
And Ali tries to maintain a work-life balance by "firmly" integrating exercise into his workday. Ali points out that he uses the under-desk treadmill for two hours every day while answering emails. "That's how I've managed to incorporate exercise into my daily routine," he says.
And Ali keeps his team motivated through a harmonious, family-like relationship. "I trust my people and help them to grow beyond themselves," he says. "I show them that if you believe in yourself and in our vision, you can make it to be a part of something great. Our continued success and growth are a testament to that."
Retail Industry and Company's Future
After the numerous successes in the online business, the retail industry is now focusing more on the offline business, where brand stores are getting opened. Ali feels that this is how they can unite the two worlds in the coming years. He does not think that a company can beat the competition exclusively with online retail. "You also need something in the offline world," he says.
Ali also believes that AR technology will revolutionize the online shopping experience, as it allows buyers to see virtual products pretty much real in front of their eyes. He also expects Metaverse Web 3.0 with its digital stores to play a major role in the future.
In the next three years, Sportstech is set to become a unicorn company. "We are currently working on that," Ali says. To achieve this goal, he and his team intend to celebrate their entry into the U.S. market at the beginning of 2023, and by then, they expect to launch their own app Sportstech Live – its development costs so far is four million euros – with innovative products.
One of the goals is also to bring investors on board soon. It is because Ali no longer wants to always do everything on his own.
Try Something New
"Have the courage to try something new," Ali tells aspiring leaders in his message to them. "Show more willingness to tackle the more complicated things, because anyone can do simple."
"Challenge your competition by being willing to take more risks than the others," he adds.