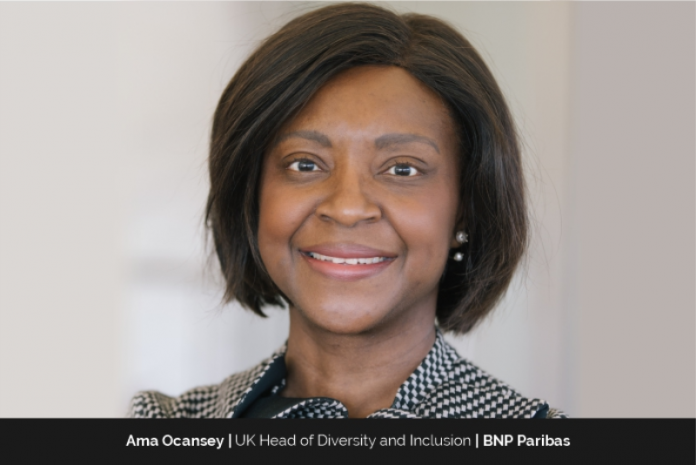 Effective D&I leadership starts with having a clear vision, mission, and strategy for creating an inclusive workplace. It also requires active commitment from senior leaders and all employees, along with ongoing training and education programs to promote diversity, equity, and inclusion.
Ama Ocansey, UK Head of Diversity, and Inclusion at BNP Paribas is dedicated to promoting diversity and inclusiveness in the workplace. She wants to help employees from all backgrounds feel a sense of belonging and a shared purpose in the organisation. She is passionate about providing a voice for marginalized groups and making sure their needs are being considered by management. Ama is the recipient of several awards for her efforts, including "Head of Diversity of the Year" at the European Diversity Awards and "Diversity Lead of the Year" at the Women in Finance Awards. Additionally, she has been recognized as one of the top 75 most influential DEI leaders by Hive Learning. Ama considers these awards to be a humbling honour and recognition from industry leaders, business executives, and thought leaders.
Life Before Joining BNP Paribas
Ama is the third child in a Ghanaian family who originally came to the UK, on a posting with her diplomat father. There was a coup d'état in Ghana and her father, a high-profile diplomat and deputy ambassador, meant that the family could not return to Ghana, leading to their prolonged stay in the UK. This experience sparked Ama's interest in human rights and law. Her parents, typical Ghanaian parents, had four career options for their children: medicine, accountancy, law, or disgrace to the family for not being one of the above. Ama's love for reading, analysing, and debating made her a natural fit for a career in law. She trained and worked in capital markets with an international law firm Linklaters LLP, before joining BNP Paribas.
One of the highlights of Ama's career was working in Tokyo, where she was exposed to the impact of culture on business practices and behaviour. These lessons have stayed with her to this day.
Leading with Customer-First Philosophy
BNP Paribas is the leading bank in the Eurozone, providing a wide range of financial services to consumers and businesses globally. With a workforce of over 195,000 employees, a vast network of corporate and institutional clients, and presence in 56 countries, it is among the foremost banks in the world. The organization's focus is not on competition, but on meeting the needs of its clients. BNP Paribas' goal is to help its clients achieve their objectives by offering products and services that support their success and have a positive impact on the sustainability and stability of the communities it serves.
BNP team prioritizes client satisfaction over competition, believing that if it excels in providing exceptional client service, all other factors will follow suit.
Being in a Leadership Role
As a diversity and inclusion leader, Ama provides visionary guidance and strategic direction to her team. She stays informed of industry trends by benchmarking externally and works closely with internal partners to ensure that the bank's policies align with its core values and promote an inclusive culture.
Ama's role is multi-faceted, and she serves as a non-executive director for two of the bank's subsidiaries, making her days diverse and unpredictable. Typically, her day-to-day activities may involve attending meetings, including board meetings, exchanging ideas with her team, speaking with providers, planning initiatives, and analysing data.
Achieving balance can be a constant challenge, but it is important to recognise the joy in all the different roles one plays in life. For Ama, being a wife, mother, and caregiver to her family, as well as taking care of her mental and emotional well-being through mindfulness, gratitude, and yoga, are all essential parts of her life. She treasures the time spent with her loved ones, both family and friends.
Finding Success in Helping Others
Ama believes that success should be defined by one's own standards and takes inspiration from Maya Angelou's quote, "Success is liking yourself, liking what you do, and liking how you do it." For her, it's crucial to make a positive impact, no matter how big or small. As she has grown older, her definition of success has evolved from just financial and material gains to how she presents herself, influences, and interacts with others. She believes that giving back and helping others is a crucial aspect of success and follows the philosophy that "you need to lift as you climb."
Leading to Empowering Underrepresented Groups
Ama underwent a career shift during the first lockdown in the UK brought on by the COVID-19 pandemic. This break gave her time to reflect on her over-20-year career as a finance lawyer. Throughout her career, she has faced numerous challenges usually, as the only black woman in the room and has witnessed many things. So, when the opportunity arose to take on a leadership role, Ama saw it as a chance to make a positive impact and improve the experiences of other women and underrepresented groups.
Turning Setbacks into Stepping Stones
It sounds like Ama is someone who embraces challenges and uses adversity as an opportunity to learn and grow. She enjoys solving complex business problems and sees obstacles as a chance to showcase her creativity and add value. Her ability to transform setbacks into stepping stones to greatness, distinguishes her and drives her success.
Ama has faced instances where others have not acknowledged her success or tried to deny her ownership of her achievements, which can be disheartening and cause self-doubt. In these moments, it's important for Ama to remain grounded and have confidence in her strengths, while also being open about her limitations. As a woman of colour, working in male dominated industry, Ama can feel invisible yet highly visible at the same time, so she believes it's crucial for her to maintain a strong presence and show up as the confident and capable individual that she is.
Significance of Diversity and Inclusion in Organizational Growth
Ama is a firm believer that organisations need to grasp the significance of diversity and inclusion and how they can positively impact the bottom line. Research has consistently proven that diverse teams bring a wealth of new perspectives and ideas to the table. To her, it's crucial to be surrounded by leaders who align with her vision and recognise the need for a workforce that accurately reflects the diverse world we live in, as this is the key to building a sustainable business. As she puts it, "The world of work is becoming increasingly global, and so should our teams. It's important to be reflective of the societies we serve."
For Ama, people are truly the most valuable resource a business or any institution can have. At BNP Paribas, they don't just strive for profits and efficiency; they strive to create a work environment where employees feel valued, respected, and empowered to do their best work. The company's goal is to inspire its people to perform at their highest level and make a lasting impact.
Cultivating the 3 Cs in the Work Culture
Ama strives to cultivate a culture centred on her 3Cs of curiosity, creativity, and challenge. In her leadership approach, she prioritises being transparent and vulnerable while setting an example of integrity. She encourages open conversations about challenges and empowers her team to make decisions, allowing them to grow by fostering their own ideas.
Ama believes the bank's purpose statement, "BNP Paribas will contribute to a responsible and sustainable economy by financing and advising its clients according to the highest ethical standards," clearly demonstrates the direction the organisation is headed. The company is dedicated to integrating social responsibility into its core identity, taking a global perspective as a multinational organization.
Dedicated to Bring More Effective Change
Recently, the BNP team unveiled its latest medium-term strategy, which will guide the company's operations until 2025. The strategy centres on the company's commitment to serving its clients by adapting to their changing needs and promoting the transition to a sustainable economy. The company is also dedicated to advancing its technology to deliver its services more effectively.
BNP also recognises the importance of aligning its growth with the values and needs of the society in which it operates.
The company states, "We have put the need for real diversity throughout the bank at the heart of our plans, and while we have a long way to go, it has been really exciting to see how warmly my colleagues have embraced real change."
Embracing New Possibilities
Being a black woman in a leadership role comes with advantages and its own set of challenges, as you are often the only one in the room that looks like you. Navigating this can be a lonely journey, and it can be difficult to find others who understand.
Ama is passionate about sharing her experiences and mentoring the next generation. As a mother, she is particularly interested in shaping the future for her children and others. By sharing her knowledge and expertise, Ama hopes to inspire and make a positive impact on the lives of others.
In order to continue her personal and professional growth, Ama aspires to serve as both a non-executive director and an executive director on the board of a FTSE company. She emphasises the importance of leaders being vulnerable and building meaningful connections with their teams and others. Ama also prioritises developing her relationships and soft skills, such as effective communication.
For aspiring career professionals, Ama suggests embracing new opportunities by saying yes first and figuring things out later. She encourages them to take control of their own narratives and be the ones determining what happens next.
BNP Paribas Worldwide
Located in 65 countries and territories on 5 continents, BNP Paribas operates through a number of business lines and activities to meet all your needs, regardless of your profile: private individuals, associations, entrepreneurs, SMEs, large companies or institutions. Connect to BNP Paribas all over the world though our websites.
www.group.bnpparibas/en/
bnp-paribas-worldwide