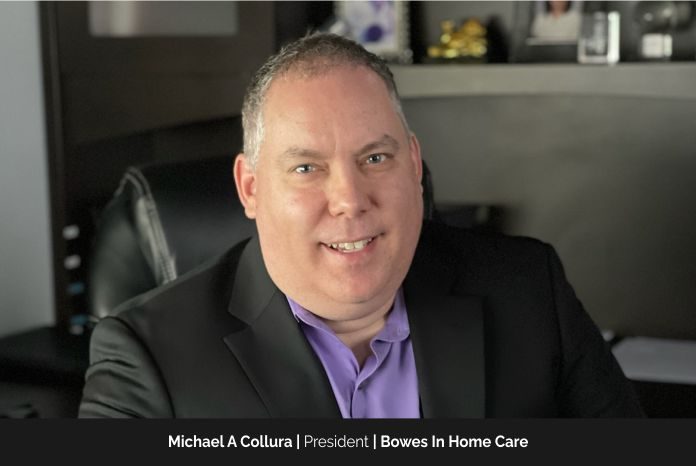 Success is not an easy thing to define. Every leader has a unique definition of success. Michael Collura, the President and CEO of Bowes In Home Care feels that success is about the impact they make in the lives of their patients. Generally, success is about accomplishments. He is not motivated by anything else other than knowing that the quality care they provide makes a difference in the lives of others. "Being a part of this amazing team and seeing how we can improve the lives of those that chose to trust us as their care provider, that's a success," he states.
Leading A Company To Success Requires A Step Of Faith
Leadership is best measured when it is tested. It's not about how we started; it's about how we perform when challenged. Bowes In Home Care was challenged, in the worst possible way in early 2020. Dealing with internal issues that were only resolved when the cancers were routed out, the misinformation surrounding what was happening, and later, the realization of those working from within to undermine and destroy based on a false sense of entitlement. Leadership prevailed. Patient care was never diluted because of the leadership that stood and faced those challenges, not by those that abandoned their responsibilities. "The team, those made up of true professionals, turned the matters at hand around and today we stand stronger and better than we ever did before. It was the leadership at Bowes that made the difference, not the so-called leaders that don't carry the worth of dirt that made Bowes the success it is today," says Michael.
Bowes In Home Care Its Services
Since its rebirth in 2010 Bowes has been known for its innovative and forward-thinking clinical care programs that deliver higher quality home health care. They have developed the resources, the training, and the talent to reduce hospital readmissions, reduce falls and deliver a higher quality of care. These programs continue to be developed and each one is centered around individualized patient care working with Medicare and private insurances to deliver the needs of those that continue to choose them as their home health provider.
Contribution In Redefining Senior Care
Integrity is the single rarest of human virtues. It is dismissed, tampered with, and shrouded when one needs to protect themselves. It is the start of selfishness and failure in one's moral compass. We turn a blind eye to the truth because it is inconvenient or harmful. Genuine integrity means you will do the right thing when no one is looking, when there is no gain and there is certainly a risk or sacrifice. Most people are unable to rise to that moment. Bowes demands it of everyone associated with its brand and its mission. Without it, there cannot be quality patient care, because the leadership is too selfish to do what is right and what is needed. Bowes and its leadership today already have proven this.
"I think it started right from the early days in 2010 when the brand was acquired by its current owner. The idea was simple, do good and never stop working to do it better," explains Michael. Since that day and every day from then to now, Bowes has continued to ensure that mission and its impact on the care of others has never wavered. No matter the challenge. No matter the consequence. Patient care comes first. Period.
Ideas are significant because it translates back to the patient. Everything Bowes does is for the well-being of those that chose to invite them into their home as their home health provider. Being creative to meet those needs and exceed those expectations – that's what they do.
Responsibilities As The CEO And President
Michael is an entrepreneur and leader with strong business development and marketing skills. He enjoys what he does not just because of the success, but because that success is enjoyed by so many others he feels privileged to work with every day. He states that his proudest moment comes far too often. Every day he sees the work they do, the impact it makes and the results they deliver in the care they provide. "I am blessed because it has been a never-ending source of drive and energy for me personally. I thank the team that upholds that promise we make as a brand. It is their effort, not mine, that makes me proud," he exclaims. He also claims that his job is simple – just remove obstacles from their path and give them whatever they need to grow!
Plans For The Future Of Bowes In Home Care
Bowes will expand, plans are already underway for what will be expanded into several states across the U.S. But expansion is not what they seek out day-to-day. They strive to further improve their patient care right where they are today. Michael states that it is their goal to expand in the quality of the care, not in the distance under which they provide it.