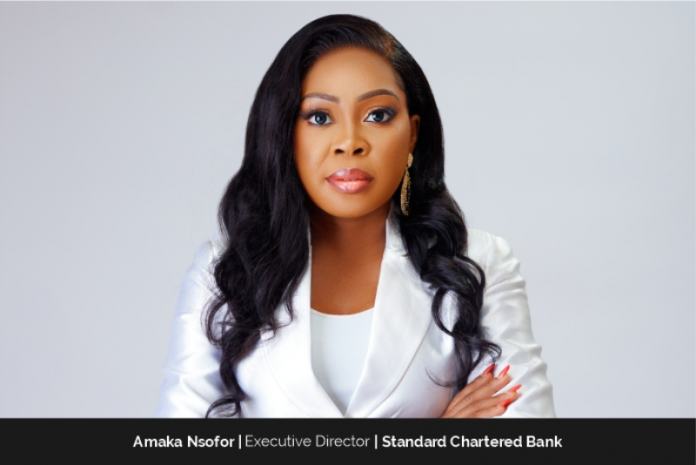 One of the top debt capital markets experts in Africa, Amaka Nsofor, has extensive experience working with clients in debt capital markets of Central and Eastern Europe, the Middle East, and Africa. Through a number of innovative initiatives such as-working with regulators in various nations to develop their domestic capital markets, and most importantly, facilitating access to the global capital markets for sovereigns and corporate institutions, she has made a significant contribution to the development of the capital markets in Sub-Saharan Africa. She is also at the forefront of driving sustainable growth in Africa, having led the first ever Tier 2 Sustainability Notes by a financial institution in Sub-Saharan Africa as well as other social and climate bond initiatives.
Amaka is passionately committed to the reformation of society and business. In addition to her position as Executive Director, Debt Capital Markets at Standard Chartered Bank, she is also the director of finance for the Association of Issuing Houses in Nigeria. She is the founder of the Female Scholars Foundation, a non-profit group created to give young women in rural areas access to higher education, counseling, and mentorship so they can be well-prepared to integrate into contemporary society and find respectable professional careers anywhere in the world.
Early Upbringings
Amaka was raised in a middle-class household in Nigeria, where the majority of the population, approximately 63%, as assessed by the country's National Bureau of Statistics in 2022, lived in multidimensional poverty. This meant that, growing up, she was surrounded by relatives and acquaintances who struggled to meet their basic needs. However, her parents were devoutly religious and generous philanthropists who frequently provided support to both relatives and strangers, offering them a place to live and educating them. As a result, her home was akin to a community hub, and Amaka developed a strong sense of responsibility to strive for excellence and give back to society.
In addition to the challenges of growing up in a society with high levels of poverty, Amaka also had siblings who were born with a genetic health condition, resulting in frequent hospitalizations during their childhood. This further fueled her determination to succeed and be a source of support for both her family and the community. Despite being uncertain about her career path, Amaka was aware of a few essential things about herself that would guide her. She was highly competitive and persistent, which gave her confidence that she would excel in any field she chose. Additionally, she had a strong sense of curiosity and desired to explore diverse industries and countries, which would inform her career choices.
Amaka initially studied science in high school with the intention of pursuing a career in engineering. However, despite excelling in the subject, she realized that it did not ignite a passion within her. After completing high school, she enrolled in a finance course and immediately felt at home. This prompted her to pursue a bachelor's degree in accounting and finance. During her undergraduate studies, Amaka not only completed her degree but also earned qualifications as a chartered accountant and took the Chartered Financial Analyst (CFA) exams. This allowed her to gain extensive knowledge and exposure to the finance and investment industry at a young age. As a result, she decided to pursue a career in investment banking after graduating. In line with her passion for self-development, she also obtained a dual MBA from Columbia Business School and London Business School.
Expertise in Executive Role
Amaka is currently the Executive Director of Debt Capital Markets at Standard Chartered Bank. Her role involves overseeing the origination and execution of bonds in Africa for financial institutions, corporations, and sovereigns, in both hard currency (known as "Eurobond") and local currency. Debt Capital Markets is a division of investment banking that specializes in securing debt funding for companies and governments from both domestic and international investors. She also advises clients on social, climate, and other thematic bond initiatives that align with the bank's strategic focus on driving sustainable growth. She engages in innovative funding solutions discussions with clients, assists with liability management options, and provides credit rating advisory services to debut issuers.
Contributing in the Finance Sector
Amaka has had the privilege of working with global banks so have gained in-depth experience across Central and Eastern Europe, the Middle East, and Africa through several transactions and client engagements across multiple countries, sectors and currencies.
Compared to the developed markets, the capital market in many African economies is still at a nascent stage, and as everyone knows, financing is one of the major engines of growth in developing economies. Amaka has significantly contributed to the development of the capital markets in Sub-Saharan Africa through various ground-breaking initiatives, such as working with regulators in various countries to develop their domestic capital markets, investor education, and the introduction of new products and capital market processes.
In Nigeria, which is Amaka's country, she was part of the committee set up by the Securities and Exchange Commission ("SEC") to review the SEC rules and regulations, which evolved into the new consolidated rule book used today in the market. Amaka serves as the Director of Finance for the Association of Issuing Houses of Nigeria, where the team works with regulators and different trade groups to develop the Nigerian investment banking industry.
In addition, Amaka is also the chairman of the webinar committee arm of the Financial Literacy Technical Committee, which was set up to undertake activities that would enhance financial education amongst the general public.
Most importantly, Amaka has facilitated access to the international capital markets for several African countries and corporate institutions, in order to unlock global capital that will drive development on the continent. Recently, she has also been actively focused on driving the shift to sustainable financing by working with African issuers to establish a debut sustainability financing framework, as well as other social and climate bond initiatives.
"As we know, the banking industry is highly dynamic, and the banking landscape has been fraught with several challenges and opportunities, from the emergence of FinTech's to several waves of global market volatility, and the recent shift towards sustainable financing, amongst others," says Amaka. Therefore, as key players within the banking industry, Amaka and Standard Chartered Bank team strive to proactively spot emerging trends and ensure that they are actively creating new opportunities and solutions for clients.
Breaking Barriers   
At the beginning of her career, Amaka focused on reporting on debt capital markets in Africa. After the global financial crisis, central banks in most advanced economies decreased interest rates to unprecedented lows to boost economic activity. As a result, global investors began to seek higher-yielding assets, creating opportunities for African countries and companies to obtain funding from international capital markets. This development allowed Amaka to participate in the early stages of the growth of African debt capital markets. Her extensive experience, strong technical skills, and innate ability to manage relationships and lead others contributed to her rapid advancement within the industry.
Despite her qualifications and experience, Amaka encountered sexism and ageism early on in her career. Many people mistakenly assume that age discrimination only affects older individuals, but it can also deeply impact young people. As a young black woman in a Vice President role in Investment Banking, Amaka walked into meetings where her ability to advise was often questioned based on her appearance. One such incident occurred in the past, prior to her role at Standard Chartered, where the CEO of a client company expressed disappointment that Amaka was sent to lead their transaction and asked why someone older wasn't assigned. Amaka responded confidently, telling him that she represented one of the top global institutions in the world and that he should trust in her ability to deliver and surpass his expectations. She fulfilled her promise, earning the CEO's trust and respect as one of his most trusted advisers and most respected allies. Despite facing biases, Amaka did not let this weigh her down. Instead, it motivated her to build her credibility and position herself as an industry expert, paving the way for other female business leaders in her field.
Seeking to Make Change  
Amaka acknowledges that her journey is still ongoing, but she can state that so far it has been marked by persistent self-improvement, tenacity, service, and mentorship. She thinks that one of the most important traits a woman needs to possess to succeed at the top is tenacity when it comes to qualities for aspiring female leaders. The truth is that men continue to hold the majority of leadership positions, and in most cases, women must establish their worth before being offered a place at the table. A woman who wants to succeed at the top must be tenacious and driven to achieve her goals and vision, despite any obstacles or biases she may encounter while working to change the narrative.
Each and every female leader who aspires to the top must also be dynamic. Amaka discovers that people live in a world that is always evolving, with a number of new trends and changes in industry. In order to reach new milestones and stay relevant, it is necessary to constantly adapt and be inventive. Also, it is crucial to approach relationship building with great intentionality. It is not enough to be hardworking. "Relationships open up opportunities, relationships ensure that the right people have visibility to what you do and what you can deliver, and relationships build trust, which is needed for people to trust you in turn with a position or resources," says Amaka.
Women seeking to get to the top also need to speak up and ask for what they want. For instance, for women working in corporate organizations, it is not enough to be good and wait to be recognized, women need to learn to ask for the right opportunities, the right exposure, promotion, and whatever else they need to advance to the next level.
Finally, it is important for a female leader to remain authentic. Amaka asserts, "There are many attributes that women have that make them successful leaders, so it is important for a woman to remain true to herself and her values. So, know who you are, know what your strengths are, and leverage them accordingly to advance to the top."
Balancing Social and Work Responsibilities
According to Amaka, understanding your priorities is key to integrating personal interests and passions into your life. Beyond work, she is deeply committed to her Christian faith, family, and supporting those in need. Amaka organizes a monthly Christian book club named "Food, Drinks, and Jesus," aimed at providing a platform for professional Christian women to enhance their faith in a unique way and network with each other. She also founded a charity organization called the "Female Scholars Foundation" with a mission to offer university education and mentorship to young women in rural areas. Amaka also runs a program named "Support the Widow" that provides monthly financial support to impoverished widows. Furthermore, she enjoys entertainment and is well-known for hosting dinner parties, possessing an extensive wine collection, and showcasing her Afrobeat dance skills. She takes pride in building a fulfilling and joyful life, serving as a role model for the upcoming generation of investment bankers.
Note for Every 'Visionary Black Female Leader "Dare to Dream'
Amaka motivates all black women who aspire to run their businesses to "Dare to Dream". This involves having a clear image of what they want to achieve in the future, defining their goals, identifying the necessary resources and abilities needed to attain them, and striving towards them regardless of how seemingly unattainable they may seem to others. It is important not to let prejudice define oneself, particularly in a society where women encounter various forms of biases such as gender, race, age, and others. Although there is growing global attention to these biases and efforts to eradicate them, they persist. Therefore, whilst she keeps striving to break these biases, her message to aspiring black businesswomen is "Do not let these biases define you, silence you or break you, but rather, keep forging ahead to where you want to be."
A New Goal Everyday
Everyone now lives in a world where success is largely defined by one's external achievements. For Amaka, success, however, entails her quest for self-actualization and the influence she has along the way. Since she frequently asserts that "yesterday's success is as good as yesterday," she consistently sets objectives for herself that are consistent with her vision for the future and the societal influence she wants to have, and she works to achieve those goals. She thinks that the incremental successes and self-improvement she makes along the way will enable her to reach her full potential, which she views as true success.
Amaka also recognizes that success is not universal and varies by individual. She opines, "We all have different goals and priorities at different phases of our lives and broadly speaking, success is achieving the personal goals that you have set for yourself, in line with your priority at every stage in life."