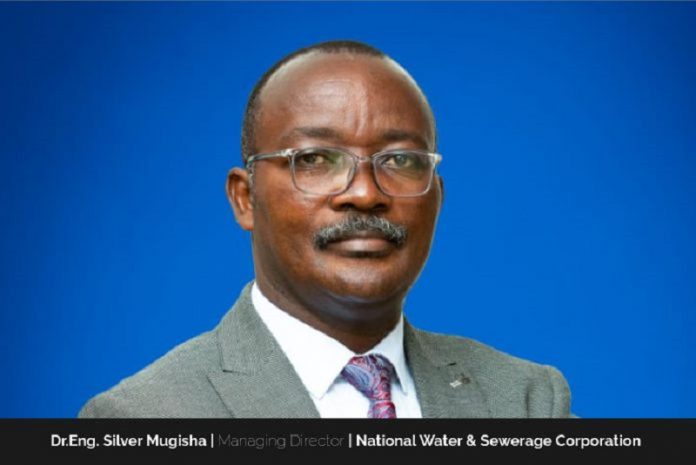 Dr. Eng. Silver Mugisha took the helm as Managing Director of National Water and Sewerage Corporation (NWSC), Uganda, in August of 2013. At the time, he found that the Corporation's great emphasis was on profits and not so much on service delivery or reaching the people of Uganda. He shifted its focus from profits to service delivery. Now, 10 years later, NWSC has registered tremendous progress in service delivery to Ugandans.
Under Dr. Mugisha's exemplary and strategic leadership, NWSC has also registered a number of growth milestones. He says that they could achieve them because of the strong support from the Government of Uganda, development partners, and their esteemed customers. Dr. Mugisha often underscores, "Utilities need to be talking about Next Practice, not Best Practice, and this can only be done through mutual collaborations."
Dr. Mugisha, a Ph.D. degree holder, joined NWSC in 1994. He has risen to the top position through the ranks of the Corporation. His Ph.D. focused on areas of performance monitoring, incentive design, and productivity analysis, and it was carried out in collaboration with the Public Utility Research Center of the University of Florida.
In addition to serving as the Managing Director of NWSC, Dr. Mugisha is also the Chairman Governing Council of the Federation of Uganda Employers (FUE), the Chairman of the Board of Uganda Business and Technical Examinations Board (UBTEB), Chairman Governing Council of Uganda Technical College Bushenyi, and a Board Member of the National Social Security Fund Board.
He is currently the President of The African Water and Sanitation Association (AfWASA). He is serving a second term as President. From 2014 to 2016, he was also a Board Member of the International Water Association (IWA); he served as IWA's Vice President from 2016-2018.
About NWSC and Its Top Milestones
NWSC is the largest urban water authority in Uganda, providing potable water and sewerage services. The principal business of the Corporation, as defined in the NWSC Act Cap 317, is to operate and provide water and sewerage services in areas entrusted to it by the Government, on a commercial and financially viable basis.
The Corporation's Strategic Focus as enshrined in its Corporate Plan 2021 – 2024 is to ensure water for all, for the social–economic transformation of Ugandans and industrialization growth, through strategic partnerships. Dr. Mugisha says that this is in line with the overarching Government Policy Direction enshrined in the Third National Development Plan (NDP III), Vision 2040, NRM Manifesto, and Sustainable Development Goals 2030 (SDG 6). The Corporate Plan is further cascaded downwards into annual budgets, performance improvement programmes (PIPs), and operational plans at various levels.
In 2012, before Dr. Mugisha took over its reins as the Managing Director, NWSC provided potable water and sewerage services in 23 towns, and it served 4.5 million people. The number of customer connections was 296, 206, the number of sewer connections was 17, 653, and the water network length was 5,035 km. Dr. Mugisha also points out that in 2012, NWSC's annual turnover was UGX 155 billion, and its assets under management were worth UGX 650 billion.
Flash forward to 2022, and NWSC reported significant progress in every area. As per last year's performance report, the Corporation was providing its services in 268 towns and serving 18 million people. There were 874, 129 customer connections and 28, 007 sewer connections, and the water network length expanded to 21, 794 km. Dr. Mugisha says that their annual turnover was UGX 519 billion in 2022, and it had UGX 4,1000 billion in assets under management.
5 Success Factors for Delivering on the Mandate
NWSC has exponentially increased its coverage area in a decade's time. It, however, still faces the challenge of high non-revenue water, partly due to illegal water use by unscrupulous people and damage to the water pipe network. There is also a challenge of unpaid water bills, mostly from Government institutions, in addition to high debts owed to suppliers due to delays in payment of water bills and extreme weather events that affect water supply operations.
Dr. Mugisha says that there are five success factors (SFs) that enable public entities like NWSC to deliver on their mandate. These include strategic clarity and focus, unfettered government support, a robust corporate governance system, a leadership that espouses true love, and institutionalizing a public interest mindset.
Strategic Clarity and Focus: Public enterprises, like private enterprises, have equal possibilities of delivering qualitative and quantitative services to their customers if they have a leadership system that has clear strategic clarity and focus. For example, NWSC has a roll-able 5-year strategic plan that incorporates a 3-year Statutory Corporate Plan (SCP). This plan, according to Dr. Mugisha, speaks to the mandate of the Corporation as provided for in the NWSC Act, the Government Manifesto, the National Development Plan, Sustainable Development Goals (SDGs), and Vision 2040.
"We use a balance scorecard (BSC) planning framework to organise bottom-up performance improvement ideas that create a common understanding of expected results and outcomes, amongst the Board, management, and staff," he explains. "The common denominator in all this is replicable excellent service delivery to customers who are the reason we exist."
Unfettered Government Support: The only way Government can prop its strategic institutions like NWSC is to provide them support, which is, relentlessly, given to the private sector.
Dr. Mugisha believes that a liberalised economic agenda of the Government should incorporate a basket of incentives for public enterprises that, by law, run a similar business model like any other private enterprise. Some of the elements of the incentive mechanism include prompt payment of utility bills, non-interference in management, encouraging the heart of the leadership system in case of unfair treatment and external pressures, establishing enabling legislative framework and adjustments where the need arises, not over-engaging autonomous public enterprises in activities that detract them from their core mandate of serving people, among others.
A Robust Corporate Governance System: The success and sustainability of a public enterprise depends on the foundation and efficacy of its corporate governance system. Therefore, Dr. Mugisha points out, the roles and responsibilities of a multi-layered system of governance of the public enterprise must be well-defined, distinct, comprehensive, relevant, and respected by players. "When you get a mix-up and conflict of roles, it becomes a recipe for institutional distress," he adds.
It takes systemic capacity building and discipline to inculcate and entrench that corporate governance logic in the institution. Dr. Mugisha considers themselves fortunate that this factor scores over 80 per cent at NWSC.
A Leadership that Espouses True Love: Dr. Mugisha says that the love they are referring to under this factor is the love that is reciprocal, genuine, and speaks to the truth, and that is brutal honesty.
Public enterprises have more public accountability obligations than sister private enterprises. In Dr. Mugisha's view, public accountability verges on those things that speak to acting in the best interest of the public good. Consequently, public enterprises must have leaders who act in a way that minimises vices like rent-seeking, sectarianism, free-ridding among staff, sluggishness, wasteful expenditure, and poor attitude. At NWSC, Dr. Mugisha and his team have evolved mechanisms and managerial systems for continuous learning and actions to regulate such vices.
"Some actions are bitter and painful, but they are all on the public interest frontier," Dr. Mugisha says. "The idea is that after aligning managers and staff to an effective service delivery model, they should be paid competitive industry salaries and allowances."
Institutionalising a Public Interest Mindset: The efficacy and rationale of any public enterprise must be aligned to public interest service. Dr. Mugisha believes that it is this mindset that defines the structure and spirit of actions that management continuously evolves to run public enterprises. For example, at the Corporation, the motivation behind the spirit to open up and roll out NWSC to many service centres was the need to serve the greater public domain.
Dr. Mugisha also points out that the recent restructuring of the staff productivity management systems, consisting of quarterly classification of staff according to their performance, is a move geared towards better delivery of a public service. Further, the ongoing redesign of labour delivery processes is also a move to improve efficiency and service offerings.
It is evident that the success factors that underpin effective and efficient service delivery in public enterprises are not significantly different from those required for private enterprises that operate the same business service structure. "This is, specifically, true for public enterprises whose existential mandate hinges, primarily, on service to customers who meet the cost of running the business in exchange for excellent service offerings," says Dr. Mugisha.
Targets to Achieve by 2026
Dr. Mugisha has set ambitious targets for NWSC, which he aims to achieve by 2026. He intends to expand the number of towns served from 268 to 300 and serve an estimated 25 million people. The other targets include achieving 1,200,000 customer connections and extending the water network length to 30,000 km by 2026. And Dr. Mugisha expects that NWSC will reach an annual turnover of UGX 650 billion, in addition to having UGX 6,200 billion worth of assets under management.
| | | | |
| --- | --- | --- | --- |
| Performance Measure | 2012 | 2022 | 2026 |
| 1.    Towns Served (No) | 23 | 268 | 300 |
| 2.    Number of people served (Million) | 4.5 | 18 | 25 |
| 3.    Number of customer connections (No)  | 296,206 | 874,129 | 1,200,000 |
| 4.    Number of sewer connections (No) | 17,653 | 28,007 | 42,000 |
| 5.    Water Network Length (Kms) | 5,073 | 21,794 | 30,000 |
| 6.    Annual Turnover (UGX Billion) | 155 | 519 | 650 |
| 7.    Assets under management (UGX Billion) | 650 | 4,100 | 6,200 |