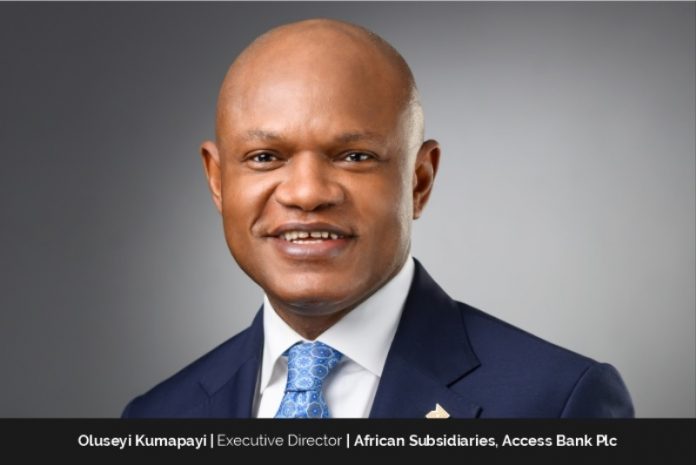 In the world of banking, few professionals possess the expertise and drive to truly make a mark. Oluseyi Kumapayi, Executive Director, African Subsidiaries at Access Bank Plc, is one such standout—a highly accomplished and driven leader with over two decades of experience in Finance, Strategy, Risk Management, and Treasury. His journey with Access Bank has been nothing short of remarkable, as he played a significant role in shaping the Bank's unmatched progress.
Under the revamped leadership of Access Bank, a transformative approach to banking took hold. With ambitious growth plans, the Bank presented Seyi with an exciting opportunity to make an impact on the society, while contributing his skills to collaboratively building a dynamic institution that will shape local industry practice. His drive, industry knowledge and financial nous, combined with the vision of Access Bank's new leadership kickstarted what has arguably been Africa's most notable organizational growth over the last 18 years.
Since joining Access Bank, Seyi has played a pivotal role in creating Sub-Saharan Africa's largest retail bank. Through strategic actions and his expertise, he has supported the Bank's growth objectives and strengthened its presence in local and international markets. His leadership has elevated Access Bank's standing and positioned it as a formidable player in the global banking landscape, establishing itself as one of the key drivers of intra-African and inter-African trade. As a result of its strategic expansion efforts, the Bank now operates in 14 African countries, including Angola, Botswana, Congo DRC, Gambia, Ghana, Guinea, Kenya, Mozambique, Nigeria, Rwanda, Sierra Leone, South Africa, Tanzania, and Zambia.
Life Before Access Bank Plc and Career Beginnings
Seyi's journey into the world of finance and banking was not a conventional one. He initially had a passion for engineering and pursued it in his educational background. He graduated with a Bachelor of Science in Agricultural Engineering from the University of Ibadan. Subsequently, he furthered his education and obtained a Master's degree in Mechanical Engineering from the University of Lagos.
However, fate led him towards a different path, and in November of the same year he completed his first post-graduate degree, Seyi embarked on his professional journey in the banking industry. He joined Guaranty Trust Bank Plc (GTBank) as a Financial Analyst, progressing to the position of Senior Financial Analyst before leaving the company. He subsequently took on the role of Deputy Financial Controller at First City Monument Bank. Then, in 2002, he joined Access Bank as the Head of Financial Control and Credit Risk Management.
Seyi is also an alumnus of the Havard Business School and the IE School of Science & Technology, where he respectively earned a certification in the General Management Program (Business), and an Executive Master in Digital Transformation & Innovative Leadership (Business).
Inspiration Behind Joining Access Bank Plc
Just over 2 decades ago, Seyi made a significant decision to join Access Bank Plc. He emphasizes that his decision was not a typical blind leap. Despite the challenges of leaving relative stability to join an obscure institution, he was drawn to the transformative approach and ambitious plans of Access Bank.
Access Bank's pitch to Seyi made him envision the impact he could make to an institution aiming to be an "oasis of sanity" – with particular focus on rationality, stability, and ethical conduct – in an industry, at the time, characterized by pandemonium and disruption. The Bank's leadership, especially after the recapitalization, presented a compelling and exciting opportunity for him to contribute his skills and expertise to a dynamic and forward-thinking organization.
The ambition and clear focus of Access Bank, combined with the belief of stakeholders and the dedication of its team, have been instrumental in achieving remarkable milestones and has today positioned the Bank as one of the strongest financial brands in Africa.
Facilitating Business Growth
Seyi's expertise and background in finance have played a pivotal role in driving the progress of Access Bank Plc. His contributions can be summarized through the following points:
Revenue, Cost & Tax Optimization: Seyi's expertise in financial analysis and market dynamics has facilitated the identification of revenue-generating opportunities. His strategic guidance has been crucial in expanding Access Bank's revenue streams through innovative financial products and services while optimizing operational costs. Furthermore, his understanding of tax regulations and optimization strategies has allowed the Bank to navigate the complex tax landscapes and diverse regulatory environments effectively. His efforts in tax planning have also contributed to the bank's financial resilience and minimization of tax-related risks.
Strategic Expansion and Acquisition: Seyi's deep understanding of financial analysis, risk management, and market dynamics has been instrumental in guiding Access Bank's strategic expansion in various African markets. He has provided valuable insights and guidance in identifying opportunities for growth, assessing potential risks, and developing robust market entry strategies. Seyi also assesses the financial viability of acquisition targets and contributes to the successful integration of acquired entities, enhancing Access Bank's market presence and competitiveness.
Financial Performance Optimization: In his role, overseeing African subsidiaries, Oluseyi ensures efficient resource allocation, cost management, and revenue advancements. Through financial data analysis, effective financial controls, and a focus on financial discipline, he has contributed to enhancing the profitability and operational efficiency of the Bank's African subsidiaries.
Risk Management and Compliance: Understanding the importance of effective risk management and compliance in the banking industry, Seyi works closely with the risk management and compliance teams to ensure adherence to regulations and industry best practices.
Performance Management: Seyi plays a pivotal role in ensuring that the Bank's performance metrics align with its strategic objectives. In his role as Executive Director, he oversees the tracking and measurement of key performance indicators across various departments and subsidiaries to drive organizational success.
Capital Raise: Seyi's financial expertise plays a vital role in structuring capital raising activities, including debt issuances and equity offerings. His guidance helps the Bank secure the necessary capital to support its growth and expansion strategies.
Investor Relations: Seyi's unwavering dedication to upholding transparency standards in financial reporting and investor communications has played a pivotal role in cultivating investor confidence and trust within the financial ecosystem. His meticulous efforts have significantly bolstered the Bank's proficiency in both attracting and retaining investors, thus augmenting its capital market stature.
Leadership and Team Development: Recognizing the significance of strong leadership, Seyi collaborates with executives of various subsidiaries to develop a high-performing and motivated workforce.
Cultivating a Culture of Integrity and Innovation
Despite Seyi's personal accomplishments, he strongly believes in the concept of "team over self". "Just as choristers' voices blend to create beautiful music, our collective efforts generate success that resonates far beyond ourselves. Together, we harmonize our dreams and create a richer, more fulfilling melody of accomplishment," he said.
To ensure this harmony is achieved, Seyi ensures a culture of integrity and innovation within his team through several strategies:
Clear Communication: Open dialogues and transparent communication are encouraged, creating a trusting environment where team members feel comfortable expressing their ideas, concerns, and suggestions.
Recognizing and Rewarding Integrity and Innovation: He reinforces the importance of integrity and innovative thinking by recognizing and rewarding team members who embody these values. This recognition serves as motivation for the team to continue upholding these principles.
Cultivating a Culture of Continuous Learning: He empowers his team to stay ahead of the curve by promoting a culture of curiosity, learning, and personal development. This ensures that the team remains innovative while upholding the highest standards of integrity.
By combining strategic leadership, financial expertise, and a focus on fostering a positive team culture, Seyi has been instrumental in driving Access Bank's success while maintaining a strong culture of integrity and novelty within his team.
Thriving as a Leader in the Industry
Through the 2000s, and even to date, institutions in the African financial industry face a myriad of regulatory challenges marked by rapidly changing policies, stringent capital requirements, and efforts to maintain economic stability. Thriving leaders like Seyi responded by meticulously studying and understanding these regulations, prioritizing strict compliance within their organizations, and establishing dedicated teams to monitor policy shifts. As Seyi takes pride in, they also sought opportunities for influence and advocacy, engaging with regulatory authorities to shape policies that not only met compliance standards but also favoured the growth and stability of their institutions and the industry as a whole.
Furthermore, as a person of colour and an African leading an indigenous organization like Access Bank, Seyi acknowledges that he has been privileged not to have faced systemic barriers and biases during his journey in the industry. "It is, however, important to recognize that societal issues can disproportionately affect individuals from underrepresented groups, including people of colour, in various industries," he stressed.
While he may not have faced such challenges, he understands the importance of advocating for diversity, equity, and inclusion in all industries. Supporting and uplifting leaders from underrepresented backgrounds is crucial in creating a more inclusive and equitable environment for everyone. By doing so, opportunities can be provided to individuals, regardless of their race, ethnicity, or background.
Challenges as a Source of Strength
Seyi believes that challenges indeed make individuals and organizations stronger. He acknowledges the significance of 'staying awake' and being prepared for change in the dynamic financial industry. This involves predicting trends, having robust business continuity plans, and being adaptable to evolving customer needs and the business landscape. "Afterall, life's most remarkable adventures are born when we dare to take risks," Seyi said.
Making an Impact on the Next Generation of Leaders
Seyi believes in the importance of inspiring the next generation of leaders. To achieve this, he actively mentors and coaches emerging leaders within his circle of influence. By providing valuable guidance, sharing his experiences, and helping to develop their skills and confidence, he aims to empower young leaders to reach their full potential. Setting a positive example is paramount to Seyi, and he strives to demonstrate integrity, ethical decision-making, and a strong work ethic, inspiring the next generation to embody these qualities and cultivate their unique leadership styles.
Creating opportunities for growth is also a top priority for Seyi. He achieves this by assigning challenging projects, offering stretch assignments, and recommending leadership development programs. Through these initiatives, he aims to empower emerging leaders to showcase their abilities and develop their leadership capabilities. Moreover, he is passionate about fostering a diverse and inclusive environment where all voices are valued. He believes that by providing such an environment, young leaders can thrive, contribute their unique perspectives, and leverage their strengths.
Responsibilities and Commitment
As the Executive Director, African Subsidiaries at Access Bank Plc, Seyi's mission goes beyond overseeing and managing the banking group's subsidiaries across the African continent. At its core, Seyi's role is a beacon of transformative leadership, dedicated to reshaping the African narrative, one success story at a time.
As highlighted by the seismic reactions landmark deals like Access Bank's acquisition of Standard Chartered Bank's (SCB) shareholdings in Angola, Cameroon, The Gambia, Sierra Leone, and SCB's Consumer, Private & Business Banking business in Tanzania, Seyi has spearheaded Access Bank's unlocking of a wealth of opportunities for Access Bank's stakeholders.
Seyi serves as one of the directors on Access Bank's journey of impact, job creation and SMEs empowerment, all strategically geared towards changing the global view of Africa. As Seyi describes Access Bank's dealings across the continent, "For me, these endeavours aren't just business transactions; they are chapters in the story of Africa's transformation."
Unsurprisingly, A typical day for Oluseyi starts with engaging in strategic planning activities. He reviews performance reports, analyses market trends, economic indicators, and the competitive landscape in the African markets where Access Bank operates. These activities provide valuable insights that aid in making informed decisions regarding the Bank's business objectives and strategic expansion plans.
Maintaining Work-Life Balance Motivating the Team
To maintain a balance between personal and professional life, Seyi emphasizes the importance of effective time management. He sets clear goals and allocates time for personal activities, including spending time with family and self-care. By adhering to a well-structured schedule, he ensures that he dedicates time to both work and personal commitments.
He believes in empowering his team and motivating them to deliver the best services. To achieve this, he delegates responsibilities, trusting his team members to handle their tasks efficiently, while remaining ever available to contribute where needed. By providing opportunities for growth and allowing team members to take ownership of their work, he fosters a sense of empowerment and accountability within the team. This approach not only helps distribute the workload effectively but also encourages team members to grow professionally and deliver their best performances.
Thoughts on Success
To Seyi, success is more than just financial gains or career advancements. It encompasses a holistic and deeply fulfilling experience that involves both personal and professional aspects of life. For him, genuine success is achieved by striking a harmonious balance between personal aspirations, meaningful relationships, and overall well-being.
Professionally, Seyi believes success is not merely about climbing the corporate ladder or receiving accolades. Instead, it centres around making a lasting positive impact in the lives of others and leaving a meaningful legacy. This success is rooted in inspiring and empowering individuals, be it his team, colleagues, or the broader community. Creating an environment that encourages people to bring their best selves is what constitutes true success in his eyes.
On a personal level, success for Seyi means living a life aligned with his values and passions. This involves nurturing meaningful relationships, maintaining a healthy work-life balance, and prioritizing self-care. Furthermore, continual self-improvement, personal development, and stepping out of his comfort zone are vital components of his definition of success.
Personal Goals
Seyi's primary personal goal is to make a positive and long-lasting impact both within Access Bank and in the broader community. He strives to making a meaningful difference in the lives of people beyond the organization. Additionally, due to the nature of his job involving significant travel, he aspires to immerse himself in different cultures and learn multiple languages. Mastery of Portuguese, French, and Swahili hold a prominent place on his bucket list.
To aspiring business leaders, Seyi's message is focused on several key principles:
Embrace a Growth Mindset: Adopt a mindset that values learning, development, and adaptability.
Persistence and Resilience: Business leaders often encounter challenges and setbacks on their journey. Staying persistent and resilient in the face of these obstacles is crucial to overcome them and move forward.
Never Stop Learning: In the ever-changing business landscape, continuous learning is essential. Keep seeking opportunities to expand your knowledge, skills, and expertise to stay ahead.
Believe in Yourself: Confidence in one's abilities is vital for effective leadership. Believe in your capabilities and have the self-assurance to take calculated risks when needed.
Empower Others and Foster Inclusion: Leadership is not solely about personal achievement; it's about empowering others and fostering an inclusive environment. Collaborate with team members, value diverse perspectives, and create a culture that encourages collaboration and innovation.
Seyi's advice emphasizes the importance of personal transformation, resilience, and a people-centered leadership approach for aspiring business leaders on their path to success.
Vision and Plan for the Future of Access Bank Plc
Seyi's vision for Access Bank's African Subsidiaries aligns with the long-term expansion strategy of the Bank. By the end of 2027, the Bank envisions establishing a formidable presence in no less than 20 countries, a testament to its ambitious pursuit of being 'Africa's Gateway to the World'. This goal includes forging connections with at least three OECD (Organization for Economic Cooperation and Development) countries, such as the United Kingdom, France, and the United States, which serve as vital trade partners.
However, with aspirations to serve over 20 million individual customers across Africa, Access Bank's vision is not limited to numbers; it's about transforming lives and creating opportunities to empower women, SMEs, youths, and businesses while being responsible in its business practices and commitment to social investments to fulfil its corporate social responsibility objectives.
As Access Bank expands its footprint across the continent, it travels with a pledge to establish far-reaching community impact initiatives driven by its commitment to environmental and social responsibility, backed up by a strong governance structure. Every Access Bank branch, unit, and in fact, employee is tasked with contributing to social development in their communities, in keeping with its mission to set standards for sustainable business practices that unleash the talents of its employees, deliver superior value to customers, and provide innovative solutions for the markets and communities it serves.