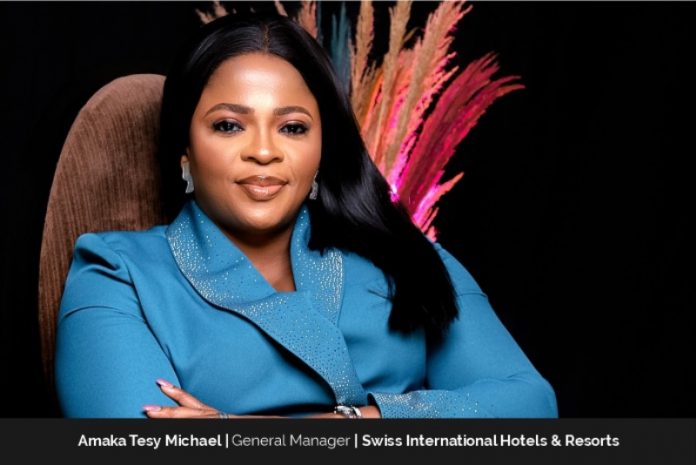 Every person who is passionate and dreams of becoming a successful entrepreneur, lives by "miles to go before I sleep, and before miles to go I sleep". While some choose to sit on the sidelines, those who are brave take the plunge. Only a select few, like Amaka Tesy Michael, have the courage to pursue their true calling and those who do often find themselves living the "dream" of a great vocation.
In the heart of Lagos, nestled among the vibrant streets of Lekki, stands a beacon of hospitality – Swiss International The Vistana. Behind its success story lies the inspiring journey of Amaka Tesy Michael, the dynamic and passionate General Manager who has shattered stereotypes and redefined success in the ever-evolving world of hospitality.
This astute businesswoman managed the hotel even through difficult times to reach new heights; earning her a place among "The 10 Most Influential Black Corporate Women to Watch in 2023." She has a wide repertoire of strategies, an in-depth knowledge of her business, and an eye looking on to the future. This complements her history of successes and her ability to innovate and try new things.
In this article, we will delve into the remarkable journey of Amaka Tesy Michael's success and look at the factors that have contributed to her achievements.
The Vision of Success
"To me, success is deeply personal and subjective," Amaka shares. "It is influenced by an individual's values, beliefs, and life experiences, encompassing personal fulfillment, individual well-being, and the pursuit of meaningful experiences." Her philosophy on success is rooted in the understanding that it is not a destination but a journey – an ongoing process of setting goals, taking action, learning from failures, and continuously striving for improvement.
From Aspirations to Reality
Growing up, Amaka aspired to become an inspirational figure that could motivate and empower others. She initially dreamed of becoming a lawyer to serve humanity through the legal profession. However, financial constraints prevented her from pursuing that path. Undeterred, Amaka remained steadfast in her pursuit of a fulfilling career. When the opportunity to join the hospitality industry presented itself, she embraced it wholeheartedly. "This was an opportunity live up to my passion of serving humanity," she explains. Her dedication led Amaka to take numerous courses, ultimately shaping her into today's accomplished leader.
Championing Diversity and Overcoming Challenges
As a female leader of color, Amaka faced initial challenges that remarkably contributed to her growth. In an industry largely dominated by men, she encountered stereotypes and biases tied to gender, race, and ethnicity, which are often assumed as competence, authority, or cultural expectations. While these biases presented obstacles, Amaka's unwavering determination, divine grace, and strong commitment fueled her resolve to overcome them. She defied the expectations of the society, drawing her inner strength by saying "I can" when others doubted her.
Additionally, the lack of representation of women of color in leadership roles often left Amaka feeling isolated, with limited access to mentorship and role models. However, rather than succumbing to these circumstances, she used this challenge as an opportunity to blaze a trail, becoming an inspirational figure and a source of motivation for future generations. This resilience and experiences accelerated her journey and instilled a deep sense of determination and drive to break the barriers. Amaka believes in her uniqueness and capability to achieve anything, as she commands respect while refusing to allow anyone to underestimate or undermine her abilities.
"Gender parity cannot deter me," she declares. "I always tell myself that God created them male and female, so there is no difference between a man and a woman. Culturally there needs to be a change of how women are seen."
Swiss International Hotels & Resorts: A Legacy of Excellence
As a General Manager of a Swiss International hotel, Amaka provides insights into the company's evolution. Initially established as a hotel affiliation in the 1980s, Swiss International has transformed from 2010 into a dynamic organization specializing in hotel franchising and management across Africa, Asia and the Middle East. The company's diverse portfolio encompasses from luxury, to upscale, and mid-scale hotel brand, strategically focusing on operating and expanding its presence in prime urban centers throughout these regions.
Drawing strength from its roots in Switzerland, a country renowned globally for its hospitality standards, precision, and unwavering commitment to quality, Swiss International ardently embeds these principles into the daily operations of its hotels. Whether tailored for the discerning business traveler or those seeking leisure experiences, the company places a premium on ensuring guests are treated in the authentic "Swiss way," to provide them with a comfortable and memorable stay.
Growth Through Challenges
In the leadership journey, Amaka Tesy Michael has recognized that setbacks and obstacles are an inherent part of life's tapestry. She firmly believes that, "These challenges can provide valuable opportunities for growth and development." Among the common roadblocks that she has encountered, several have imparted profound lessons:
Staff Challenges:Facing issues like high turnover rates can have detrimental effects, such as compromising service quality, leading to guest dissatisfaction, and increasing the workload. From these experiences, Amaka has learned that cultivating a robust team necessitates meticulous recruitment, effective training programs, and continuous support.
To this end, her team invested significant time and resources in selecting the right individuals and equipping them with the requisite skills and knowledge to excel in their roles. Consistent communication, constructive feedback, and recognition also emerged as critical factors in motivating and retaining staff.
Financial Hurdles:Navigating the complex terrain of managing a hotel's finances, especially in the face of budget constraints, rising costs, or unforeseen expenses, can be exceptionally challenging. Limited resources may jeopardize the quality of services, maintenance, and planned upgrades.
Over time, Amaka recognized the paramount importance of sound financial management for a hotel's sustained success. It involves meticulously crafting detailed budgets, regularly monitoring expenses, and identifying areas for cost savings without compromising the guest experiences. Moreover, exploring revenue-generating avenues, such as partnerships, hosting events, or offering ancillary services, proved instrumental in mitigating financial constraints.
Adapting to Changing Market Dynamics:The hospitality industry is characterized by its dynamic nature, where market trends, evolving customer preferences, and competitive strategies shift rapidly. Adapting to these changes, especially for established hotels, can be a formidable challenge.
The wake-up call was the COVID-19 pandemic, underscoring the need to remain attuned to industry trends, analyze market data, and continuously monitor the competitors. Flexibility and the agility to recalibrate the hotel's operations, services, and marketing strategies in response to the evolving customer demands emerged as critical imperatives. Embracing technological innovation, such as implementing advanced online booking systems and enhancing digital marketing efforts, became essential to maintain competitiveness in the market.
This seasoned executive also emphasizes the paramount significance of crisis management, considering unforeseen calamities such as natural disasters, security breaches, or public health emergencies. These crises can disrupt hotel operations and profoundly impact the guests' safety and satisfaction. Consequently, together with her team, she diligently implemented Swiss International's comprehensive crisis management plan featuring clear protocol, rigorous staff training in emergency procedures, and assurance to open communication. This underscores her commitment to ensuring that the well-being and comfort of guests remain paramount, even in the face of adversity.
Amaka Tesy Michael's journey from aspiring lawyer to pioneering leader in the hospitality industry is a testament to her unwavering determination and ability to turn challenges into stepping stones to success. Swiss International The Vistana Lekki Lagos is not just a hotel; it symbolizes her dedication to providing guests with the best of Swiss hospitality, with Amaka Tesy Michael paving way.