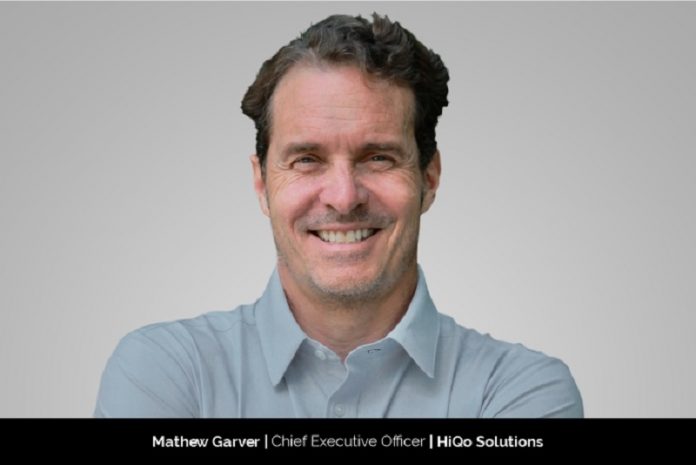 Client satisfaction, a healthy work culture and sustainable growth are paramount when building world class technological solutions in Machine Learning, IoT Engineering, Embedded Systems, Edge ML, and software development.
Machine learning and IoT engineering are some of the fastest-growing markets in the world and Mathew Garver, CEO of HiQo Solutions Inc. worldwide, is leading the charge, with a team that possesses deep technical expertise and the ability to innovate in both these fields.
Daring great things
From hiking Mt Everest to serving as CEO of HiQo Solutions Inc., a world-class technology company with deep technical expertise in ML and IoT engineering, Garver has always sought out incredibly challenging goals that push him to a new level.
He paraphrases Winston Churchill famous quote that you must dare to "put your head in the lion's mouth" as emphasis of his belief that to achieve anything of note you need to invest yourself thoroughly, to dare great things.
"This also means that you have dared to fail," says Garver. "Success is about getting back up when you have fallen short." He believes that challenges make you stronger and that overcoming them, and overcoming yourself, can be transformative.
"I almost always seek out incredibly challenging goals to push myself to a new level," he says. "When I do this, I know the person that emerges on the other side, will be a vastly improved version of myself."
This is true for him, whether in business with HiQo, or in his personal life, such as hiking Mt Everest or other demanding challenges he has undertaken in his life.
Garver's definition of success is simple: it is not what you have, or own, but instead how you live. Its living authentically that inspires him, a value gleaned from philosophers, historical figures, writers, and others who live by example with courage, ethics, and purpose.
"Success is not what you have, or own, but instead how you live. It's about getting back up when you have fallen short."
A tech CEO with a social conscience
Garver's impressive educational qualifications include a Bachelor's degree in Political Economy from Michigan State University, a Master's degree in Financial Strategy from University of Oxford's Saïd Business School, and a Fellowship in International Economics at Harvard University's Weatherhead Center for International Studies.
His interests and volunteering activities span a wide range of domains from technology to environmentalism to helping people with disabilities. In addition to his job as CEO of HiQo Solutions Inc., Garver served as a Future Worlds Vision Committee Member at the American Society of Civil Engineers.
He also serves as Emeritus Member of the Board of Trustees at the Grand Canyon Trust, that advocates safeguarding the wonders of the Grand Canyon and the Colorado Plateau while supporting the rights of its Native peoples, and is former President and Board Member of the Little Creek Nature Preserve.
Garver is also a Founding Member on the Board of Trustees of ASPIE (Autistic Skills Providing Independence & Earnings) which provides direct support for this community.
He is a frequent speaker for Campden Wealth, Euromoney and Sorenson Impact Center events on subjects of ESG, Social Impact and "Industry 4.0".  The common theme is helping global investors achieve their impact vision by connecting capital and social impact solutions within the context of the digital transformation.
His education, track record, background, and previous executive roles as Chairman, CEO, and CFO, inspired in him the confidence to serve as CEO of a growth company like HiQo Solutions Inc. worldwide that stands at the intersection of global trends today.
His responsibilities include governance, strategy, finance, as well as external market-facing roles. He credits his COO, Martin Mauersberg, and CTO, Dr Stanislav Suzdal, with having made his role easier.
"These executives have built HiQo into what it is today," he says. "I have humbly joined to support the growth they enabled with their leadership over the past +10 years. I cannot say enough about the strength of their leadership and the bench of talent they have built together throughout the company."
Growing HiQo the old-fashioned way
Founded in 2007, HiQo is a US-based company with its headquarters in Atlanta, GA.  They have operations, offices, and partners around the world, including the US, Canada, Poland, Belarus, and Russia.
HiQo Solutions Inc. is a world-class global technology company that specializes in machine learning, mathematical data science, IoT engineering, embedded systems, and advanced software services. The company has impressive deep technical and cross-domain expertise across its core competencies of machine learning, IoT engineering and related software development.
"We are focused on the massive market gaps that exist between integrated hardware, firmware and software solutions.  Very few firms can truly deliver deep technical solutions across these domains," says Garver.
HiQo Solutions works with high-caliber global brands, designing and integrating all kinds of technology solutions. Their clients range from Fortune 500 leaders to well-funded Silicon Valley Unicorns and high-growth companies in a wide range of sectors including finance, industry, insurance, health care, agriculture, and many others.
"We have grown significantly to become a recognized brand in the market and with spending little to nothing on marketing," says Garver. "We have grown the old-fashioned way – one client at a time.  This has led to very long-term clients, in some cases more than a decade. Our clients operate more like partners based on our superior results and performance over a long-term consistent basis."
HiQo Solutions celebrated its 14th birthday in 2022 and, since its inception, has been gaining altitude as a recognized company and a recognized brand in the market. There was no singular event that placed HiQo Solutions amongst the top performers as a recognized brand.
"If anything, we are the 'dog that didn't bark'," says Garver. "What I mean is that we have grown largely by our clients propelling us to expand our reach, technology offerings, geographic footprint, and beyond. We will continue to support our growing clients, and this will enable us to expand further in North America, Europe, Eastern Europe, and beyond."
Nurturing long-term business relationships
Beyond their cross-domain expertise, culture, and values, HiQo Solutions' major achievement is their clients' unrelenting demand for their core expertise. This has led to very long-term clients, in some cases more than a decade.
With client satisfaction embedded in their approach, the growth of the company was based upon delivering consistent high-level results to clients and customers since inception.
"It's in everything we do from our processes, standards, protocols, and partner engagement," says Garver. "We are intensively focused on customer service and partner satisfaction. It is a centerpiece of our internal management system tracked daily."
HiQo Solutions views clients as partners, and this philosophy has placed them in a privileged market position with clients who operate more like partners, based on their superior results and performance over a long-term consistent basis.
"First, we are growing in a sustainable manner, not chasing the market fever.  Second, we are strengthening our culture bottom-up based upon our values," says Garver. "And third, we have maintained our 'high bar' in demanding expectations of ourselves, teams, new team members, as well as clients.  This tech 'trilemma' is very difficult to achieve."
Innovation is the DNA of HiQo Solutions
At HiQo Solutions, their unique differentiator lies not just in their domain mastery, but their rigor to consistently execute complex projects, requiring cross-domain expertise.
This is their signature hallmark – a stamp of excellence that separates them from the rest of the field. Innovative technical problem solving requires cross-domain expertise of hardware, firmware and software integration that is at the heart of the company and permeates every level of the company.
HiQo's teams are comprised of highly qualified mathematicians, statisticians, and advanced engineers who are experts in machine learning, IoT engineering, and advanced software development.
Their machine learning teams are experts in machine learning algos, deep learning models, as well as mathematical data processing in various programming languages and frameworks to assist clients to make real-time decisions.
The IoT and Embedded Systems team has experts in all aspects of embedded engineering designed by their hardware engineers, RF (Radio Frequency) specialists, serverless cloud technologies, firmware engineering, and notably security.
"Innovation is the DNA of HiQo Solutions," says Garver.  "It's what we do, who we are, and it's why clients hire us. We have extremely high demands from our technical teams, as they do of themselves. Engrained within the fabric of our culture is a rigorous quality assurance in all that we do – processes, standards, protocols, quality – it is layered throughout the company."
Building a vibrant & youthful workplace culture at HiQo
Garver defines HiQo Solutions Inc. as a dynamic, challenging, and fun place to work with a vibrant and youthful culture, eager to work at the forefront of technology for their clients.
"It is a great time to be with HiQo," he says. "I was inspired by HiQo top to bottom. I was inspired by its people, the business, the culture, and exceptional technical capabilities. We are uniquely positioned at the intersection of global technology trends. We are growing in sustainable trajectory."
Garver defines HiQo culture as youthful, dynamic, forward-looking, global, engaged, creative, respectful, and ever-growing, with a bottom-up culture that permeates every level of the company.
"This is a key reason why employees have been joining HiQo," he says. "They come to work with us vs. other leading technology companies, because they want to be part of an elite team – be part of something bigger than themselves – a company that builds them up as individuals. They want to be challenged and, in many cases, work at the forefront of technology."
A global platform that enables intellectual creativity
In Garver's view, what makes HiQo stand out in a crowded field is their global operating platform that helps integrate talent, teams, and technologies – across hardware, firmware, and software – across various methodologies, standards, and operating processes to empower client solutions.
This platform allows young talent to imprint their own intellectual creativity for technical problem solving, built upon a time-tested platform using common-sense methodologies to motivate the best of HiQo's young creative minds.
Today, HiQo Solutions Inc. is a recognized brand uniquely centered at the intersection of global technology trends. It is highly differentiated at this dynamic market intersection, having forged a unique market position in Edge ML as expert technologist in machine learning, IoT engineering, and advanced software.
As HiQo is in a major growth phase with offices and employees around the world US, Europe, and Eastern Europe, some of the challenges they have had to face include staying several steps of ahead of market demand, operational constraints, and organizational challenges.
For Garver, this meant a constant focus on building internal infrastructure and capacity within the company to meet market demand, including management, systems, processes, and people at every level.
"We will also be expanding our Edge ML expertise, as well as our core markets," he says. "Clients are driving this IoT, ML and software convergence to deliver solutions. It combines our competitive uniqueness in mathematical data processing with our embedded systems teams on global projects. This is truly one of our dynamic differentiators".
Doing the right thing
The HiQo management team's approach to ensuring a culture of integrity at HiQo is based upon several factors.  First, support for a work-life balance that reflects their values of honesty and fairness. Second, they focus on the key values that bind their organization and support a dynamic culture at every level of the organization; and last, the management leads by example.
"We embrace a whole person approach – where the background and skills are only a small part of the holistic person," says Garver. "Our simple philosophy is that our people are more than a collection of skills on a CV. Our people serve many roles including husbands, wives, parents, family members, caregivers, and more."
This philosophy is supported by a life-work balance, which is a de facto working reality of HiQo. People reside around the world working with teams, working remotely in some cases, and serving clients in a distant location.
"We spend a lot of time and effort on training, mentoring, development and advancing our people into key roles. There is a future role for everyone who comes through the ranks," says Garver.
HiQo's employees form a self-organizing culture and are constantly organizing self-interests groups, and different clubs that spend time together and they have fun together.
"Do the Right Thing" is our keystone," says Garver. "This serves as an anchoring value system upon which our culture rests. It means doing the right thing, by our clients, partners, team members, colleagues, family members, and beyond."