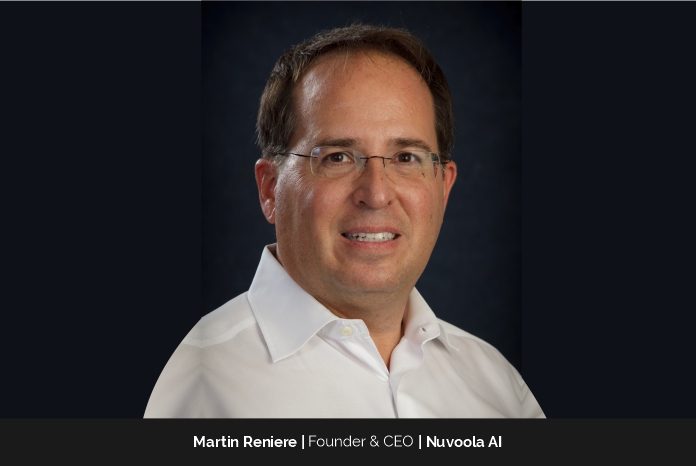 The next stage of digital transformation is AI transformation. To stay ahead of the competition, businesses are eager to invest in AI technology. According to Andrew Ng, a globally recognized leader in AI (Artificial Intelligence) (Co-Founder of Coursera), AI transformation is a process that might take two to three years, but businesses can begin to benefit from it in as little as six to twelve months.
Before businesses can begin their AI transformation, they must first undergo digital transformation since, in most cases, the deployment of AI solutions requires the utilization of digital processes and digital data for training.
"By helping to speed up decision-making, reduce cycle-times, and improve operations, AI is having a significant impact on the efficiency and competitiveness of businesses worldwide."
Through automation and real-time visibility, Nuvoola's AI-based SaaS solutions enhance operational effectiveness. Martin Reniere, Founder and CEO of Nuvoola AI, states that the company transforms video, voice, and data into actionable intelligence with business solutions tailored to the supply chain, transport, and logistics industries.
The CEO of Nuvoola AI
Martin's primary duties at Nuvoola include formulating and communicating the company's vision, designing the strategic plan, directing the product roadmap, and developing the team. Martin is a visionary leader who can see the future of Nuvoola and then inspires and drives his team to make that dream a reality. To do this, each team member must have the authority to implement the strategic plan at the organizational, team, and individual levels.
Martin works with a group of senior directors to make sure the business's operations—from finance to sales and marketing to product delivery—perform well overall. He genuinely values innovation and customer happiness, thus he likes the chance to take part in client demos to remain in touch with them and understand their requirements. He says, "Only if we understand our customers' reality and upcoming challenges can we identify the best way to innovate and ensure we have a major impact on their operations."
According to Martin, Nuvoola has always been a company that values innovation, excellence, teamwork, and communication. It's the team that helps nurture a culture of innovation and integrity. He believes that they are strongly encouraged to spend time learning, educating themselves, and brainstorming; this is how they come up with new ideas. This has resulted in a company that is constantly evolving and one that customers can trust to do the right thing for them.
Inception Story
The first focus of Nuvoola's expertise when it initially began in 2017, was on business cloud services. Then in 2019, Nuvoola made a significant shift in focus after seeing an opportunity to use AI to quicken enterprises' digital transition. The group decided to make significant investments in R&D, creating AI assets and exclusive intellectual property. Martin states, "We built a powerful AI engine that is industry-agnostic and able to learn and execute commands on its own, and we named it LUKE. LUKE is an acronym that stands for Learn, Understand, Know, and Execute. It's at the heart of everything we do." The business's ability to assist organizations in automating many of the more tedious operations has enabled workers to devote more time to strategic goals. The ultimate objective is to improve and transform companies, mostly in the supply chain and logistics industry.
Martin claims that Nuvoola's expansion of its ability to identify objects in challenging environments and digits in the wild is when the company first gained notoriety in the AI sector. It utilized pre-existing video streams and connected with other data sources to obtain insightful data that would help organizations:
Gain real-time visibility
Get detailed, accurate, and digitized logs of entries and exits
Measure the fluidity of their operations with KPIs
Transform their operations
Unlike its rivals, Nuvoola's solutions work in tandem with the current IT infrastructure. It fills in visibility gaps in the supply chain and enhances communication across the various management systems.
For instance, AGD Verchères was searching for a creative way to improve operating effectiveness in its yard while maintaining sight of everything that entered and exited the facility. Additionally, they didn't want to undergo a significant operational shift but still needed the technology to assist them with asset management.
Prior to automating the shipping container inventory on the site, Nuvoola digitalized their asset inventory and processes. Nuvoola quickly and conveniently collects all the identity details regarding containers, vehicles, and trailers entering and leaving the facility using a high-resolution camera connected to the 5G network and a self-serve kiosk for drivers to check-in. Thanks to this, AGD Verchères was able to see the assets that belonged to their clients and were kept in their storage area.
AGD Verchères was able to improve operational visibility by showing real-time data on a dashboard with the help of Nuvoola's technology. This makes it easier to analyze important performance indicators and allows for more informed decision-making.
Coping with Market Challenges
One of the biggest challenges Nuvoola faced was the way the world had evolved and was impacted by remote work, people having less in-person interaction, and the resulting labour shortage in all industries. It committed internal resources to developing a safer access system that could automatically screen clients and workers without the need for staff. Martin claims that the group created these self-serve kiosks for senior living facilities, office buildings, public buildings, and other places where a lot of people enter and exit.
The creation and implementation of the self-serve kiosks allowed Nuvoola to gain a lot of knowledge. With the expertise obtained, the company developed IGOR, an outdoor self-serve kiosk that automates gate operations for supply chain businesses and port terminals. By focusing on a different market sector with a more pressing need, Nuvoola was able to accelerate its success. The company has seen exponential growth since its inception.
Inclusive Offerings
All of Nuvoola's products are built on the Learn, Understand, Know, and Execute (LUKE) online cloud platform. It is an AI-based decision engine and a data-driven framework. The LUKE AI framework is broken down into a central AI hub (the "brain" which continuously learns, orchestrates thought processes and actions) and its key modules (acting like senses and limbs).
"Unlike its competitors, Nuvoola's solutions complement existing IT systems. We bridge the gaps in supply chain visibility and improve operations between the different management systems."
The LUKE platform connects with current sensors, systems, and devices as well as deep neural networks (DNNs) from third parties that it may use for specific post-analysis. Because LUKE is flexible, more AI capabilities, data analytics, and visualization tools may be added.
Different variations of LUKE are being used in the following sectors:
LUKE AI for Manufacturing and Distribution Centers (MDC) – A yard visibility solution that is based on a distributed computer architecture called EDGE (on premises) computing which processes data at the edge of the network, close to the source of the data. It is thus possible to minimize the bandwidth requirements between sensors and data centers by performing analysis as close as possible to the data sources, with the advantage of reducing latency. Easily integrated with existing camera infrastructure,  LUKE AI for MDC uses computer vision to digitize and centralize real-time information such as truck arrivals and departures, trailer and container numbers, as well as purchase orders.
Automated Gate Operation Solution – IGOR, its interactive self-serve kiosk that is installed at the gate, automates driver and vehicle identification. Using the powerful capabilities of LUKE, drivers can quickly and easily identify themselves without the need for employees to get involved. The kiosks can interact with drivers, telling them where to go once they are identified. This reduces check-in time while providing secure access to the site, all without the need for someone to be present at each gate.
LUKE AI for Order Management – Developed as a custom solution for JRV Distribution, this product complements the suite of solutions for distribution centers. Users can connect to LUKE AI to place orders. The distribution center receives the order, and their ERP is automatically updated along with the clients' ERP. Orders can be tracked in LUKE from the moment they are received to the moment they reach their destination.
LUKE AI for Inventory Management – A fully digitized process to track inventory and reorder parts and items that may be running low. An order can be made by simply scanning the code on the box where the item is stored. LUKE AI uses Order Management to place the order. Both ERPs are updated and the client as well as the distributor can follow and track the order.
Operation Performance Center for Ports – A SaaS solution that is comprised of three distinct sets of advanced analytics related to visibility, fluidity, and resilience. The visibility module integrates multiple sources of data and processes them to provide a complete view of information, such as daily throughput, railcar volume, cargo volume, and more. Real-time performance is then monitored with a fluidity dashboard that provides detailed insights on things like gateway cycle time, outbound time, average time spent by location or commodity, and more.
Finally, the resilience module uses predictive analytics to alert ports about potential disruptions and their impacts on business. This is done thanks to a wide variety of data including A6 and A6A forms from CBSA, and data from the port's operations and Transport Canada. These analyses improve the ability to react to disruptive events and to recover from them without significant impact on operations and customer timelines.
Rail Shipment Visibility – Using cameras, its rail shipment visibility solution detects and classifies the type of wagon as well as the containers' type and ID number to create a detailed e-manifest.
Transport of Dangerous Goods – This solution recognizes placards of dangerous goods at high and low speeds to provide visibility and compliance information on the trucks transporting dangerous goods. It can provide information such as speed and directions.
Leading Competition in Artificial Intelligence
Martin and the crew always strive to keep one step ahead of the competition. The team regularly conducts competitive analyses to see what new products the company's rivals are releasing and what new features may be added to their own solutions. Martin also likes talking with both current and future clients to learn more about the difficulties they are experiencing and the changes they would want to see. This enables Nuvoola to develop better solutions and maintain an edge over rivals.
Coping with the Advanced Landscape of AI
The role of AI in the supply chain is quickly developing in order to address the growing number of difficulties the sector is experiencing. AI is becoming a more crucial tool for the optimization of supply chain and logistics operations as more companies use IoT platforms and data-intensive software, allowing them to become more visible, flexible, and predictable. AI is having a huge influence on the productivity and competitiveness of organizations all over the world by assisting in the acceleration of decision-making, the reduction of cycle times, and the improvement of operations.
The supply chain and logistics industry may anticipate that AI will play an increasingly bigger role in the years to come. With its ability to optimize operations and improve performance, AI is destined to become a key component of successful businesses worldwide. Nuvoola is contributing to this change by offering solutions that bridge the gaps in visibility and streamline operations. This helps businesses become more efficient by saving time and allowing resources to focus on other priorities.
Motivation Behind the Achievements
Martin believes that the creation of the first AI-powered self-serve kiosk with a lift mechanism is the greatest recent accomplishment. The kiosk, which is installed at the gate, can determine if an approaching vehicle is a car or a truck and will alter its height appropriately. He continues by saying that the Nuvoola intelligent self-serve kiosk automates vehicle and driver identification. The procedure just needs a few seconds if the motorist has permission to access the area. It speeds up check-in while allowing secure site access without requiring a gate attendant at each gate. The kiosk also communicates with the cars, directing them after they have been recognized.
Paired with the reservation system, this improves the flow of operations while decreasing gate congestion and reducing dwell time.
What keeps motivation high is seeing the impact the Nuvoola team has when it delivers. Just recently, the company completed a first project phase with a major customer and hearing them say things like: "We are really happy with the work, professionalism, responsiveness, engagement, and management that Nuvoola has provided" and "We have only positive feedback and Transport Canada has expressed their desire to move forward" is creating the energy and motivation the team needs to continue delivering the best services and solutions to its customers.
View on the Future of Nuvoola AI
In the last few years, Nuvoola has grown significantly. The concentration on road infrastructure and, more particularly, the work done to provide autonomous entry for trucks at gates utilizing cameras and video systems, served as the foundation for everything else. Due to its success there, it expanded into other transportation sectors, including ports and rail. Martin says, "Here we used our success with trucks accessing gates to do the same with cargo shipments and rail cars. The disruptions in the supply chain and the shortage of available labour affected our customers, and because our strength is in solving business problems, we realized using automation and artificial intelligence would lessen the dependency of companies on labour supply. We've been successful with this approach, as evidenced by our revenues increasing tenfold over the last year."
"We quickly expanded our recognition capabilities of objects in harsh environments and digits in the wild. We were using existing video feeds and integrating them with various sources of data to gain valuable insights that would help organizations be more efficient."
The growth strategy of Nuvoola AI includes strengthening the resilience of seaports. With Canadian seaports, Nuvoola is currently collaborating to improve visibility, flexibility, and resilience. Making marine ports more effective and robust is its aim. The amount of risk associated with big disruptors has significantly increased for all supply chain participants. The company's business solution for ports was developed to offer seaports and terminals strategic data and predictive analytics on the speed, fluidity, and short-term resilience of the supply chain.
The main goals of Nuvoola's analytics tools are to comprehend how events affect the entire gateway, create a near-real-time warning system for particular resilience disruptors, and suggest potential actions that could direct gateway participants in their recovery efforts and lead to a return to full-scale operations.