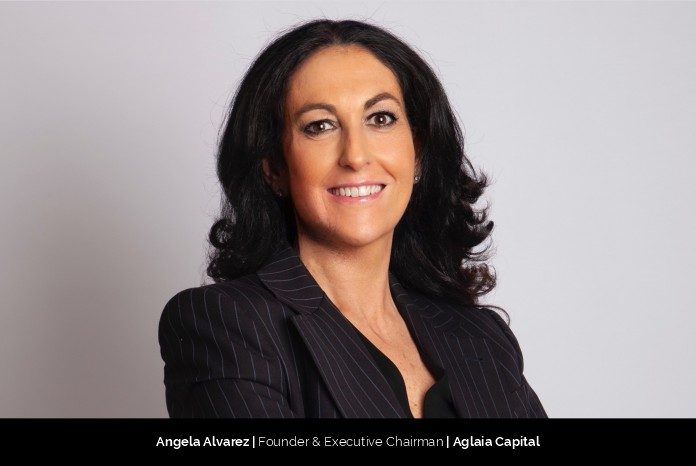 Finance industry has been one of her strongest interests since Angela Alvarez can remember, which came up mainly when she started to learn more about it and has been evolving along her professional career.
Founder and Executive Chairman of Aglaia Capital, Angela is one of the few leaders who have been at the forefront of finance industry. She says, Aglaia Capital surge as an expression of her vision on the industry where she has developed her professional career, Corporate finance, M&A, Investment banking, and Financial Services, combining it also with an offer of new technologies, anticipating the needs of the clients and the industry itself.
Aglaia Capital is a new generation of corporate finance business combining the knowledge, the traditional discipline of an investment banking business and the strengths of a technology- oriented business. It has evolved quite naturally, being fed with former and new clients, where the old and new are mixing, as well as the allies and partners that share their vision.
Aglaia Capital lies in two main areas, says Angela. One, focus on advisory Corporate Finance, M&A and Private Equity, focused on selected niche funds and investors, off-market deals, mainly in Europe, selectively in other geographies, specialized in Financing structures, Hotels, Real Estate, and Fintech, Blockchain, and Digital Assets. Financing structures for Real Estate and Corporates, as well as off-market portfolio transactions on Hotels, or Real Estate and Distressed Assets, have been Aglaia's core, which the team is continuing adapting according to the situations and the demands of investors and sponsors.
The second, focused on a Venture Capital business for early-stage Fintech Blockchain and Distributed Ledger Technologies (DLT) projects. Emerging Technologies and digitalization are shaping the evolution of the financial sector, transforming the industry, and Angela has incorporated digital assets in Aglaia's offering.
Besides, "we offer Aglaia Capital Club, an Investment Club offering co-investment opportunities mainly for disruptive Fintech start-ups, as well as an ecosystem for other type of Investors of other sectors. I usually participate as a speaker, or chair, in economic, industry, and mastermind forum, and as a judge in industry awards and start up competitions, which nourish my global vision and creativity in the business world," she says.
The journey of a thousand miles begins with one step
Venturing on her own, Angela has faced many challenges since company's inception, which she believes are part of her growth process. An inner impulse, vision and purpose have been the main tools to overcome them. "Embracing the new discoveries learnt in every challenge, as well as keep the passion, resilience, and being surrounded by allied with the same mission, values, and objectives than me, have made this entrepreneurship trip easier to travel," she adds.
"Innovation and Integrity are at our ethos at Aglaia Capital. Thriving, making a positive impact as well and contributing in making a better world have been present along my life, and the main triggers of my dreams and aspirations, which I have imprinted also in what is made Aglaia Capital. We are open to anyone that share those values and that want to cooperate with us."
Great things are done by a series of small things brought together
Aglaia Capital has a holistic approach combining traditional Corporate Finance, with and offering of emerging technologies such as Blockchain for transactional Financial Services, and digital assets.
Regarding Aglaia's lines of business, on Corporate Finance, "we have an extensive experience on transactions, applying traditional investment banking discipline and knowledge, going from plain situations to the most complex, from low size to big sizes deals. We have a dynamic deal flow focus on off-market opportunities," Angela says.
The company's main advantage Angela believes is the agility, based on the team's knowledge on the industry, the investors, and clients, as well as the independence, acting as the traditional big firms but with the advantages of a personalized approach.
"Regarding Blockchain applied to Financial services, we have the main advantage that we are insiders in the finance world, using emerging technologies as a way of solving some of the issues that I have faced in my industry. On Venture Capital and Blockchain Fintech we have a team of specialized Fintech Blockchain fund managers. Diversity and sustainability are also at our ethos at Aglaia Capital. Diversity is needed for a better understanding of this complex world, and it will be a competitive advantage for any business in the short term," she further says.
Amalgamation of determination, passion and purpose
The beginning of Angela's career has been marked by a combination of determination, passion, purpose, and also a big dose of serendipity that have joined her along her professional career, and have led her where she is now, says Angela.
She is proud and thankful of having had great achievements along her path, as she has grown in a selective professional career where she has had the opportunity to run international executive positions in big leading organizations, being possibly more remarkable in a sector that is typically dominated by men. "I find one of my greatest achievements is having the possibility of develop and imprint my own vision as an entrepreneur on my industry," she shares.
Being an entrepreneur gives Angela the opportunity to imprint her vision, and adapt her business to a changing environment. "Having a purpose, enjoying what you do, and be surrounded by people that help you on that it is a powerful motivation. We aim to contributing in being the change that we wish to see in our industry. Diversity and openness to anyone sharing our values that want to cooperate with us," she says.
Angela's message to the aspiring businesswomen is just "be", without looking back to past stereotypes, and keep going to their goals, or whatever they would like to do. Preserving anyone's uniqueness can make a difference also for the others, and she thinks it is more valuable than following any stereotype.
It always seems impossible until it's done.
Led by Angela from the front, Aglaia Capital was born with a strong focus on traditional corporate finance, and on transactional technology for the Financial industry with emerging technologies, blockchain, and is on Angela's roadmap that both will be developing.
"Current goals are the consolidation of Aglaia Capital, continuing growing our core Corporate Finance business, aiming to be a reference for off-markets deals, assisting investors, and owners of hotels and Real Estate, and corporates, wanting a unique and personalized advise for transactions, in Europe, and other selective geographies, and in Alternative Financing for corporates and Real Estate, and for Blockchain Fintech. On the technological side, developing a platform for digitalization to provide liquidity for some of our clients.
"We will aim to develop also a Private Equity Strategy to make easier making investments, leveraging our knowledge of the markets and deal flow, to digitalize those vehicles to make them more efficient, profitable, liquid, and transparent for our investors," concludes Angela.