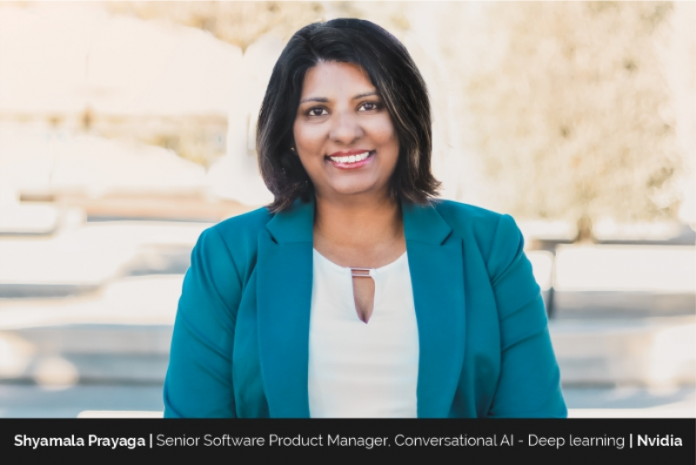 Shyamala Prayaga's story is one of tenacity, grit, and resilience. She has carved out a name for herself in the AI space with an inedible marker, and she has been able to do that because of her never give up attitude, hard work, and penchant for learning new things. Once rejected by Google and Yahoo!, Shyamala is now a renowned thought leader and a force to reckon with in the conversational AI industry.
She is currently serving as the Software Product Manager for Conversational AI and Deep Learning at NVIDIA. Previously, she worked with Amazon, Voicebox Technologies Corp., and Ford Motor Company. At Amazon, she played a crucial role in the development of the first-generation Alexa; at Ford, she was the only conversation designer and product manager working on conversational AI, enabling voice in the car.
Over the years, Shyamala has won a number of awards and received recognition from the industry for the innovative products that she has worked on – the products that people love to use, for example, Alexa. She has been listed in the Top 40 Voice AI Influencers as well. She considers the launch of her books "Emotionally Engaged Digital Assistant: Humanizing Design and Technology" and "Close Calls: My Life of Unseen Miracles" as one of her proudest moments.
A day after the release of "Emotionally Engaged Digital Assistant: Humanizing Design and Technology," Shyamala had to attend the VOICE Summit, a conference focused on conversational AI. As she had not promoted her book launch in a big way, she was not sure how many people would be interested in buying it. So, she carried only 50 copies with her to the conference.
All the copies sold out within a couple of hours, and, to her surprise, everyone wanted a hand-signed copy. Those who were not able get hold of physical copy of the book purchased it online and visited her office in Santa Clara to get the book signed "When people were coming and getting the book signed by me, I was feeling very proud. It was an amazing moment for me," Shyamala says. And a woman even asked, "Can I get a picture with you, please? I want to post it and say I met Shyamala Prayaga."
"That was the moment I felt, 'Wow! This is amazing and I have come a long way!'," Shyamala says.
Making a Name for Herself
As a child, Shyamala always dreamed of making a name for herself. She wanted to be known by her name and not referred to just as the daughter of Mr. and Mrs. Rao. "It was something that was always there in my mind as a child," she says. "And, today, when I see that I've made a name and people know me as a thought leader in the voice and user experience industries – that for me is a success."
Shyamala had set that goal many, many years back, and at the time, she didn't even know how she would accomplish it and what steps were needed. "But, somehow, I made my way, and this is what success means to me," she says.
She also points out that setting a goal is not enough. One needs to have a certain guard rail to be successful as well as needs to put in the effort. For example, when she wanted to become a thought leader, she was not just sitting and doing nothing; she was making every possible effort to make that happen. Shyamala was writing blogs, publishing posts, speaking at conferences, and learning and keeping herself up to date. "They have helped me reach where I'm today," she says.
Stepping On to AI Space
Shyamala is a creative person and always had a curious mind. She recalls that as a child, she used to disassemble and assemble things, for example, radios. In India, where she was born and brought up, parents usually encourage children to either become a doctor or an engineer. Like most Indian parents, her mother, too, was adamant that she pursued engineering and nothing else. Shyamala also points out that there were limited career options 20 or 30 years ago.
She had to enroll in an engineering college even though she had no interest in engineering-related things. She opted for civil engineering. "I chose what I felt was more relevant to things I enjoy – creativity and constructing things," Shyamala says.
Her sister was studying computer engineering. When she used to do combined studies with her friends, Shyamala would hear them talk about artificial intelligence (AI) and machine learning – which piqued her curiosity. She felt that they were "fancy" terminologies. One day, she asked her sister about AI, and when she told her that, "It's giving machines the kind of intelligence that humans have, through different techniques," Shyamala became interested in knowing more about it so that she could join the field. "That was my motivation point. I thought that I've to be in this AI field, and I've to do something about it," she says. To make that happen, she joined a few computer courses.
After working for a while as an architect, Shyamala eventually ended up in the IT field. As she aimed to work on AI projects, she tried to look for opportunities in companies that were focused on AI or handled projects that were related to AI. She started her career as a user experience designer.
"I enjoyed AI and the technology, but at the time, I didn't know any other path to get into that, and I had to start somewhere," Shyamala recalls. "I wanted to start with something I genuinely cared about, so I started with user experience because back then, the technology used to be very terrible – even now, it is not 100 percent sophisticated – and people used to struggle a lot."
Shyamala used to think of how she could fix the problem for people and make it easy for them to use. "That is how I started my career, and while I was doing UX designing, I was always looking for opportunities in AI-related products and projects," she says.
When Shyamala started in the AI space, she struggled a lot because of her different background and experience. She had no clear vision and had not thought of a clear path. She feels that if she had a mentor when she was working in India, things would have been easier. "It would have helped me clear my vision, and I would have been aware of the right approach," Shyamala says.
She recalls that when she first moved to the U.S., it was a complete culture shock for her. Her co-workers in India had a different mindset and communicated differently, and they were competitive. Shyamala says that in the U.S., she struggled to work with people belonging to different cultures. "Understanding the accent was not an issue, but the tonality and the way people speak, and their mindsets and upbringing all come into play when they are communicating," she points out. So, in the beginning, she would always come across as a defensive person, especially when she used to talk, present something, or share her opinion.
"People would not understand my point of view and I would not theirs. So, it would look like I'm defending myself and I'm very defensive in my approach," Shyamala remembers. It was when someone gave her feedback, she stepped back and began to look at things differently, and she also found a mentor who helped her understand the ins and outs of how she should approach from a communication point of view as well as from technology and presentation standpoints.
Shyamala explains that functional skills are "very" important – those are the steppingstones for one's success – but non-functional skills are equally important. Communication, networking, presentation, and storytelling skills are as important as functional skills. Shyamala's mentor helped change her mindset. He also shaped her future vision. She points out that if she had a mentor very early on in her career, she would have struggled less.
Decision to Join NVIDIA
Joining Ford Motor Company was a turning point in Shyamala's career. Things began to change for her when she started understanding the ins and outs of the industry, talking to vendors, and presenting at conferences; then all of a sudden, she was perceived as a thought leader in the auto industry. "I was invited to speak at various conferences, and my views were published in various magazines, such as Forbes, which gave me a lot of visibility," says Shyamala. People started referring to her articles.
After five years of working at Ford, Shyamala began to feel that it was time for her to change. At the same time, she wanted to do things that she enjoyed doing. She was also sure that she would like to continue working in the conversational AI industry.
Shyamala was based in Michigan when she was working for Ford. She came to California for summer vacations, where her husband's brother is based. They were in California for two months, and during that time, because of the COVID-19 pandemic, she was working from home. Her son, Shyamala says, was enjoying spending time with his cousins. "When the moment came to go back to Michigan, my son started crying, 'why we are not here and why are we in Michigan'." It made her think that her son needed the support of their extended family. And as she is a cancer survivor, she felt the need to remain connected with the family. "So, that is when I decided to make a move. I, however, was very particular that I want to be in the conversational AI industry and nothing else," Shyamala says.
When she saw an opportunity at NVIDIA, she felt like, "God is talking to me and telling me this is your opportunity, and this is what you should be doing." She submitted a referral from a friend who had worked for NVIDIA; after some time, she received a call from a recruiter. She had to go through a series of interviews to get the job at NVIDIA. Shyamala says that she is currently working on what she loves doing – conversational AI and core technologies.
NVIDIA and Its Products
NVIDIA does a lot of things, and they have a "very, very strong" AI presence in the market, Shyamala says. They work on GPUs and graphic cards, and they are heavily invested in AI. Shyamala points out that they are quickly becoming a thought leader in this industry. "We are working on a lot of cool stuff such as NVIDIA Riva, which is a conversational AI SDK, and Avatar Cloud Engine, which enables you to create a meta-human or 3D avatar," she adds.
NVIDIA has a lot of products, including autonomous vehicles. According to Shyamala, they are enabling vehicles to drive by themselves and are bringing in technologies related to robotics. "A lot is happening in the industry, specifically for NVIDIA," she points out.
As the Senior Software Product Manager, Shyamala is overseeing the development of a couple of products. She is defining the designing provisions for them and ensuring that her cross-functional team brings those products to life. Shyamala's focus is mainly on the tool side.
She points out that NVIDIA is an engineering-driven company, and most of the products they have been designing are for tech-savvy people who are deeply rooted in coding. They are now trying to change that by bringing in zero-code, no-code, and easy-to-use interfaces. "That is what I'm focusing on," Shyamala says. "For example, one of the products I'm working on is called the custom voice." She explains that users can bring 30 minutes of their audio, and using the company's tool, they can record the audio and generate a synthetic voice out of that.
At NVIDIA, Shyamala is also working on large language models (LLMs). Similar to ChatGPT, they have created their own language models. They are like the brain of a machine. Shyamala explains that they understand what users said and give them responses and write based on what users have asked. For example, if users ask ChatGPT to write a recommendation letter, providing some criteria, it will understand and give them that. "We have created a similar product," she says. And she is focusing on the easy-to-use interface and customization aspect of those tools.
"My focus is mostly on building products, which are easy to use," she adds. "Anyone with limited AI experience or knowledge should be able to come and train their models and use our technology."
Speaking of the future, Shyamala says that there are a lot of "exciting things" in the pipeline. "I can't talk a lot about the projects and how we are shaping things as some of them are confidential, but definitely, we will show a lot more thought leadership in conversational AI and AI industry."
Responsibilities and Work-Life Balance
As the Senior Software Product Manager, Shyamala's focus is on customer collaboration. Customer feedback is very important for her as her products are in early access. In addition to customer collaboration, Shyamala regularly collaborates with her development and broader team. She constantly reminds them about their vision for the product.
She says that her day-to-day job involves a string of meetings, writing product requirements, and grooming requirements. She works with the development team to decide when they will release what product and ensures that they adhere to the timeline. Shyamala says that they also do product testing, collect a lot of feedback from customers and other sources, and use that to better their product vision and refine their roadmap.
Shyamala presents the roadmap to the leadership team and attends their review meetings as well. She also creates a tracker to know what is happening with the product, how it has evolved, and its growth and adoption rate. In addition to collaborations and meetings with different stakeholders and customers, Shyamala does a lot of documentation, writing, and presentations.
As she understands the importance of staying current, she spends at least 30 minutes each day learning a new concept. "I've blocked my time from 12 noon to 1 p.m., which is my lunchtime when I'm not attending any meetings, and that is when I learn about different terminologies and concepts from Udemy to get a deeper understanding of the domains and what is happening in the industry," says Shyamala. She also spends some time on LinkedIn and other places to keep herself updated about what is happening in the industry, what is up and coming, and other industry-related things.
Shyamala rarely takes a break from work. She often tells her husband, "The day I'll take a break, I'll die." Work is something she loves doing. And she derives her motivation from meaningful work. "I'm a human too, so some days, I'll also lack motivation. When that happens, I try to quickly come back to why I was not motivated, what is happening, let's sit early on and try to fix it," Shyamala says.
She informs that she has started the practice of meditation and visualization. She also sets intentions at the beginning of the day, which allows her to chart out her day. "That always helps me," Shyamala says. "Once I have done that, I've already set a path for myself, so I'll not procrastinate or do anything that is not meaningful."
For motivation, she also listens to TED Talks and looks at her colleagues and social media contacts. She gets power from their shares and likes. Their positive comments make her realize that there is a lot more she needs to do. And her team derives motivation from roadmaps. Shyamala constantly works with them to ensure that they are on the roadmap and there is a clear timeline. She does not like to keep things abstract and believes in putting a guard rail and having a clear path. So, everyone knows what they are expected to do. "Everyone shares the common vision, and everyone is motivated to work toward it," Shyamala says.
Shyamala has a hectic work schedule, but she does not let that disturb her work-life balance. She calls herself a "very strong evangelist" of work-life balance. She has set clear boundaries when it comes to working hours. "In the morning, I make sure that I've enough time to cook and drop my son at school and do other things," Shyamala says. "Charting out the day always helps me."
She works from 8 a.m. to 5 p.m. "I'm very clear that after 5 p.m., until and unless there is a burning issue, I don't work," she says. After that, it is her time for yoga, meditation, and family. She makes sure to have dinner with her family, and she rarely misses her son's soccer activities, and if there is nothing to do, she prefers to sit at home and play board games with her family. She also does not keep her phone near her when she is sleeping. "I try to balance work and life this way," Shyamala says.
Advice for Aspiring Leaders
Shyamala's success stems from her never-give-up attitude combined with strong resilience. "Never give up" is also the advice she gives aspiring leaders. She also says in her message to them that they need to clearly chart out what they want to do, set clear goals, and have a clear vision. Goals should not necessarily be big; their focus should be on setting those smaller goals that will eventually help them reach their vision.
Shyamala recalls this memorable piece of advice that someone gave her: "If you look at your path and feel like, 'Oh my God, I've 100 stairs to climb', that will feel like a lot. But, if you look at it and say, 'okay, I've to climb one stair at a time to reach the hundred', that is when you reach your goal. and you'll not even realize what you've done." Shyamala adds, "that is exactly what you should be doing."
"Whatever your dreams might be and wherever you are in your career, create smaller goals. That will enable you to achieve that bigger goal. And equally important is knowing the burnout," she tells aspiring leaders.
The Next Big Dream        
Shyamala has made a name for herself – accomplishing a childhood dream of hers – and is one of the most influential thought leaders in the voice applications space. She, however, is not yet done. It is not enough and there is a lot more she has to do, she says.
She is now pursuing a bigger goal. She wants to follow in the footsteps of Thomas Edison and Nikola Tesla, whose inventions continue to impact everyday life even today. Shyamala wants to do something similar so that she is not just remembered now but is also remembered even after she is gone.
"That is something I'm craving for now. That is my future vision," she says. "I don't know what will happen and how it will happen, but it will happen."