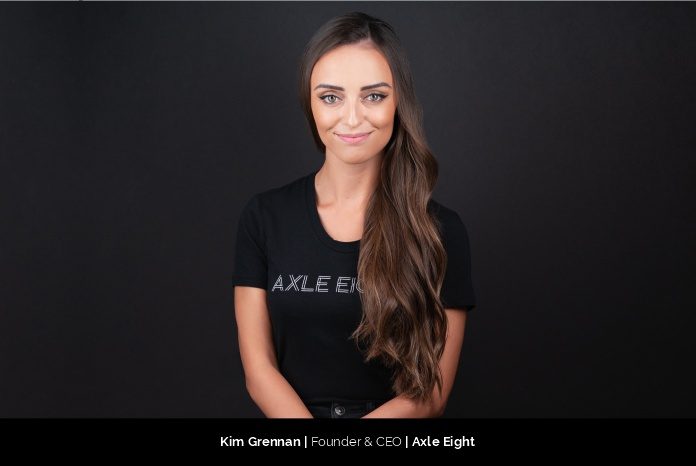 Digital marketing has become an indispensable building block for skyrocketing the success of every business. With the boom in online engagement, promoting one's business through digital channels is a shortcut to reach high-potential leads in no time.
Owing to this, many marketing agencies are coming forth to unleash the potential of digital marketing for both small and large businesses. However, only a true digital marketing enthusiast can help you generate a decent channel of leads and brand awareness.
Aim and Top-Notch Services of Axle Eight
Kim Grennan is a long-term visionary who created Axle Eight with an aim to stand out from the rest. Axle Eight is setting a benchmark with its innovative data-driven approach and complete range of services. From offering paid ads to content creation to comprehensive marketing strategies, Axle Eight is a pioneer in its approach to thinking in completely unique ways when it comes to marketing strategies.
Kim's team is able to handle all the key operations such as SEO, advertising, email, content creation, PR and social media marketing.
Overcoming Roadblocks in the Path Boldly
While COVID-19 posed a threat to businesses worldwide, Kim had to re-strategize and think of surviving this pandemic without having to lay-off any team member and keeping the business running steadily. She faced major struggles in the beginning when some clients were forced to cut back on marketing spend and others had to halt their business operations entirely.
She adds, "There were 2 levers I could have pulled – cut costs or grow revenue. I decided that I had to commit a lot of my energy to sales during these rocky times and try and bring on a handful of new clients that would allow us to keep churning and growing as a business."
In the end, she decided to recruit a president who could assist in the further growth strategy and managing the day-to-day operations, and that was her best decision.
Unique Working Strategies of Axle Eight
Unlike typical digital marketing agencies looking to bind clients into contracts without any satisfaction guarantee, Kim chose to keep a client-friendly approach. She explains, "We don't lock you into long-term contractual, 6-month, or 12-month agreements like so many others. We work on a completely flexible monthly retainer basis that's cancellable at any time for any reason. We also offer your first month backed by a 100% satisfaction money back guarantee, so we can earn your trust and ensure you are satisfied."
Further, most agencies emphasize keeping the communication to-the-point or only one-way; however, Kim makes it a point to stay connected with the clients as it helps build meaningful relationships.
"Companies need to shift gears or change scope all the time, so our ability to stay flexible helps us better align to our client's business goals. And we want to be that adaptable partner who is with them through all of it. We spend a lot of time with our clients, communicate very regularly on a weekly basis, and get to know them on a human level.", she says.
Team is The Ultimate Strength
Kim has always valued building a strong bond with the people on her team. She adds, "To me, the most exciting part about working at Axle Eight is not just the amazing companies we work with, but it's the ability to truly have a hand in charting the path for how we grow as an agency. None of us have ever built and grown an agency from scratch, but we are doing it together! And everyone contributes to this goal and vision with their own ideas–it's been so incredible to watch." Kim encourages her team to be creative and motivates them to push their limits, that brings out the best in them and catapults the growth of the company.
To reward integrity and keep the team motivated and result-driven, Kim is always looking for fun ways to never let the work pressure get the best of the team. "We love going out for drinks with one another, grabbing lunch with the whole team, and doing little field trips to the river or escape rooms. Fun is what it's all about. If you don't love the people you work with, it's really hard to justify spending so much time with them! We prioritize making sure everyone at the minimum has a good laugh each day. " Says Kim. Even while working remotely, morning Zoom internal meeting calls and sharing funny stuff on Slack are the team's constant get-away to keep a laid-back and relaxed work approach.
To add a cherry on top, Kim adds, "We do profit sharing, and twice a year, I write checks as added bonuses that are direct correlations to the hard work that the team has put in to make this company a success!"
Balancing CEO and Life Roles
As the CEO, Kim has multi-faceted roles. She explains all her responsibilities, "Sales, marketing (of our own business), client relationships, finance, accounting, HR, general strategy for client accounts, and some client-related work too!"
She does everything without hampering her daily life schedule. We asked what her typical day was like, she wakes up early at 6 AM and then spends time reading news related to financial markets and recent marketing trends and then tries to get in a HIIT class before getting the work-day started. After work, she, along with her husband, take their dog 'Piggy' for a walk at 5 PM. Later, she relaxes while her husband cooks dinner for the family.
Planning a Profitable future 
Kim is proud of what she has achieved in the last 5 years with a "Grow, Grow, Grow" mindset. For the future, she is looking for lucrative profit margins and a streamlined systematic process that will enable her to scale Axle Eight's growth more efficiently. "We are refining how we make decisions in our business in ways that are backed by data instead of gut feelings, and this will position us well in the next 2-3 years to be hugely successful. We want to define more closely who we are this year and next by trying new things, but more importantly discovering who we are NOT. As a leader, I think this is arguably one of the most important factors of positioning a business.", Kim adds.