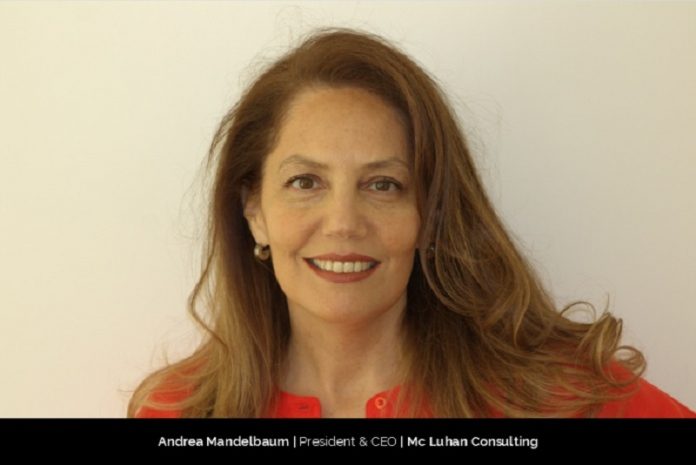 Women empowerment is a premature concept that is evolving slightly every day. While some think about it as a good topic to debate, some passionate leaders sincerely believe in the epiphany of women empowerment and exhibit the power of women in every leading industry. Andrea Mandelbaum, Founder and CEO of Mc Luhan Consulting is an influential business leader who epitomizes the significance of women in businesses, especially in technology. "I want to encourage more women to become entrepreneurs in the technological industry. Pride fulfills me when I encounter women who made their dreams come true, because I know how hard it is", says Andrea. Her success is an inspiration to every aspiring female leader, to take the step of faith with passion and perseverance.
Experts leverage a wider bandwidth of innovation today since technology is no more an alien concept. From internet access to artificial intelligence, every innovation has evolved into a better version. As normal as it may sound today, it was not quite so, a few decades ago. Hence, starting a company in a technically challenged age was not an easy road to take. It has been the relentless efforts of technology enthusiasts that redefined the power of technology in a phenomenal way and Andrea has been at the forefront of this technological revolution with the founding of Mc Luhan Consulting.
Establishing the Company in an Unfavorable Environment
Andrea recognized her passion for technology at a very early age and knew that she would face numerable challenges if she decided to establish a technological company in an age where access to internet was limited. However, Andrea believed in her passion and her entrepreneurial personality that motivated her to venture out into starting several technological projects at the age of 16.
Initially when Andrea established Mc Luhan, she had implemented a business model of selling music CDs and videos by phone with home delivery, which was different from what the company offers today. With the changing landscape of technology, Andrea kept evolving and improving the company services as required. She then started giving services to companies providing service; for instance, a contact center, direct marketing, market research and BTL advertising. These services became the fundamental concept of the current operations of Mc Luhan Consulting. Along with providing customer relationship services based on technology, the company has also developed their own solutions as Replikante and Retail Innovation as well as third party integrated solutions.
Challenges Stimulate Growth
While founding Mc Luhan in 1996, Andrea faced two main challenges; one was a geopolitical issue and the second one was the acceptance of a young woman in technology. The company was started in Argentina, that is an unstable country on political and economic terms. The rules of business would change with every changing government policy which would force the company to readjust to new norms. This obstacle created room for creativity and stimulated resilience in Andrea and her team which further encouraged Andrea to establish her company in Brazil, Chile, Peru, Columbia, Mexico and Panama. "I always say if I could uphold a company in Argentina for 25 years, I could do it in any country", Andrea, says.
Unlike today, women were not well accepted in the technological industry back then, especially a young woman like Andrea who had no history in the business world. However, Andrea believed in her goals and pressed on to achieve her dreams. Today, she is a proud leader of a successful technological company with 70 % women employment and stands in a significant position of power to redefine the technological industry in her own unique way.
A Successful Entrepreneur and an Influential Leader
Andrea's career as an entrepreneur is framed by freedom; the freedom to create, project and execute technological ideas without restrictions. As the CEO of Mc Luhan Consulting, Andrea's main responsibility is to define the vision and strategy for the company course, generating disruption in new technologies, business, and work model. As soon as Andrea identifies a new idea, she first discusses it with her associate over several meetings, searching for different approaches and ways to implement it. After which, she consults the Investigation and Development team to find the right tools for development, integration and creation of a technological solution that can be a profitable business. Then it goes back into the business and operations team where costs and pricing are defined.
Andrea personally does the testing of perception for new solutions to recognize interest, maturity, purchase tendency, price and business model, so they can then make the necessary adjustments before launching it to the market. Andrea is actively involved in every operation within the company and supports each domain with her expertise. "I don't feel I'm working in technology. My thoughts are always focused on how the usage of technology can solve problems, help enhance experiences and give a better life.", Andrea shares.
To keep the team spirit high and encourage a healthy work environment, Andrea motivates her team to attend events and conferences, use webinars, participate in forums, and have a group among some company partners where they share useful information about technological innovation, market, and competency investigation. This helps in creating result-driven solutions.
Maintaining a Balance in Work and Personal Life
Andrea ensures to spare some time for her personal growth as well. Her journey began as a young, independent businesswoman who was completely dedicated to the development of the company. However, today Andrea is married and has two wonderful children who are actively involved in the company dynamics. They also accompany her on business trips to spend some more quality time together. Andrea owes her entrepreneurial success to her associate, family and friends who have been supported her throughout her career. "Leading so many roles is not easy, but everyone knows that I am passionate about my job and it makes me happy.", Andrea shares.
Andrea leads a healthy personal and professional life and encourages every aspiring businesswoman to do the same. "My message to the ones wanting to be entrepreneurs is that both parts can be planned and organized, that there is no need to set our personal life aside for our company.  Giving quality time to each is what really matters.", she adds.
Providing Excellent and Innovative Services
Mc Luhan is a consulting company specialized in customer-company relationships to achieve unique experiences based on technology. Among their own solutions, they have created a multichannel conversational bot called Replikante. It is based on AI (Artificial Intelligence) and is unique in the market as it was designed in all native Spanish, English and Portuguese. The fact that it does not translate, allows the bot to have a level of understanding and case solution above 90%. Whether spoken or written, it adjusts to the rhetoric language styles of each country. It is multichannel because it can talk on the phone and write on WhatsApp, Telegram, Facebook Messenger, SMS, E-mail or a web chat. As it is developed for the following markets: banking, telecommunications, insurances, retail, health care and mass consumption, it makes training and launching possible between a week and a month, because it does not need to learn the jargon for each business.
Evolving Technology for Better Results
The Replikante bot produces and saves from 50% to 70% for the clients, which means a higher level of satisfaction for their clients compared with the outcomes they get with human agents. This achievement helps growth among the companies developing customer service, debt collection, sales and inbound or outbound marketing management. For example, given the insurance market, a team of agents file a claim and send them to a back-office team who creates a claim number, another team coordinates tow trucks and schedules garages. Finally, another team confirms the appointment and does the case tracking. All those processes from the beginning until the end can now be managed by Replikante only. Conversations are carried out in a natural language. For example, given health care companies, patients describe their condition, the bot understands and asks additional questions to execute a triage and depending on the case, it can send an ambulance, send the patient to a nearby health centre, schedule an appointment with a specialist or refer the call to a physician in line.
85% of the health care cases received in a contact center can be diagnosed by Mc Luhan's solution. The 15% that is left must be human specialized consultants. In this way Mc Luhan Consulting can provide 100% assistance, 24/7.
In 2020 they launched virtual try on, that was being developed since 2018. Now considering the pandemic situation, it became the perfect solution for e-commerce, as customers can try makeup, hair colors, sunglasses, sneakers, even decor and household appliances in their own home without leaving it. In Latin America, Mc Luhan Consulting is the only company that counts, try on, for all categories related to personal and home needs. Andrea and her team stay abreast with the increasing competition by periodically evolving their technological solutions.
Stepping into the Future with a Defined Vision
Considering the new dynamics of technology from 2021, Mc Luhan is focused and immersed in the changing technological industry. Andrea's vision is to be 5 to 10 years ahead in the technology evolution. The company is launching about 1 or 2 new solutions per year and have migrated the business model to PPU (Pay per use). This model benefits companies that want to try the technology or have fluctuating demands. In 2020, their retail solutions have skyrocketed to an extent where they had to create a Retail Innovation department that counts with specialists in trademark and marketing image based on technology. They have also initiated AR, VR and mixed reality solutions that will become the new way of purchasing in the next few years. The tendency will be immersive experiences for purchase processes.
Their roadmap will continue providing innovative and technological solutions with measurable results, creating exceptional experiences. They plan to get deeper in the evolution of their bot Replikante for client's assistance with management from end to end 100% digital and without human intervention for industries like health care, banking, telecommunications, insurance, retail, and mass consumption.
Mc Luhan Consulting has been delivering exceptional technological solutions for 25 years and they do not plan to slow down. Under the leadership of Andrea Mandelbaum, the company has achieved milestones in the technological industry and continues to evolve each day. Andrea went against the odds, followed her passion, and established herself as an influential woman in a male dominant industry that typifies the true meaning of women empowerment. She continues her journey with a mission to inspire and innovate.