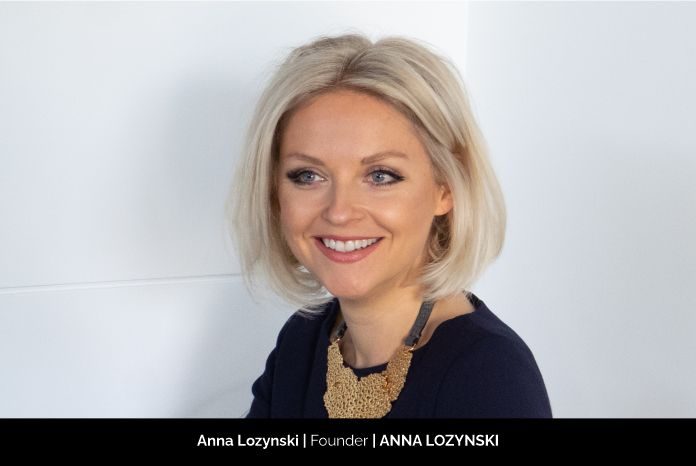 "Success is doing what you love, with great people, and being paid your worth."
Technology is a change train that has brought a huge metamorphosis in all sectors. With every arena benefitting from its positive influence, corporate and legal professions are no different. Having 18 exceptional years of experience, Anna Lozynski is an executive general counsel, author & advisor who strongly believes in the power of innovation.
Her efforts have led to getting a huge applaud from all around the world. She further adds, "Since launching my first e-Book, Legally Innovative in 2018, building an online following (via Instagram and LinkedIn) and being named as one of APAC's Top 10 Most Innovative Lawyers by the Financial Times, amongst other awards, the requests for support and advice have been flooding in from across the globe."
Stepping Stones in the Path of becoming GirlBoss
After starting out at a major law firm, she kick-started her corporate career by serving 3 major industries namely, banking (Westpac), automotive (General Motors), and cosmetics (L'Oreal).
She shares, "During my career, I have been intrapreneurial, choosing to solve problems in a different way vs. the way things have always been done, turning to innovation extensively as part of my expert toolkit."
She considers one of the biggest milestones was leading the award-winning transformation of the legal department while serving as Executive General Counsel at L'Oréal Australia & New Zealand. Being ready for the future, not only resulted in savings of $9 million in the last 3 years but also augmented both the efficiency of the business, as well as allowing the legal team to expend 70% of their time finding answers to the more complex and high-risk problems of the organization. Such creation of an innovative culture with successful experimentation was possible by increasing the human capacity of the team by 400%.
After her pioneering contribution she took what she describes as a natural next step to embrace an entrepreneurial journey in 2021.
Impediments on the Success Road
Her enriching past experience has taught her many things. She says, "Being a trailblazer and breaking the corporate mold has taught me to face my fears, follow my passions, trust my intuition, lean into my vulnerability, step into my power and forge ahead regardless of any limiting beliefs (mine and that of others)."
For her, innovation must be added as a daily habit, attitude, and with time become second nature to come up with good solutions. It all starts with mindset. She emphasizes on keeping a window for improvement widely open – continuously learning and unlearning. She adds, "I am currently a "one-woman show," being in the launch phase of stepping out on my own," but a fundamental tenet of her business model is collaboration and creating synergies.
Anna's Role and Vision for The Company
Anna has always lived a multi-faceted life, even before starting her own venture where she had a big corporate role, as well as a side hustle. She states, "I was solving complex and multi-disciplinary problems, as well as leading a pioneering legal team the majority of which, with my full encouragement, switched working locations during the pandemic in support of their wellbeing." She has been an early adopter of flexible working, well before it became more mainstream in the workplace.
On the sidelines, she was running an online community @legallyinnovative and now has included Clubhouse to her online presence. She stands by her vision wholeheartedly. She adds, "I'm here to support law and business adapt to the digital age, and inspire others to embrace innovation and transformation in order to propel the corporate world forward and to create lasting change."
She calls herself a "Disrupter." She says, "Now, as I'm in the launch and building phases of my business, I am spending my day (working remotely) networking, connecting in with the global legal tech community, writing, coaching, public speaking, creating more regular content in support of my online presence, ideating, building my brand, and prioritizing white space to figure out how I want this next phase of my professional chapter to feel, look and be. I feel very grateful that my new dance card is already filling up pretty quickly, despite not making a formal announcement about it."
To satiate her hunger for more knowledge both in her domain but also outside of it, she is even a part of Harvard's Computer Science course for Law and a 6-month mindfulness and meditation teacher training. Not only this, she is also an active member of advisory boards: Mys Tyler (a fashion tech start-up), She Breaks The Law (a global female innovator network), and the Corporate Legal Operations Consortium Australia Chapter.
Balancing Personal and Professional Life aspects
Anna follows a unique agenda that helps her lead a harmonious life, and support an open mindset:
Head food – she always has a spark of curiosity to learn more, cause reflection, and constantly seeks answers to "Why Not?" and "What If," that evoke rethinking, thinking bigger, and imagining.
Heart food – she enjoys forging connections and paying it forward. She feels having a community is humbling and incredibly rewarding and keeps her cup full at the same time as spending time with her dearest friends and family, and devoting regular time for spiritual practice.
Mind food – Her networks and communities allow her to color outside the lines, and to explore new ideas. For this, going out of the traditional way in strikingly different situations with different people is crucial. It assists in gaining answers to questions otherwise not asked.
Anna loves to stay in a purposeful and future focused environment, feeling excited to be in the position she is today. She says, "I don't strive for balance necessarily, but a sense of harmony and integration between my professional and personal spheres –  my nervous system is my greatest judge of whether that's being achieved or not. To that end, self-care is non-negotiable for me, as are finding moments to be creative, silly and have fun."
Anna's future plans and message for aspiring businesswomen
Anna believes in this beautiful quote by Jane Goodall, "What you do makes a difference, and you have to decide what kind of difference you want to make."
She has a warm yet strong message to all aspiring businesswomen out there: Create a Support Network. Don't be afraid to ask for help and seek advice. Believe in yourself. She herself has used these philosophies during her biggest career moments. She is leaning into her personal board of advisors while she steps out into the world wearing her new pair of entrepreneurial shoes.
Updated Professional Bio
Anna Lozynski is an award winning executive general counsel, author & advisor. Starting out at a major Australian law firm, she has spent the majority of her legal career in-house working in the banking, automotive and cosmetics industries.
She believes that innovation is invigorating, change is energizing and efficiency will never go out of fashion.
In 2021 Anna has decided to step away from her corporate career, and embrace the future of work, taking what feels like a natural next step of become an entrepreneur on a mission to help the legal and corporate worlds to adapt to the digital age.
In addition, she is an Advisory Board Member to Mys Tyler (a fashion tech startup), She Breaks The Law (a global female innovator network), and sits on the CLOC (Corporate Legal Operations Consortium) Australia Chapter.
Described as a change agent, Anna is a sought-after commentator, mindset coach and consultant both domestically and internationally – seeking to shift the dialogue in order to propel the corporate world forward.
You are invited to join Anna's online communities @legallyinnovative and LinkedIn as well as @annaloz on Clubhouse.