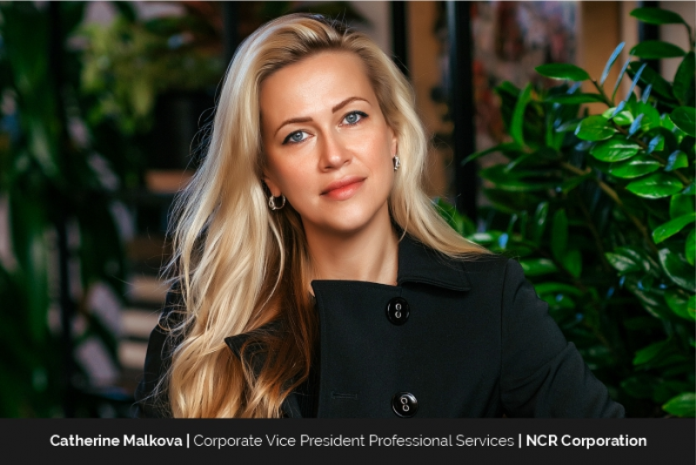 Throughout her career, Catherine Malkova, Corporate Vice President, Retail Professional Services & Consulting at the NCR Corporation has never lost sight of her ultimate goal: to drive positive change and make an impact. With over two decades of experience in the digital technology field, she had to continuously reinvent herself, embrace new challenges and technologies, take risks and step out of her comfort zone in order to stay ahead of the curve in a rapidly changing and dynamic industry. As a woman leader in technology, she is determined to fostering a focus on diversity and empowering others in the field.
Building Character
Growing up in the Soviet Union and later immigrating to the United States in the early 2000's, her personal life was shaped by the immigration experience, which also taught her to embrace change and value diverse backgrounds, skills that have served her well in her career. Both of Catherine's parents were engineers and instilled a strong work ethic and drive for success in her and her older brother.
"I have been working since I was 17, balancing a job with my studies to provide for myself. This experience instilled in me a strong sense of responsibility and the importance of grit in achieving success. My upbringing was happy but modest, and I learned the value of hard work and determination from a young age," she recalls.
Moving countries twice, first from Uzbekistan to Russia when the Soviet Union fell apart, and then to the United States, provided Catherine with valuable lessons on adaptability and resilience.
"At NCR, we treat every customer like they are our only customer."
Discovering a passion for technology
Catherine started her career in the application management world as an SAP consultant and program leader. Professionally, before joining NCR Corporation, she had a diverse set of experiences, having worked with cutting-edge technologies, run business operations, and held general manager roles.
Her focus on digital transformation has led her to work with emerging technologies, including blockchain and AI. She has pioneered one of the first industry uses of blockchain technology for jewelry provenance and applied artificial intelligence in life sciences, specifically for use cases such as drug discovery and clinical trials management. Along the way, she has pursued leadership development opportunities, serving as the Chief of Staff to the General Manager of Global Business Services at IBM, where she was part of the core team responsible for transforming the professional services organization at scale. She also led an innovations lab for GBS focused on emerging technology solutions and served as an operations leader for the Data & AI service line, where she enabled new ways of working and built an upskilling program for technology professionals.
"I never planned for a career in IT, but my journey to becoming a technology expert was filled with unexpected twists and turns. After college, I joined a federal transportation agency where I was offered a role in their IT department. I was thrown into the deep end, working with SAP and quickly realizing that technology was my passion," Catherine explains.
Her background in Economics and Management gave her a unique perspective, always approaching problems from a business standpoint and leveraging technology to solve them. As Catherine gained more experience, she decided to take the next step and pursue a master's degree in Systems Management from NYU. This solidified her career path and propelled her to new heights.
But her journey didn't stop there, as she continued to adapt and evolve, pivoting to new technologies such as Computer Vision and Edge Computing and taking leadership roles in various organizations. Since 2019, Catherine has been focused on building and running service organizations for consumer industries such as healthcare, life sciences, and retail, with a specific focus on building innovative solutions by leveraging best-in-class technologies and applying deep industry expertise.
"Growth and Comfort Do Not Coexist." – Ginni Rometty
"Working in consulting is like changing jobs with every new client, as it allows me to learn about different industries and businesses. My industry experience is diverse, spanning from Media and Entertainment to Life Sciences and Healthcare, to Retail and Consumer Goods. I thrive on this never-ending learning cycle and make it a point to apply past learnings to solve new problems," she states.
Catherine's approach to problem-solving is to always start with a business problem, and then apply a human-centric design approach. Only after that does she leverage technology as a solution enabler, along with process transformation, change management, and training.
Dreaming big and taking risks to make a positive impact.
Catherine's career journey has been a thrilling and fulfilling experience so far, and one of determination and hard work. When she moved from Russia to the United States, she had to start from scratch.
"I didn't have certainty about what my career would look like. What I did have were my SAP consulting skills, belief in myself, and determination to succeed. Despite the uncertainties and challenges, I never gave up. I joined IBM in 2005 and began building my career. Since then, I have had the opportunity to acquire new skills and take on new roles every few years, which has allowed for fast progression. In just 11 years, I went from a junior consultant to a partner," Catherine recalls.
During her professional journey, the aspect that brought her the greatest satisfaction was the opportunity to engage directly with clients. Whether in the capacity of a senior client partner or leading a services organization, her roles have consistently cantered around providing exceptional service to her valued clients and their customers.
"My journey so far has not been easy, but it has been incredibly rewarding. I believe that my experience has taught me valuable lessons and that I am better equipped to handle any obstacles that may come my way in the future," Catherine reflects. "As a risk-taker, I have always been willing to take on new challenges and try new things, even when others may not have been as willing. This has allowed me to grow and learn in ways that I never would have otherwise."
As a dreamer, Catherine is constantly thinking about new possibilities and ideas. This mindset has led her to think outside the box and come up with innovative solutions to problems. As an immigrant, she brings a unique perspective to her work and can draw on her diverse background to understand and relate to a wide range of people and cultures.
Defining herself as a 'risk-taker', Catherine is driven by the belief that anything is possible, and that with hard work and determination, she can achieve her goals. "I strive to bring this same spirit of risk-taking, dreaming, and diversity to my work every day, and I'm always on the lookout for new ways to push boundaries and make a difference in the world. I believe that it is better to be sorry for something you've done than to regret a missed opportunity, and I have always dreamed big and aimed to make a positive impact in my roles," she insists.
"A person who never made a mistake never tried anything new." – Albert Einstein
A customer-focused approach to transforming commerce.
Catherine was inspired to join NCR Corporation because of the company's 140 years of experience in transforming commerce. She explains that their shared values are inspired by NCR's founder, John H. Patterson, who set the foundation nearly 140 years ago to always focus on its customers, employees, and innovation.
His phrase 'Treat every customer like they are our only customer' is still engraved by the entrance into the organization's headquarters building in Atlanta today. This statement embodies the spirit of our North Star as an organization – always focusing on our customers," she observes.
Having worked with thousands of retailers over the past 140 years, NCR understands the realities that retailers are facing, where margins are shrinking, consumer loyalty is fleeting, the labor market remains tight, and store formats are converging, to name just a few.
NCR's experience in the retail market has given them a unique vantage point. They know that, in this next decade, the retail winners are going to be the companies that gain an unfair advantage through superior experiences for consumers and associates.
"The problem is the difficulty in shifting to this model. Retailers need a new way forward," Catherine observes. "At NCR, we've already worked with many retailers to help bring them onto the winning path, and we've helped them do this without needing to rip and replace all of their technology."
This takes place through the NCR Commerce Platform which gives their clients the right technology architecture enabling them to revolutionize the retail experience. The organization combines that with a portfolio of NCR services, and together they help its clients transform, connect, and run their technology platform.
For Catherine, the rich industry heritage, combined with a cutting-edge SaaS technology platform, was a unique combination that only NCR could offer. "I knew that adding a best-in-class suite of services would take the value we can bring to our clients to the next level, and I wanted to be a part of writing this new chapter in NCR's history," she says.
As Corporate Vice President of Retail Professional Services & Consulting at NCR Corporation, Catherine is responsible for its Retail Professional Services organization in the Americas, and her responsibilities include leading the strategy and delivery of consulting and professional services for retail clients. This includes working with clients to understand their business challenges and developing solutions to help them stay competitive in the market.
Additionally, she works with her team to ensure that their services are delivered in a way that meets or exceeds client expectations. Her daily tasks may include developing strategic plans, running business operations, participating in client workshops, providing guidance and leadership to her teams, and staying up to date on industry trends to bring new and valuable insights to NCR's clients.
"At NCR, we have the essential combination of software and services that enable our clients to Transform, Connect, and Run their technology platform. Our suite of services covers their needs from strategy to execution," she explains.
Catherine lists several ways in which NCR acts as the strategic partner to top retailers and helps them realize the value of their technology investments.
Developing a strategy that supports their vision.
In our consulting services, we will partner with our client's business and IT stakeholders, develop a deep, inside view of their organization's opportunities and challenges, and develop a strategy that supports their vision. Most importantly, we provide an execution roadmap to get them there.
Onboarding and implementation services
Our onboarding and implementation services will bring the technology platform to life with unmatched speed and efficiencies that will allow our clients to start realizing the value of their platform investment much sooner.
Keeping their technology stack up to date.
In our application management and development service line we partner with our clients to help them continue building value-added capabilities onto their platform, including the development of microservices, apps, and platform extensions.
We also support keeping their technology stack up to date so that they can benefit from the new platform capabilities as soon as they become available. We help our clients increase velocity by providing dedicated professionals to augment their internal teams.
And we do all of this across the technology stack, not limited to NCR technology, which solves the important challenge of having a single system integrator for their IT organization.
Managed services offering those delights customers.
Last but not the least, our managed services offering provides a comprehensive end-to-end service solution for maximizing availability, including remote helpdesk and field service delivery, as well as running store technology, and in-store processes to free our clients' time and capital to focus on what's most important to them – delighting their customers.
Success is a team effort and no individual is above the team.
Having spent her entire career in Professional Services, leading large, global transformation programs and system implementations, Catherine has had many "learning experiences" that have taught her valuable lessons throughout her professional journey. These experiences taught her that success is a team effort and that as a leader, it's important to instill a culture where no individual is above the team and the team's success.
Catherine also learned that it's important to be prepared for challenging situations and to be able to think on her feet. Having a Plan B and Plan C and being agile enough to pivot quickly and find solutions, is essential for moving forward when things don't go as planned.
To ensure a culture of integrity within the company, Catherine follows the "Golden Rule" and always treats others the way she would like to be treated. She also sets the expectation for diversity, inclusion, and respect within her teams. To foster and maintain a culture of integrity, she leverages several key strategies:
Lead by example: As a leader, it's crucial to demonstrate integrity in your behaviour and decision-making. This sets the tone for the entire organization and shows others that integrity is a non-negotiable value.
Communicate clear expectations: Clearly communicate the company's values and expectations for ethical behaviour.
Encourage open communication: Encourage an open-door policy and create an environment where employees feel comfortable raising concerns.
Promote diversity and inclusion: Create an inclusive culture, where everyone is valued and treated with respect. This promotes a sense of community and helps to prevent discrimination and harassment.
Hold all employees accountable: Hold everyone accountable for their actions and behaviour, including leaders, managers, and staff.
Reward the right behaviour: Recognize and reward employees who exemplify integrity and ethical behaviour. This reinforces the importance of integrity and helps to build a positive culture.
"Talent wins games, but teamwork and intelligence win championships."          – Michael Jordan
Success is about making a positive impact and leaving a lasting legacy.
Catherine notes that success for her is about making a positive impact and leaving a lasting legacy. It's about having the courage to take risks, challenge the status quo, and push boundaries. It's about being able to look back at her career with pride and fulfilment knowing that she made a difference in the lives of others.
"I believe that success is important because it allows us to achieve our full potential, both personally and professionally. It gives us the ability to pursue our passions and make a meaningful contribution to the world. It also helps us to set new goals and to continuously improve ourselves," she elaborates.
Furthermore, Catherine believes that success is not only about achieving financial or career milestones but also about leading a fulfilling and balanced life. It's about having a strong sense of purpose and a clear vision for the future. It's also about having the ability to inspire and empower others to achieve success on their own.
"In short, success is important to me because it allows me to make a positive difference in the world. It gives me the ability to achieve my full potential and to inspire others to do the same," she declares.
As an example, Catherine notes that success as a professional is seeing a positive impact of their technology and solutions on their clients' customers in their everyday lives. She feels that there's nothing more satisfying than seeing a customer complete their first self-checkout, or a patient using a digital app that allows them to get help in seconds.
"As a mentor, success means encouraging and inspiring my mentees to take risks, get out of their comfort zones, and become better professionals and leaders. And as a parent, success means seeing my sons mature into great human beings," Catherine proclaims.
Advocating for diversity and inclusion in the workplace and at home
Catherine observes that being a woman in leadership has not always been easy, but she has been fortunate to work for companies that have made a deliberate effort to promote diversity and inclusion.
"I have also been inspired by female leaders who have served as role models, showing me that it is possible to have a fulfilling career and a family at the same time. Their examples have been my 'North Star' and I hope that my own experience can serve as an inspiration to the next generation of female leaders," she states.
As a mother of two sons, Catherine is not only advocating for diversity in the workplace but also at home by raising her sons to be promoters of diversity. She believes that, by teaching them the importance of inclusivity and respect for all individuals, they will grow to become leaders who understand the value of diversity and take steps to promote it in their own careers.
"I have also had the privilege of having several amazing mentors throughout my career, both male and female, who have been great advocates of gender diversity. They have taught me the importance of creating an inclusive environment where every employee feels heard and valued, and that their unique perspectives make a positive difference. I believe that diverse thoughts, ideas, and backgrounds lead to the best outcomes," she maintains.
Catherine hopes to make an influential impact on the next generation by being a mentor and role model, and by continuing to advocate for diversity and inclusion in the workplace and at home. She believes that, by creating an inclusive environment and providing opportunities for the next generation, we can pave the way for a more equitable and successful future for all.
Making a difference in the lives of others with mentoring and coaching
Catherine notes that, throughout her career, she has made a point to invest time and energy into mentoring and coaching young professionals, particularly women and underrepresented groups.
"To see them take the skills and knowledge I have shared with them and apply it to their own careers and make a positive impact in their own organizations is truly fulfilling. The best recognition I have received as a woman in leadership is seeing the impact I have made on the next generation of leaders. Specifically, seeing my mentees become strong leaders and diversity advocates in their own right," she declares.
Catherine feels that it is a privilege to be able to be a role model and make a difference in the lives of others. "Knowing that my efforts have helped to pave the way for future generations of leaders is the greatest recognition I could ever receive. It's a humbling experience and it's also a reminder to me that my work is not finished yet and that I should keep pushing to make an impact," she states.
"Be yourself, everyone else is taken." – Oscar Wilde
Daily prioritization and setting clear boundaries are the key to balance.
Catherine notes that while maintaining a balance between personal and professional life can be challenging, it's important to set priorities and make conscious decisions about how to allocate time and energy.
One way to do this is by setting clear boundaries and creating a schedule that works for both personal and professional obligations. This can include setting specific times for work, family, and leisure activities. It's also important to be flexible and willing to adjust plans as needed, as unexpected events and priorities can arise.
"To me, it's daily prioritization that matters. Do I need to be there for my kids' recital? I'll then plan my meetings around that…or do I need to travel to see a client for an important meeting which means spending time away from my family. This daily prioritization and integration allow me to choose what's important at any given point in time and not feel guilty about missing out," she clarifies.
In terms of keeping herself and her team motivated, Catherine stresses the importance of clear communication, setting realistic goals, and providing opportunities for growth and development, all of which are important factors. Recognizing and rewarding hard work and dedication is also crucial for motivating one's team.
Additionally, fostering a positive and inclusive work environment where everyone feels valued and heard can greatly improve motivation and team cohesion. It's also important to make time for team-building activities and opportunities for team members to bond and build relationships outside of the work environment.
Growth and comfort do not coexist.
As a woman in business, Catherine's personal goals include using technology to create a more resilient and intelligent world, and being a role model and mentor to other women in the industry. "I believe in the importance of creating inclusive environments where diverse perspectives are valued and encouraged," she insists.
Catherine's parting message to aspiring female leaders is to embrace challenges and become comfortable feeling uncomfortable because growth and comfort do not coexist.
"I encourage them to trust in their own abilities and to seek out opportunities to have their voices heard and make a positive impact on their organizations. I also stress the importance of building a support network and not being afraid to ask for help when needed. Lastly, I remind them that they can have both a fulfilling career and a happy personal life, and to never feel like they have to choose between the two," she concludes.