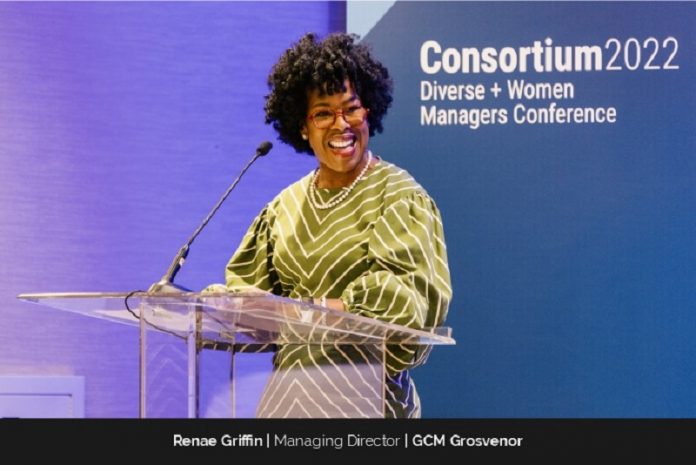 Renae Griffin, Managing Director of GCM Grosvenor, is enthusiastic about helping diverse and women asset managers get more exposure to investment opportunities. She is regarded as a thought-leader and influencer with over 35 years of experience driving change, expanding opportunities, and advocating for inclusion in the investment management industry.
In 2001, when Renae founded RG + Associates, she saw a need to create an educational and networking environment for minority and women-owned asset management firms to build long-term investment partnerships with institutional investor.
She later joined GCM Grosvenor to leverage her extensive network and help the firm build and expand its emerging and diverse manager investment practice.
An early fascination with the financial engine of money
Even as a 10-year-old, Renae was clear that she wanted to make money and be successful and asked her parents what industry would allow her to do that.
"I immediately thought of financial services, because I figured I have to understand how money works, understand economics, the impact of money, and the drivers that influence markets and the global economy," she recalls.
As a young girl, Renae began to focus on learning the skills that would put her in a corporate environment, and her very first job at the age of seventeen was in an insurance company.
"I've been involved in financial services ever since."
Helping diverse and women managers succeed
Prior to starting RG + Associates, Renae worked at Progress Investment Management, a firm that specializes in creating investment portfolios of world class minority and women managers.
"It was there that I saw the challenge and the opportunity to expose those managers to more opportunities with institutional investors," she says.
RG + Associates spawned a conference called Consortium, and Renae recalls how GCM Grosvenor was a big supporter because of their focus on sourcing and investing with diverse and women managers. "They were big proponents then and now." So that relationship started early," she says.
As Renae grew RG + Associates and saw an even greater need to help young and diverse managers get access, she began to pivot towards a consultancy practice and began talking to Grosvenor about acquiring part of her company.
Negotiations shifted and not only did GCM Grosvenor acquire her conference assets, they also invited her to join the firm.
"I have been with them for the last four years, helping to integrate a lot of what I have done prior through RG + Associates into Grosvenor. So, the Consortium conference sits on GCM Grosvenor's platform," she explains.
Renae is now able to leverage the relationships she had prior to joining GCM Grosvenor to help build their small, emerging, and diverse manager practice across the various asset classes.
"It's been a nice relationship for almost 20 years, and now we're working really well collectively to help more women and minorities get access," she states. "Additionally, Consortium has helped drive the industry and become a go-to conference for diverse and women managers, and institutional investors seeking diverse investment partners."
Expanding her impact with GCM Grosvenor
Since 1989, GCM Grosvenor has been investing with small, emerging, and diverse managers.
As a Managing Director at GCM Grosvenor, Renae is helping the firm expand their industry-leading small, emerging, and diverse manager platform across the asset classes.
"The impact has been tremendous," Renae observes. "We have about $71 billion under management currently, and of that, about $14.5 billion has been allocated to small, emerging, and diverse managers.
Renae notes that the roster of clients that have partnered and worked with GCM Grosvenor are many of the largest and most sophisticated investors in the industry, and they have been able to help diversify their investment portfolios with high-quality emerging and diverse managers.
"If you drill down on our private equity assets, we have invested about $10 billion with diverse and women managers. The practice is large, the impact is huge, and we are considered a preeminent leader in the space," she says.
Leveraging affirmative action and her natural-born talent
Renae recalls how she has always had a competitive spirit and looked at a challenge or a hurdle as something to defeat.
"I used to run track as a young girl and run the relays and the hurdles, and once I would get to that hurdle, I would put all my power into jumping over it, and then the next one, until the finish line," she recalls.
Renae also remembers that while it was particularly challenging growing up as a young African American in the 70s and 80s, there were also opportunities for minorities being established through affirmative action programs. She utilized several of these programs to position herself into opportunities that otherwise would not have been made available.
"I leveraged every program, every educational grant, and community organizations trying to help young minorities and women. So, for me, back in that era, there was a lot available to help propel me forward in my career," she recalls.
A believer in the axiom that, "If you put your mind to it, you can achieve it," Renae always saw her goals ahead of her, and set out to work for some of the top investment firms around the country, from Bankers Trust, Capital Guardian Trust Company, to Progress Investment Management Company, and GCM Grosvenor.
"I've just always set my sights really high," she states. "I built a network to leverage, to build upon, and help open doors for me. I was able to develop skills that were valuable in the industry, and unique, based on me being somewhat of a unicorn in the early days."
Renae believes that we must work with what we have, and take our deepest skill set and put it to work. "You focus on the things you do well and not the things you don't do well, and you leverage those," she advises.
She also advises professionals to tap into their natural-born talent, as that will help drive them forward and create the passion required to succeed.
Building networks to drive change in the industry
Renae's current focus is on how to help women in her industry elevate, grow the number of women-owned and women-led fund managers, and increase the number of women professionals in senior roles within their organizations.
One of the tasks she is working on is building a database of women-owned managers, and even those contemplating launching, as building that pipeline is important to help underserved, undercapitalized women of color in the industry.
"Although women, in general, are making some headway, women of color continue to be the most challenged group," Renae observes. "We are really making a concerted effort at GCM Grosvenor to change that. The timing is good, and we have the resources and the expertise to concentrate on it."
Renae co-founded a network called Women of Color in Investments that includes over 200 senior women in the investment industry who, like her, want to have an impact, elevate the next generation of women, share resources, and help each other.
"There are a lot of powerful women in the industry, and we should be uniting our forces to ensure our continued growth and success," says Renae, noting that her male colleagues are incredibly supportive of women.
She points out that at Grosvenor, the senior leadership is pushing internally and externally to ensure that women and people of color are recognized for the value-add they bring to investors.
Renae also affirms that it is rewarding to work for a place where you are getting support from everyone, not just women and minorities inside the firm, but those who see the value and need for more inclusionary practices across the industry.
She notes that there are great organizations like PEWIN, NAIC's Women in Alternatives, Girls Who Invest, 100 Women in Finance, and others that are trying to create change.
"I happen to be on the steering committees and advisory boards with some very influential women who are driving change in the industry," she says. "Even within our own network, we are looking at how we can help many of those women get positioned on Boards, achieve pay equity, launch funds, and advance within their organizations. I am really proud of how the industry is coming together around these issues, but there's a lot more to be done."
Overcoming hurdles with tenacity
Renae defines success as being able to do what you love, coupled with creating impact and applying your expertise and education. Building a network, honing skills, and having the results to show for it, whether that be financial, or sharing her story, are all an important part of her success.
She also thinks of success in terms of the number people she has helped and influenced along the way. Her goal is to continue to be effective and impact women and minorities in the financial services sector.
"I didn't think that way early in my career, but it really has been a driving force for me as I've grown and matured and understood how important it is to give back," she says.
Renae believes in working hard and being consistent, she describes herself as a Steady Eddie. "When I launched my company, yes it as a bold move, but I had a vision. To me it was just a goal that I continued to work toward and was able to accomplish. However, to do this work around diversity and inclusion for over 35+ years, now that is a crowning moment for me."
Describing herself as an ankle biter, Renae believes that her tenacity and success in reaching a senior-level position in her industry is a result of overcoming challenges throughout her life, including being a single mother.
"I really get a lot of my motivation and drive from a place that is non-tangible," she says. "When I think about what has been offered to me in terms of opportunities, how I've been supported in the industry by mentors and friends, I've truly been blessed."
A focus on self-care and joy
Renae also believes in the value of self-care and the importance of time management. Having adopted yoga during COVID-19, it has become a lifeline to help her maintain mental clarity, balance, spiritual awareness, and discipline.
"Work is one part of our life; the other part is learning how to enjoy it. That has been a priority of mine," she states. "My COVID reflection has been: How does Renae incorporate more fun and excitement into her life? So, work/life balance is critical – being available for friends and family, and even mentoring."
Renae believes that we are not just here to work, but to make a difference, and it thrills her to work with an organization that is purposeful and allows her to receive that gratification through her work.
She hopes to continue helping diverse and women managers get more exposure to investment opportunities, assisting the flow of new talent into the financial services industry, and through her advocacy eliminating the need for continual conversations around the need for diversity and inclusion.
Encouraging young women to be bold and think big
Renae hopes to work more with young women, with the goal of sharing her early childhood experiences, and the training and tools she is developed to demonstrate that they too can jump over each hurdle achieving whatever they have set out to accomplish.
"When I get involved, I try to make sure I'm being accessible because it's all about giving back at this point in my career and my life," she says. Renae encourages, particularly young women to be their natural, authentic selves always.
"Early in my career, I thought I needed to fit a certain mold, to talk a certain way, behave a certain way. Now with growing acceptance of diversity of thought, backgrounds, and culture in the workplace, we can simply be ourselves," she says.
She explains that early in her career she did not have the confidence she has now. Whenever she felt intimidated or insecure in a prominent business setting, she would say to herself, "I belong, I belong, and I too bring something to the table. "
"So, when I entered the room, I didn't shrink, but entered with confidence and presence," she says. "Creating your presence, your own brand, your own image, can have tremendous impact on your career."
She strongly believes in the saying "you never get a second change to make a first impression." She says, "when you leave the room, how will be people remember you? You do not get a redo, get it right the first time."
She advises to be generous along the way. Listen, see how you can be helpful, be a problem solver, be of service. Give generously, people will never forget – it returns 10-fold. She says that this is how she has built her vast network – with a focus on giving, sharing resources establishing and maintaining trust. They will remember how you have helped, make themselves available when you call, and return the generosity.
Renae encourages women to be bold, set big bodacious goals, and have fearless conviction in your ability to accomplish them. "Do not be afraid to make changes or go in a totally different direction with your life. The key is living your passion. If you are passionate about it, you will do well. If your passion is seen, recognized, and valued, you will get paid well," she says.
Renae's parting advice is to "just have fun because life is to be enjoyed, and if you are not enjoying it, do something different."