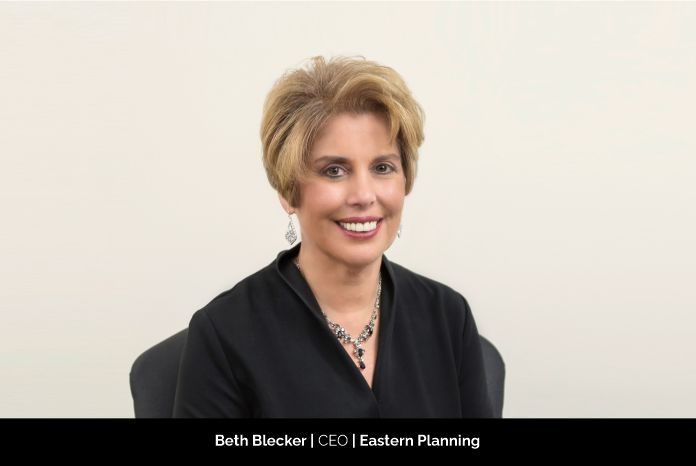 Not all leaders follow their childhood dreams; some discover their magical paths gradually and then proceed further to achieve them. Beth Blecker, CEO of Eastern Planning, Inc., had only thought of becoming a teacher when she grew up. She shares, "As a girl-child growing up in the '60s, my ambition was to get married and have a family.  As a career, I was told that being a teacher was perfect for a mother, so I went to college to become a teacher."
Ladder to success
Climbing the ladder to success has been challenging for Beth. Having an undergraduate degree that specializes in elementary school teaching did not support a career in the business domain.
As the country was going through a financial crisis, she went back to school, halting her teaching career to study accounting. She expanded her skills at Rockland Community College and grabbed a position as an accountant in the corporate world.
She gained valuable experience in the domain for several years, and then in 1995, she launched Eastern Planning with her husband. Destiny was not in favor of her. She got separated from her husband and handled the company on her own. However, her son entered her business, and together, they fueled the growth of the company.
In 2000, she took the onus of the role of CEO in the company and steered it in the right direction. She expanded the company, and today it is known for its personal, practical advice and superior client service.
Beth understands the value of education and how it helps women to become self-independent. She is actively involved in aiding other women in understanding and developing financial literacy. From workshops to weekly internet shows, she is using every medium to help women achieve financial independence in their lives.
She has been President and VP of Fundraising with Rockland Business Women's Network that focuses on empowering women. She is currently a member of The Business Council of Westchester and a board member of the Holocaust Museum and Center for Tolerance and Education.
On top of that, for many years she was a board member of the Help from People-to-People organization. The organization is the largest food pantry in Rockland County and aims to make sure that no child goes to bed hungry.
Being passionate about uplifting her community, Beth is leaving no stone unturned. She has been a Big Sister with the Rockland County Big Brother Big Sister program and now continuously serves as a mentor.
She expresses that financial needs evolve as a person progresses further in his/her life. So, people should understand the need to adapt to the financial changes and plan their strategy accordingly to live a better life after retirement.
Smooth Retirement with Eastern Planning Inc.
Since 1995, Eastern Planning has been dedicated to spreading financial literacy and providing superior customer service and personal/practical advice to everyone. The best part is that they have a look at the big-picture strategies so that clients don't get a one-time plan; rather, they take it as a breathing resource as per which they adapt to new changes.
Beth shares, "We are a comprehensive financial planning firm with a fiduciary responsibility to our clients. We help our clients understand what they need in retirement and work with them to save their money so that they can have the retirement they planned and pass it on to the next generation without aggravation."
As the CEO and financial planner, she controls all the company operations, especially educating her clients.  As a divorced woman, she maintained and ran her own business; she carried all the activities in a hassle-free manner.
With the help of her son and business partner, she is even organizing workshops and seminars to educate women about social security and financial independence.
She adds, "I have recently written a book that should be published in the next couple of months, "It's Not Just Money, It's Life." It describes what I accomplished in my career, and educating people to find balance while working, saving, and enjoying life. Then, in retirement, they can easily spend and enjoy the money they saved, while not risking running out of money."
She believes in taking care of their clients just like a trusted family member. For that, they need to keep up to date on all the changes and new ideas. Thus, she is an Ed Slott Master Elite member and both she and her son attend workshops and continuously learn new things. She is quite compassionate towards her employees as well. She adds, "We try to have our employees realize that Eastern Planning is a family, and our clients are part of that family."
For her, seeing her clients living their lives happily without worrying about running out of money or having more life than money is the greatest achievement.  This keeps her motivated, and she keeps working with the same zeal every day.
Striving for Work-life Balance
She shares, "To me, work-life balance is similar to the balance that I want my clients to have.  Making sure I don't put off living my life until tomorrow.  I always take time to do what I love."
Being a successful business leader and a mother, Beth knows the importance of family. So, while fueling the growth of her company, she makes ample time for her family. She cherishes special moments with her family, especially grandchildren.
She also knows the importance of having a healthy body. So, she actively indulges in tennis to keep her body fit and mind fresh to tackle the upcoming challenges. She expresses that having a fresh perspective changes the way to plan and progress further.
Eastern Planning expansion and growth trajectory
Beth knows that Eastern Planning mainly gets its new clients via a referral-based system, i.e., their existing clients recommend them to their family and friends. The company never tries to grow too fast and keeps a steady pace so that they can cater to the needs of their existing clients properly.
She expresses, "We are always available to help our clients with their financial lives. It is not just about investing; it is about living."