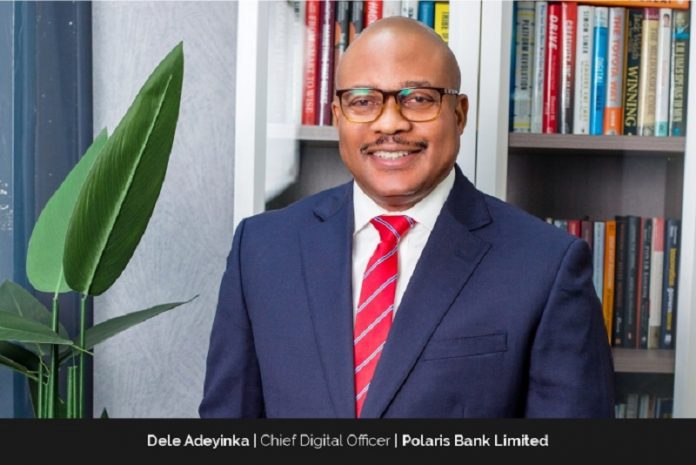 Dele Adeyinka is a trailblazing Chief Digital Officer who has led the development of Nigeria's first fully digital bank, ALAT by Wema, and VULTe, the country's premier and first full home-grown digital bank solution, at Polaris Bank. He has significantly contributed to both banks' growth, impacting customer acquisition and increasing depositors' funds. Under his leadership, VULTe achieved one million downloads in just four months, setting a record in Nigeria's banking history. Dele's wealth of experience in e-Business, digital banking, innovation, fintech, and data analytics enhances his various teams' and projects' efficiency, productivity, and profitability. He holds numerous educational and professional qualifications, including a B.Sc. in Chemistry, an MBA in Accounting & Finance from HULT International Business School, a Senior Management Programme from the Lagos Business School, and an Executive Programme at the Judge School of Business, University of Cambridge. He is a Fellow Chartered Accountants (FCA) at ICAN; Institute of Chartered Accountants of Nigeria and a member of the Institute of Chartered Accountants of Nigeria (ICAN). His digital footprints include being the Chairman of the Committee of e-Business Industry Heads (CeBIH) and having been recognized with numerous industry awards, accolades, and recognitions for his pioneering work in Nigeria's digital banking landscape.
When queried about his definition of success, Dele Adeyinka asserts that, within the context of a Chief Digital Officer position at Polaris Bank or any other professional role, success can be defined as the accomplishment of desired outcomes and objectives established for the organization, team, or individual.
In his current role, success demands the propulsion of the bank's digital transformation by implementing cutting-edge digital products and services that enhance the customer experience and augment revenue.
Success can also be gauged by the effect of digital initiatives on the bank's financial performance, including amplified customer acquisition, retention, and profitability. Additionally, success encompasses the development of a robust team and cultivating an innovative and collaborative culture that encourages ongoing learning and advancement.
"Ultimately, success is not just about achieving specific goals or outcomes but also about creating a positive and lasting impact on the organization and the industry as a whole. A successful leader should strive to leave a legacy of innovation and progress that sets the organization up for long-term success in the digital age," shares this astute professional.
The Inspiration Behind Leading an Organization to Success
Polaris Bank's Chief Digital Officer recognizes that the road to success for an organization is challenging and requires diverse skills, such as strategic thinking, decision-making, effective communication, problem-solving, and leadership. It demands hard work, dedication, patience, perseverance, and the ability to adapt to changes and overcome obstacles.
Despite the challenges, he was inspired to take the step of faith and lead his team to triumph for several reasons:
His passion for a particular field or industry and desire to positively impact that space motivated him.
His vision for creating something new or innovative and his need to bring it to life were the driving forces behind his decision to lead.
He sought to help others or improve the world around them.
Dele Adeyinka emphasizes that leading a team in an organization to success requires careful consideration since it is a significant responsibility that profoundly impacts many people's lives. Taking the step of faith and committing to this path necessitates courage and conviction, but it can be a rewarding and fulfilling journey with the right mindset, skills, and support.
Revolutionizing Banking Services: The Growth Strategies of Polaris Bank Limited
Polaris Bank Limited is a Nigerian commercial bank established by the Central Bank of Nigeria in 2018. With a focus on delivering exceptional customer experience, the bank prides itself on leveraging cutting-edge Information Communication Technology (ICT) solutions across multiple service delivery channels. In addition to offering mobile banking, ATMs, POS, and online platforms, the bank has launched a digital bank, VULTe, as part of its digital transformation strategy.
Under the leadership of Dele Adeyinka, the bank has implemented growth strategies to expand its market share and increase profitability. One of the key strategies is adopting digital technologies to enhance customer experience and increase operational efficiency. It has seen the launch of various digital channels, including internet banking and agency banking.
The bank has also formed strategic partnerships with fintech companies, telecom operators, other financial institutions, government agencies, and hospitals to leverage its strengths and capabilities. These partnerships have provided unique electronic solutions that optimize internal revenue generation and eliminate corruption.
The Rise of Polaris Bank as a Recognized Financial Brand
Dele highlights that Polaris Bank's achievement of recording N27.8b in its first year of operations as a bridge bank drew the attention of the national and global financial community. This success, combined with the Bank's legacy past, creates an intriguing narrative in the history of Nigeria's banking industry. The Bank's leadership implemented several turnaround initiatives after the regulatory Central Bank of Nigeria's intervention in 2018, leading to the creation of the lender. Despite the challenging business environment, Polaris Bank closed its first year of operation with impressive financial results, including gross earnings of N150.8b, total assets of N1.1tr, and shareholders' funds of N83b, earning praise from the informed financial community.
Another milestone that solidified this bank's reputation in the minds of Nigerians was the launch of VULTe, now widely regarded as the best digital bank in Nigeria, on September 18, 2021. In just four months, VULTe gained over 1 million customers through App and Play Store downloads. The bank's new leadership introduced a comprehensive turnaround plan when it was established, which involved reviewing Polaris Bank's operations, governance, risk management, and capitalization, as well as implementing several initiatives to improve customer experience, enhance operational efficiency, and expand the bank's product offerings and market share, particularly in digital technology.
"Through these efforts, Polaris Bank was able to rebuild customer confidence, attract new customers, and improve its financial performance," conveys Dele.
Polaris Bank was awarded several prestigious accolades in Nigeria, such as:
Digital Bank of the Year 2021 by BusinessDay (Nigeria's highest-rated Financial and Business Newspaper for 2021 and 2022 (back-to-back honors) BusinessDay's Banks and Other Financial Institutions (BAFI). ·
Best Digital Bank by The Nigerian Fintech Awards 2022
Instilling a Culture of Integrity and Innovation: The Core Values of Polaris Bank Limited
Polaris Bank Limited is guided by a set of fundamental principles that serve as the foundation for its operations and are vital to the bank's success and growth strategies. These core values focus on boldness, sustainability, innovation, service excellence, trustworthiness, and continuous learning.
To cultivate a culture of these values, the bank's Chief Digital Officer has implemented various measures such as leading by example, creating an open communication culture, encouraging risk-taking, setting clear goals and expectations, and fostering a learning culture.
Polaris Bank Limited's Competitive Edge in the Banking Industry
Staying competitive in the banking industry requires a comprehensive approach focusing on continuous market research, innovation, customer service, and cost control. According to Dele Adeyinka, Polaris Bank Limited has employed these strategies to stay ahead of the competition. By conducting market research, the firm has identified emerging trends and changes in the industry, which it has leveraged to adjust its strategies accordingly. Additionally, it invests heavily in research and development to continually innovate and offer unique products and services to its customers. Polaris Bank also places a high premium on providing excellent customer service by building the capacity of its staff to be knowledgeable and responsive and by listening to customer feedback. Eventually, the bank manages costs effectively by streamlining processes and finding efficiencies wherever possible.
Polaris Bank Limited has also influenced the Nigerian banking industry with innovative ideas. For instance, it launched its mobile bank, VULTe, and Polaris Mobile, allowing customers to perform transactions and manage their accounts using their mobile devices from wherever they are, thus promoting financial inclusion in Nigeria.
Responsibilities as Chief Digital Officer at Polaris Bank Limited
As the Chief Digital Officer of Polaris Bank Limited, Dele Adeyinka has many responsibilities. He is responsible for developing and implementing the bank's digital strategy, which involves identifying opportunities for growth and innovation in the digital space. He oversees the bank's digital products and services, ensuring they meet customers' needs and drive business results. In addition, Dele manages the bank's digital channels, including mobile and online banking, and works to improve and enhance the customer experience continuously. Ultimately, he drives innovation and continuous improvement throughout the bank, working with cross-functional teams to identify and implement new digital solutions that deliver value for customers and stakeholders.
Influencing Change in Upcoming Leadership Generation: Insights from a Chief Digital Officer
Dele recognizes his critical role in shaping the upcoming generation of leaders. He aims to affect change by focusing on five key areas:
Digital literacy and innovation: Adeyinka believe that digital literacy and innovation are crucial for the leaders of tomorrow. By fostering an understanding of technology's impact on the financial industry, he hopes to encourage a spirit of innovation and creativity.
Customer-centricity: He considers putting the customer first is essential for any successful business. He emphasizes using technology to create personalized and engaging experiences that meet customers' needs and expectations.
Diversity and inclusion: Dele believe in building diverse teams that value and respect differences. He encourages the upcoming generation of leaders to embrace diversity and inclusion in all aspects of the bank's operations.
Ethical leadership: He believes ethical leadership is essential in the financial industry. He emphasizes prioritizing integrity, transparency, and accountability in all aspects of the bank's operations.
Continuous learning and development: Dele feel the importance of continuous learning and development. He encourages the upcoming generation of leaders to stay current with the latest trends and developments in the financial industry and seek new opportunities to develop their skills and knowledge.
A Vision for the Future of Polaris Bank Limited
Dele is a skilful expert with a clear vision for the bank's future. He aims to make Polaris Bank the leading digital financial institution in Nigeria and beyond. To achieve this vision, he will focus on the following key areas:
Digital transformation: He plans to invest in the latest technology and infrastructure to create a seamless digital experience for customers.
Customer-centricity: He plans to create personalized and engaging experiences that meet the needs and expectations of each customer.
Financial inclusion: He aims to leverage technology to provide access to financial services to underbanked and underserved communities.
Innovation: He intends to foster a culture of innovation by encouraging creativity and experimentation across the bank.
Partnerships: He aims to collaborate with other organizations to create new and innovative solutions that deliver value to customers.
Overall, Dele Adeyinka's vision for the future of Polaris Bank Limited is one of innovation, customer-centricity, and financial inclusion. He is deeply committed to using technology to create value for the bank's customers and society at large.
Maintaining a Balance between Personal and Professional Life and Strategies for Motivating Teams
"Maintaining a balance between personal and professional life is a key challenge for anyone in a leadership position, especially as a Chief Digital Officer who needs to be constantly up to date with the latest trends and developments in the digital space," says Dele Adeyinka.
To excel in both his personal and professional life, he emphasizes the following strategies:
Maintaining a Balance:
Effective Time Management
Setting Boundaries
Prioritizing Self-Care
Motivating Teams:
Communication
Recognition and Rewards
Training and Development
Goal Setting and Accountability
Dele believes that managing time effectively and setting boundaries between personal and professional life are essential for maintaining a healthy work-life balance. Additionally, prioritizing self-care activities such as exercise, meditation, or spending time with family and friends can help manage stress.
To keep his team motivated, Dele focuses on open communication, providing regular feedback and recognition for outstanding performance, and offering ongoing training and development opportunities to stay up to date with the latest skills and technologies. He also sets clear goals and expectations for his team, holding them accountable for achieving those goals, which keeps them organized and inspired.
Dele Adeyinka's Advice to Aspiring People of Color in Business and Leadership: Self-Belief, Resilience, and Community Impact
Aspiring people of color in business and leadership face unique challenges and obstacles that can make it difficult to achieve their goals. For them, Dele Adeyinka, a veteran leader, says, "My message to aspiring people of color in business and leadership is this: Self-belief, stay focused on your goals, and never give up."
He acknowledges that one may encounter bias, discrimination, and systemic barriers but encourages aspiring leaders to remain resilient and committed to their vision. He asks them to remember that they have a unique perspective and experience to bring and that diversity is an asset in any organization. He also urges them to focus on developing their skills and expertise, seek out mentors and allies to support them, and never be afraid to speak up and advocate for themselves and others.
Dele reminds aspiring leaders, "Above all, remember that your success is not only about you but also about the impact you can have on your community and the world around you."
He asks them to use their platform and influence to lift others and create positive change. With hard work, perseverance, and a strong sense of purpose, one can achieve their dreams and inspire others to do the same.