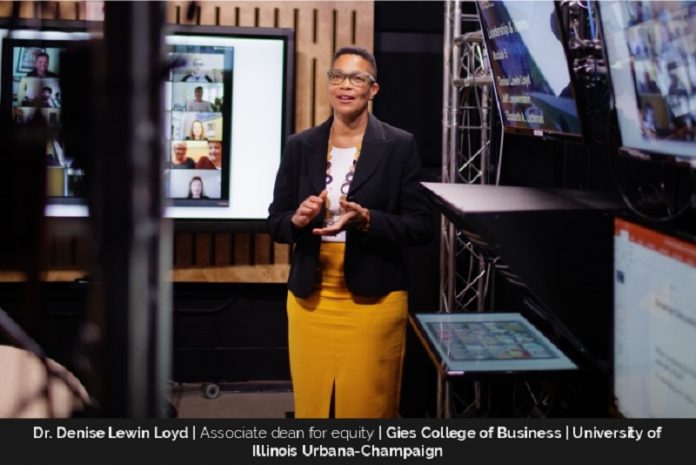 The University of Illinois' Gies College of Business has a long history of excellence in business education. Founded in 1915, it is perennially ranked as a Top Ten public undergraduate business program in the U.S., as per the rankings released by US News & World Report. And in recent years, it has gained international acclaim for launching a disruptive online MBA, called the iMBA. Introduced at a breakthrough cost of $22K – a fraction of the price of competing programs – the new degree program has disrupted the MBA market and democratized business education.
Jeffrey Brown, Dean of Gies College of Business since 2015, says that in just five years, the iMBA has grown from 114 to more than 4,200 students. Gies has always been one step ahead of other universities by being the first to introduce new courses and adopt the latest technology. It was the first school in the U.S. to grant a Ph.D. in Accountancy. And Gies was also one of the first to embrace both data analytics and experiential learning and embed them both throughout its undergraduate and graduate curriculum.
Gies underwent a national rebirth with the 2017 naming gift – a $150 million pledge from alumnus Larry Gies and his wife, Beth. This gift – at the time, the largest in the history of the University of Illinois – enabled the College to hire and retain the world's best faculty. It also allowed Gies to award more scholarships than ever before and further invest in future innovation internationally.
 5 Strategic Priorities
In recent years, Gies has attained global prominence because of its fully online graduate degrees, which have grown to include more than 5,000 students in just five years. "In fact, over those same five years, the college has more than doubled in size; we now enroll more than 9,000 students across our undergraduate, residential graduate, and online graduate programs," Brown says.
Currently, Gies offers nine undergraduate majors, six residential graduate programs, and three online graduate programs. It also offers a fully online business minor and a joint master's degree with The Grainger College of Engineering. Over the last few years, Brown says they have added new undergraduate majors; removed and added new residential graduate programs; and introduced a new online graduate program during the pandemic, the online master's in management.
Moreover, access, innovation, excellence, inclusion, and engagement are the five strategic priorities Dean Brown has set forth for the College. "These were intentionally chosen, and they inform every decision we make," Brown says.
Innovation a Top Strategic Priority
Innovation is one of the top strategic priorities of Gies. "It is both in terms of how we build our programs as well as how we teach and stimulate innovation among our students," Brown says.
In order to promote innovation among faculty and staff, Gies tries to operate with a presumption of "yes." "When someone comes forward with an innovative idea that addresses an opportunity and is well thought out and planned, we give that person the benefit of the doubt and err on the side of 'yes,'" Brown explains.
And at Gies, Brown and his team do not let the competitors surprise them. They stay abreast of the growing competition by reading about what is happening and talking with experts, both internally and externally. "We also try to lead the change and lead the innovation rather than be surprised by it," he says. "When we do that, others reach out to us. It's self-fulfilling in the sense that if you establish a reputation of being innovative, folks start reaching out to you with ideas."
Life-Changing, Rewarding, and Inspiring Success 
Brown describes Gies' growth and success as life-changing, rewarding, and inspiring. He says that as Gies has grown, they have been able to see first-hand how they have changed the lives of their students.
"We now reach more than 100 countries and offer access to a business education many of them wouldn't otherwise have," he says. "That's been extremely rewarding for us to see how our investments and our hard work can impact generations to come."
"At the same time, it's inspiring as well to see that we have so much more to do – and we know we have the capability to do it," he adds.
Redefining Business Education
Gies has been redefining business education in a number of ways. Brown points out that they have made an unprecedented investment in experiential learning. "We believe students learn best when they can take what they learn in class and immediately apply it to a real client project," he says.
In the fall of 2021, Gies also introduced the single largest experiential learning course in the nation. It allows more than 800 undergraduate students to team up in small groups and tackle real problems for real clients. This course ensures that every single undergraduate student will graduate having participated in experiential learning.
Additionally, Gies has also become a leader in the teaching and application of data analytics. "It's integrated throughout our undergraduate and graduate curriculum, and there's even a two-course sequence in our undergraduate core that focuses on business analytics," Brown says.
And, as it is home to the University of Illinois-Deloitte Foundation Center for Business Analytics, Gies is able to create educational content and share it with the world for free. "It's our way of contributing to the enhancement of data analytics education around the world," he says.
Gies does everything with a culture of ethics and integrity. Brown points out that one of the very first courses their students take focuses on ethics of business and how to live a professional life of integrity. "We're also home to the Center for Professional Responsibility in Business and Society, so ethics and integrity are everywhere," he adds. "It permeates our culture and informs our decisions."
Core Values
Gies' core values are Common Humanity, Inclusive Belonging, Purposeful Innovation, Perpetual Learning, and Meaningful Work. "For us, these values are the head and heart of our beliefs and decision-making," Brown says. "We believe if we live out these values in our teaching, research, and work, we'll not only prepare students to be the business leaders of tomorrow, but we'll also create a culture and environment that brings out the best in our faculty and staff."
"With this in mind, we are committed to being a model for a diverse, equitable, and inclusive community, being actively anti-racist, helping the next generation of business leaders do the same, and engaging the public and our corporate partners in these efforts," he adds. "This commitment is reflected among our students, within all aspects of our student and faculty recruiting efforts, and in our overall culture of discourse and community."
Responsibilities of Dean
As dean of Gies, Brown's job is to set forth an aspirational vision for the College; develop a strategy that aligns with that vision; and hire exceptional leaders and scholars, and empower them to do what they need to do to achieve that vision.
"A big part of my role is also to serve as an advocate for the school with all external parties, including fellow deans, alumni, and the broader community," he says.
Under his leadership, Gies has developed a leading-edge curriculum in the undergraduate space. It includes data analytics and experiential learning in the core. "We've also recently added +DS majors, which help our students combine data science with a major of their choice," he says.
And, in graduate education, Gies has built upon its many decades of excellence in residential programs to launch a series of online degree programs. "All told, we now have six outstanding residential graduate degree programs and three fully online programs, covering management, finance, accounting, business analytics, and more," Brown says.
"In coordination with the 2017 naming of the College, we undertook a major project in building a globally recognized brand," he adds. "This elevated the name, the stature, and the morale of our College – all rallying behind our Business on Purpose brand promise."
Challenges in an Industry that Resists Rapid Change
The College's explosive growth over the past six years has come with its share of challenges. Brown says that there can be difficulties in an industry that historically has resisted rapid change. "There have been three tips that have helped me and helped our college navigate through explosive growth," he says.
One of the tips is "stay focused on your current role." Brown says that as a leader, he can't be thinking about how his decisions now might impact his next job. He believes that it important to keep focused on what's best for his organization right now.
The second tip he shares is "make sure faculty are behind you." He says that one does not need unanimous support to make an important change, but one does need the support of internal faculty and their core group of alumni. "This allows you to move faster and with broader buy-in as you move forward," Brown adds.
And his third tip highlights that "communication is key." "You can never communicate enough," he says. "It's critical that messages are targeted to different audiences. And while it's important to be transparent, you always have to keep in mind what you can share and what you can't."
Keeping Staff of Gies College of Business Motivated
Gies is led by hundreds of experienced faculty who are leaders in their respective fields. And the staff knows and understands what they do links to a greater purpose of why Gies exists. "We're educating the next generation of purpose-driven business leaders and democratizing education," he says. "There's a general sense that the College is an exciting place to be because we're a place on the move."
As Gies is making enormous strides, it is helping build great camaraderie and excitement within the walls of the College.
Future of Gies College of Business
"At Gies, our mission is to be the most innovative business school on the planet and deliver life-changing access to business education," Brown says.
Both internally and externally, the College is developing a culture of innovation, he says, adding that they are also seeking new ways to deliver high-quality education to learners around the world. "We are actively exploring options outside of the degree space; many learners today need to be upskilled or re-skilled, and they don't have a need for a full degree," Brown adds. "The better we can reach and serve these groups of learners, the more successful we will be at achieving our mission of delivering life-changing access."