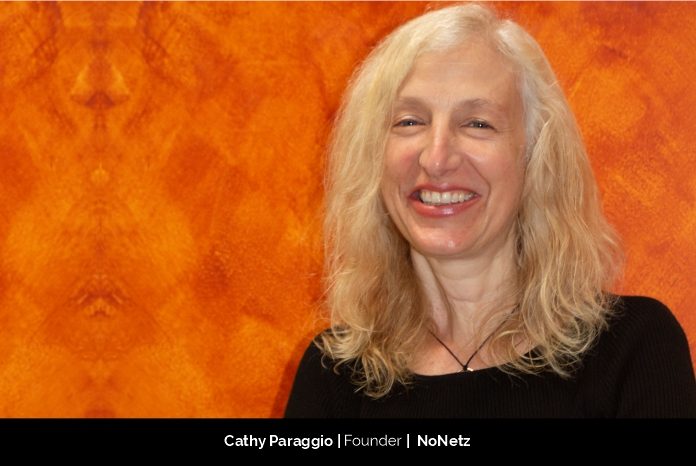 Driven by a steady faith in her creation, Cathy Paraggio, founder of NoNetz Activewear, is on a mission to solve the chaffing problem through her unique range of boys and men's clothing. Emphasizing comfort and catering to texture-sensitivity, Cathy began researching relevant solutions to common activewear problems, allowing her to implement specific comfort features that carved NoNetz's corner of the market.
"The first idea was to find a fix for the chaffing problem that comes with traditional mesh liners in swimsuits for boys and men," she states. "Over time, we realized the potential to help solve the bigger texture-sensitivity problems, which gave the endeavor a significant meaning and, from that, evolved a deeper understanding of a specific demographic that wound up having a wider appeal."
Before taking the step of faith
Cathy's big break in entrepreneurship came years after her journey of climbing the corporate ladder. Beginning as a Technical Analyst for Prodigy in White Plains, NY, Cathy helped to design graphical user interfaces for online shopping and browsing when the field as a whole was in its infant stages. "I was part of the team that presented to the FCC to ask permission to use the phone lines to transmit data. In fact, I accidently purchased 200 toilet seats from Sears from the first shopping application. Not exactly a high point, but it actually worked!"
She later hopped through different roles in corporate IT, designing and building global networks that paved the way for massive leaps in management software development. Today, Cathy feels her best recognition in corporate life was a write-up in Network World that outlined her design of the first network using a brand new company called Citrix. "We were rolling out SAP in Europe, and I had to find a cost-effective way to manage the desktop without increasing IT staff in each location," she explains. "It was a rocky start with a lot of customization, but it achieved the goal and has set some standards that are still used today."
Her final role in IT was when she became the NE Director of Sales and Technical Services for a network management company. After a cancer diagnosis she left corporate.
"Fear is a luxury an entrepreneur cannot afford"
Cathy knew the road ahead would be difficult when she finally plunged full-time into entrepreneurship. There were many initial struggles that needed immediate attention – learning a new vertical, establishing manufacturing and supply chains -the list seemed endless. For that period, she believes that it was the persistence of slightly different iterations of problem solving in order to achieve success. It is, therefore, necessary to keep calm, maintain goal focus and work with the problems as well as around the problems.
She says, "I wish 'failure' didn't have such negative connotations. Some of my best designs start with failure." Thus, for her, learning from the failure or challenge helps in gathering the strength to pivot for solving the problem efficiently.
Introducing a Unique Product Range At NoNetz Activewear
Since 2012, NoNetz Activewear has been creating the most comfortable problem-solving clothing using a range of sustainable and technical fabrics. As experts in anti-chafe swimwear for boys and men, they have spread their wings into a diversified product range that consists of thoughtfully-designed activewear.
Keeping a customer-friendly approach, each piece is first tested by texture-sensitive people to validate its comfort level and gather feedback. Cathy shares, "We want you to be as comfortable in your dealings with NoNetz as you are in our clothing. We offer easy returns, and if you're between sizes, we will even rebate you for custom-tailoring." This is a great USP and displays their commitment to serving their clients perfectly.
Leading the company on its core vision
Cathy states, "I want NoNetz to be recognized as a top problem-solving activewear brand that is making great products while also doing our best to offset the impact each of us has on the planet." The team seeks out the best materials and assembly techniques for every stitch of clothing they make, and their requirements have led to a few new blends of pre-existing materials and coatings. Infusing the power of several latest technologies, the company has an advanced inventory system that uses SKU sorting-based AI technology. This allows them to accurately forecast and manufacture only what they need.
"Our customer service is authentic. We really talk with everyone (no bots, no automated phone systems) to understand their concerns, frustrations, and how we can be better. We also address the problem of buying clothes online that you can't try on. We have a virtual avatar – enter your height, weight, and it will show you how it will look on you as well as what size to purchase. Reducing returns also reduces carbon emissions," states Cathy.
When it comes to sustainability, NoNetz strives to do as much as they possibly can. For example, some of their fabrics contain concentrations of post-consumer plastics; but the concept of sustainability doesn't end here for this company. The company also contributes portions of its sales to ocean cleansing and reforestation efforts around the world. In doing this, they hope to help heal the planet and make it a better living space for everyone.
Steering the wheel of NoNetz Activewear
Cathy takes the reigns of a full-scope roll. She explains, "A typical day consists of monitoring sales and customer service inquiries, managing inventory, product design, manufacturing schedules, logistics, and technology."
Being resilient in nature, she holds her ground firmly in the raging winds and leads the team in the right direction to recover from the given set of challenges. Backing up her skills, she aims to find optimal solutions in the challenging times that bring good fruit for everyone.
Cathy is a team person and knows the value of all her hardworking team members. She adds, "I treasure my employees. Each one has a super-power of unique perspective and experience. I reward them and encourage them consistently. We're interested in defining new developments in our industry, and we want to share that with the world."
Moreover, she knows when to sit in the driver's seat and when to delegate the work to fully utilize the strengths of the team.
Her personal message for the young aspiring leader is Perseverance with Sanity. She says, "Define your market before you go all-in with your product. Then jump in and swim."
Thoughts on work-life balance
Having a corporate background, Cathy understands the secret sauce of balancing success in both her work and personal life. Thus, for her, success lies in having the freedom to set, plan, execute and reach goals on her own defined timelines.
However, creating a good balance between the professional and personal front is always work-in-progress. Cathy expresses, "While I really enjoy the work to the point where it doesn't feel like a job, it's easy to get absorbed in the challenges and constant learning curve."
Future prospects
Cathy wants NoNetz to be known as the most comfortable and sustainable clothing brand on the market. "We started with swimwear. Now we are diversifying into rash guards, men's polos, and men's temperature management sweatsuits, with flair. When you see a NoNetz, you know it's thoughtful." Cathy aims to expand the NoNetz horizons further as she explores an uncharted landscape in the clothing industry.