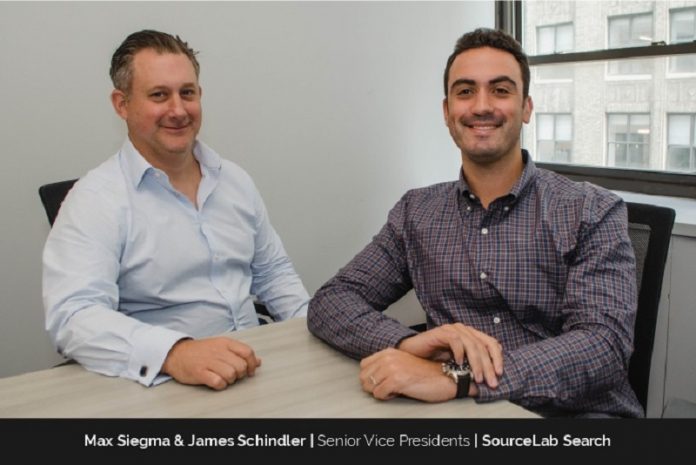 Max Siegman and James Schindler are the Senior Vice Presidents of SourceLab Search (SourceLab), a premier provider of talent acquisition solutions to the digital marketing and media industries.  SourceLab is dedicated to attracting and retaining top talent for their clients and businesses looking for discretion, exclusivity, and efficiency in a talent partner.
Max earned a Bachelor of Science in Telecommunications with a minor in Business from Indiana University. James holds a Bachelor's Degree in Business Management from St. Francis College. As senior Vice Presidents they oversee the national hiring process and day to day operations. James is also the National Managing Director of Sales at The Bachrach Group (TBG), a national recruiting firm headquartered in New York City with nearly five decades in the industry.
In their early careers, they both had ties and an interest in the digital space which allowed them to build out the digital division within TBG and inevitably branch off into an individual entity, SourceLab Search, at the start of 2022.
Out of college, James started his professional career at Enterprise where he helped build out their NYC flagship location. He transitioned to recruiting within the financial services industry and joined The Bachrach Group in 2014 and now oversees the sales umbrella at both TBG and SourceLab.  James is also heavily involved with charitable organizations The Pajama Program, Marine Toys for Tots, and the Make-A-Wish Foundation.
Max started his career at a major events firm producing content for conferences. He joined TBG as digital recruiter, a position in an industry he was familiar with. "It's rare for individuals to start their careers as recruiters. However, it is a natural and organic movement especially if you have a care for the market you're recruiting in. The most successful recruiters are the ones that have experience within the areas they are recruiting for and a passion for helping find their perfect fit in that industry."
With now 12 years experience as a recruiter, he has helped companies build out their internal marketing teams, as well as staff advertising agencies, creative departments, and luxury brands across the country. His reputation proceeds him, having collaborated with top C-suite executives across the country to help them plan their internal hiring needs strategically.
Doing the Right Thing for the Right Reasons
Recruiting agencies have a reputation for being a revolving door, having an individualistic mindset, are typically micromanaged, and notorious for putting an emphasis on quotas.
At SourceLab Search, the partners are trying to change that notion.
James and Max actively put an emphasis on collaboration, work/life balance, and market awareness. The duo believes in always doing the right thing for all parties. They profess the only way to truly be successful is to focus on longevity; creating long-term relationships with candidates, clients, and employees. Patrick Davey, Senior Recruiting Strategist, shares, "our leaders are motivational, and not in a cheesy way – everyone pulls on the same rope and supports each other as best as they can, and that standard starts at the top. SourceLab puts an emphasis on teamwork, being each other's biggest supporters, and making sure we maximize our potential".
SourceLab is made up of high achievers and hard chargers. The team is able to navigate incredibly complex relationships; adapting their recruiting strategies to maximize the best service and placements possible. President of SourceLab Search, Anthony Fanzo, digs into this deeper by saying, "On the client side, our team works closely to make sure that the candidates we send are a perfect fit for the position and culture – the team is not afraid to do a deep dive into a client and their business to make sure all needs and wants are met. On the flip side, when it comes to the candidates, the team allows them to feel that they have their best interests in mind and that they are setting them up for success. We are very cognizant that all parties have their own necessities, and the team consistently meets and surpasses those expectations".
Referrals are a large part of SourceLab's success. Because of the effort, care, and attention devoted to clients and candidates, they have referred their counterparts within the industry which has generated business and visibility for SourceLab. James and Max set the example that by always doing the right thing and going the extra mile, it will only continue to benefit all relationships within the recruiting world.
Culture is Everything 
Doing right by clients and candidates is expected in agencies but the attention to its internal people is often overlooked. At SourceLab Search, this couldn't be more inaccurate. The partners' vision for SourceLab was to rewrite the script on what a staffing firm should look like.
Unlike other search firms where there's a very "me and mine" mentality, SourceLab emphasizes the importance of collaboration and comradery. The teams' personalities, although vast, mesh together well – everyone's opinions matter as the team often brainstorms and spit balls through roadblocks, priority roles, and celebrates wins. There's familiarity and humility within the group.
"SourceLab's culture is unmatched, and this starts with top leadership. We place an emphasis on having a welcoming, collaborative, and fun office culture. We genuinely enjoy working together and helping each other be as successful as we can be" says Nicole Klein, Senior Recruiting Strategist.
For James and Max, success is measured and defined by a thriving culture. The partner's daily responsibilities are to drive business, grow production, help the team with career progression and setting a standard for internal culture. There's a work hard, play harder mentality.
The Challenge of "Yes"
The ever changing variables of a recruiter's world is increasingly difficult to navigate. Although 'The Great Resignation' brought a booming job market and an almost infinite amount of opportunities for placements, it also shed light on the human side of recruiting. People have very different expectations and anxieties in regard to changing positions compared to years ago. There are now very reasonable and sobering fears with a change of career – mass layoffs during the pandemic and the talks of a recession on the horizon make it a difficult decision to officially accept an offer and make the jump.
James and Max note that one of the ways they have been able to help their team navigate this is by simply being human. They share that it's incredibly important to understand a candidate's personal life and motivations. Recruiting is transactional in nature so making sure individuals feel truly seen and heard is highly valued within this space.
Deirdre Paul, Recruiting Strategist, highlights this by saying, "[being] a recruiter is a symbiotic relationship – not only do I want to help my candidates find the best career possible, but I also would not have my individual success without them. There is no better feeling in the world than helping be a part of someone's personal growth and success". SourceLab's recruiters end up being a major part in their candidate's life – more often than not the relationship continues long after the placement has been finalized, which is a rarity in the space.
Being market-experts rather than simply a 'recruiter' is an idea that the leaders push for. Andrea Forstadt, Recruiting Strategist, who joined the team after working 25 years within the traditional digital marketing space shares that, "[SourceLab] has offered me the opportunity to leverage my background and experience in a new and challenging way. James and Max put an emphasis on being a market-experts and highly-researched". The act of recruiting is relatively simple, but the act of having someone say 'yes' is difficult. Having that understanding of the business and position along with a continued awareness of market trends helps to facilitate the quantity and quality of placements the team makes. Candidates and clients feel comfortable and supported knowing that SourceLab has their best interests in mind.
For SourceLab, it's never as simple as 'filling a role', it's filling the need.
The Impact of the Pandemic
The pandemic flipped the working world on its head. As devastating of a time as it was, it completely changed the expectations of employees and employers alike and will continue to have a major impact for the foreseeable future.
One of the major changes the pandemic brought was the boom of hybrid and remote work. Although this split-schedule has always been around, the pandemic allowed for the masses to experience the flexibility. Remote work opened up opportunities for a lot of people and it is changing the landscape of the industry.
As much of a luxury working remotely can be, Max emphasizes the growth opportunities in an office are much greater. He shares, "if you are a recent college graduate or relatively junior in your career, it is imperative to work within an office (if available) for growth. There currently is a high expectation of remote or hybrid environments throughout the workforce, but strict remote work stunts individual career growth significantly". He continues with a motto, "Be present, be visible, be involved".
During the pandemic, SourceLab made sure to establish a long-term strategy. While other agencies and internal recruiting teams were being cut, SourceLab was picking up that talent and growing their presence nationwide. Additionally, because of the close relationships with clients, though hiring was slow, they turned to SourceLab and trusted their vetting process to continue to bring in top talent.
SourceLab persevered through an unstable time and came out on top – and it was not without hard work and determination. SourceLab Search became what it is today through the instability of a global pandemic. With less than a year as an individual entity, SourceLab has tripled their revenue from being a division under TBG.
The workforce will continue to feel the effects of the pandemic on the job market for decades to come, but SourceLab has proven they are ready to continue growing and thriving.
The Future of SourceLab Search
SourceLab is hoping to and actively making strides towards expanding their business to become a nationwide search firm. There's a plan to build out and grow within different markets, expand their team and its capabilities, and continue to brand themselves as the new face of staffing agencies.
SourceLab has also committed to promoting diversity, equity, and inclusion both internally and through their executive search processes, actively seeking to create a collaborative workspace in all industries. As of August 2022, 60% of SourceLab's placements have been gender and racially diverse and they share they are committed to continue to increase that number.
"SourceLab has the opportunity to expand its divisions and footprint to become a national force. The future of SourceLab is bright and infinite" Anthony Fanzo shares.
SourceLab intends to be the firm all clients, David or Goliath, look to.
Meet the Team
SourceLab Search has been a culmination of 8 years of dedication. Starting out as an internal division at The Bachrach Group, a nearly 50-year-old recruitment firm, they split to form a standalone entity in January 2022. Using its boutique marketing expertise with the extensive network of a larger organization, SourceLab can hand pick candidates from across different markets to find the perfect solution for any client.
Today the team is made up of nearly 20 employees with specialized recruiters placing a premium on clients' needs and time requirements to target and deliver the right candidates. Our leadership team includes Anthony Fanzo, President, James Schindler and Max Siegman as the Senior Vice Presidents. Alina Paskhaver, Steve Fippinger and Stephenie Trepess are SourceLab's Directors of Talent Strategy; Jaynee Rehns as SLS's Managing Director of Business Development;
Brittany Sklar, Patrick Davey, and Nicole Klein represent the Senior Recruiting Strategists; Andrea Fordstadt, Deirdre Paul, Alexandra Sofia, Samantha Traum, and Dawn Furey are SourceLab's Recruiting Strategists. The back-office team consists of Brenda Kelly (CFO), Sophia Interlicchio (Operations Manager), and Casandra Valencia (HR Manager).
If you'd like to learn more about SourceLab Search you can visit sourcelabsearch.com, give them a call at 877-source0, or send them an email at recruit@sourcelabsearch.com.