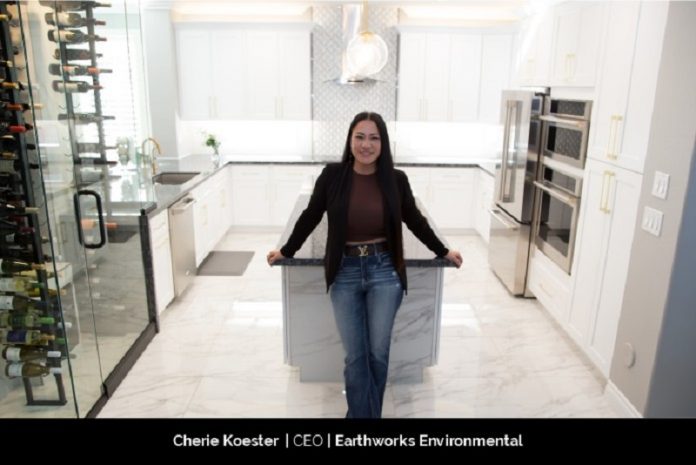 Cherie Koester, a Master of Science degree from Arizona State University in International Environmental Technology Management & Sustainability, is Earthworks Environmental LLC's Principal CEO. She is proficient in leading public education presentations on particulate matter pollution, dust control regulations, and the necessities of staying in compliance with federal and local air pollution laws. Cherie has demonstrated exceptional experience in leadership and environmental management.
She claims that her journey thus far has had many highs, lows, and everything in between. She has discovered that she is an adrenaline junkie for the "win" and has the drive to continue reaching for that high. "This career path and lifestyle has certainly exposed me to betrayal and exploitation. I have done so many interviews and we talk about my success and the success of the business however I never have a stage to speak on the heartache that comes along with success. I have experienced many aspects of the dark side of success as well," states Cherie.
Cherie was a Compliance Inspector for the Maricopa County Air Quality Department, working closely with the public by inspecting a wide variety of regulated sites and sources. Cherie is skillful in ensuring dust compliance and assisting the regulated community with rule interpretation. She has specific expertise in identifying field observations and then indicating cost-effective and accurate job site practices.
A Passionate Professional Walking Through A Transformational Career Path
"I have always been a driven individual," says Cherie. She has a very high level of self-motivation and honestly, she wasn't always driven in the environmental realm. She learned that life morphs into something we could never expect and wherever her path continues to lead her, she will accept and meet it with all its challenges. She also states that operating in the environmental industry does speak to her Native roots and she finds great satisfaction in not only dominating the stormwater industry but also protecting the waters of the US.
Earthworks quickly recognized a gap between stormwater consulting and technology. Therefore, they have created their own software that is fully customizable to meet the regulatory requirements in every market of the United States. ERX is not only an inspection software but also provides records retention, rain data, stabilization sequence, and mapping abilities for every construction project. Access to ERX is completely subscription free for projects where Earthworks is conducting stormwater consulting. They also offer ERX access as a subscription to any client in the United States, the world actually
Every Path Has Different Challenges
Cherie has learned many challenges along her journey and continues to learn. She likes to face challenges head-on. She believes challenges make you stronger. Some of the challenges Cherie faced early on are that she is a young minority woman. She was impelled as a woman to continually prove herself in a male-dominated industry. She certainly took a big risk opening Earthworks Environmental LLC while raising young children. Cherie had no option but to run a business all day and come home with enough energy to be the best Mom she could be. She recalls many times as a company when it appeared as if things may take a turn for the worse and they may not make it.
Easy wins are exciting, but the best feeling is when they must compete against a competitor and fight for a client. The difficult wins are what keep her motivated to keep fighting and being better both personally and as a company each day. "My ability to run a successful business and a loving home was challenged and didn't come without stresses and failures. With the support of my management team, and family we have grown to the level we are today," she says. She soon realized that many people were watching her and anticipating her next move. Her children, her business associates, and her competitors alike. "You are under a microscope and when the day doesn't go as planned, you need to get up the next morning and continue to work hard," states Cherie.
Earthworks Environmental LLC And Its Exceptional Services
Prior to creating Earthworks Environmental LLC, Cherie was a regulator for Maricopa County in Arizona. She was the person inspecting construction sites for the regulatory agency. She has written many violations as regulations that are extremely black and white and do not allow for interpretation. "In doing so, I saw the need to bridge the construction industry and regulatory compliance. With that experience, I can maintain the much-needed relationships on both sides. This has assisted us in our ongoing goal of longevity," she explains.
Earthworks Environmental consults with national home builders, commercial developments, department of transportation, wind farms, and anything under construction that disturbs the soil. They assure regulatory compliance for stormwater is met at the local, state, and national levels. They also supply permitting services, regular inspections, SWPPP (stormwater pollution prevention plans), assistance on regulatory inspections, and everything in between the life of a project from acquisition until the last foot of sod is laid. Earthworks provide the United States with top-of-the-line stormwater pollution prevention (NPDES) and dust control consulting.
Cherie's goal is to make Earthworks Environmental a household name in the building industry. She has built her business on integrity, respect, and consistency. She has no plans of slowing down as she maintains her business by holding trusting professional relationships with her clients, and the regulatory industry.
Cherie's Views On The Changing Landscape Of The Environment
Cherie states that she is aware of the fact that technology in environmental management is here because Earthworks lives and breathes it. The challenges arise with an old-school way of thinking that things have been done a certain way for many years and sometimes individuals who are not comfortable with technology either don't trust the technology or are unfamiliar with it. "The world is moving on a technological fast track, and we need to stay in front of it, which we are achieving," she says. ERX is a perfect example of a positive changing landscape for environmental management.
Responsibilities As A Principal CEO
The first and foremost role Cherie has is to support her team and give them the resources and access to the knowledge they need to be successful. Secondly, she maintains relationships with clientele and seeks out new opportunities for Earthworks. Even though she is based out of the Mesa Arizona office, she travels to their many markets as often as she can.
"I am proud of a wide variety of things one of which is national level contracts for our services and an ever-growing interest in our ERX software platform. I am proud that 3 of my adult children work with me and are learning the standard at which I operate. I am proud of the moxy in my soul to push me through the challenges that we have gotten through to get us to where we are today," she exclaims.
Maintaining A Work-Life Balance – Cherie's Views
Cherie claims that her home family and her work family are one and the same. Even maintaining over 60 employees, she thinks of them all as a direct reflection of her leadership and nurture. "As CEO I don't have the luxury of leaving work at the office therefore rather than fighting it I have learned to accept it and embrace my extended family," she says. They work a 4-day workweek and the trust that she gives her remote employees is met with mutual respect. As a leader, she understands that her employees have personal lives and she gives them the freedom to maintain those.
Cherie's Advice To Her Younger Self
"My younger self was a wild child," she claims. The advice she would like to give herself would be:
Be louder than they already ridicule you for.
Do more even though they say you do too much.
Go faster even though they say you are going too fast.
Say more even though they say you talk too much.
Speak up even though they say you are too argumentative.
Laugh more because let's face it, things are funny.
Fight harder for yourself because you can never rely on anyone to fight for you.
Lastly, trust your gut.
Cherie believes that the more she achieves the bigger her dream gets. She claims that she is not even halfway to where she wants to be.