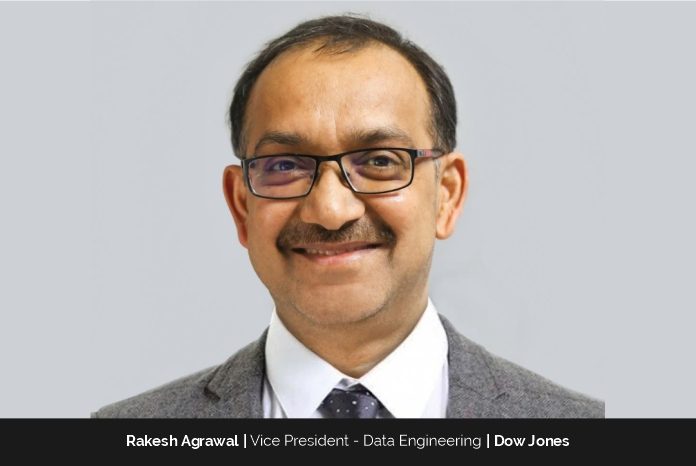 Rakesh Agrawal works as a Vice President, Data Engineering at Dow Jones and Company, which is a Publishing company with an estimated 6,000 employees; and founded in 1882. They are part of the Engineering & Technical team within the Engineering & Technical Department and their management level is VP-Level.
Over his years of experience in the software and data engineering industry, what Rakesh did is create leaders who focus on decision making and adopt change. "I have changed technologies as I moved along in my career, I have changed continents," he says.
Rakesh graduated from Indian Institute of Technology, Kharagpur in 2001 and is currently based in New York City, United States.  He completed his bachelor's in engineering in computer science from India in 1992. At that time, the career options in professional world were primarily engineering and medicine. He was among the few students, among more than a 100,000, who was able to crack through, both, medicine and engineering entrance exams.
"I wanted to be a doctor, but it was a friend, who told me, that in medicine – one must memorize a large part of those thick books. I can't do that. So, I turned to engineering and computer science was the upcoming thing in that era – and sure enough, on my dad's foresight, I pursued computer science and engineering," Rakesh says.
The start of Rakesh's professional journey
Rakesh began his career as a developer who would help migrate a product to a newer technology stack and then onto doing customer support. This job involved him performing bug fixes, talking to the customer and understanding the product problems and then fixing them. For the hard problems, Rakesh would follow up with the customers to ensure that the problem was solved.
After doing this for a while – Rakesh got bored and wanted to do something different. His manager moved him to a role that he wanted, but he told Rakesh that as he grows in his career, as some point, he will realize what he did in the last 2 years would count as one of the best experiences. "And yes – indeed it was one of the best experiences," Rakesh admits.
Success is an ongoing journey
Success to Rakesh is about persevering non-stop to achieve something. He believes that success motivates people since it provides a sense of accomplishment. It could be anything, from making money to learning to speak a new language. The smile on a customer's face when they understand that their problem is solved – is a sign of success.
For him personally, success is about believing something can be done. For example, at a place Rakesh worked, they were unable to sell the product. However, Rakesh was able to convince the leadership to pursue a certain set of customers and finally that worked. Here he states that he considers convincing the leadership team as a success, and not that the targeted customer bought the product.
Similarly, at another place, Rakesh helped do a POC for a technology they wanted to work on – that helped change the direction of the company. "Here it was about listening to a motivated employee and providing the employee a safe space to work and demonstrate the idea. That is success for me," he states.
Challenges motivate you to grow and learn
A challenge, when overcome increases your skills and improves your mental and emotional skills. These learnings can be applied to other areas in life and boost one's confidence to achieve more.
Rakesh did a part-time MBA, while he and his spouse were working, and they had 2 kids. It was a challenge – as Rakesh did not know if he could do it and how do to it. But he persevered and went through the motion and completed the degree within the stipulated 2 years. That helped him take on bigger challenges like building, from scratch, a 250 people technology team, across 15 technologies, all within 2 years.
Rakesh's CIO said – "there is no one else in the organization who could have done that".
After this, Rakesh took on the challenge of building the custom Android SDK for Nokia devices. This led him to take on the challenge of building a core banking on the cloud for the first time in the industry and also a custom data solution for predicting customer churn using transactions. This way, one thing led to another and Rakesh proudly says that he does not fear challenges any more. "If you want it done, I am there," he states.
Brilliant professional achievements though the years
Rakesh delivers valuable culture transformations to global teams (USA, UK, France, Hungary, Finland, and India) and banking customers (USA, Europe, Middle East, Singapore, and Australia) through a customer-obsessed approach to Product and Technology leadership. He is an expert at hiring, mentoring, coaching and growing talent.
Rakesh has doubled team productivity through extensive change management rooted in developing team confidence and trust in peers and leaders. He advances constructive cultures by encouraging innovation and healthy scrutiny of existing processes. He is an innovative expert in end-to-end technology modernization of data-driven applications. Rakesh has built 7 products (leveraging big data, cloud engineering, AI/ML, data products, and infrastructure management) to better serve 250+ customers and drive $100M+ in revenue.
Rakesh has worked on improving the central requirements collection process to reduce product defects by 50% and increase productivity by 15%; he processes data, drives experimentation, promotes learning, and pivots willingly considering new evidence and data.
A perfect work-life balance
Rakesh never understood what does a balance between personal and professional life mean, until he heard Jeff Bezos define it for him.
For Rakesh, work-life balance is about harmony between personal and professional life. It is about having a great day at work, feeling accomplished and then needing to go home. And at home, in the morning, Rakesh should have the feeling of going to work and accomplish more. "That is what is balance between professional and personal life means to me," he says.
Rakesh believes that engineers, especially, in the software industry should focus on learning the basics and focus on solving the customer problem. His wise advice to aspiring engineers is: Whatever you do, look at what problem you are solving. Technology is a means to an end – it is not the end. The technology you build should solve a customer problem – otherwise it is not worth it.