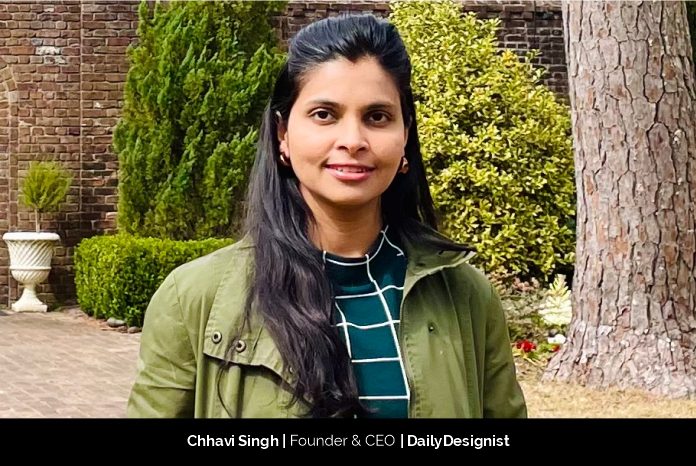 Agile executives at all levels of the company adapt to changes in the business environment by grabbing opportunities, which may include discarding old models and establishing new business models. They strive to spread change thinking by incorporating it into everything they do, from the simplest everyday encounters to the most complicated strategy. One such business leader is Chhavi Singh, founder of a niche visual arts platform called DailyDesignist (DD), where one can learn, buy, use and wear art. The platform is devoted to addressing the fundamental issue of women artists/arts teachers having no dedicated infrastructure or digital platform to promote, empower, and support them.
DD, according to Chhavi, is a business that is developing a mobile, worldwide, and unified platform for all female fine arts artists to join and display their abilities and skills to the rest of the globe. The site will assist female artists with marketing, branding, and connecting with the larger art fan community.
DailyDesignist now features over 500 artists from 16 different nations. It also offers live online arts lessons to children and adults all around the world.
Journey till Now
Chhavi completed her MBA and MS at New York University. For the last seven years, she has worked as a demand planning manager for investment banks such as UBS and Morgan Stanley. She considers herself a hustler as an entrepreneur and controls all parts of the firm, including marketing, business development, sales, and accounting. "Read books, interviews, and podcasts to keep yourself motivated," she advises.
DailyDesignist was chosen to present and exhibit in front of thousands of people at the World Startup Summit, which took place in Portugal in November 2019. (including investors, media, entrepreneurs and many more).
Chhavi has been interviewed and her startup's progress has been covered by PR and other media New Indian Express, Times of India, Serena Global Magazine, CNBC, CBS, NY Weekly, and others are just a few of the publications that have written about her and her startup.
DailyDesignist
DailyDesignist is the world's first digital arts platform driven by augmented reality and artificial intelligence. It is a one-stop shop for art enthusiasts. It offers art products and art services as it is a holistic arts platform. Original paintings, Wall arts, and Commission requests for bespoke paintings or portraits are available. Artwear and ArtWare are innovative art items with a twist, which have functional usage in day to day lives. Online, live art classes for individual consumers and Online Luxury Art Therapy for businesses are among the services offered (Corporations, Hospitality).
Chhavi says she aims to disrupt the present visual arts industry by making real, distinctive, and original art inexpensive and accessible to the public. She says, "We do so by showcasing our women artists' handmade paintings, artwear, artwares on our online artisan gallery and through our physical art shows and exhibitions."
Empowering Women Artists
Chhavi supports women artists by allowing them to teach and share their expertise with art enthusiasts all across the world through DailyDesignist. She claims that giving online, live art enrichment sessions for students can help them enhance their present STEM education with creativity.
Adults may de-stress and de-clutter from the mayhem and confusion by taking online art therapy classes to attain mindfulness, calmness, serenity, and happiness. DailyDesignist is the first mobile platform to link seasoned, experienced, developing, and hidden women artists and art teachers with a larger audience of art enthusiasts.
Success for Chhavi
Chhavi defines success as the ability to assist others in realising their full potential; to be able to guide them in the right direction, to encourage them to fight a bit harder and dream a little larger. She also says that success is about working for the larger good, something she learnt about in her MBA studies and has proven to be true for her.
Keeping Balance
Chhavi's day begins early since she must take her toddler to school. After that, she begins her day with a nice morning stroll. She then went to work, taking short intervals for lunch and tea. Her work week ends at 5 p.m., allowing her to spend time with her child, make supper, and spend time with her family.
DailyDesignist's Future Roadmap
"Putting the word out there about the platform, difficulty in selling original paintings/wall arts as we were new in the market (new brand)," says Chhavi. The team changed direction and devised novel solutions, enlisting the aid of Chhavi's platform's artists to reach out to art enthusiasts.
According to Chhavi, the worldwide go-to brand for creative arts and mindfulness among consumers, schools, hotels, and corporations should be DailyDesignist. She is collaborating with private K-12 schools (to teach creative arts), the hospitality industry (to give luxury art therapy to their guests), and décor retail shops (to sell original paintings and Artwares). She will be fundraising to be able to grow it internationally while doing all of this. Expand the platform to accommodate thousands, if not millions, of artists and teachers.
DailyDesignsist is soon going to partner with Artsy to showcase and market it's luxury and folk arts paintings collection to Artsy's huge database of arts collectors, located worldwide.
Connect with DailyDesignist
The Art Lovers – DailyDesignist app is available in the iTunes and Google Play stores for free. LEARN, WEAR, USE or BUY visual arts through our AI and AR enabled platform.
Website: https://dailydesignist.com
Email: info@dailydesignist.com
Phone: +1 919 391 8193