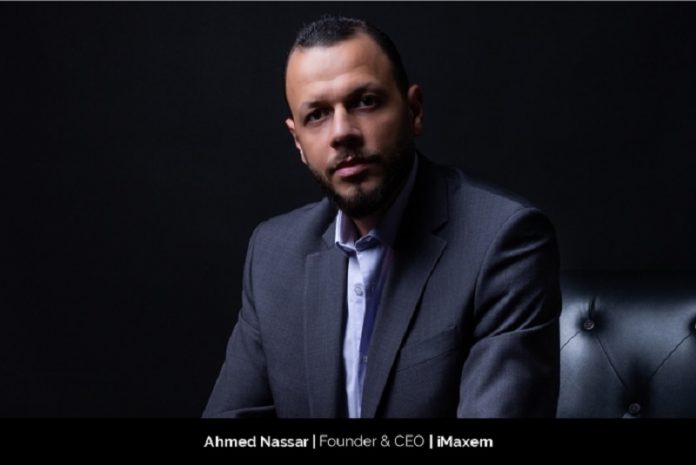 At the age of eight, an Egyptian boy made a decision carved in stone – he would one day work in the IT field. And it is perhaps because of his single-minded pursuit of that dream, today, he is the founder and CEO of iMaxem, a Middle East-based leading IT & IS services company. Meet Ahmed Nassar, 35, who loves the thrill of establishing start-ups in the IT sector as well as enjoys outdoor adventures and photography.
From his childhood, computers, technology, and everything related to them fascinated Ahmed. Whenever he sat in front of his PC, he felt like a King — nothing was hidden from him, and everything appeared doable. And he was just 15 when he developed his first website. And, in 2004, the 18-year-old Ahmed joined a software-house, which was developing a local ERP system, as a trainee. After earning his Bachelor's in electronic engineering in 2008, he joined Cisco's global IT and cyber security program, Cisco Networking Academy, in 2010; he was qualified to participate in the regional (the Middle East and Africa) and global editions of Cisco Netrider Competition. It was in 2012 that the idea for iMaxem germinated. Ahmed founded the company – originally promoted as a designer and developer of websites – with his friend Hany Gamil, who specializes in UI/UX, and later, joined them a new player as a partner who is very important key in iMaxem's work, he is (Ahmed Abdulbaki) who could understand the mentality and way of thinking of Ahmed Nassar and could convert his ideas into super brilliant technical stuff.
iMaxem got its first project soon after its launch, and a year later, it bagged a big interactive solution project. From a very modest beginning, the company has now grown into a major IT & IS services provider in the Middle East. It is now known for its state-of-the-art information technologies and dedication to high quality, innovative solutions. And, iMaxem currently serves five different sectors of the IT industry from its bases in three countries, Egypt, Saudi Arabia, and UAE. And it works with clients, partners, and vendors based in five countries. The company intends to expand its global footprint – plans to soon start operations in Canada, Turkey, and other countries of Africa. One of Ahmed's favorite inspirational quotes probably best sums up iMaxem's journey from scratch to success: "You can start with nothing, from nothing, from no place, and you will reach at the end."
iMaxem and Its Services
Since its incorporation, iMaxem has strived to achieve excellence. And its investment in technology and innovation has propelled the company to impressive growth. "We have pushed our solutions and services to the limits and have never stopped development or innovation," Ahmed says. "Technology and innovation are considered as basics of the life of iMaxem. Without them, we can't live at all."
There are fiver subsidiaries of iMaxem: iMaxem Information Systems, which is responsible for Web & Mobile App developments for B2B and mega projects, digital transformation, IT Audit, and IT consultation; iMaxem Interactive Solutions, which is focused on interactive solutions such as Virtual Reality (VR), Augmented Reality (AR), Mixed Reality (MR), IOT, 3D/360 Scanning and 3D Interactive Animations; iMaxem Creative Agency handles website designing and development, identity and branding, graphic designing and printings, digital marketing, SEO and SEM, media and audio productions, calligraphy, and packaging. The other two subsidiaries are iMaxem Interior Designs and iMaxem Entertainment. The former specializes in consultation, planning, designing, and 360 Tour, while the latter, according to Ahmed, is different from other subsidiaries as it has no link to the IT field. "We are partner and agent for some international leaders in the entertainment field, associated with Puppet Theatre and A.S. Academy for vocal services."
iMaxem currently offers more than 25 services and more than ten products – ready systems. It also provide over 50 products created and developed by their partners. And it boasts of more than 80 successful projects and more than 50 satisfied customers. Plus, iMaxem developed 10+ unique solutions as projects, each one can be considered as a standalone startup, and these numbers are increasing.
The company's proper business process guidelines and a flexible approach to meet real-world expectations have enabled them to provide their clients with the extra boost they need to accomplish their goals.
Ahmed believes that the key to their success is their understanding of the business, market, and user requirements, blended with the latest technologies in software development. "We are in a relentless quest to fulfill the requirements of our targeted market through our extensive expertise in the IT industry," he adds.
Setbacks Can Lead to Opportunities
Ahmed has faced several setbacks over the years. "We almost lost all our money. We almost lost our lives and almost lost most of our team," he says, adding, "But let me tell you that in such times you can see the support and solutions for methods you didn't think about before." He believes that setbacks are a lesson, although they can be tough on those dealing with them.
During one setback, Ahmed, who is a father to two children, understood the real meaning of family after seeing how his family members stood by him. He also acknowledges the support of his team members, saying that they are the best in everything. Without them, he feels he could not have overcome his setbacks.
Coronavirus lockdowns had a negative impact on the business of iMaxem. "Some of our customers closed. Some of them terminated their contracts with us, while others postponed payments indefinitely," Ahmed says. iMaxem could also not cover all its liabilities in due time. "So, our team discussed among themselves and decided to reduce their salaries and accept any delay." Ahmed was very much surprised by their decision. "I'm so proud of my team, all of them," he says.
And, instead of sulking about the losses, Ahmed decided to take advantage of the lockdown period and restructured the company. He introduced a new range of services. "During this period, we could increase our services a lot and diversify our source of income," Ahmed says. They also made a few changes to their work strategy and built strong partnerships with some of the big players in the IT landscape. "We are now partner with Microsoft, Google, Odoo, Oculus, Autodesk, Adobe, Vuforia, Unity, MindBody, GitLab, and HyperVSN, which is under process," Ahmed says. Also, in Egypt and Saudi Arabia, iMaxem became a trusted service provider for different government sectors and agencies.
"Lockdown turned out to be an awesome period for iMaxem," Ahmed says. "So, I consider that setbacks are opportunities to let you observe your situation from different angles. Setbacks push you to diversify your methods to solve any issue. And try to keep yourself changing so that you can become the best and provide the best."
Real Success Is Doing Something Good for Others
The perception of success varies from person to person, and what someone sees as success can be a crime for others.  Thieves too want to succeed when they set out to rob something, Ahmed points out. Their success, however, can harm others. So, the perspective of success according to Ahmed is caring about doing something good for others. Ahmed does not consider offering high-quality products and excellent after-sales services as a success. "They are the basic rights of customers," he says. "Our real success is when our customers succeed in their businesses due to our consultations or using our systems."
Ahmed adds that real success is providing unique and creative solutions, and customers seeing them as a miracle. "For us, customer satisfaction is the driving force to provide more and more, to invent and create new things for them, to do our best and not disappoint them."
"Our idea of success is like a football player who wants to play very well, impress his fans, and make his team win," Ahmed says.
Market is an Ocean
Ahmed read about the Blue Ocean Theory during his MBA at the University of Leicester. It is about the market for a product where there is no competition or minimal competition, unlike the crowded Red Ocean, where it is all about competition. "I adore the Blue Ocean theory," Ahmed says. And he follows this approach when it comes to competition.
The theory assumes that the market is an ocean, and it becomes a red ocean because of the competition. "You should be in the blue ocean where there are no sharks, which means no competition," Ahmed says. The company tries not to engage in a competitive struggle by providing unique and creative ideas, implementing and transforming these ideas into digital forms, and tapping into great technical capabilities.
A company will certainly be exposed to the competition when it is in the market. That is how the market works. "You should, however, not get dragged into an unhealthy competition, which would consume a lot of your time and money. You should be clever enough to know when to stop a highly competitive service or differentiate it from others. You have to lead the market," Ahmed says.
"I try my best to be always in Blue Ocean, as I don't like swimming in dirty waters. And if I have to, I should be swimming in the front, leaving the dirty area behind me," Ahmed adds.
Routine of a Successful Entrepreneur 
Most successful entrepreneurs are known to be early risers, but Ahmed is not one of them. He is successful despite getting up at 8 a.m. or 9 a.m. It is because he is determined and focused once he is awake. After having his coffee with digestive cookies, he holds a quick conference meeting for about 15 to 20 minutes with team leaders of each subsidiary to know the tasks of the day. Following that, he goes to the gym to do cardio exercises. Post that, he tunes into morning news and reads emails.
Ahmed goes to his office at noon. And at work, he follows a set routine. It includes calling and emailing, studying and analyzing new ideas, new projects, and potential new clients, opportunities and partnerships. He also meets clients and discusses with them different aspects of a project. "And at the end of the day, which is usually around midnight, there are conference meetings with our team leaders to get a quick conclusion of the day," Ahmed says. And, before sleeping, he reads or watches a YouTube Video to learn something new or to get some information on his new idea.
Proud Moment as a Leader
"Proud moments are more than could be counted. But of course there are unforgettable proud moments" Ahmed says.
Ahmed considers the development of MaxMate, a complete ERP system designed for SMEs, from scratch in less than 2 months in 2017 as one of his proud moments as a leader. "I felt proud when we got admiration and appreciation from many parties and sectors, both private and governmental parties," he says.
He also considers Saudi Cargo – SAL Project, a digital and interactive 3D architectural model for a new shipping airport in Riyadh, as one of his achievements. Ahmed says that he felt proud when their marketing director said to him, "You could go beyond my expectations." And, he had replied: "This is we, Above & Beyond" – the company's slogan.
MaxFit is going to be iMaxem's next master-piece product — a solution for gym, coaches, and others parties in sports and nutrition sector. "It will be the first and biggest solution in the world, which will be covering this sector in such a manner," Ahmed says. "I can't talk about it in more detail, but what I can say is that wait for it. I promise it will be a big surprise, and I'm sure I will be proud again."
"Also there is other new project related to monuments and antiques, which will be started in Egypt, then will be implemented in other countries. The main objective of this project is to digitally archiving all information of monuments and antiques, as well as create digital contents in form of VR, AR, Holographic view for different eras. This project is a national project for any country, and will re-define the paradigm of tourism and antiques." Ahmed says.
"Faithful" Team
"The motivation factor that binds the team of iMaxem together is only one word, which is "Faithful". Team of iMaxem is my family, we deal together as one family. We all are owners of iMaxem, not employees. Honestly, without them I wouldn't be here and iMaxem would never exist." Ahmed says.
Work-Life Balance
Ahmed – as any entrepreneur – suffers to reach work-life balance. "I suffer a lot in work-life balance as any other entrepreneur." Ahmed says. He was taking care of the business until the work affected on his life and his health a lot, so he decided to do his best to take care of his health, his life, and his family. "You have to do your best to achieve that balance, even if you couldn't reach, you have to keep trying." Ahmed says.
Vision for iMaxem's Future
Ahmed plans to open iMaxem in several other countries. He also intends to make his company a publically traded and owned entity. "Our eyes are on the stock market and IPO," he says. Also, he expects to increase partnerships with very high expertise companies and see the expansion of subsidiaries, adding more IT specialties. Plus, he wants also to create new projects which will re-define a lot of sectors, as mentioned above in sports and Gym sectors, business sectors, real estate sectors, and tourism sectors, and the list is increasing.
Message to Aspiring Business Leaders
Ahmed message to aspiring business leaders is that they should not be sad or angry because of an issue, as it, too, may have a solution. "Every situation has a solution, and there is also an end to everything. So, don't be sad or angry because of any issue, as there is a reason behind everything that happens. You just need to focus, think, and observe, and you will find and reach whatever you want," Ahmed says.
***********************