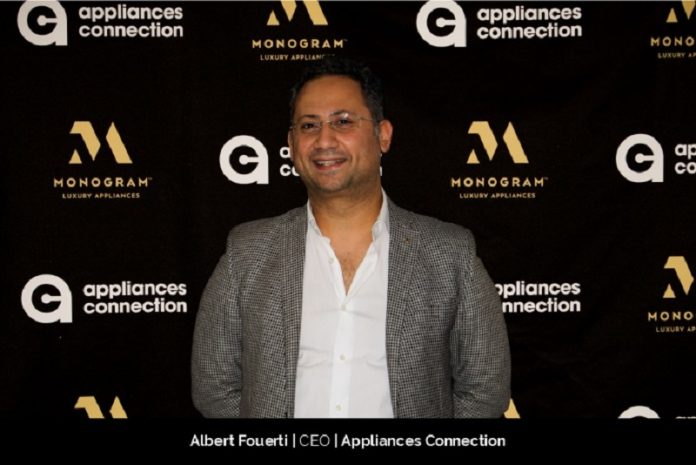 Albert Fouerti, CEO of Appliances Connection, is an inspirational leader because of his ability to quickly reimagine his business strategies in response to changes in the retail landscape. He ventured into the business world with a computer store, but eventually decided to stake his claim in the appliance industry. Albert had envisioned that the demand for appliances would grow in scope as technology improved. So, in 1998, Albert launched Appliances Connection.
Since then, Appliances Connection has grown into one of the largest online retailers of appliances in the U.S., providing everything from budget-friendly units to luxury brands with worldwide acclaim. In recent years, the company has expanded its selection to include furniture, televisions, exercise equipment, home décor, and many other items.
"We offer free delivery and many additional concierge services depending on an order's size, including installation and haul-away services," Albert says. "Everything in our selection has a price-match guarantee, so customers can always get the best deal when shopping with us."
The thriving Appliances Connection is a constant reminder of Albert's tenacity, ingenuity, and adapatability.
Rejecting Comfort and Familiarity
Anyone can become an expert at something if they repeat it over and over, Albert says. But, then, after some time, what one does becomes stagnant and grows stale. Challenges, on the other hand, provide opportunities to expand one's repertoire of skills and understanding. Albert believes that because of that, one can adapt to new situations with confidence rather than trepidation. "This was demonstrably apparent when our company made the transition to appliances," Albert says.
Albert's business would have probably perished if he had continued selling computers instead of taking his leap of faith into the appliance industry. "My desire for comfort and familiarity would have cost me the golden opportunity that made our company the success it is today," he says.
He points out that if someone finds themselves driving off a main road into the woods, continuing forward will not get them closer to their destination. It will get them further. "So, sometimes, you must admit when something is not working, take a step backward, reorient yourself, and find the right path to get where you are trying to go," Albert says.
One-Stop Shop for Appliances
From its inception, Appliances Connection has striven to be customers' one-stop shop for all their appliance needs. "We believe in providing customers with the most seamless, worry-free shopping experience by keeping everything within our vast network of residential and commercial design professionals," Albert says.
Whether customers need help remodelling their home kitchen or are looking to stock an entire apartment complex, Appliances Connection's close relationships with interior designers, builders, customer service specialists, and other professionals ensure that everyone works as a cohesive unit to get each project done exactly to a client's specifications.
Albert says that as computer technologies continue to advance, customers are demanding more interactive e-shopping to match the in-person experience they have become accustomed to. Appliances Connection has risen to meet this new demand by introducing the Interior Design Inspiration Platform. It combines a multitude of strategies to fulfill customers' wishes for their dream homes, no matter where in the country they are located.
The platform employs interactive galleries that allow customers to "shop the look," providing various lifestyle imagery of furniture and kitchen appliances as well as offering comprehensive information on each item. "For instance, if you see a built-in microwave you like in a gallery image, clicking it will redirect you to that unit or a comparable unit's listing," Albert says. "That way, you can know how the appliance will fit into your home's layout before buying it, as well as be provided with information on all the exciting features it comes with."
Additionally, the website of Appliances Connection has become a hub for interior designers across the country. It allows them to create their unique designer portfolios, which helps them connect with clients in their geographical area. That way, clients and designers can plan a complete home makeover together with products from Appliances Connection.
"You cannot go wrong when you remember this one simple fact: customers want the best deal as quickly as possible with the utmost convenience," Albert says. "We employ several methods to live up to this standard." For instance, Appliances Connection offers Concierge Services, including everything from haul-away services to installation of new appliances. Because of that, customers have one point of contact for their entire purchase and delivery process.
Albert says that a price-match policy ensures customers always get the best deal when shopping with them. "Most notably, our Interior Design Inspiration Platform brings the showroom experience to your home, saving you a day's trip to a brick-and-mortar retailer," he adds.
Highlighting that "convenience" is key, Albert says, "Keep that in mind, and it will inform everything you do while making you a competitor in any retail category."
Success from a Business Standpoint
On the topic of success and what it means to him, Albert states, "Success, from a business standpoint, is about fostering reciprocal relationships based on honesty, respect, and mutual gain. Everyone likes being told the truth, everyone likes being made to feel important, and everyone likes to feel appreciated. Whether fostering new partnerships with brands or committing ourselves to satisfy a customer, these three tenets are pivotal to paving the road to success, in business and one's personal life," he adds.
Albert also believes in the power of doing good. "When you strive to do good, good comes back to you in one form or another, and often in the most unexpected ways," he says. "Building a reputation as a company that embodies all these qualities above how much profits we can make from the next big sale will ultimately yield the greatest success in all these categories." And, Albert quotes an unknown wise man to stress his point: "Aim at Heaven, and you will get earth thrown in; aim at earth, and you will get neither."
One will receive infinitely greater rewards when one strives to help people in the best way possible, according to Albert. And he believes that their success as a company is proof-positive of that worldview.
Creating The Most Convenient Shopping Experience
Albert wants to create the most convenient shopping experience for all his loyal online customers no matter where they are located. He points out that in today's fast-paced age, the average person has their focus divided between a multitude of important personal and work-related matters that need their attention. Therefore, retailers, at the very least, owe consumers the most seamless purchase process they can provide. And Albert wants his company to lead the way, offering a shining example of this way of doing business. "The more we as a company can take off the shoulders of our customers, the more they will want to work with us now and in the future," he says.
Uncertainty During the Pandemic and Merger
The Covid-19 pandemic placed tremendous strains on the consumer goods industry. Albert points out that many brick-and-mortar stores lost significant capital due to lockdowns, and many customers transitioned to e-commerce platforms such as Appliances Connection for their needs. Additionally, limited manufacturing caused significant delays in the delivery of physical goods. Many retailers, both in-person and online, were failing to keep up with the growing demand from consumers.
Appliances Connection, too, had an uncertain first couple months of the pandemic. However, the company's merger with 1847 Goedeker in June of 2021 has enabled it to expedite deliveries. Post-merger, it has also acquired and continues to acquire new warehouse locations across the United States. "Combined with an expanded fleet of trucks, these developments will greatly reduce shipping times and allow us to make deliveries faster than ever before," Albert says.
Responsibilities of a Cooperative CEO 
Albert is a cooperative CEO. On a regular day, he is simultaneously replying to e-mails as well as communicating with vendors and company staff via his headset.
"Everyone looks to me for guidance, and I offer a helping hand wherever I am and whatever I might be doing because so many people rely on me," Albert says. "My expectations and goals must always take a back seat to what I can reasonably expect from my team members if we are to be the best we can be as a company."
Albert does not believe in being the boss who kicks his feet up and relegates unreasonable tasks to everyone else. And, as he has not forgotten his adventurous spirit that first guided him to success, he still instinctively engages in all facets of his company's operations.
And Albert believes that it is his duty to ensure that everyone from their partner brands to their warehouse professionals knows that he can be relied upon to assist them so they can work smart, not hard.
Best Recognition That Appliances Connection Received 
Over the years, Appliances Connection has received several recognitions. Recently, Newsweek put it in their list of Best Online Shops of 2021. Albert is proud of this latest recognition, as seven different criteria determined the company's selection. Trust and Security, Structure and Usability, Payment, Purchase and Delivery, Service and Communication, Technical Details, and Likelihood of Purchase were the categories in which Appliances Connection scored exceptionally well. "It indicates to consumers that our entire purchase process is safe, seamless, and reliable," Albert says.
For over 20 years, Appliances Connection has worked diligently to provide top-tier appliance brands, speedy deliveries, and expert installation services for the loyal customers who have laid the foundation for its exponential growth. "We guarantee our company will continue to improve upon the standards that garnered us this recognition," Albert says.
Eating Well for Work-Life Balance
Like most business leaders, Albert, too, feels that maintaining a balance in personal and professional life is not the easiest thing to do. He tries to achieve that balance by eating well.
"Just as I expect my team to adapt to every new development, I need to put this practice into my daily life," Albert says. "Staying active and eating well are integral parts of retaining my stamina daily."
At work, Albert prefers to walk around the office. He is rarely seen sitting at his desk. And he eats evenly spaced, nutritious meals to retain the energy he needs to keep up with everything going on around him. "That way, I still have energy left over to spend time with my family after a long day," Albert says.
"Our company tries to honor the wishes and health needs of our staff as well," Albert says. The company provides them with height-adjustable standing desks so that they do not become stiff and feel fatigued from sitting hunched in a chair all day. "We also regularly supply the break room with snacks. Our team does not have to suffer from distracting hunger bouts outside their lunch breaks," Albert adds.
Plans for the Future of Appliances Connection 
Albert plans to make Appliances Connection a household name, just like Lowes or Home Depot. "We have had unprecedented growth due to the transition by so many consumers to e-commerce platforms," Albert says. "We plan to utilize this boost to garner more national acclaim while expanding our warehouse locations across the continental United States."
Advice to Aspiring Business Leader
"My advice to aspiring business leaders would be to keep adapting," Albert says. "The worst thing you can do is be stagnant. The market changes, and you must change and adapt with it."