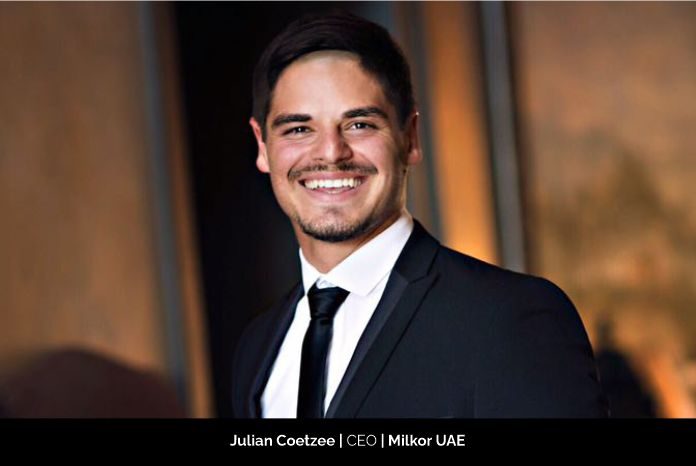 MILKOR is a developer and supplier of a wide range of defense and security products. Originally a South African company, they have expanded their borders by establishing an international office in the United Arab Emirates (UAE) under the able leadership of Julian Coetzee, CEO of MILKOR UAE. Julian is positive that MILKOR's local presence and dynamic and timely approach will provide them with a wide array of opportunities for partnerships, collaborations, and joint developments.
Shouldering Responsibility
For Julian, being appointed as a CEO was both exciting and nerve-racking at the same time, it is a different type of responsibility. He is assured by the fact that he has a big and experienced team that is working towards the same goal. The Collective Vision is the most important thing for him and the company, the team needs to be strong and trustworthy and it starts with the vision; if the team shares the same vision – everyone works hard. Julian is aware that this is easier said than done. The industry and type of work that they do are challenging, exhilarating and stressful at the same time. So your emotions gets thrown around a lot. Julian says that if you can manage your emotions all at once then the Defense industry would be a good fit for you. He admires that the industry is fast-moving and innovative while still adhering to traditional values.
Timely Solutions
Julian understands that the efficiency of implementing a solution makes them a stronger team. In his career, he encounters challenges every day. In the defense industry, it is imperative to provide timely solutions. Julian recognizes that waiting for the next meeting, waiting for the reply, or having a 'we will do it on Monday' attitude wastes time. He has learned a few lessons along his journey. First and foremost, never assume that someone knows what they are doing. Second, never let decisions linger, he always tries to brainstorm everything with the team and immediately after evaluation take a decision. Third, master the art of efficient competence. And lastly, be professional and look healthy.
Redefining the Defense and Space industry
MILKOR started in 1981 as an original designer, developer and manufacturer of defense products, since then they have expanded their product portfolio significantly. They now pride themselves on various platforms in different defense categories as they strive towards international collaborations in several countries around the world.
At MILKOR, they try to bring a work ethic that is different from the norm, they are a privately funded defense company developing and manufacturing advanced technology that would normally be impossible if not partnered with governmental institutions. So they pride themselves on what they have achieved since their expansion in 2016.
Innovation Through Knowledge Transference
Julian acknowledges that MILKOR would not exist without innovative ideas. They have a very diverse team and they try to listen to everyone's ideas.
Their vision is to become one of the Top 25 Aerospace and Defense companies in the world while building on the future of generations to come. It is important for their most experienced people to transfer their knowledge to their younger counterparts. Julian comprehends that this is critical for continued innovation.
A Composed Leadership
Since the start of the COVID-19 pandemic, a lot of work has been taking place from the home office. For Julian, a typical day would involve checking emails and then following up on daily or weekly tasks. He confesses that he is the worst at being systematic so fortunately, someone takes care of that for him. He has to participate in several meetings with various departments checking up on progress and feedback on some of the programs and so on. These activities typically take a few hours. As the work demands, Julian and his team work on proposals, financial reports and marketing activities. There is no set routine, every day is different and comes with its own challenges – he finds this interesting about his work.
At MILKOR, they constantly move. Even if they are not moving forward they keep on moving. Julian is vehemently against sitting and waiting, doing nothing.
Switch Between Personal And Professional
Julian can switch between professional and personal life fairly easily. When his work for the day is done, he is done and he concentrates on his personal life. If the work is not done, he concentrates on getting it done. He considers himself lucky to have a strong and very supportive other-half that makes the switch between personal and professional much easier.
Entrepreneurship Beckons
Since Julian came from a business-savvy family, knew that he always wanted to be involved in a business of some sort. Hence, he started with various 'ventures' from a young age. However, one day, when he was still in High School, his sister, who too was always business-oriented, took Julian to one of her clients that leased Private Jets. He was taken on an aircraft and he was amazed at what he saw. That visit sealed his choice and since that day he has not looked back.
Grow As A Business, Grow As A Leader
Julian's plan for Milkor UAE right now is to grow as much as they can in all aspects of the business, they have been operating as a locally owned UAE company for approximately 11 months now and they have seen some good progress.
Personally, he admits that he still has a lot to learn. At the end of each day, he reviews the teaching points of the day and tries to analyze and understand them. He is fortunate to be in a position where he has leaders, that have reached tremendous success, at his disposal every day, and that is invaluable to any person in his position.
His message to aspiring leaders is "Who you look up to and who you surround yourself with is the most important decision you will ever make."
Celebrate Small Accomplishments
What is success? This has always been a tough question for Julian. He thinks that success depends on the situation he is in. For him, the definition of success changes all the time. He sets weekly goals and if he achieves them he considers it a successful week, on the other hand, if he does not achieve them he regards it as an unsuccessful week. He applies the same principle to his monthly and yearly goals too. So he does not particularly measure success with 'big things'. Rather, he chooses to celebrate little achievements every day. He may have a fluid definition of success, but he is sure that it is achieved only through hard work. "Success comes with hard work while having the time of your life doing it!" says one of his tweets.