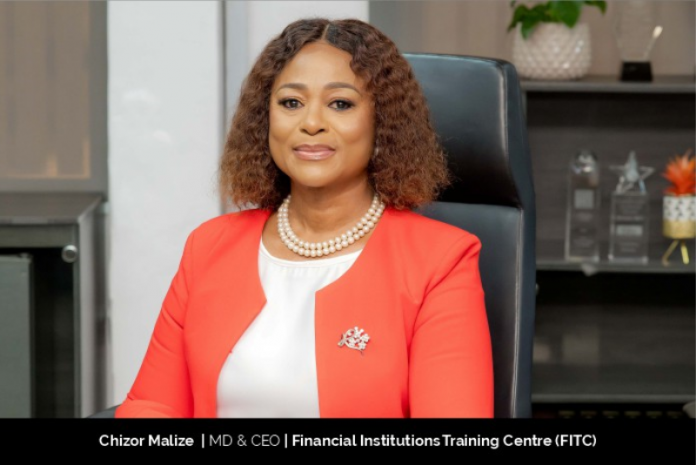 Chizor Malize, MD and CEO at Financial Institutions Training Centre (FITC) has been a business leader and a transformation expert for over two decades, with expertise that spans many fields, including marketing, business process re-engineering, market growth strategy, reputation management, and consulting.
She has been at the helm of several major initiatives in the financial services industry, both domestically and abroad. Her expertise cut across business strategy, marketing, banking, corporate transformation, and brand repositioning.
Her work history includes such prestigious financial institutions as Valucard Nigeria Plc, Standard Trust Bank/United Bank for Africa, and Access Bank Nigeria Plc. She was responsible for establishing and overseeing operations for several Nigerian banks across eight African countries and the United Kingdom.
Chizor is an Executive Education Alumni of the Lagos Business School, the  London Business school, the Columbia Business School, New York and Yale School of Management, Connecticut. Chizor is a renown and well-respected international speaker who has designed and led several thought leadership programmes local and international.
"We provide top-notch performance improvement solutions systematically tailored to suit clients' unique needs."
Inspired By an Early Exposure to Enterprise and Marketing
Growing up, Chizor's dreams were as multifaceted and broad as her interests. "First, I was interested in becoming a pilot just so I can travel the world, and then in high school, I was very active in the literary and theatre/drama clubs. We had rigorous practices and training for these extracurricular activities," she recalls.
For Chizor, the reward was an opportunity to always represent her high school at state debating challenges, which she often won. She credits these diverse experiences early in life for her development into a well-rounded, versatile, confident, and high-performing individual.
In terms of her experience with marketing, Chizor notes that she was exposed to the world of enterprise very early in life. "My Mom had built a business as a retail chain distributor for blue chip brands like Coca-Cola, Guinness, Unilever, and Procter and Gamble. Growing up, we assisted her in her business at school holidays and I literarily lived amongst brands," she remarks.
Chizor feels that this early exposure to enterprise and marketing may have spiked her initial interest in marketing and finance. "Studying for an MBA in Marketing became the Aha moment for me! And I never thought twice about my specialization and future career," she declares.
Building a World-Class Innovation-Led Knowledge Organization
Under the direct supervision of the Central Bank of Nigeria (CBN), the Nigeria Deposit Insurance Corporation (NDIC), and the Nigerian Bankers Committee, FITC was established to provide innovative knowledge solutions and capacity-building programs that develop and strengthen resources for the Nigerian financial services sector through Advisory services, Learning, Research, and Advocacy.
"Our biggest impact is supporting the Central Bank of Nigeria (our owners) to achieve systems stability within the Nigerian Financial Service Sector and the economy through our offerings," says Chizor.
She notes that the biggest setback they faced was the threat of existentialism that came with the COVID-19 pandemic of 2020. Before the pandemic, learning all over the world had been predominantly physical. With the pandemic, there came a greater opportunity for online/virtual learning.
With vision, strategy, and actionable steps, Chizor and her team very quickly transformed FITC into a world-class innovation-led and technology-driven organization whose success hinged upon its six high-impact transformation pillars that cut through its operations: programs, process, platform, people, position, and performance; and innovative digital learning programs.
"The outcome was that we aligned our systems, processes, programs, and service delivery to global standards while keeping FITC future-focused," Chizor clarifies. As the Chief Executive Officer of FITC, she currently leads the organization's digital transformation into becoming a world-class, innovation-led, technology-driven knowledge solution provider.
"I am responsible for the overall vision, strategy, and direction of FITC. I lead the team at FITC to ensure that we help individuals and their organizations to excel, enabling them to realize the power of their potential through knowledge solutions that drive superior performance," she states.
"Opportunities rarely come your way perfect. The best opportunities can be complicated, difficult to spot, and chaotic. They carry risk. They test your resolve. They challenge you, but as a visionary leader, you would come out stronger and better. "
Expanding The Organization to Fill Emerging Knowledge Needs
Chizor points out that when Covid-19 brought significant changes to the way people and organizations interact, it also brought with it an unprecedented rise in the use of technology, which necessitated a swift adoption of digital. But, with digital adoption came a resultant increase in cybercrimes. Data protection and security of consumer and industry data became of utmost importance, driving further the need for cyber security.
To fill these emerging knowledge needs, and with a focus on creating knowledge content in these areas, FITC hosted some of Africa's largest conferences including the FITC ThinkNnovation Cybersecurity conference, the Employee Experience and Engagement (E3) Conference, and the FITC TechNovate, a FINTECH conference, all of which were launched as digital programs.
In line with its innovative approach, and through its proprietary virtual conferencing platform called Convena, FITC expanded its reach to over six continents and 40 countries, with a reach of thousands of participants. This has positioned the organization as a forerunner in thought leadership in this domain and extended its footprint beyond Africa into all continents of the world.
Chizor notes that, according to the United Nations, Africa has the youngest population in the world, with 70% of sub-Saharan Africa under the age of 30. This high number of young people is an opportunity for the continent's growth. It is for this reason that FITC has designed very dynamic and robust youth-focused programs. A few of these include:
The FITC Future of Work Academy (FOWA) is designed to equip young people with the appropriate digital skills required for the future of work. This includes the cybersecurity and the coding academies for young people.
The FITC Youth Connect programs are designed to encourage youths to innovate across key development areas. Through innovation challenges such as hackathon and ideatons participants are encouraged to build innovation around the FITC iEarth program across the fields of environment, agriculture, renewable energy, transportation and health.
"Engaging young people in this manner provides the talent pool that is required for the financial services sector and contributes to the development and economic growth in Africa," Chizor affirms.
"When you teach, you learn twice, when you give, you get back tenfold."
An Award-Winning & Inspiring African Leader
Even before she joined FITC, Chizor was a Founding Partner and CEO at Brandzone Consulting LLC, a leading brand and reputation consulting firm managing some of the top international and first-rate multisector local brands. She led the firm's Consulting practice, serving major international and indigenous organizations of repute while creating thought leadership to advance businesses.
Before that, Chizor worked in the Nigerian Financial Services Sector specifically for Standard Trust/UBA and Access Bank, where she led various strategic and transformational projects, both local and international, across eight African countries, including the United Kingdom.
Chizor's remarkable work in that period won her several awards such as the Marketing Personality of The Year in 2016, the African Leadership Excellence Award in 2017, and the Most Outstanding Female Brand Personality Award in 2018. She was also nominated in 2019 by REBRAND™ USA, as a Jury Board member on the REBRAND 100® Global Awards Board, the only member from the African continent.
Chizor was also nominated by CNBC Media for the "African Rising Woman'' 2020 Edition and received the 2020 "Inspirational Leader Award" by International Business Excellence, the 2022 Stevie Awards for Thought Leaders, and the Women in Management Africa (WIMA) Award for 2023.
In the last two years, through its remarkable strategic and innovative initiatives FITC garnered several global awards in recognition of its phenomenal initiatives that have led to innovative and exceptional organization-wide transformation and positive impact on the Nigerian Financial Services Sector (FSS), FITC's primary focus area.
These awards include the 'Change Agent in Learning and Development in Africa' Award in 2020; the Business Excellence Award (The BIZZ Award) in 2020; The International Business Excellence (IBX) Award in 2021; Winner of the Global Business Excellence Award in 2021; and the Silver category in the Organization of the Year – Business or Professional Services Awards (International Business Awards) 2022.
"Great Leaders replicate themselves by creating more leaders. They inspire people to do more, empower them to accomplish their goals and equip them to succeed.
Supporting Women and Giving Back as a Mentor
Chizor points out that women all over the world are still pushing to reach the top of their careers while facing numerous limiting challenges. This is profound whether in leadership, business, or politics.
"For every woman qualified for a role, there are five other men who have presented themselves as 'more suitable' for those roles. I advise aspiring female leaders to equip themselves with knowledge, build the right organizational skills, position themselves visibly, demand to take up positions they are interested in, and negotiate their growth confidently," she recommends.
Chizor remarks that she has been very deliberate about her career journey and growth. She was always very keen on learning, became an avid reader, attended a lot of self-sponsored conferences in search of knowledge, and connected with key persons who became great models and mentors as she grew.
She also joined one of the world's strongest female-focused organizations, Women in Management and Business, WIMBIZ, a non-profit organization that seeks to empower women through capacity development, advocacy, and empowerment programs. With WIMBIZ's thought leadership programs came a lot of learning and meaningful connections with other women of strong pedigree.
"I was appointed to serve as an the Executive Council Board of (WIMBIZ), Chizor says. "Currently, with my diverse experiences as a business leader and a transformation expert, I mentor a pool of senior leaders including young and next-generation leaders across different sectors. They include technology enthusiasts, budding entrepreneurs, senior managers, and young professionals. I draw from my wealth of experiences and guide them towards accomplishment in their personal and professional development."
"If you can't pay it back, pay it forward and lift someone up."
Living Intentionally in a Way That Brings Happiness and Fulfilment
Chizor views success as an integration of achievements across key aspects of life, and not just by career accomplishments. It is doing what she loves to do while making a positive impact on people, businesses, and society. Beyond career success, her priority is striking a balance between her corporate and business commitments as a leader and her personal life.
In addition to  making impact and building businesses, she cares deeply about spending time with her family. This usually means creating quality and beautiful experiences with her family and friends along her life's journey. "So, it's about intentional living in a way that keeps me fulfilled and happy," she maintains.
Chizor observes that women are increasingly hard-pressed in finding equilibrium between professional and family/personal lives, and suggests that committing to a plan can help them achieve this.
"I set boundaries by taking ownership of my time. I am big on planning and keeping focused on the things I have planned to do while being mindful of the need for flexibility. I am also mindful of maintaining good relationships, especially with my family, kids, friends, and colleagues. I ensure to fit all these constituencies into my life and create a plan within my calendar that accommodates my diverse interests," she says.
Chizor also prioritizes wellness and self-care and is usually a very active person. Her weekly routine includes three days of cycling, three days of swimming, and a rest day. She entered an international cycling sportive, the Cape Town Cycling Tour (CTCT), a global cycling competition in Cape Town, South Africa. She has also cycled in the United States, and Dubai, UAE. "These activities help me to destress and eliminate burnout while living optimally," she maintains.
Chizor's commitment to wellness and well-being extends to her organization too. She notes that FITC's Work, Workforce, Workplace, and Well-Being coded W3+1 Agenda was designed as an employee engagement program.
"We recognized that people are our greatest assets and created programs and initiatives that would keep our employees engaged, inspired, and motivated. Our initiatives include wellness programs, fun and game days, Zumba sessions, yoga, and retreat programs. Through these initiatives, we create opportunities for the employees to pursue self-care, wellness, and work-life balance," she shares.
Chizor's parting advice for emerging female leaders is to build resilience.
"Resilience allows you to overcome adversity and challenges. Be optimistic; in difficult times see opportunities even where others see adversity . Be audacious and fearless and set goals for yourself no matter how big. Do not be afraid of new territories, challenges, and uncertainties. Dream BIG and take appropriate actions that will lead to the accomplishment of your dreams. Wear your feminine qualities like a crown; be inclusive, collaborative, strong, decisive, and assured. These attributes are success propellers and will take you far," she maintains.