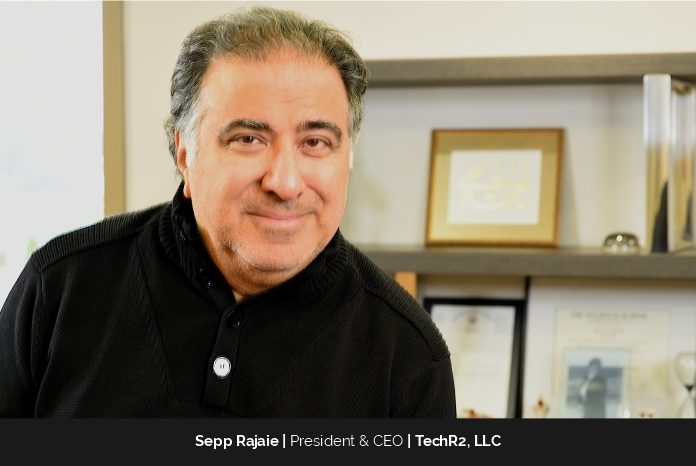 Entrepreneurial visionary with over 30 years of expertise in technology and data life cycle management, Sepp Rajaie is the founder and CEO of TechR2. He developed the Tear-A-Byte® Patented technique for destroying sensitive data on end-point storage devices, which is the only patented, complete, and 100 percent compliant data destruction procedure available, and is an essential component of any organization's cyber security plan. TechR2 is a disruptive technology firm servicing numerous locations across the world that specializes in erasing important data on end-point storage devices in order to comply with all global data privacy regulations and multiple ISO industry standards.
Sepp noticed a need for greater data sanitization once IT assets were removed from the organization's IT lifecycle and appropriately recycled, which led to the creation of TechR2. At the time, there was no systematic way to achieve this goal within the marketplace. The team and Sepp created proprietary software to correctly manage and report assets to their clients, as well as put them to use according to their instructions. This method became the industry norm over time, and the notion of IT asset retirement was formed. TechR2's unique Tear-A-Byte® technology and nine patent-pending products are now the industry standard for the world's largest OEM.
Sepp's position at TechR2 is to head a diversified team that begins with the company's Data Destruction as a Service (DDaaS) and executes quickly to secure clients' data and intellectual property.
Changing the Cybersecurity Industry
Cyber security vulnerabilities are the number one weakness for most businesses in the United States and throughout the world. These businesses desire a method that is both systematic and compliant that works universally around the world. The "Plan, Do, Check, Act" process is the ISO cornerstone. The Baldrige system is used by NIST, and the Zero Trust Architecture features a simple five-step method. This establishes a framework for the TechR2 team to identify the issue and work on a solution that incorporates suggestions for continuous improvement. TechR2's varied staff encourages success by collaborating with a wide range of perspectives, which helps to account for every contingency.
A single driver on a box truck with a home spinning machine might be seen in the ancient ITAD business. This is an old solution. TechR2 employs a cybersecurity-required workforce that uses NSA-approved equipment and follows NIST and ISO procedures. TechR2's success is largely due to its well-trained workers that are continuously trained in their industry.
TechR2 created the procedures and ensured that they met international standards such as ISO, NIST, and NAID. When CISOs and CIOs meet the company's staff, they quickly learn that they have been using outmoded methods that put their customers' data and intellectual property at risk. As a result, one customer at a time, TechR2 is revolutionizing the cybersecurity sector.
Leading the Industry
Today, you read about corporate data security breaches on a regular basis, and TechR2 may help them plug those gaps. TechR2 is the leading data security technology firm, employing world-class and patented cybersecurity approaches, quality control, health-safety, and environmental procedures that have been certified by five ISO, one NIST, and four NAID standards. Sepp emphasizes, "This has been cited by the ISO, NIST and NAID external auditors as well as our corporate clients in glowing customer satisfaction surveys."
Many data deletion businesses throughout the world still operate in analogue mode. TechR2 isn't simply the best data security firm; it's also the best at helping software development and creating data destruction methods on-site. The antiquated ITAD industry is still sending customer data offshore and performing centralized processing, putting data security at risk and putting the company at unnecessary risk. Companies who fail their NIST or ISO cybersecurity tests will eventually switch to TechR2 products and services.
Fulfilling Commitment to Employees, family and Client
Sepp's faith and philosophy of life is "We as the human race are one as mankind on one planet, the Earth. It is remarkable that TechR2 services people all over the planet, so we as a team can practice equity, respect, harmony, and peace." His greatest inspiration is getting up every day with his plan, well communicated to his company leaders and working that plan. His self-expectation is to show active leadership to employees, partners, and customers. He also strives to mirror that same level of commitment within the community and with his family.
Empowering Business with Assurance and Commitment
Every day, according to Sepp, businesses strive to protect one of their most valuable assets: data. Meanwhile, their data security posture is jeopardized by the insider threat and poor execution by non-compliant and non-certified third-party providers. If the industry's problem is outdated analogue ITAD providers, TechR2 is a new digital solution provider with training, compliant processes, and certifications. Sepp adds, "You have read the national IG and GAO report cards for each industry as they try to defend their networks is marginal or failing."
Empowerment for Sepp and TechR2 is providing services and products to organizations that will allow them to meet the 10% of data security controls that deal with End-of-Life processes. Today, the company does this for many of the top Fortune 100 companies through its IBM and Kyndryl contracts. "We are able to help your organization, too," says Sepp.
A Promising Place to Start Your Cybersecurity Journey
TechR2 is proud to hire a diverse group of professionals that have passed a cybersecurity background check. TechR2 includes trainers and a Learning Management System for on-the-job technical training because few people graduate from a technical institution or university with cybersecurity credentials. As a result, the TechR2 Project Managers are able to deploy highly trained System Engineers to cleanse systems and validate the data destruction procedure for magnetic or solid-state media. Sepp states, "If you were a younger generation graduate, TechR2 would be the kind of high technology company you would want to join and to learn cybersecurity practices in datacenters and enterprise facilities worldwide."
Awards and Recognitions
The cybersecurity business, like TechR2, is quickly expanding. GDPR, which took effect in Europe in 2018, ushered in a global shift that requires businesses to become ISO 27001 certified. TechR2, a foresight ISO 27001 certified company, was already present. NIST 800-171 cybersecurity certification was required by the US Defense industry in 2018. TechR2 was present, and he was certified. TechR2 stepped up when Ohio's state leaders requested help with the Ohio Cybersecurity Collaboration Committee. Professional data deletion services were required by IBM and Kyndryl all around the world. TechR2 is there every day. Leaders, salespeople, system engineers, and support employees at TechR2 take pleasure in being in the lead and keeping it. It's part of the corporate culture.
Every client satisfaction survey is TechR2's best success. That is the most significant achievement. Earning and maintaining ISO 27001, ISO 9001, ISO 31000, ISO 45001, ISO 14001, NIST 800-171, and four NAID certification categories is the next step. The majority of businesses lack even a fraction of these accomplishments. The Tear-A-Byte patented process and nine patent pending items follow, demonstrating continual technological advancements. Sepp is acknowledged on a regular basis for the hard effort his team is putting in and for demonstrating that his firm is rewriting the standard from the old, out-of-date ITAD sector. Accepting these honors is always a privilege for Sepp. He sees these awards as a chance for his hard work and cybersecurity competence to be acknowledged as a leader.