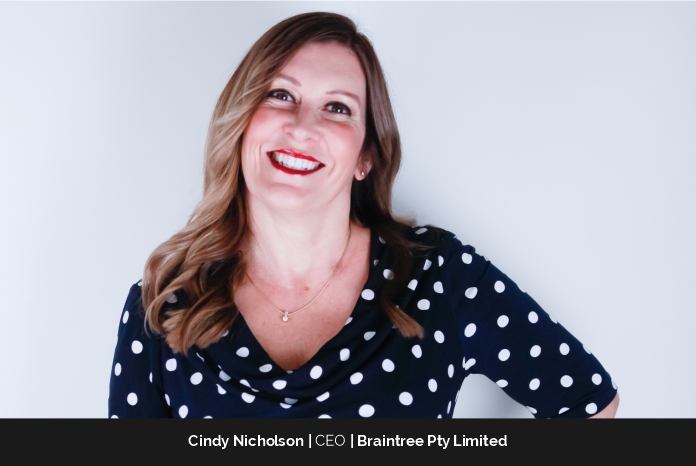 Cindy Nicholson is a highly skilled executive coach with a strong passion for transformation. Her record of success in delivering sustainable change makes her a recognized leader of change for individuals and organizations. She works with executives and C-suite leaders across multiple industry sectors as a trusted advisor and coach.
Her career across innovative technology has gone from leading edge software to directing a $70M technology transformation program for tier one global bank to thought leadership as a pioneer in consumer-centric digital identity verification, having led a regional telecom company through a transformation journey, embracing emerging technologies including artificial intelligence and blockchain. She held a seat on the board with Blockchain Australia.
With over 35 years of experience, Cindy understands that transformation is not just about technology. It involves fostering a culture of growth and a growth mindset that enables organizations and their people to remain relevant, valuable, and competitive in an ever-changing landscape.
With the current business landscape in mind, Cindy recognizes the need for businesses to adopt unconventional leadership attributes and skills to thrive, whether they are a start-up, a scale-up or an established organization undergoing transformation.
Through her expertise and experience, Cindy is equipped to help businesses develop leadership strategies that support their growth and evolution. She understands that leadership in today's world requires a combination of traditional and unconventional skills, including adaptability, agility, and innovation.
Whether it's helping a start-up establish a strong foundation for growth, guiding a scale-up through the challenges of scaling operations, or supporting an established organization in navigating transformational change, Cindy is dedicated to developing customized strategies that align with each business's unique needs and goals.
She has a natural ability to build trusted professional relationships and challenge the status quo with innovative possibilities.
True Success Comes only when every generation continues to develop the next generation. – John Maxwell
Braintree Pty Limited
Braintree is a worldwide provider of leadership coaching, mentoring, and training services. With the unprecedented challenges faced by people in today's world, such as technological advancements, skill shortages, The Great Resignation, Gender Equality, Sustainability, Diversity, Equity & Inclusion, and Data & Security, it is essential for individuals to stay informed and updated on the latest developments in these areas to remain relevant and competitive.
Braintree' flagship hybrid leadership development program includes one-on-one coaching with certified practitioners during online, self-paced education and workshops which result in the establishment of a 'best practice leadership framework' ready to implement.
In addition to keeping up with these critical issues, it is equally important to prioritize personal and professional development to overcome any barriers that may impede progress and limit one's true potential. By investing in themselves, individuals can achieve their goals, thrive in their careers, and drive success for their organizations. These issues are at the forefront of the minds of executives and general managers, and they should be actively addressed on board agendas to ensure the continued growth and success of the organization.
At Braintree, the team enables change to happen by providing customized, personalized, and tailored solutions to create worldclass professionals who operate at exceptional levels and who empower those around them to break through barriers to achieve long-lasting results. Cindy shares Braintree does this through its executive coaching and mentoring services and through its online leadership development programs, which also include one-on- one coaching with Certified Practitioners. She shares, "Our accredited coaches also work with individuals who are looking for inner transformation, clarity, and the ability to understand the art of the possible that is within us all but require the right support to empower and enable their true potential to emerge. We have a 'Bench of Excellence' which comprises of our Associates (https://braintree.net.au/associates) so that our coaches can be handpicked and delicately matched to each of our client's needs."
Braintree's mentoring services boast a successful track record in mentoring executives, individuals, and leaders in established companies and start-ups.
Combining decades of corporate and start-up experience, it supports communities through many organizations across the globe, from both the private and public sectors, to help companies focus on what's right for their business growth.
Braintree has its headquarters in Sydney, Australia, servicing clients all over the world, including Australia, USA, Asia Pacific, and Europe. Technology today enables its services to be delivered virtually across the globe, and its location enables them to be available in all time zones.
The CEO
Cindy is a versatile CEO who takes on the primary responsibility of providing overall strategic leadership for the company. This also includes other essential responsibilities, such as managing partner and client relationships, ensuring adequate Operational systems, Policies and Procedures are in place, Governance and Finances.
However, Cindy's true passion is working with Braintree's clients. A typical day for Cindy comprises diverse activities, which may include one-on-one Executive Coaching, Business Coaching through the Business Advisory as a Service program or having coaching sessions with clients undergoing the 'New Age Leadership' training program, to running webinars for Braintree's community of Followers, Clients and Associates. Cindy dedicates time to broadening her network and staying current with the latest industry trends and advancements.
You'll see Cindy at conferences sharing her views and thought leadership on topics that are front of mind for Boards and Executives across the globe.
Emphasizing Integrity and Innovation in a Workplace
Braintree practices what it preaches! By implementing strategies that align with the company's mission, vision, and values, Cindy aims to create an environment where integrity and innovation are valued and promoted. This includes:
Establish a clear set of values and standards that guide decision-making and behavior within the organization. Cindy communicates these values and standards frequently and consistently to all employees, contractors and partners.
Encourage open and transparent communication within the organization. Cindy encourages employees to speak up when they see something that goes against the organization's values or standards.
Foster a culture of continuous learning and development. Braintree encourages employees to develop their skills and pursue new ideas, and provides opportunities for training, mentoring, and collaboration.
Recognize and reward ethical behaviour and innovative ideas. The management likes to celebrate successes and promote a culture of positivity and support.
Implement processes and systems that support integrity and innovation, such as using the Code of Ethics under the International Coach Federation and set clear policies around intellectual property and data protection for Braintree's clients, partners, employees, and contractors.
Sharing Significance of Balance
Maintaining a work-life balance can be challenging, but it's important to establish clear boundaries between your personal and professional life. The tools that Cindy provides and coaches her clients through are what she also uses to keep her teams balanced and motivated. This includes assessing a balance of work and personal activities, making time for exercise and relaxation, and unplugging from work during off-hours.
By prioritizing a healthy work-life balance and promoting an optimistic working environment, both individuals and teams can remain motivated and productive.
Here are some tips that can help:
Clearly communicate your expectations and goals
Provide opportunities for growth and development.
Celebrate successes.
Encourage open communication.
Lead by example
"By creating a positive work environment that encourages growth, development, and open communication, you can keep yourself and your team motivated to deliver the best services and to help them keep a balance in life," – Cindy.
A True Recognition
For Cindy, the most significant recognition as a businesswoman doesn't come from industry awards or external accolades. As a modest person, she finds it most humbling and rewarding to hear from her clients about how her coaching has transformed their lives in just six hours. When clients speak about the positive changes they've experienced and their desire to share them with others, it's the most powerful and gratifying recognition she could dream of.
One can read more about what Cindy's clients have to say about their experiences on Braintree's testimonials page at https://braintree.net.au/testimonials.
Success Differs with Different Perspective
Cindy believes that success is a term that varies from person to person, including among leaders, who may have their own definition of it. Generally, success is associated with accomplishing goals, realizing one's potential, and positively impacting one's own life and the lives of others. How people measure success can differ, with some prioritizing financial or material achievements while others prioritize personal relationships or emotional wellbeing.
She asserts, "It's important to identify what success means to you, personally, and work towards achieving it while staying true to your values and beliefs."
Live with a Motto
Cindy's daily motto is to "live every day with purpose and outcome." She advises aspiring businesswomen to have faith in themselves, stay informed and connected, take calculated risks, and learn from their mistakes. With dedication, perseverance, and a positive outlook, they can accomplish great things in the business realm.
To begin with, self-confidence and self-assurance are vital to succeeding in any profession, regardless of gender. One should not allow anyone to undermine their potential to excel in the business arena.
Moreover, staying abreast of industry developments and current trends is essential. By attending conferences, reading industry journals, and networking with peers, one can remain knowledgeable and connected. Cultivating a robust support system is crucial. Collaborating with like-minded individuals, receiving guidance from mentors, and learning from failures are all crucial components of success in the business world.
Additionally, being open to taking calculated risks and learning from failures is crucial. Launching a new business or product always entails some level of risk, but it is often the key to achieving significant success. Embrace new ideas and innovations, but also acknowledge any setbacks along the way and learn from them.
Lastly, building a reliable support system is essential. Surrounding oneself with individuals who share one's vision and are eager to support them in their entrepreneurial journey is beneficial. This might include family, friends, mentors, and other professionals in the same industry. By creating a network of support, aspiring businesswomen can gain invaluable guidance and encouragement, particularly during challenging times.
Creating High-Quality Professional Development Opportunities Globally
Braintree has a team with a vision to build safe communities globally that foster professional growth. They believe that everyone should have access to high-quality professional development opportunities that cater to their specific needs and aspirations.
To actualize their vision, they plan to keep expanding their networks and ecosystems while encouraging individuals to share their stories and experiences with their communities. They offer a platform for people to learn from each other through monthly guest speaker series and other events, and details of past and upcoming events can be found on their website.
Furthermore, Braintree will continue to provide customized, personalized, and tailored solutions to produce world-class professionals who operate exceptionally and inspire those around them to achieve lasting results. They firmly believe that by empowering individuals to attain their full potential, they can contribute to creating safer and more prosperous communities worldwide.
In essence, Braintree intends to sustain its growth and extend its reach while staying true to its fundamental principles of providing personalized and customized professional development that enables individuals to accomplish their aspirations.
"People will come and go in your life. They might forget what you said, they might forget what you did, but they will never forget how you made them feel."