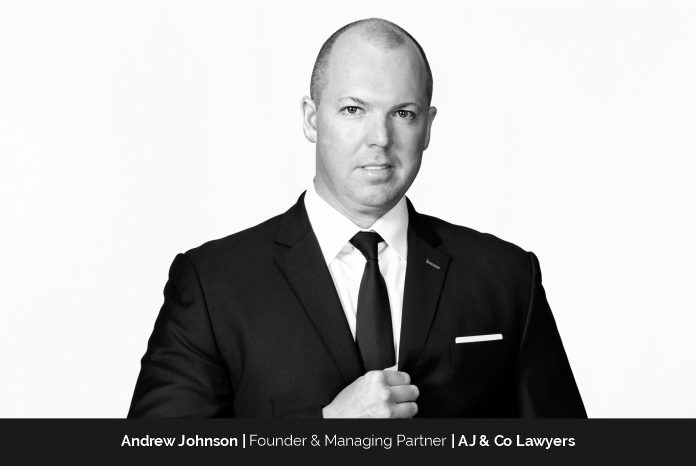 Andrew Johnson is the Founder and Managing Partner of AJ & Co Lawyers. His areas of expertise include real estate transactions, commercial finance, funds management and syndicated joint ventures.
Andrew's approach to any legal issue is unequalled by others in the field since it is innovative, dynamic, and proactive. Because of his extensive experience with high-profile clients and transactions, he is an invaluable asset in any legal matter. A few of Andrew's recent transactions include: advising on a $1.5 billion industrial real estate fund and related capital raising through syndicated joint venture with an ASX listed property trust. Andrew has worked on significant projects with some of Australia's top professional services firms.
AJ & Co. Lawyers
Managing Partner Andrew Johnson started AJ & Co in 2016. Andrew was inspired to establish a commercial law company that prioritises relationships and offers both private and business clients outstanding value. International publicly traded companies, individual businesses, and not-for-profit organisations are all served by AJ & Co.
AJ & Co transforms into a true business partner with its clients by concentrating on their long-term success, taking the time to comprehend their particular situations, and giving advice that is proactive, commercial, and based on real experience. AJ & Co. has established a solid reputation as a leading commercially oriented alternative to top-tier professional services firms. Its superior legal ability is a given. Because it can solve issues and get results that its rivals cannot, AJ & Co stands out from the competition.
Andrew states that expanding any professional services business is difficult. There are several moving parts, numerous stakeholders, and countless obstacles. Due to the effect that COVID has on the legal sector and its business as a whole, AJ & Co Lawyers expanded to a firm of over 35 employees in 2019 and underwent a reset. There have been difficult decisions and difficult moments.
Everyone in the company learned from that adversity and crisis that resiliency and focus can overcome any problems or immediate threats. AJ & Co Lawyers currently has 28 employees, including 3 new hires, 2 new partners who will join the company in 2022, and a renewed sense of purpose and vigour after the 2020 and 2021 fiscal years. Based on client demand and growth, the firm continues to expand and change. Additionally, it aspires to have at least 10-12 partners teams, or 2, spread throughout 6 practice areas. The partners are committed to building the firm into one of Brisbane's premier legal services firms, if not on Australia's east coast.
Prior to Starting Professional Journey
For Andrew to become and mimic what he did, build on what he accomplished, and learn from the drawbacks and advantages of owning and operating a legal firm as a sole practitioner, his father's success as a lawyer and company owner was an inspiration. Andrew found that to be motivating and aspired to be that person.
However, Andrew wanted to create a firm that embraced a collaborative approach to the practise of law, allowing partners to pivot, grow, and develop their youngsters with a high-performance culture in a nurturing and positive environment. He did this by learning from his father and other professionals in the field.
Learn to Face any Challenge  
Life is full of tragedy, and what are you going to do about it?  Sit back and cry.  No, that's how weak people react.  The tough ones become rocks, standing tall and absorbing everything. They don't let circumstances get under their skin.
Ignorance and arrogance seldom go hand in hand, and Andrew has learnt many times in life by his own failures that failures and disappointments in life only make people stronger. He opines, "The more failures you have, the better prepared you are to appreciate and embrace opportunities as they come." He further mentions that both mental, professional, and social roadblocks are always issues that can stall one's progression and growth in life.  He states, "You have to work through that and you have to be more resilient and you have to learn to double down and continually throw energy at any situation to pierce through and to gain forward momentum.  For me, never lose sight of the fact that you are able to always self-improve by remaining persistent and tenacious in any situation.  Pushing, driving, and having a clear understanding of your objectives and goals are key to overcoming any roadblocks."
Andrew thinks one of the best summaries of how to overcome challenges in life is to maintain purpose and self-belief, have a clear understanding of where one is going and what their goals and visions are, and implement those daily tasks in the mind to improve the ability to overcome any adversity.
Life before AJ & Co Lawyers
Andrew was a part of Mills Oakley Lawyers' senior leadership team before joining AJ & Co Lawyers. He was a member of the national management board of that national company, which had 130 partners and operated out of five Australian states. Prior to that, Andrew started his training at Allens Linklaters, where he acquired his skills in a tier 1 setting while also learning discipline, compliance, and governance. He recalls, "I was very humbled by that experience, and I learned a lot about the major tier 1 firms and how they operate, what they valued and offered clients."  He also appreciates the likes and dislikes of working in a tier-1 corporate environment.
"Leaders don't force people to follow, they invite them on a journey"
Responsibilities as a Leader
As Managing Partner, Andrew's responsibility is to lead the firm to recognise and achieve its vision. He strives to educate and motivate the firm's talented people on the journey that is working in a professional services environment to achieve common goals.
"Always bring your A game to any professional environment," says Andrew.  He motivates his team by reminding them that "Remember who you are a and remember who your audience is. Who you are inspiring, lead by example.  Try to leave any personal issues at home.  In any business such as a law firm, you must lead from the front, lead by example, be honest, respectful, and humble."
Andrew considers that positive engagement, happiness, and focus from employees is his biggest achievement.  At AJ & Co Lawyers, the management does not call its staff employees or staff, it calls them brand ambassadors. They are an intricate part of the offering the firm has to the outside world, whether on social media, in person or to the open market.  He states, "Recognizing our brand ambassadors' contributions and them recognising me for leading that culture and the firm is the best recognition I can receive as a leader."
Success Breeds Success
"Success is limitless, and if you want to be successful in life, you need to learn from people who have achieved great success before you," says Andrew.  He sees that defining one's success is complicated.  He shares, "Success to each and every one of us means a different thing.  For me, realising my vision and realising the implementation of the dreams and processes I wish to establish in my personal life and business life are important to me."  Bringing people along for the ride, involving them, and enhancing their lives are also vital to him, both professionally and personally, he discovers.
According to Andrew, success is defined as creating wealth, opportunities, inspiration, a feeling of purpose, and the ability to give back to others. He asserts, "Surrounding yourself with people that share that vision and goal is quite powerful and assists you in fast-tracking your realisation of that vision."  Andrew also finds success in having an environment where he can work professionally with people that are like-minded to achieve a communal goal of realising the vision.
In his own life, Andrew is raising four lovely children, making sure to stay involved in their lives, and teaching them the importance of value, trust, honor, respect, and integrity as a way to leave a lasting legacy. He adds, "You want to look back on your life at a later point in time and realise and reflect on the wins, the losses, the successes and failures you've had both professionally and in your personal life." He believes that realising both the importance of giving as much as you can at the time and understanding that you gave it your all are critical to his definition of a successful life.
Personal Goals
Every human being is forever developing their own personal goals and inspirations, and Andrew thinks, in particular as a professional and as a human being, of becoming a better listener.  Spending more time considering others and improving my empathy are 3 key attributes of what he needs to do.  He opines, "Believing in myself and also believing in the people around me who push me to be the best I can be every day and believing that truth is key to achieving and realising the fundamental goals and outcomes that we strive to achieve in life."
Andrew also mentions that he dreams big and wants bigger, as life is but a journey. As a leader, he considers that AJ & Co Lawyers are not there yet.
The Future of AJ & Co Lawyers
Andrew maintains that AJ & Co.'s main objective is to expand, prosper, and maintain its success in the market, like other growing and expanding professional services organizations. The ideal 5-year goal of the company is to operate as a national law firm with offices in Brisbane, Melbourne, and Sydney, with a Brisbane headquarters. In order to enable depth pivoting and the capacity to handle high band width transactions in each of these critical areas, Andrew notes that AJ & Co.'s would like to extend its practise groups to 7, with a minimum of 2-3 partners per practice. Within ten years, he hopes to establish himself as the top professional services company on Australia's east coast.