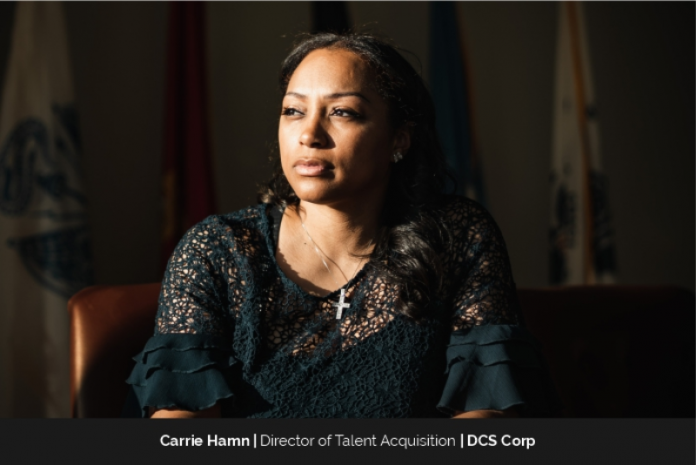 Carrie Hamn, the Director of Talent Acquisition at DCS Corporation, received recognition as one of the World's Top 50 Talent Acquisition Professionals for 2021 and 2022. She is passionate about helping others find the perfect position that best suits their talents in human resources. She constantly strives to progress in Talent Acquisition and aims to attain an Executive Leadership position to showcase her expertise.
As a leader, Carrie is grateful to have received recognition and awards validating her talent acquisition work. Also, she is one of the 100 finalists for the Top 100 Talent Acquisition Professional Award/OnCon Icon Award for 2023. These acknowledgments highlight Carrie's dedication and success in the field and inspire her to strive for excellence.
"Your time is limited, so don't waste it living someone else's life."
Education & Professional Growth Journey
Prior to embarking upon Carrie's professional journey, in 1996, while still in High School, she started her career by working as a Human Resources Intern for the United States Bureau of Land Management for several internships. She gained valuable experience in Human Resources, which served as a foundation for her career growth. Her role as an intern involved working on various HR projects, including recruitment, employee relations, and HR policies. It provided her with a comprehensive understanding of HR operations and allowed her to develop essential skills she has continued to build upon throughout her career.
Carrie worked as the Senior Corporate Recruiter at Halfaker and Associates, LLC, from March 2010 to February 2013. During her tenure, she handled various tasks, from on-campus recruiting to guiding management on current and future workforce needs. Her hard work and expert guidance doubled the company's size, as she hired hundreds of employees over three years.
In 2013, Carrie joined DCS as a Technical Recruiter, where she provided support for the Air-Sea Forces Sector. In mid-2017, she transitioned into a management role and assumed leadership responsibility for the Recruiting organization. At that time, DCS had 1,076 employees. Three years later, DCS has nearly 1,900 employees, representing an increase of 74%. Despite a challenging labor market, these impressive numbers testify to the Talent Acquisition Team's unwavering dedication to finding and hiring exceptional talent.
Carrie has consistently promoted innovative Talent Acquisition initiatives throughout her tenure with DCS. For example, she played a crucial role in successfully implementing a new Applicant Tracking System that has increased the visibility of requisition status and candidates.
Carrie created a DCS internal careers site to improve the experience for current employee job applicants and to facilitate movement across corporate organizations. She also redesigned and implemented the external careers website, enhancing employer branding and improving functionality, including enhanced accessibility and accommodation for individuals with disabilities.
Carrie's leadership and contributions have driven DCS's growth and success in attracting top talent. Her ability to implement effective Talent Acquisition initiatives and embrace new technologies has helped position DCS as a leader in the industry.
About DCS Corporation
DCS Corp is a mid-sized, 100% employee-owned company that provides advanced technology, engineering, and management solutions to government agencies in the Department of Defense and the national security sector. Carl H. Dubac, Sidney S. Cox, and David L. Shumaker founded DCS with a firm commitment to technical excellence and empowering employees. Since its inception, DCS has focused on attracting intelligent, inventive individuals to address complex technical problems and provide products and services that positively affect our nation's well-being. This vision is at the core of the company's values.
The founders committed DCS to be an employee-oriented company that offers high-quality services with integrity and honor. They believe in conducting all businesses with the highest ethics, integrity, and excellence. These values are central to everything DCS does, from interactions with the clients to the relationships they build with the employees.
The founders' pledge to build a company that attracts the best talent to solve technical problems remains a driving force for the company today. The company dedicates itself to maintaining this commitment by fostering an environment of innovation, growth, and empowerment. Through core values and vision, the company strives to continue to provide outstanding products and services that positively impact our nation.
Their transformative ideas, commitment to quality, and entrepreneurial spirit, which enable DCS to ensure the success of each customer's mission, characterize the employee-owners and actively contribute to the well-being of our nation. The ownership structure and culture create a unique and dynamic environment that drives innovation, collaboration, and exceptional customer service. The company is proud to serve the country through its work and to provide high-quality solutions that exceed expectations.
"Innovation distinguishes between a leader and a follower."
Responsibilities as Director of Talent Acquisition at DCS Corp
Carrie plays a critical role in the success of DCS, as she oversees the company's talent acquisition strategy and manages the recruitment function. Her responsibilities include developing and executing recruitment strategies that align with the company's current and future business strategies, creating departmental objectives, providing leadership, and budgeting. In addition, she collaborates directly with senior leaders to identify staffing needs and ensures that DCS attracts and retains top talent.
One of Carrie's key responsibilities is to develop innovative recruitment strategies that help the company attract the best candidates. It includes planning and coordinating DCS participation in career fairs, college recruitment drives, and open house opportunities. By engaging with potential candidates in various settings, Carrie and her team can identify and build relationships with the best talent.
Another critical function of Carrie's role is to lead a team that develops sourcing strategies and recruiting plans. Her team identifies top candidates and presents them to hiring managers for consideration. They also negotiate offers with candidates and ensure the recruitment process is streamlined and efficient.
Carrie selects, trains, develops, coaches, and evaluates team members to ensure that her team provides expert, timely, and customer-focused recruitment services to hiring managers. In addition, by providing ongoing support and training, she helps her team stay up to date with the latest recruitment trends and techniques and ensures they have the skills and knowledge needed to attract top talent.
Finally, Carrie compiles and monitors recruitment statistics and vacancy rates, sets benchmarks and goals, and develops action plans to ensure success. By tracking the effectiveness of recruitment strategies and making adjustments as needed, she helps DCS meet its recruitment goals and attract the best talent available.
Carrie says, "I love people. I love helping others start their careers and providing them with opportunities. In addition, I enjoy developing strategies, tactics, and processes for identifying, recruiting, and retaining the human resources company needs."
In 2022, Carrie redefined standards and helped the business grow annually by nearly 10% in revenue despite the challenging labor market. Her outstanding results in annual hires and Time to Fill (TTF) metrics, which stand at 46 days, are noteworthy, given the difficulties in attracting technical talent that DCS requires.
Carrie's drive and initiative to improve the Talent Acquisition team sets her apart. She says, "I am results-oriented and always strive to succeed. I identify problems and develop high-impact solutions, ensuring the Talent Acquisition team remains ahead of the competition."
Definition of Success
Carrie says, "As a leader, I inspire, motivate, and bring out the best in my people by being an influencer."
One of the critical responsibilities of a leader is to guide and motivate team members to achieve their goals. Carrie uses her leadership skills to inspire and encourage her team members to excel. She believes that her words and actions significantly affect those around her, and she strives to create a positive work environment fostering growth and development.
She understands that being an influencer requires leading by example. Therefore, she sets high standards and is committed to achieving excellence in all aspects of her work. As a leader, she recognizes the power of influence and strives to use it effectively to inspire and motivate her team to achieve their full potential.
"Don't let the noise of others' opinions drown out your own inner voice."
Valuable Life Lessons
As leaders, learning from roadblocks and setbacks encountered in our professional journeys is crucial. Carrie has learned the importance of saying "no" and not settling for less than she deserves. She says, "It is essential not to allow others to dictate our future and take control of our path. And what you don't do will determine what you can do."
Half of life's troubles can attribute to saying "yes" too quickly and not saying "no" soon enough. The difference between successful and highly successful people is that the latter group will say "no" to almost everything, focusing only on what truly matters and aligns with their goals.
Carrie encourages all leaders to prioritize their values and goals and not be afraid to say "no" when necessary to achieve success.
Impact of Modern Technology on the Talent Acquisition Industry
The Talent Acquisition industry has undergone significant changes because of advancements in modern technology. The emergence of Applicant Tracking Systems (ATS), candidate marketing systems, screening and assessment tools, video interviewing platforms, and onboarding tools have transformed how Talent Acquisition carries out.
Integrating technology has not only streamlined the recruitment process but also improved the overall efficiency and effectiveness of Talent Acquisition. The future of Talent Acquisition will continue to rely heavily on integrating technology and its continued evolution. As technology evolves, it will enable Talent Acquisition professionals to reach a wider pool of candidates, improve the candidate experience, and make data-driven decisions.
Here are some ways technology has impacted the talent acquisition industry:
Increased reach: Technology has expanded the reach of talent acquisition efforts, allowing recruiters to connect with candidates from all over the world. With social media platforms, job search engines, and other online recruiting tools, recruiters can access a larger talent pool and find qualified candidates faster.
Improved screening and selection: Technology has made it easier for recruiters to screen and select candidates, reducing the time and effort required to sift through resumes and identify top talents. Tools such as applicant tracking systems (ATS), pre-employment assessments, and video interviews help recruiters evaluate candidates and quickly make more informed hiring decisions.
Enhanced candidate experience: Technology has also improved the candidate experience, providing candidates with more information about job opportunities and making it easier to apply. With online job boards, mobile apps, and virtual hiring events, candidates can apply for jobs quickly and easily and receive timely updates on their application status.
Increased efficiency: Technology has automated many repetitive tasks associated with talent acquisition, such as scheduling interviews, sending emails, and tracking candidate data. It has freed recruiters to focus on higher-level tasks, such as building relationships with candidates and creating more strategic hiring plans.
Greater diversity: Technology has helped increase diversity in talent acquisition by removing biases and enabling recruiters to reach various platforms such as LinkedIn, indeed, and Glassdoor to find and engage with potential candidates more efficiently than ever.
Modern technology has transformed the talent acquisition industry by making it more efficient, effective, and engaging. In today's competitive job market, companies that embrace these technologies position themselves to attract and retain top talent.
Fostering a Culture of Integrity and Innovation at DCS Corp
Carrie prioritizes several key actions to foster a culture of integrity and innovation at DCS Corp:
Invest in respect: DCS Corp creates an environment that values respect for all individuals, promoting open communication and collaboration.
Empower others: DCS Corp empowers its employees to take ownership and responsibility for their work, creating a sense of accountability and motivation.
Keep everyone informed: DCS Corp ensures all employees have access to information, promoting transparency and trust.
Show humility: DCS Corp encourages open-mindedness and a willingness to learn, creating a culture that values personal and professional growth.
Start with personal integrity: DCS Corp emphasizes the importance of personal integrity, as it is the foundation for building a culture of integrity and ethical behaviour.
DCS Corp's Strategies to Stay Ahead of Competitors in the Industry
To remain competitive, DCS Corp adopts several strategies.
The company conducts market research to gain knowledge about its competitors. This information is crucial in identifying competitors' strengths and weaknesses and making informed decisions about product development, pricing, and marketing strategies.
DCS Corp remains customer-focused, striving to understand their clients' evolving needs and expectations. As a result, it enables the company to design and deliver solutions that meet their client's specific requirements, which helps retain existing customers and attract new ones.
DCS Corp regularly updates its image to remain relevant and appealing to customers. It includes refreshing the company's branding, website, and marketing materials to reflect the latest trends and technologies in the industry.
The company targets new markets to expand its customer base and increase revenue streams. It involves conducting research to identify potential new markets and developing products and services tailored to the needs of these markets.
DCS Corp differentiates itself from its competitors by offering unique value propositions. It could include providing superior quality products or services, delivering exceptional customer service, or offering innovative solutions that stand out in the market. As a result, DCS Corp can maintain a competitive edge in the industry by consistently differentiating itself from the competition.
A Day in the Life of a Talent Acquisition Leader
Carrie's workday focuses on driving the company's growth and success through effective recruitment, technology management, and strategic planning. By staying up to date with the latest trends and tools and working closely with hiring managers and candidates, she helps ensure the company is well-positioned for long-term success.
A typical workday for Carrie involves various activities focused on driving the company's growth and success. She is a key team member involved in multiple meetings and strategy sessions to identify opportunities to evolve the business and take it to the next level.
Besides these activities, Carrie spends significant time filling positions and talking to candidates. It involves working closely with hiring managers to understand their staffing needs and identifying top talent that fits within the company's culture and goals. Through ongoing communication with candidates and hiring managers, she helps ensure a smooth and efficient recruitment process that results in successful hires.
Another critical aspect of Carrie's role is technology management. She stays current with the latest recruitment technologies and tools and works with vendors to ensure the company leverages the most effective tools. It includes evaluating new technologies and tools, making recommendations, and implementing new solutions to improve recruitment.
Finally, Carrie is responsible for approving offers and hiring candidates. It involves working closely with hiring managers and candidates to negotiate compensation packages and ensure that new hires are aligned with the company's goals and objectives. By taking a proactive approach to recruitment and hiring, she helps ensure that the company attracts and retains the best talent.
Tips to become a Successful Acquisition Leader
Becoming a successful acquisition leader requires skills, experience, and a mindset. Here are six tips to help you become a successful acquisition leader:
Develop a strategic perspective: As an acquisition leader, you must think strategically and identify opportunities that align with your organization's goals. In addition, you need to have a deep understanding of the market and the competition and the ability to evaluate the potential risks and benefits of an acquisition.
Motivate yourself and your team: You can achieve this by being transparent, giving positive feedback, and rewarding your team for their hard work. It's also essential to provide opportunities for development and give employees the space they need to thrive. Doing so can create a motivated and engaged team to help you achieve your business goals.
Communicate effectively: Communication is critical in acquisition leadership. You need to articulate your vision, provide clear direction, and establish open lines of communication with your team, stakeholders, and other key players.
Be adaptable: The acquisition landscape is constantly evolving, and successful leaders need to adapt to changes in the market, regulations, and other external factors. Therefore, you need to be agile and flexible in your approach to deal-making and prepare to pivot when necessary.
Balance your personal and professional life: You must take time for yourself and reset. Creating boundaries between work and play can help you achieve this balance.
Develop your emotional intelligence: Emotional intelligence is a crucial trait of successful acquisition leaders. You must read and understand people, build relationships, and negotiate effectively. You should also be able to manage your own emotions and handle stress and pressure effectively.
Carrie says, "As a talented acquisition leader, my personal goal is to help my enterprise achieve its business objectives. I am open to trying new strategies and adopting new tech solutions that can help accelerate the hiring process. By staying agile and adaptable, I can ensure that my team always works towards our goals and delivers results."
"You can't connect the dots looking forward; you can only connect them looking backwards. So, you have to trust that the dots will somehow connect in your future."
Message to Recruitment Professionals and Business Leaders
According to Carrie, aspiring recruitment professionals and business leaders should stay committed, patient, hungry, and passionate about their work to achieve success in their careers. Individuals need to understand that success doesn't come overnight. It takes time, hard work, and dedication to achieve their goals. However, staying committed and focused on your objectives can help you overcome obstacles and succeed. Passion for work is also crucial. Individuals who love their work are more likely to be motivated and driven to succeed. It would help if you strived to improve your skills and knowledge and stay up to date with your field's latest trends and technologies.
Carrie says, "Never give up. Be patient with the process. When you love what you do, it's no longer a job. Stay hungry."
In conclusion, Carrie Hamn's role as the Director of Talent Acquisition is critical to the success of DCS Corporation. By developing and executing effective recruitment strategies, managing the recruitment function, and providing leadership to her team, she helps ensure that the company attracts and retains top talent that supports its growth and success.
She says, "Water is the word that describes me." It can symbolize adaptability, flexibility, and resilience. In the fast-paced talent acquisition and recruitment world, adjusting quickly to changing circumstances and navigating a constantly evolving landscape is essential.
As a talent acquisition leader, Carrie's approach is focused on adaptability, collaboration, data-driven decision-making, and continuous learning and development. As a result, she can drive success and help the company attract and retain the best possible talent by leveraging these fundamental principles.