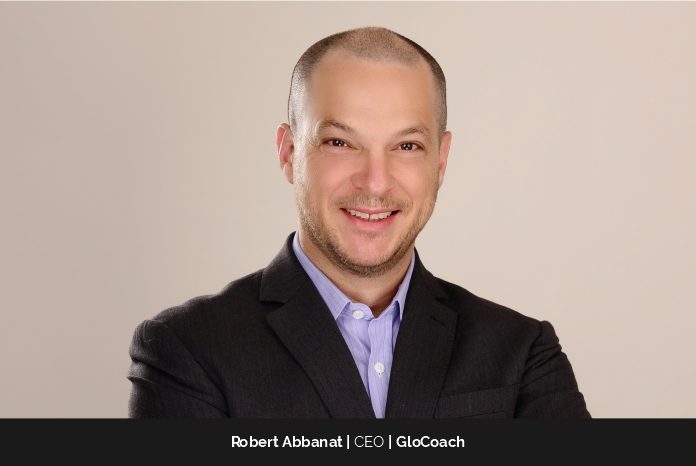 A good leader knows the way, goes the way, and shows the way; just like Rob Abbanat, CEO of GloCoach, who believes that success is building and being part of something bigger than himself, and his professional life is a mirror image for the same. Rob aspires to leave a mark on the world by helping others grow and succeed at scale by creatively leveraging technology and surrounding himself with people who are smarter than he and who share his values for integrity and hard work.
As a husband, and father of three, success for Rob means being there for his family. It also means contributing to his community at large. "Throughout my career, I have always made time for volunteer and community activities such as Rotary International and most recently with the Boy Scouts as Cubmaster for Pack 12, Shanghai. These are also important measures of one's success," he says.
Leading a company to success isn't an easy road to take
At heart, Rob still claims to be a serial entrepreneur. While studying physics at Boston College he ran two successful businesses and learned how to lead before graduating. Since the day he left the classroom, he has been looking for ways to solve problems with technology. "With more degrees than I need, I have plenty of ideas about what works, what doesn't, and what the future of talent development should look like," he states. After graduating from MIT's Sloan School of Management with his MBA, Rob moved to China in search of new entrepreneurial opportunities in a different environment. Seeing the need and opportunities for teaching business English in the fast-growing economies of Asia, he was inspired to launch ILE, now a global company with students in more than 50 cities.
Rob says," Leveraging lessons learned from the business my partners and I launched GloCoach, which is home to hundreds of the world's best corporate coaches. Our mission is to help CEOs, senior management teams, and young emerging leaders improve leadership competencies and deliver superior results. Like ILE, GloCoach began with a focus on Asia though is now gaining traction in Europe and the Americas."
Challenges make you stronger
Quoting Einstein, Rob believes that "Anyone who has never made a mistake has never tried anything new." He lives by these words which inspired a core GloCoach philosophy: "growth only happens when we are pushed out of our comfort zone."
"Thus, challenges not only make us stronger, but they are the road to growth and achievement. It's not easy," he states. Asia is a highly competitive and sometimes harsh entrepreneurial environment, especially for foreigners. While he is confident in his ability to solve problems with cutting-edge technology, he strongly believes that it is his persistence, ability to get results, and honesty that keep him ahead in the game.
Rob's contribution in redefining the industry with innovative ideas
GloCoach is the first digital platform to accelerate professional success at scale. They achieve this with a combination of highly accomplished coaches, technology, and an innovative process.
GloCoach has redefined the role and profile of a world-class business coach. They are overturning the belief that coaches can only ask questions and should never give advice. On the contrary, they recruit coaches exclusively for their outstanding professional credentials and then empower them to share experiences and even give advice when appropriate. "We call this new and highly impactful approach Advisory Coaching, the tenants of which are embodied in our unique methodology called The GloCoach Way," explains Rob.
At its core, GloCoach is a technology company that leverages a cloud-based platform, rich content, and machine learning to support the entire coaching lifecycle. They integrate their own model of leadership competencies with the first pre-coaching assessment that identifies specific, observed behaviors in the context of organizational needs and the coachee's current role. With this, they offer an experience that transforms leadership performance at scale, is highly consistent, and is easily measurable.
Rob believes in a simple mission in pursuit of a big vision. At GloCoach, their mission is to accelerate the success of the professionals and organizations they serve. Their vision is to be the number one partner (by market share and customer appraisal) for talent development in the Asia Pacific region.
Best recognition received as a leader
When Rob graduated from Georgia Tech with a master's degree in Aerospace Engineering, he turned down Boeing to launch an ed-tech company producing interactive multimedia courses for engineering students. They ultimately produced 3D simulations to show how NASA missions unravel the mysteries of our solar system.
Over the course of his career, he considers himself fortunate to have been recognized for his work and contributions including:
Nominated & Elected to the Board of Governors
American Chamber of Commerce, Shanghai, China 2017-2018
Young Entrepreneur of the Year
Issued by US Small Business Administration – 1998
Top 40 Under 40 Rising Stars in Georgia
Issued by Georgia Trend Magazine – 1997
Young Alumni of the Year
Issued by Boston College – 1998
Outstanding Georgia Citizen
Issued by Cathy Cox, Secretary of State – 1998
Council of Outstanding Young Engineering Alumni
Issued by Georgia Institute of Technology – 1998
Young Entrepreneur of the Year
Issued by Ernst & Young Entrepreneur of the Year Award – 1999
Small Business Person of the Year
Issued by BellSouth Small Business Person of the Year Awards – 1999
Rotarian of the Quarter
Issued by Rotary International, Dunwoody, Georgia – 1999
"But perhaps the recognition I am most proud of was having my name sent to planet Mars. Really. One of NASA's endeavors that were immortalized by my first company's work was the Mars Pathfinder mission, which landed on Mars on July 4th, 1997. You may remember seeing a computer-generated animation of that lander opening its petals and the Sojourner rover crawling into the Martian dust. That animation was created by my company and shown on every news station the world over," Rob explains. It was even part of a display in the Smithsonian Air and Space Museum in Washington DC. In the first mission to do so, Rob, and a couple thousand others who contributed to the mission, had their signatures etched onto a microchip and affixed to the lander itself, which now rests in Mars' Ares Vallis. "Perhaps someday one of my descendants will journey to the Red Planet and see for themselves the signature that I inked so many years ago," he muses.
Responsibilities as CEO at GloCoach
"As CEO, it is my responsibility to assemble a team of people who are smarter and more capable than myself and empower them with a vision of success and the resources they need to achieve it," says Rob.
His view of a CEO's role has evolved throughout his career as a serial entrepreneur during which he launched several businesses before GloCoach. Not all have been successful, but he states that he has probably learned more from the ones that failed than those which have succeeded. And because of this, Rob, who describes himself as a 'tenacious' person, further says that he would be honored if others also attributed that quality to him.
Maintaining a balance in personal and professional life
A full life may never be in static balance, but rather shifts focus from one core element to another in a never-ending ballet that over time achieves some kind of harmony. Rob aspires to have the discipline to focus on what is most important at the time of need, but also the wisdom to pull back and shift his focus elsewhere lest he loses sight of all that matters. "For those who choose to join me on my journey of entrepreneurship, I aspire to attract the self-motivated and inspire them by example. Let success be the judge of that," he states.
Rob finds great peace and happiness in his role as a father and husband, and his connectedness to those around him. He says that at the end of his days he will not regret one minute spent with the people he loves. "Professionally speaking I am proud of what I have achieved thus far, but there is much more to do. Learning and achievement are lifelong journeys, not a destination," he further adds.
For aspiring entrepreneurs, Rob's piece of advice is that:
Persistence and resilience are non-negotiables for success. For those looking for encouragement, as Elon Musk said, if you need words of inspiration, don't become an entrepreneur.