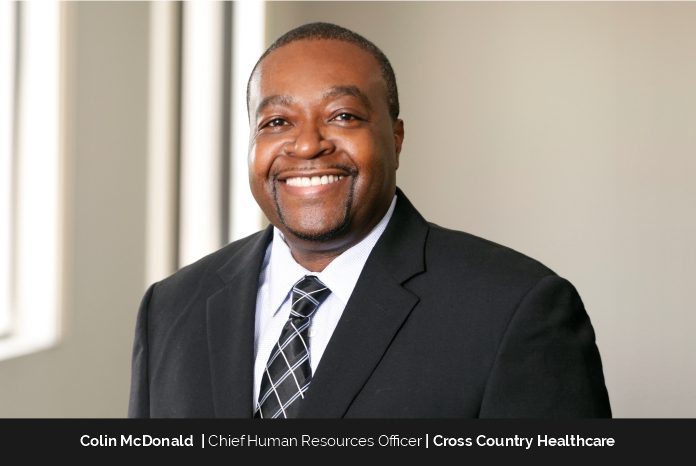 With over 20 years of experience in the human resources industry, Colin McDonald has had a significant impact on the business in many areas, assisting in the development of talent and business strategy to create a top-tier, high-performing workforce that underpins the company's competitive advantage.
Colin is a member of the executive leadership team and also serves as the organization's diversity and inclusion officer. He belongs to the NAACP of Broward County as well as Kappa Alpha Psi, one of the country's oldest historically black fraternities. He founded Spirit Squad, the organization's committee for employee engagement, and promoted the creation of the online company store.
Colin held executive positions at Carnival Cruise Lines, RandCol Staffing and Citrix before joining Cross Country Healthcare. He received a bachelor's degree from the State University of New York and a master's degree from Mercy College.
Inspiration to Take the First Step
Colin bases his life on the four words "competition," "adaptability," "achievement," and "courage." He thinks of himself as a competitive person who lives for competition. Being the best, in his opinion, is the only outcome that is acceptable. Regarding adaptability, he explains that constantly redefining his effort as he learns about new problems and solutions helps him maximize his opportunities when handling desperate situations. He believes that success is important to him because it gives him internal motivation to achieve his personal and professional objectives. Colin's character is heavily influenced by his courage and conviction. He asserts, "By having courage and conviction, you naturally take charge when appropriate and take decisive action when called upon. You must have the courage to stand up for what you believe in and show no hesitation about confronting conflict." 
His motivation for making the leap of faith comes from the knowledge that Colin isn't afraid to get his hands dirty and to actually change the world. He discovers that many leaders avoid taking risks because they are afraid of failure because they are unsure, they can complete the task. He believes that a true leader understands that there will be setbacks along the way, but that failing to take a chance and enter a situation when there is potential for danger will prevent you from ever reaching your full potential. He opines, "Many people may attribute my confidence to cockiness, but true confidence should never be misinterpreted."
What Led Colin to Join the HR Sector?
Colin did not start out in human resources. He began his career as a social services employee. His OD professor advised him to consider a career in HR while pursuing his Master's degree. He had never considered a career in human resources, but after that conversation, he was intrigued. He had a job interview for a recruiter position in Manhattan, New York, a few months later. As Colin recalls, "After my interview, I received a call from the Talent Acquisition Manager offering me the job. She explained that although I did not have any experience, she saw I had the personality and the drive to make a good recruiter. Before beginning my position as a recruiter, I took the next step by spending hours in Barns & Noble reading every book I could find on Human Resources." His gets acquainted with HR books at that time was the Human Resources Kit for Dummies. Colin felt that although he did not have any practical experience in Recruitment, he would supplement his lack of experience with as much book knowledge as possible.
Colin's career in HR began as a recruiter. Seeing that he was directly responsible for bringing new talent into the company became inspirational. Over the past few years, numerous organizations have recognized Colin for his work in HR, including his most recent featured article in the American Healthcare Leader 2020, "What Excellence Looks Like." He believes the most significant award was in 2018; he was recognized by the South Florida Business and Wealth Magazine with the Apogee award for SR. HR Executive "The Apogee Awards is a unique awards program created by South Florida Business & Wealth (SFBW) magazine to recognize distinguished C-Suite leaders whose dedication to their industries and communities deserves particular recognition."
Seeing Challenges as an Opportunity
Colin welcomes challenges and sees them as opportunities. One of the largest healthcare organizations in the world, New York-Presbyterian Hospital, offered him a promotion as a recruiter, replacing a white colleague who had left the position but without the same pay. When Colin asked why he would be paid differently, his supervisor offered some much-needed perspective: "If you don't take this job, you'll stay a black recruiter. But if you take the job, you'll be a black manager, one of only a few black leaders in HR in New York City." That was a decisive moment for Colin, not just in his career development but his work as a black executive in healthcare.
At Cross Country, Colin leverages that experience and the leadership skills he has cultivated over decades of HR work to keep the organization's people power streamlined and advocate for greater diversity and inclusion.
Cross Country Healthcare
With 36 years of experience and insight, Cross Country Healthcare, Inc. (Nasdaq: CCRN) is a market-leading workforce solutions, tech-enabled talent platform, staffing, recruitment, and advisory firm. It offers customers a way to overcome difficult labor-related problems while delivering excellent patient care and high-quality results. As a multiple year Best of Staffing® award recipient, it is dedicated to providing clients, homecare, educators, and clinical and non-clinical healthcare professionals with exceptional service. Colin states, "Our locum tenens line of business, Cross Country Locums, has been certified by the National Committee for Quality Assurance (NCQA), the leader in healthcare accreditation, since 2001." He further adds, "We are the first publicly traded staffing firm to obtain the Joint Commission Certification, which we still hold with a Letter of Distinction."
Cross Country Healthcare is rated as the top staffing and recruiting employer for women by InHerSights. For two consecutive years, it has received the Top Workplaces USA award and was recently recognized as a recipient of the Top Workplaces Award for Innovation and Leadership by Energage. Cross Country Healthcare has a history of investing in diversity, equality, and inclusion as a vital component of the organization's overall corporate social responsibility program. It is closely aligned with its core values to create a better future for its people, communities, and stockholders.
Participating in Redefining the Industry
Innovation sparks growth, and growth fosters evolution. Cross Country has proven this over the years as it has evolved into a leading force in the industry. Innovation has given it a competitive edge.
Colin shares that his contribution to HR stems from developing young HR leaders who have leveraged the knowledge he provided to assist them in leading medium-to-large HR organizations. Throughout his many years in HR, he has been an active member of various HR organizations, such as the Society for Human Resource Management, the National Association of African Americans in Human Resources, and the Staffing Management Association of South Florida. He considers his legacy in human resources to be defined by how much knowledge he passes on to future HR leaders. He shares, "Watching these young professionals evolve into dynamic HR leaders and knowing I had a hand in their development will be a tremendous legacy and contribute to refining the HR industry."
Success for Colin
Colin believes that success is individualized and something that every person defines and designs for themselves, and its how people view themselves, without comparison to anyone else. For him, it's all about the journey, the learning and the growth along the way. He says, "If I can say, I've done my very best, no matter the outcome, I've succeeded." He also attributes success to watching his direct reports grow and develop while becoming leaders in their own right. Knowing that he has provided them with proper mentorship and passing that knowledge on is the true meaning of success.
A Vision to Bring Change
Colin's vision for Cross Country Healthcare is for CCH to be the industry's most well-balanced company. In defining this, he wishes for his company to continue to be the leader in the industry by maintaining our integrity and honesty and leading the industry by example. The transformation of Cross-Country Healthcare over the years to becoming a destination of choice for employees starts with the incredible culture. He states, "Our company has built a culture of inclusivity for all employees, leading to record profitability." He also adds, "From our Board of Directors to our amazing Executive Leadership Team, we have positioned Cross Country to maintain our market leadership for years to come."
Colin considers himself fortunate to have the backing of his CEO, John Martins, who has enabled him to advance a number of diversity initiatives for the business. He has promoted a number of diversity groups within Cross Country Healthcare as the CHRO and Chief Diversity Officer. He founded Cross Country Impact (CCI) in 2020. He explains that CCI's vision is to create a respectful and encouraging work environment that enables the company to recruit and keep a diverse workforce that reflects its clients, neighborhood, and beliefs. Colin asserts, "Our purpose is to provide a shared direction and commitment for the organization so we can work together to respect and value our diverse workforce, build a more inclusive workplace, and help the organization achieve our business and human capital goals."
Aliening Expertise and Ideas
As the Chief Human Resources Officer for Cross Country Healthcare, Colin reports directly to the CEO with direct responsibility for 27 FTEs. He oversees the company's comprehensive talent and culture strategy for a high-growth, $1 billion, 2,500-associate, publicly traded company. This is accomplished by aligning HR with the company's long-term business goals. He also serves as the primary business partner to all C-Suite executives in all facets of HR. Colin's day-to-day function is leading all aspects of the HR function, including Employee Relations, Talent Development, Total Rewards, Talent Acquisition, HRIS, Corporate Culture, and Engagement.
Keeping Balance Personal and Professional Life
In his early career, Colin was on call 24 hours a day, seven days a week. His wife and daughter were very understanding, but he knew he was missing out on family time. As he advanced in his career, he better understood that family and friends were more important, and spending quality time with them would be paramount if he wanted to have a long career in HR. He shares, "I made the call not to answer my calls on the weekends and instituted a 911 call code. I directed all calls to my direct reports, whom I trusted to handle emergencies. With the added trust in my direct reports, I began sharing the after-hours responsibilities with my team members, not just myself. This allowed me the time to spend with my family and friends uninterrupted. This approach has served me well over the years, and I still apply this philosophy today."
Colin keeps himself and his team motivated by constantly challenging himself to solve the next big problem. He believes that if one puts their heart and soul into something, nothing is impossible. He asserts, "We are challenging and motivating my team to think outside the box. We are all encouraged to see the company continue to grow, knowing that HR played a hand in its profitability. The motivation comes from knowing we are all in this fight together." Colin has the best and most talented HR team in the industry as everyone trusts each other.
Ideas for the Future
Colin's plan for Cross Country Healthcare is to continue to lead the company's HR department with honesty and trustworthiness. He aims to foster a culture that encourages collaboration, flexibility, and fairness to enable all employees to contribute to their potential and increase retention. He opines, "We will do this by providing inclusive leadership training for managers and continuing to build on our culture. I have also developed a 10-step action plan for all senior leadership, including leadership development, HR Technology, and HR Accountability."
Colin's message to aspiring HR leaders is to "Develop your career goals, seek out good mentors, never take no for an answer, and develop managerial courage."