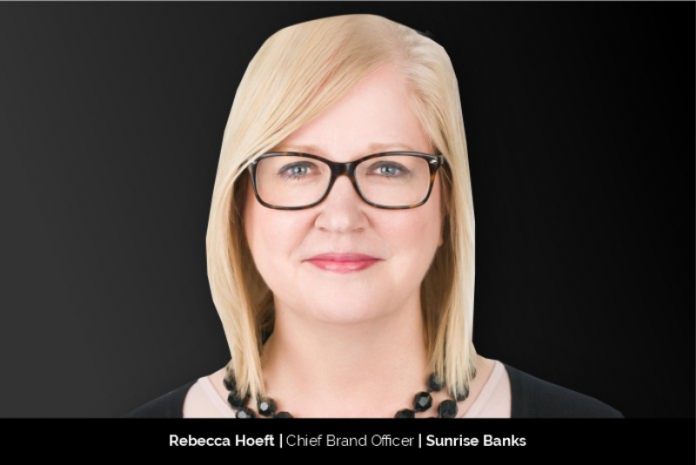 Rebecca Hoeft, the Chief Brand Officer of Sunrise Banks, is making waves in the financial industry with her innovation and resilience. Her colleagues admire her for her visionary approach to marketing and communication, and her efforts have established Sunrise Banks as a global brand. Since joining the St. Paul-based bank in 2013, Hoeft has launched numerous successful initiatives, including a podcast, an internal communications program, and award-winning campaigns.
Rebecca Hoeft's work raises awareness and benefits Sunrise Bank's bottom line greatly. For example, she and her team have led the launch of the Sunrise Bank's internal Justice, Equity, Diversity & Inclusion committee and its Life@Sunrise internal communications campaign, which has boosted employee morale, engagement through storytelling and other media. She has also created a stellar marketing framework that utilizes data-driven tactics to increase brand awareness and leads for Sunrise Bank.
In addition to her professional achievements, Hoeft is also appointed to the board of directors of the Community Development Bankers Association. As a role model to women in finance, she advises upcoming women leaders to seek mentors and build their personal brands. It's no wonder that Rebecca Hoeft is being recognized as one of the 10 Most Inspiring Businesswomen to Follow in 2023.
The Legacy of Purposeful Marketing
As the Chief Brand Officer of Sunrise Banks, Hoeft holds a unique perspective on what defines success in the business world. Her focus is on achieving goals and expanding the bottom line as well as leaving a meaningful impact on the people she leads. With a solid drive to make a positive change in the fintech and banking industry, she commits to empowering customers and grooming women into strong leaders for the future.
Rebecca Hoeft is passionate about aiding her team members in their growth and reaching their full potential. She celebrates her team's successes and assists in their professional development goals to motivate them. She believes creating a positive and supportive work environment can foster her employees' confidence, help them discover their unique abilities, and guide them to the next level of their careers.
Embracing change: Rebecca Hoeft's journey from Kiondo to Sunrise Banks
Nearly a decade ago, Hoeft had a conversation with her former boss, whom she had remained friends with over the years and sought career guidance occasionally. Her former boss urged her to speak with David Reiling, CEO of Sunrise Banks, after understanding her reluctance to work for a bank again and her desire to return to her roots and her first startup, Kiondo Originals.
Kiondo Originals was an experiment that Hoeft undertook with a friend. Her friend, Walter, who grew up in Nairobi, spoke about the financial struggles of single mothers in Kenya, which inspired Rebecca and her friends in Chicago to create Kiondo Originals, an import leather fashion items from Nairobi to the US. Although Kiondo Originals did not last long, Hoeft cherished it for its social mission of giving back most of its proceeds to single mothers and making a slight difference in their community.
By 2013, Hoeft felt the need to change and find purpose in her career again. She wanted to make a difference, just like she did with Kiondo Originals. Her conversation with David Reiling of Sunrise Banks led her to her current career at Sunrise Banks. Today, she gets the opportunity to spread the powerful story of Sunrise Banks, which is working towards closing financial equity gaps across the country, and the countless small businesses and individuals who have achieved financial wellness because of Sunrise Banks, which makes her time at the bank rewarding.
Stepping outside the comfort zone
Hoeft believes that allowing mediocrity during one's career is the most dangerous thing. Instead, she claims that success is achieved when an individual embraces learning new things and raises the bar.
According to Hoeft, her career saw the most success when her bosses gave her a blank canvas and encouraged her to do something exceptional. However, she also notes that bosses who limit their employee's potential often do so out of fear of what they could achieve without them.
Life before Sunrise Banks
Rebecca Hoeft started her career in HR consulting, training, and development long ago. Soon later, she transitioned into the banking industry but faced a turning point when she became a single mother of two children after her divorce.
Determined to provide for her family, she threw herself into several startups across various industries, taking advantage of the opportunities to learn, grow, and develop herself. This period of experimentation allowed Hoeft to achieve unique experiences and outcomes that would have been impossible within a larger organization.
Making an influential impact on the next generation of businesswomen
Throughout her career, Rebecca Hoeft has witnessed various types of business leaders. Some leaders have served as allies and supported her personal and professional growth, while others suffocated team members and impeded growth, resulting in a subpar team. Hoeft says, "both types of business leaders influenced her leadership style and defined the type of leader she wanted to be.
With this extraordinary passion, Rebecca Hoeft recently co-founded Twin Cities Finance Women (TCFW) with four other women entrepreneurs. The origin of TCFW is rooted in a chance encounter on a flight to Austin, Texas, for the SXSW event. SXSW is a conglomeration of festivals and conferences that has become a leading platform for discovering new music, film, and technology talent worldwide.
Rebecca Hoeft struck up a conversation with Meghan Schilling from MX, a firm focused on open finance APIs. Throughout the flight, the two women discovered their shared experiences and the opportunity to grow and develop future leaders in finance and fintech. Fast forward to a rainy spring day in Minneapolis, Hoeft met McKenzie Davidson over lunch, who had grown up and started a career at Q2.
Upon learning about Davidson's desire to connect with other women in fintech, Hoeft realized the need for a platform that brings together women in finance and fintech, leading to the creation of Twin Cities Finance Women.
Hoeft then invited a group of women in the fintech industry to come together and brainstorm the concept of Twin Cities Finance Women. The attendees included McKenzie Davidson, Meghan Schilling, Anna Kincannon, a former banker turned tech startup, and Monisha Chakrapani, co-host of the well-known Fintech Café podcast.
During the gathering, the organization's mission was to empower women in finance and fintech, promote innovation, and encourage women to become influencers in the industry. To differentiate itself from other similar groups, Twin Cities Finance Women identified four pillars to accomplish its mission. The first is Networking, which provides a platform for women to connect with professionals in the fintech and finance industries and build relationships. The second is Education, which emphasizes the importance of learning and sharing knowledge, offering opportunities for women to learn from industry experts and share their expertise. Innovation is the third pillar, recognizing the fast pace of change in the finance and fintech industry and providing a platform for discussions and engagement to shape the industry's future. The fourth and final pillar is Elevation, which aims to celebrate and uplift the successes of women in finance and fintech.
Honoring excellence: Personal highlights
Rebecca Hoeft has been acknowledged as a leader in finance and communications with several awards. However, one of her most notable achievements was making the 2022 'Brands that Matter' list in Fast Company, a personal highlight for her.
This recognition reflects her hard work and dedication over the years and that of her team at Sunrise Banks, showcasing their commitment to the brand.
Building a better bank: Sunrise Banks's vision for the next decade
Sunrise Bank is pursuing significant growth with the expansion of its brand and business internationally. If individuals seek employment with a values-based bank, they can find opportunities by visiting Sunrise Bank's career page. The company is searching for the most talented individuals as it strives to grow the bank in the next decade significantly.
Wearing many hats: The responsibilities of a CBO
If she were to describe herself in one word, Hoeft says she's an "Instigator." As the Chief Brand Officer (CBO), she manages various functions such as data-driven marketing, public relations, business strategy, crisis communications, executive communications, internal communications, grant writing, and impact data analysis. Every day looks different for her. Somedays she engages in discussions with Fortune 500 companies about partnerships and revenue growth and somedays she delivers presentations about the company's brand promise.
Balancing Passion with Self-Care: Tips for Thriving in an Entrepreneurial Workplace
Rebecca Hoeft considers work-life balance significant, mainly while working for Sunrise Banks, an entrepreneurial organization. She has a deep love for her work, which makes it effortless for her to immerse herself fully in it and let time fly by. To maintain a balance in life, she forces herself to take vacations and plan them ahead of time by putting them on her calendar. Hoeft advocates writing down her annual personal and work goals in January, as she believes that writing them down will make them come to fruition, which indeed happens.
As a leader, Hoeft motivates her team by acknowledging their successes, inquiring about their annual professional development goals, and providing them with projects that assist them in achieving those goals.
Advice for effective leadership: Be interested, not interesting.
As a businesswoman, Hoeft has set a personal goal to impact the fintech and banking industry positively. She aims to grow and develop women into strong leaders for the future. Hoeft also shares advice for aspiring leaders, stating that it is crucial to be interested in others, not just in making oneself interesting.
She advises that instead of talking about themselves, leaders should ask questions and take the opportunity to learn from others. This approach, according to Hoeft, will serve one well in their long-term career.
Conclusion
Rebecca Hoeft is a driven, visionary businesswoman who brings a wealth of experience and expertise to her current role as Chief Business Officer at Sunrise Banks. With a passion for making a positive impact in the fintech and banking industry, she works tirelessly to grow and develop women into strong leaders for the future.
Hoeft motivates her team by celebrating their successes and helping them achieve their professional development goals. Her advice for leaders is to be interested in others rather than trying to be exciting and consistently seek opportunities for learning and growth. With her unwavering commitment and drive, Rebecca Hoeft is poised to achieve great things in her career and beyond.