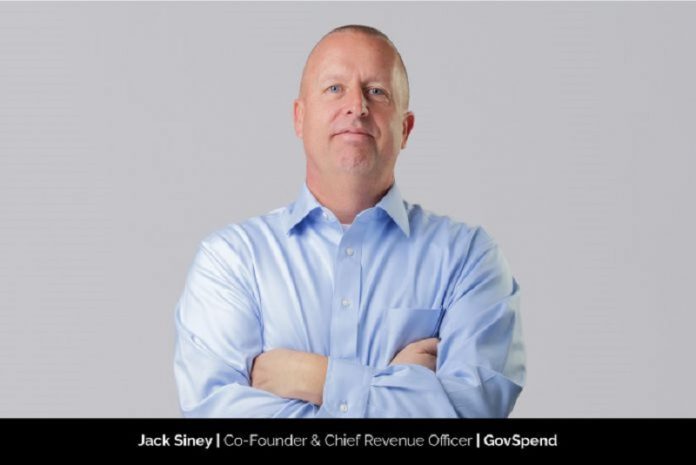 Today, many folks are "chasing" a version of success they see on TV or online that includes money, a big house, a nice car, vacations, etc. However, there are a lot of folks that have the money, the house, the car — but are still unhappy. Jack Siney, Co-Founder & Chief Revenue Officer of GovSpend, equates success to a person being peaceful and happy.
He adds, "We all want to wake up in the morning and go to sleep in the evening with the feeling of peacefulness & happiness in our soul. For some folks, that is a ton of money and the big house, but for most folks it is being around the people you love & having a job you enjoy. Figure out what makes you peaceful & happy, and there you will find true success."
The Entrepreneurial Journey
As a serial entrepreneur, Jack as the following perspective on those pursuing entrepreneurial success:
"It is funny that in today's internet/social-media culture, so many entrepreneurs want to be a millionaire in just 2-3 years. They think with enough followers or likes; or with the right product or 'lucky break,' they will make it rich quickly. That is not true for 99.999% of people.
It's a lie, a pipe-dream that is discouraging so many young entrepreneurs. They feel that if their business is not worth $100+MM in 2-3 years, then it's a failure. They have this false notion from movies and online "personas" that do not represent reality.
The reality is that most businesses (and most entrepreneurs) have to go through a long painful process to achieve great success. Similar to when students enter school as a freshman, they are typically very different when they leave school as a senior. But there is no way to expedite that process. The growth in a person from their freshman year to their senior year is the culmination of so many variables, including: classes taken, people met, social situations, romantic relationships, etc.
The same is true with the entrepreneurship process. "Entrepreneurs need to go through the ups-and-downs to 'harden' them to the realities of the business world."
Jack's challenges started young as the son of three alcoholic parents. The atmosphere around him growing-up was daunting. Still, he focused on getting the best education he could and tried numerous entrepreneurial ventures — some good, some bad.
He mentions, "One of the hardest professional challenges for me was closing the company I started in Silicon Valley. I moved all the way across the country, from Maryland to California, to fulfill the dot-com dream. We grew to 30+ employees but could not overcome the dot-com crash. Closing that business and having to inform our staff was one of the toughest moments in my career."
However, he learned from those experiences and has gone on to have several very successful ventures.  He believes that it is essential to "learn the lessons" in the failures.
He stresses the point by adding, "All of the challenges prepare us for what's to come. Bad, tough things happen to everyone. Deal with it & move on. When life gives you lemons, and we ALL get some, we have to "make lemonade'."
Climbing the Ladder of Success
Growing up, Jack always had an entrepreneurial zeal in his soul. As he came from a lower-middle-class family, he had to seek out businesses that didn't require much money to start – things such as: delivering newspapers, doing a bunch of network-marketing businesses through high school & college, and starting a painting business.
In 1991, he completed his BA in Business Administration from the Salisbury University – Perdue School of Business. After graduation, he began working with the U.S. Navy as the Contract Negotiator on the Blue Angels F/A-18 aircraft program.
He described his career with the Navy (as a civilian) as "an amazingly unique experience." During this time, he also earned a Master's Degree in Legislative Affairs from The George Washington University.
After 4 years of working for the Navy in Washington D. C., he moved across the country to complete his MBA at the University of California, Los Angeles (UCLA) – focusing on entrepreneurship.
After completing his MBA, he initially accepted a consulting position with PricewaterhouseCoopers (PwC), but as the dot-com explosion happened, and he moved to Silicon Valley to kickstart his own entrepreneurial pursuits.
He states, "The late 1990s was the height of the dot-com era. I moved to Silicon Valley and co-founded my first venture-backed startup. It was a travel company similar to Uber/Lyft – but it crashed with the dot-com bubble."
Then in 2001, Jack co-founded Advanced Public Safety (APS), a technology company that helped public safety agencies operate more efficiently. He led the business development efforts that resulted in sales to over 1,000 public safety agencies throughout North America. The company was a success and was acquired by a large public company in 2005.
For his next venture, Jack wanted to take the lessons learned from selling to the government and combine that with the enormous opportunity provided by the government's emerging open-data initiative. So, he co-founded his current company: GovSpend (govspend.com).
"We created a series of technology solutions to make the government procurement/sales process more efficient & effective for agencies and contractors. GovSpend is revolutionizing how government agencies purchase products & services, and how companies pursue government sales."
Overview of GovSpend
GovSpend is a proprietary system that collects purchase order data from federal, state, and local governmental agencies. Offered as a SaaS solution, users are able to view what agencies are buying, who they are buying from, and what they are paid. This data allows companies to target the exact agencies that are most likely to purchase their products/services.
In addition, GovSpend offers a bid notification system, a government contacts database, a summary of government contracting vehicles, and an e-commerce marketplace.
Accumulating the government agency purchasing data is very challenging. The volume of data from purchase orders is enormous, agencies use a wide variety of purchase order formats, and standardizing the data elements for users to query is very complex.  GovSpend has developed proprietary, patented technologies to enable them to collect the purchase order data with scale & efficiency.
Jack states, "Collecting agency purchasing records for agencies across the country requires a team of dedicated data acquisition specialists, data engineers, and developers in combination with the patented technology we developed to aggregate, process, and normalize the data. No one else has this data for all levels of government."
"Our product does two great things at once. It helps government agencies operate more efficiently and helps government vendors become more profitable."
Unique Competitive Advantage
Innovation is the backbone of staying ahead of competitors. GovSpend offers a proprietary, one-of-kind solution. They have taken the simple idea of "collecting agency purchasing records" and scaled it to a database that is now 250 times larger than Wikipedia.
"There are a variety of companies that offer some version of a 'bid notification' solution – notifying companies of government bids and RFPs. However, there is no other company that has the government purchase order data for federal, state, and local agencies."
Further, GovSpend's goal is to help more companies win business with the government. Currently, only about 10% of companies in the U.S. have any sales to the government. His focus is to fulfill the company's vision of doubling the number of companies doing business with U.S. governmental agencies.
"Combined, U.S. government agencies represent the largest prospect in the world – spending $7+ trillion per year — which is $20 billion per day. It is a TON of money. Expanding the number of companies winning government sales should assist many more companies in surviving & thriving through the COVID pandemic."
When your WHY is Great…
As the Chief Revenue Officer (CRO) of GovSpend, Jack is mainly responsible for all the company's sales and business development activities. He further shares, "With a sizable sales team of over 100 representatives, my current day-to-day responsibilities focus on establishing the infrastructure that has allowed us to succeed through the COVID ordeal. And continue to innovate & refine our sales processes to make them as efficient as possible for our staff to meet the demands of our prospects."
He is focused on keeping his team motivated and encouraged to work with a purpose. He shares his belief that staying motivated largely depends on each person having a clear understanding of what they want to achieve in life – in the short term (6-18 months) and long-term (3-5 years).
"When your WHY is great, your effort is great. It's easy to stay motivated each day when you attach your work to your why."
Future plans
Jack and his team are dedicated to the goal of making GovSpend the "must-have" solution for anyone and everyone that is selling to the government. In the end, he wants GovSpend to be a one-stop platform that comprises all the relevant resources required to win government sales.
When he asked Jack about his plan for the next 3-5 years, he said he is focused on three goals: 1) Doubling the number of companies that are selling to the government, 2) Creating a company valued at 10-figures, and 3). Helping people around him realize their full potential.
Sharing the message to aspiring business leaders, he states, "The process of achieving success is a marathon – NOT a sprint. There will be ups and downs along the way – keep grinding."