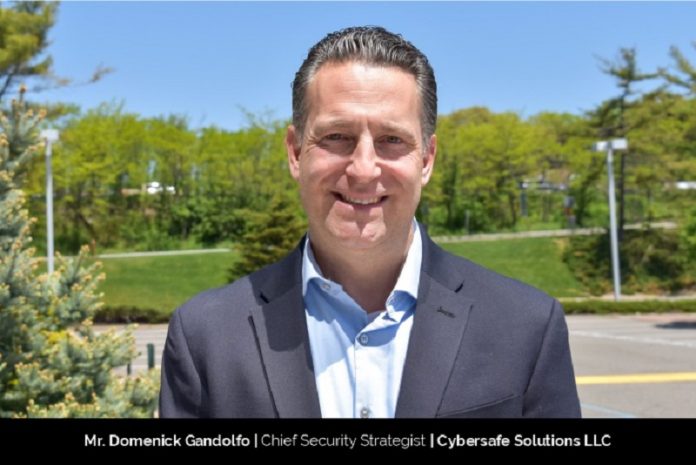 In today's digital world, data is an asset for all companies, and data security is crucial as it decides the future of the company. Whether it will rise or fall to the next level, both outcomes depend on cybersecurity.
With the mission to aid every organization in dealing with the evolving cyber threats, Domenick Gandolfo, Co-founder and Chief Security Strategist of Cybersafe Solutions, LLC, is fueling the growth of the company.
Cybersafe Solutions was recognized on CRN's 2020 list of Emerging Vendors. The company was ranked #25 on the 2020 CRN Fast Growth 150 List and was also named to MSSP Alert's Top 250 MSSPs List for 2020.
Domenick believes that these accolades are the result of their solid team effort. If you ask Dom, he'd say a passionate and dedicated team that works towards a common goal can take the company to the next level and beyond. If you look closer to home, Dom would say his team is a true testament to this. Forward thinking and collaboration are what Cybersafe Solutions was founded on.
Foundation of the company
Domenick was fortunate to have the forethought to see the potential of the cybersecurity industry.   From the start of his career, he began investing hours into building and expanding his skill set. He stresses the point by adding, "I've dedicated countless hours into training, even while earning industry leading certifications and awards."
In 2014, he joined forces with his close friend, who was a self-made entrepreneur and shared a similar work ethic and vision. Both had a passion to build a company that would help other organizations stand their ground against cyberattacks and threats in the digital world. So, the concept of Cybersafe Solutions came to reality.
Cybersafe Solutions: Protecting clients from cyber threats
Cybersafe Solutions is a Managed Security Service Provider (MSSP) that protects business revenue and reputation through a number of Managed Security Services.  Cybersafe offers Endpoint, Network and Cloud security monitoring, which is a 24X7X365 Managed Detection and Response platform via SOC-as-a-Service.
Domenick states, "We also provide Incident Response and Business Resumption Services, Compromise Assessments, Breach and Attack Simulation, Risk Assessments, Penetration Testing, Security Awareness Training & Simulated Phishing and Security Policy Development."
Cybersafe Solutions is committed to developing programs that dynamically anticipate and respond to growing threats within the U.S. and around the globe.
He adds, "Cybersafe Solutions is a customer-centric, value-driven firm that cares about its employees and clients. In alignment with its mission, Cybersafe strives to attract and employ industry experts along with top-tier account representatives who specialize in cyber-security. Quality of service is of the utmost importance because Cybersafe Solutions considers our team to be an extension of our clients and firmly believe it is our responsibility to keep their revenue and reputation in mind."
Every team member resonates with the core mission and aims to deliver the best results to take the company to the next level.  We ultimately strive for excellence, not perfection.
Superior technology, tailored service, and continuous improvement are the three strongholds that make Cybersafe Solutions unique. As the industry is evolving so rapidly, the company takes pride in being at the frontline, saving their customers from cyberattacks and threats.
He states, "We do this by leveraging an arsenal of the latest technology, proprietary tools, and flexible solutions that are carefully curated and deployed to meet the unique needs of each client, no matter their size or where they do business."
The team works round the clock analyzing the client's environment to keep everything safe and eliminate the possible and existing cyber threats.
The in-house team realizes that every lock has a different key. So, it follows a customer-centric approach and dedicates all its attention to every client's working environment, and tailors a custom solution.
Domenick expresses, "We will determine your cybersecurity baseline and create an engagement plan that includes advanced visibility and best practices to reduce risk and quickly improve your cybersecurity posture."
Detecting evolving threats of the digital world is made possible when the barrier between the security measures and the adversary constantly adapts as the threats do. Cybersafe Solutions encompass the power of the latest technologies in its solutions that revolve around the client's needs.
He adds, "Our clients can trust us as an extension of their team and each member of Cybersafe always has their business in mind. That's why we constantly look for new ways to enhance our solution and keep up with the ever-changing threat landscape. Cybersafe, at its core, understands that a security provider can never stay stagnant. It is our promise to our clients to always evolve with the industry."
The team is constantly enhancing their existing services as well as adding additional services to their portfolio.  They provide ongoing reports and several touch-points to their clients throughout the year.
Getting stronger with the challenges
Challenges are always to be expected in the startup world. Domenick expressed that through this phase it was important to build strong relationships with clients and prospective clients to allow Cybersafe Solutions to be known as a "people first" company. One that would always have their clients in mind, while also supporting with premier white glove service. In the starting phase of Cybersafe Solutions, the team realized the market required a good amount of education and awareness when it came to an understanding of the threat landscape and the necessary protection to put in place. Most importantly, we discussed the potential damage and impact that a cyber-attack can cause and what that would mean to the survival of their business.  Cybersafe was able to put a plan and methodology in place that has brought great success in the years since inception.  With Dom's leadership, the Cybersafe team continues to position themselves as a strategic advisor to both clients and prospective client's alike.
He adds, "Today, (aside from our advanced solutions) this is one of our largest differentiators. The education challenges in the market evidently allowed us to establish the necessary training programs to educate clients no matter their size or industry."
Cybersafe Solutions: Revamping the cybersecurity industry
Domenick states, "My vision for Cybersafe has always been focused on providing the latest and greatest services while providing the highest level of customer service.  We stay engaged with our clients and have become an extension of their team.  We continue to bring education and awareness on the latest threats, and our cyber defenses are continually evolving, making our clients a less attractive target."
To stay ahead of the curve, the in-house team spends countless hours in research and development, exploiting the benefits of the latest technologies, best-in-breed tools to continuously improve the processes that they offer to the clients.
He stresses the point by adding, "It's very important to continually evolve in the cybersecurity space, and I think that we have done a fantastic job on that front.  We were one of the first security vendors on the market to bring visibility, monitoring, detection, and response down to the endpoint.  Most of our competitors were strictly focused on the network, leaving a major blind spot and exposure for those organizations. Our team stays current and has a deep understanding of the threat landscape, allowing us to offer new services to our clients that will strengthen and tighten up their overall security posture."
Cybersafe Solutions marked its unique presence as a recognized brand with its sophistication behind its security monitoring services from a proactive standpoint and also helping organizations resume operations after a cyberattack through its incident response and business resumption services.
Everything the company has achieved has come out of its team's solid effort and high integrity. At Cybersafe Solutions, everyone understands the importance of human capital and pushes each other to grow individually and take everyone together to new heights.
Domenick expresses, "Our team has built out an extensive training program for all new hires and provides a career path for all to ensure that we provide the best opportunity for growth and achievement.  We ensure a culture of integrity by hiring passionate, hard-working, team-oriented folks that have the desire to learn and grow professionally within our organization.  Having the right personality and a team-first approach is critical for the overall success of our company.  It's not all about hiring the most technical person on the market, that's for sure."
Boosting the growth of the company with vast experience
Domenick completed his Bachelor of Arts in Criminal Justice from Long Island University – Cum Laude in 1996. The same year he stepped into the corporate world as Regional Sales Manager with a video surveillance and audio manufacturer and distributor. To add more arrows to his quiver and expand his academic base, he obtained a Certificate in Digital Computer and Network Technology (Computer Systems Networking and Telecommunications) from Dover Technical School in 1998. In the same year, he grabbed the role of Computer Network Specialist within the educational sector. He was a member of the team credited with expanding, securing, and administering LAN/WAN infrastructure supporting 1,000+ users across multiple special education/occupational education trades and adult education in numerous school districts.
In 2000, he joined forces with a global logistics provider as a Senior Network & Security Engineer. He was brought in to design, implement, and support Frame Relay infrastructure to ensure optimal integration and information access across 12 cities in the United States. He was responsible for securing the overall infrastructure utilizing Cisco Firewalls, VPN Concentrators, Anti-malware, Proxy Servers, Spam and Web Filtering Servers, SSL Certificates, Access Control Lists, and Network Segmentation. He worked hard and progressed to take the onus of Network Manager. He was given additional responsibility for securing the LAN/WAN and server infrastructure for this leading provider of mission-critical service parts logistics to Cisco, EMC, Avaya, Dell, Hitachi, and other technology organizations.
Then in 2007, he attained dual roles of Director of Information Technology and Chief Security Officer with a large regional healthcare organization. He was recruited to build and grow a team out of the IT Department, define the technology strategy and roadmap, strengthening their overall security posture, and ensure the alignment of technology investments with evolving business and regulatory requirements as the organization grew rapidly. There he gained valuable experience and honed his skills. He had complete accountability in building and leading a team of 12 in designing, securing, implementing, and ensuring optimal uptime of critical systems, infrastructure, and environments, supporting 1000+ employees in 60+ locations. Backing up his skills and capabilities, he established the information security program that enabled the achievement of compliance with Meaningful Use Stage I and HIPAA regulations within six months.
In 2014, he cofounded Cybersafe Solutions. Having spent well over sixteen plus years in the information technology and information security industry allowed Domenick to develop the knowledge and skillset which ultimately became the driving force behind the successful launch of Cybersafe Solutions. He is responsible for the strategic planning, design, and implementation of information security services for organizations across multiple industries.
He states, "Our organization provides best in breed services, utilizing leading security technologies and vendors. We follow best industry practices, current security frameworks for a highly effective cyber defense against modern-day attacks."
Wearing the hats of Co-founder and Chief Security Strategist for Cybersafe Solutions, he is responsible for helping organizations design, build and implement a comprehensive cybersecurity program that brings visibility into their overall security posture, following best practices while reducing their risk and exposure that could result in a costly data breach.
Currently, he is building out a professional services division that will provide threat and vulnerability management services, further strengthening the company's existing client environments as well as new clients across multiple industries.
Being a passionate leader, he gets his constant dose of motivation by progressing further and motivating his team to meet and exceed their goals.  He expresses that motivation comes from good results, which are the byproduct of a process in which the employees are valued for their caliber and skills. So, it is important to provide proper training and growth opportunities to them.
Future prospects for the company
Cybersafe Solutions aim to become the natural extension of other companies when it comes to cybersecurity. Having a strong back hold of the latest tools in its armory, it is constantly evolving its solutions to serve the clients in a better way and protect them from the constantly evolving cyberattacks and threats.
Communication and transparency are the two strong pillars of the company that allow it to boast its excellent services. The Cybersafe team is looking forward to spreading their roots in every corner of the globe providing best in class services and maintaining a high level of customer service no matter the size or industry they plan to serve.  Their mantra all boils down to striving for excellence and not perfection which they believe is the ultimate key to building out a successful organization.
Domenick adds, "Our plan is to continue to grow and expand our sales team across the United States and globally through our channel partner program, which has been successful so far."