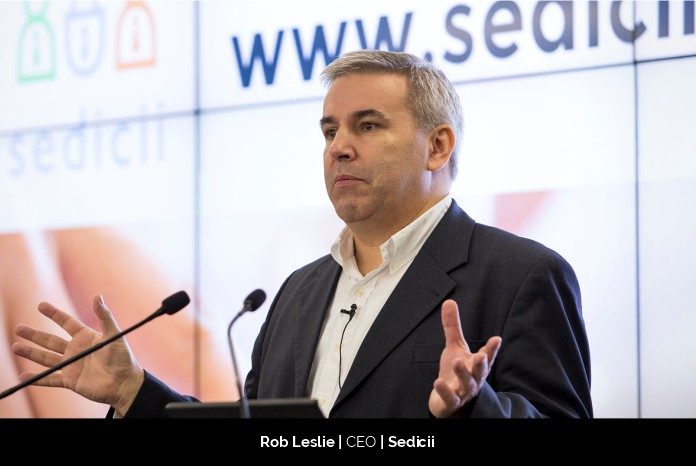 "Privacy is not an option and it shouldn't be the price we accept for just getting on the internet" – Gary Kovacs CEO of AVG Technologies rightly said.
Former Head of Open Innovation at BBVA Marisol Menendez said "Sedicii is the start-up with the greatest potential to transform the financial sector with high-end security in the next 10 years."
Rob Leslie, Founder and CEO of Sedicii started the business as a natural progression from his last company Kyckr.  While Kyckr mainly focused on KYC for companies, Sedicii's emphasis is on the person and how their personal data is managed and controlled. Rob himself fell prey to online hacking, thus, Sedicii came as a natural step to help safeguard personal credentials so that users don't end up losing their identity and privacy to fraudsters.
Hopping the roadblocks to build Sedicii
Sedicii is Rob's 6th startup and he has been described as a serial entrepreneur and has encountered different challenges through his journey. Some of the recognizable ones include: persuading customers of the need to avail of and realize the value of the services Sedicii is providing, looking for different investors as well as stakeholders who can sync with the company's goals and hiring the best team who has the faith, patience persistence and passion in realizing the ultimate goal of helping protect an individual's personal digital privacy.
Sedicii is building a fully secured global platform that will enable confidential data collaboration without compromising privacy in any way. Sedicii's patented ZKP (Zero Knowledge Proof) and MPC (Multiparty Computation) protocols are perfect to develop a full network in collaboration with governments, national utilities, financial institutions and the telecommunication industry. Rob advises, "The collaborations will allow our services to verify and authenticate individuals in a fully privacy compliant manner, in real-time, without exposing to either party to the transaction the raw information it holds. Essentially, this will enable the verifying parties to process information about people in a confidential manner, whilst also holding up-to-date information on them.  This will eliminate the possibility of impersonation, fraud and theft."
This platform will ensure that all organizations actually utilize Sedicii's services would keep the cost as low as possible so that users have faith in the firm. As the world is converging towards becoming fully digital after the pandemic, maintaining user data confidentiality is the key to accelerating online growth in the best, most secure way.
Rob shares, "We have seen the rise of platforms such as Amazon with a huge shift to online retail and the rapid acceleration to online conferencing tools such as Zoom and Teams as our interactions become entirely digital. This shift to digital is creating mountains of data that will need tools in order to enable secure collaboration to take place."
Measuring the Success of Sedicii
Right now, Sedicii has a strong team of 20 people with its headquarters in Waterford, Ireland. However, the company's teams building the technology solution are located in Belgium and the Canary Island of Tenerife while Business Innovation and Strategy is located in UK. Rob worked and researched ZKP for three years while still acting as Operations Director at Kyckr before leaving to devote all his time and energies to Sedicii. The research included attending conferences and summits and the pinnacle of his research saw Sedicii being named as a World Economic Forum (WEF) Technology Pioneer and affording Rob the opportunity to speak at Davos. Rob adds "I feel that timing has played a crucial role in bringing the success to our business – along with other factors related to legal, commercial, social etc.
He shares, "Sedicii aspires to the core values of integrity, honesty, trustworthiness, accountability and great customer service through all our interactions.  We are striving to make the internet a place where an individual's identity is safe and the human right to privacy is upheld. We plan to achieve this through our global federated network which will enhance and make the internet safe in terms of privacy for an individual."
Owing to the advanced risk assessment algorithms, Sedicii's cryptographic technology enables individuals and organizations to process sensitive user information without any privacy invasion. Rob wants to create a difference in every individual's private life by ensuring that they are protected and their human right to privacy is respected during their online interactions.
Rob's Life Before Sedicii
Rob is an Electronic Engineer by profession having graduated from Dublin City University (DCU) in Ireland and then, moved to Japan to work for over 20 years. He shares, "My early professional path saw me working in national and international companies -prior to starting on my entrepreneurial journey. I was part of the senior management team that set up Dell Japan where I was instrumental in growing the company from zero to 300 employees and an annual turnover of over €300m in the first four years." He subsequently became a partner at PTS Japan which was later sold after five years with the $33m valuation at exit. He came back to Ireland in 2003 and in 2007, co-founded Kyckr (ASX:KYK) which is listed on the Australian Stock Exchange. He took the decision to move to Sedicii full-time in 2016.
Managing the CEO Role.
At the time of the company's foundation in 2013, Rob handled everything on his own. From being the researcher to investment seeker to accounting technician to travel advisor; he wore all hats. Rob shares, "In 2016, once I found investors willing to work with me, I left my previous position and commenced building the Sedicii team of software developers and hired an administrator. I then concentrated full-time on finding further funding and customers." Being a responsible CEO, he realizes that the team relies on him for their livelihood as well as leadership.
Whatever the case may be, through the business highs or lows, Rob always shares everything with his team. He says, "I believe in an open-door management style and the entire team are all too aware that there is no work task I will not undertake to make Sedicii a success. I have faith in the dedicated team who share my total belief that a federated, global, privacy preserving network will enhance the lives of everyone using the internet." The team feels responsible and motivated to turn the internet world into one that is safe for all whilst creating an exceptional customer experience.
Sedicii's Bright Future Plans
In the words of Award-winning author Jonathan Frazen "Without privacy there is no point in being an individual." With people getting more and more aware of privacy concerns, Sedicii is enjoying some rapid organic growth. Rob adds, "As our ecosystem grows and more and more Governments and industry sectors see the benefits, cost efficiencies, regulatory compliance benefits and organizational reputation improvements that our services afford an organization, not to mention confidence and trust-worthiness, we hope they will want to join us."
Sedicii is well on its way to being a pioneer and world leader in the internet privacy space. Not only this, they are seeing increased needs for skilled employees who can deliver their services. The time is not far away when Sedicii may get a worldwide partner to achieve higher growth.