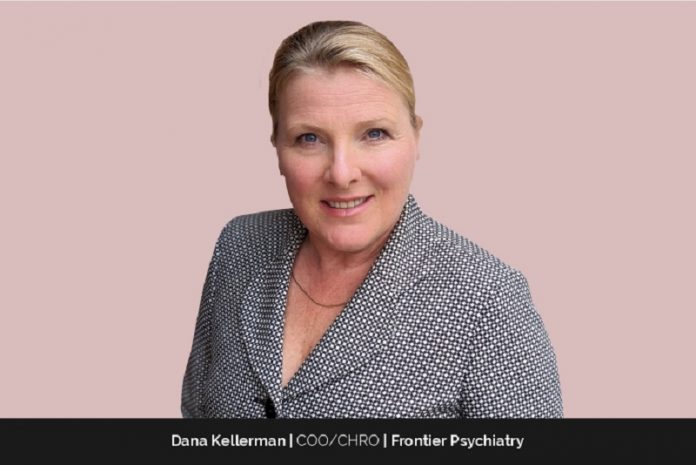 Dana Kellerman, chief operating, and human resource officer of Frontier Psychiatry, believes that she has the best job ever and strives to ensure that her employees' do as well. She states that her career experiences have set her up beautifully to build a highly successful telepsychiatry company and assist Frontier Psychiatry with expanding their services in rural intermountain western states and the great plains.
Dana has held a variety of leadership positions before joining the C-suite team at Frontier Psychiatry. She spent 16 years in diverse leadership roles at GE, as well as served as the COO/CHRO at a rural health system for several years, where she was instrumental in opening a brand-new $50 million-dollar medical fitness facility, and a surgical suite expansion at the main hospital.   The inspiring leader was able to hone her business and operational abilities at GE and was fortunate to have had great mentors while employed there. Dana believes that her robust leadership background enables her to successfully lead Frontier Psychiatry as they continue to expand their services. Frontier Co-founder, Dr. Reza Hosseini Ghomi certainly agrees, "Dana brings a wealth of experience and wisdom only gained from not only years on the job but an attention to detail, motivation for understanding issues at a deep level, and a finely-tuned social intelligence making her a highly effective leader."
Being an empathetic and effective leader is what Dana prides herself on. While very humble about her success, she believes that how someone defines their success is highly personalised. Dana believes that the definition of success and failure evolves throughout a person's life and career, and if we are true to ourselves, we learn a lot from both. She feels that a person's success is also built from their failures; it is all about perspective. One must have faith in oneself and an attitude to bring change.
Challenges: The Hard Taskmasters
Dana was raised to believe she and her siblings could do anything that they set their minds to provided they have fortitude and perseverance. How they reacted and addressed a situation was completely up to them. Either they can give up and let it defeat them, or they can look at the issue from different aspects and achieve their goals. Dana and her husband, Dave, have also taught this lesson to their daughter, Deidra. They wanted to ensure that she properly knew how to deal with adversity and life's challenges.  The proud mother says: "The ability to accomplish incredible mental and physical challenges is within each of us. We just need to be willing to have the courage to back up and regroup, if necessary, figure out a different approach, and conquer the situation."
Dana stated that like many leaders, she too encountered obstacles.  Nevertheless, such challenges could not pull her down. She constructively interpreted them. Dana swears by a quote by A.P.J. Abdul Kalam and lives by it throughout her life. It reads: "If you fail, never give up because F.A.I.L. means "First Attempt in Learning"; End is not the end, in fact, E.N.D. means "Effort Never Dies"; If you get No as an answer, remember N.O. means "Next Opportunity."
She has experienced unscrupulous co-workers seeking to grow their careers and leaders protecting theirs at the expense of others. Dana credits such roadblocks for her overall growth. The roadblocks have helped her to gain the confidence to follow her moral compass and speak up for herself professionally and personally. Dana also ensures that she and her teams conduct due diligence when issues are raised and not prematurely react; people's careers and reputation may be impacted, and as an ethical leader, you have the responsibility to be diligent.
Frontier Psychiatry's services
Frontier Psychiatry, Montana's largest practice of board-certified psychiatrists and psychiatric mental health nurse practitioners is a telehealth psychiatry practice that was formed in 2019. The organization ensures that residents of rural and Frontier areas have prompt access to high-calibre mental health services. By 2025, it hopes to have made psychiatric services accessible to residents in many rural western states. Addiction medicine, child and adolescent psychiatry, geriatric psychiatry, military/veteran psychiatry, neuropsychiatry, and general adult psychiatric care are some of the specialities that can be accommodated by the team's extensive training and experience.
Dana's role as chief operating officer involves making sure the business is operating efficiently as a whole. Dana remarks: "Fortunately, we have an excellent operations team that works closely with our clinical team. Everyone feels comfortable sharing their ideas and are very flexible to ensure that we are able to provide excellent care to our patients."
She and her team work diligently to navigate the convoluted US healthcare system. According to Dana, "Sadly behavioural health healthcare coverage is sorely lacking in the United States. Our intention is to proactively work with our patients and if necessary, their health insurance companies to provide our patients with the help they need as soon as possible."
She elaborates further by sharing highlights of Frontier Psychiatry's core values as four ethos: The company honours its responsibilities to the people it serves. We seek to understand and assist. Thirdly, we embrace opportunities to improve and grow. And lastly, excellence achieved via altruism.
Measures to foster integrity and innovation 
According to Dana, her experience at GE healthcare as well as leading a health system have shown her that U.S. health systems tend to have poor organizational structures in place, coupled with administration teams that are often resistant to change. Sadly, unqualified persons are given leadership positions because they have seniority, not because they are the best candidate for the role.  Ineffective administrators and organizational structures end up taxing the employees who are already stressed trying to provide quality patient care.  She is adamant not to allow an antiquated leadership model or practices to impact Frontier Psychiatry.
Dana wants Frontier to be an excellent workplace, assuring harmony and employee engagement. Leadership's support is a must for one to grow professionally and feel empowered. Poor management can destroy a person's professional aptitudes and trust in seconds.
The Chief Operating and Human Resource Officer believes one must prioritize innovation and be open to new ideas to succeed. The values and mission of any business need to be shared by all employees if they are to become deeply established in the company's culture. This is precisely the work that Dana and her team strive for at Frontier. According to Dana, integrity is defined by trust and how one treats others. Companies must treat its people as its most precious asset. Employees are the backbone of any company and employers face the challenge to attract and retain their employee's. She advocates for robust total reward packages. Dana states when total reward packages are designed properly, employees' benefit from work/life balance, and competitive pay and benefits, resulting in an engaged workforce.
She is adamant that leaders set the tone for the entire organization through actions and words. The onus lies on them to create an inclusive environment for all employees to ask questions, receive coaching, and grow their careers. Dr. Eric Arzubi, CEO and Co-Founder of Frontier Psychiatry concurs, "Dana's leadership in crafting our workplace culture has taken our team to new heights. Her ability to not only create and implement our organization's core values, but to model them every day has significantly impacted our culture. She demonstrates and encourages work/life balance among our team while still holding all of us to a high standard. Because of her work, we achieved several awards including the Top Workplace in Montana. We received this recognition the first time that we applied after being in business for only two years. This award is a testament to her impact on our team."
Ultimately, innovation will thrive when there is honesty and open communication since employees feel empowered to speak up.  Dana believes that innovation isn't limited to new products; it can also include new service offerings, streamlined operations, and an engaged company culture.  Dana and her team at Frontier Psychiatry are dedicated to advancing these four areas to foster innovation.  She strongly feels that organizational success is multifaceted, and leaders must be dialled into their culture, and make necessary amendments if warranted.
The changing scenario of psychiatric care 
Dana asserts that telehealth has grown exponentially during the previous five years. As the population ages and the healthcare system faces fundamental changes, this sector is projected to continue expanding. The current state of psychiatric care is affected by several variables, including a scarcity of doctors, rising healthcare expenditures, and increased gaps in healthcare access between rural and metropolitan areas. A shift to telehealth in mental health can solve several of these concerns. Still, it will need creative problem-solving by physicians and buy-in from payers. The COO/CHRO has advocated for a transition to value-based care to address the present mental health crisis, intending to increase the number of patients with access to necessary services. Support for psychiatric care must be addressed to deal with the ongoing emergency. She is delighted to be part of the mental health solution toward improving psychiatric care in rural and Frontier areas.
Strategies to stay ahead
Dana discusses the strategies used by Frontier Psychiatry to maintain its prominence in the face of fierce competition. The group prioritizes industry specialization over industry breadth. In unison with the demands of its patients, the organization emphasizes the experience of its team.  She believes that when her team are well cared for, they will take better care of their patients. Most of their competitors seek to build their businesses rapidly using a one-size-fits-all strategy. Instead, we focus on tailored solutions. The list includes partnerships with community support systems, non-profit organizations, and state government agencies to ensure their work provides long-term solutions to the mental health problem.
Additionally, Frontier Psychiatry highlights access. Using telehealth, providers can treat patients in the remotest part of an area without requiring travel. To ensure everyone has access to quality psychiatric care, the company accepts most insurance plans, including Medicare and Medicaid. Lastly, Frontier Psychiatry offers an array of psychiatric services. It has specialists prepared to serve patients at any point along the care continuum. From child and adolescent psychiatry to geriatric psychiatry and everything in between, it is prepared to properly treat behavioural health patients and offer highly specialized psychiatric care.  Dana is proud of the calibre of clinicians Frontier Psychiatry employs. Our physicians are board certified in psychiatry and our nurse practitioners are psychiatric mental health nurse practitioners. We even have a board-certified psychiatrist who is also board certified in addiction medicine, which is a market differentiator for Frontier.
Her Role & Responsibilities 
Dana was the top choice of Frontier's owners after an extensive national search. She knew exactly what she wanted in her next leadership role and was able to be selective in who she partnered with. She describes the relationship as a win-win.  Knowing that she and the rest of the team are making a positive impact motivates her. Although this is not Dana's first time in a dual COO/CHRO role, she has certainly proven her prowess to lead successfully in both leadership positions. She conveys that one must recognize their limitations, be ready to delegate responsibly, and have faith in their team. As she shares, "we all succeed together, and we all fail together."
"Self-aware and confident leaders know their strengths and weaknesses and surround themselves with people who can fill those gaps. I am fortunate to have a talented team who is eager to learn and support one another. In addition, my CEO and CINO trust me to manage the operational and human resources of the company."
As part of her COO role, she oversees the day-to-day operations of the organization, so that her CINO and CEO can truly focus on innovation, and the company's long-term strategy. Dana also focuses on contract execution, operational compliance, and continual process improvements. As CHRO, she leads the direction of the HR team as well as the people development. While the roles are different, Dana states, "that they are similar from the perspective of I know where our opportunities for improvement are due to my (COO) role, and I can help turn those opportunities into strengths as the (CHRO). My dual leadership role enables me to foster an environment of continuous innovation and talent development, which is vital to our overall success." She further adds, "Through trust and transparency, we know the critical areas we need to hire or develop to have complimentary talent at Frontier Psychiatry, and it shows.  We are positively impacting the people suffering with mental illness because of our talent and teamwork within our company."
A portion of Frontier Psychiatry's workforce is located at its headquarters in Billings, MT. Others reside across the United States, including Dana. She adds that her role requires her to be flexible with her schedule, so her morning and evening routines change frequently. However, a typical day can include reaching out to their community partners and checking in with her team. She also schedules time daily to focus on specific tasks, like their new Performance Enablement program, which she developed.   She states that, "If I can learn something, teach something, and help someone or something every day, well that is a wonderful day"!
The balancing act
As Abraham Lincoln said, "In the end, it's not the years in your life that count; it's the life in your years" a quote that Dana often reminds herself of.  Dana confesses she struggled to balance work and life early in her career. She is extremely grateful to her husband David. Dana said that he not only worked fulltime while she was traveling heavily, but he managed our home as well as our daughter's busy schedule, enabling Dana to focus on her career and be engaged with the family when she was home. She is in awe of single parents who work, manage a family, and are active in their children's life, as she believes her career would have taken a different trajectory if it was not for her husband's support. She also adds that she learnt that being overworked and sleep-deprived makes it impossible to do justice to your work and that it one must identify the difference between busyness and productivity, a skill that she has mastered over the years.  As a LEAN Master Blackbelt, Dana employs several tools to help her manage her time and projects.  However, lately, she uses a method that is called the "3 N technique," which stands for "Now," "Next," and "Not Yet." She elaborates: "I strive to have three things on my Now list; those are the items that I plan to accomplish during the week, five things on my Next list, which are my focus the following week, and lots of other items on the Not Now list, which I will prioritize as other items flow off my Now and Next lists!" It is an easy time management methodology.
Dana believes that developing the ability to set priorities should be a priority and is critical for a better work/life balance. Dana cites enjoying time with her family and living in an area known for its outdoor lifestyle helps her work/life balance. Their ideal family time is spent outdoors on foot, on two wheels, or on two skis. Fly fishing is a new addition to their "nature" list. For her, nothing is more soul-feeding than time spent in nature with her loved ones and dogs.
Muse for motivation
Dana asserts that Frontier is renowned for emphasizing work-life balance, flexibility, and open communication. This year, they won an award for being one of the top companies that prioritize work-life balance, which Dana added is especially difficult in the medical field and in the behavioural health profession.
Dana believes that controlling your schedule and having fun as a remote team keeps her employees energized, which is instrumental to employee engagement. Frontier also focuses on feedback. Dana stated that they are always looking for ways to enhance their employee wellbeing, service operations, and patient care. She adds that it is a priority for Frontier to keep their employees in the loop regarding the feedback, especially comments from their patients and community members. She finds it highly uplifting and motivating to learn about the positive impact Frontier has had on a patient or their family; it gives credence to their mission.
A catalyst for generational change
To be an influential leader, we must be aware of the differences in skills, and career expectations across the generations now occupying the workforce, according to Dana. The workplace benefits immensely from the unique skills and values that each generation contributes.  Successful leaders know how to lead across the various generations while respecting the talent and values each generation brings to the workplace.
This is evident in Dana's leadership style as summarized by Frontier's senior manager of marketing and communication, Kerri Danowski, "Dana truly understands how to lead a multi-generational workforce. She keenly understands what it takes to recruit and retain a highly talented team and works daily to intentionally craft a culture where people want to work. She not only communicates our company core values, but she lives them every day, encouraging the entire team to follow suit. Her priority on making a desirable workforce has created a very special team environment at Frontier."
Dana explains that leaders today must be willing to look at their workforce differently and consider unconventional ideas when hiring and retaining their talent.  She advises companies seeking to hire the next generation to look past the degree (if applicable) and focus instead on the potential the applicant may bring to the company. Unfortunately, recruiting based on skills and cultural fit is sometimes neglected in favour of a less experienced but credentialed candidate resulting in employers missing out on talented potential employees.  Similarly, as leaders we must find creative solutions to retain our workforce, while helping them learn and earning their next college degree or certification may not be the ideal recommendation for the employee or the company.
"In reality, on-the-job training, focus groups, volunteering, internships, apprenticeships, even reading a professional magazine, etc., are all ways to gain knowledge and help someone expand their skills. These routes are often overlooked, even though they can yield significant insights. Dana recommends people who are just beginning their career journey to seek out a mentor. Mentors are wonderful teachers and career confidants.  She adds, "Don't be afraid to put yourself out there; you will be denied opportunities, you will fail, and that is ok! As long as you learn from your failures and refocus your effort, you will persevere."
She urges leaders to also recognize the importance of the human element in HR matters and work closely with the HR team when considering growth opportunities and more importantly disciplinary ones. Human resource leaders are obligated to behave impartially and thoroughly investigate all relevant factors before making any decisions that could affect the professional lives of others. If they do not have the wherewithal to do so, they should consider another profession.
Vision Board
Dana has set clear goals for various aspects of her professional life. One of her agendas is expanding Frontier's presence in the rural western states. There is also an enhanced importance on prioritizing patients' needs. She is confident that their business strategy will let them increase their service area and reach out to more remote places in the Intermountain West and Great Plains.  Dana and her team are committed to working with legislators to break down the stigma surrounding mental health, enable people access to behavioural health care and develop cutting-edge strategies for providing high-quality psychiatric care.
She intends to keep expanding Frontier Psychiatry in terms of the number of services it offers and the locations in which it operates. As the COO/CHRO she is on a mission to redefine telepsychiatry and assist places with limited access to mental health services. Simultaneously, as a mentor, she hopes to continue helping high school and college students prepare for their first job or career. The same goes for emerging or seasoned professionals seeking to establish a professional identity.  "People who desire to work and better themselves and society are inspiring," she rightly sums up.
Message to aspiring leaders
For Dana, there is more than one kind of leadership. A person does not have to be in a designated leader role, to be viewed as a leader and inspire others. Dana believes that leadership is within all of us, and that leadership qualities and traits can be learned. She suggests actively seeking development opportunities. Don't wait for them to be assigned to you.  Meanwhile, adopting a growth mindset and being open to alteration are equally consequential. Never settle for mediocrity in your profession or day-to-day responsibilities. In Dana's words:
"Act as if – if you act like a leader, others will view you as one. Keep your word by maintaining a high "say-do" ratio which will build trust and credibility as a leader. Learn to listen and seek to understand.  Truly become an active listener and confirm that you 'heard' correctly. It is harder than we realize! Be comfortable dealing with ambiguity but if in doubt, feel confident to ask for clarification; and above all else, regardless of your title, remain humble and approachable."