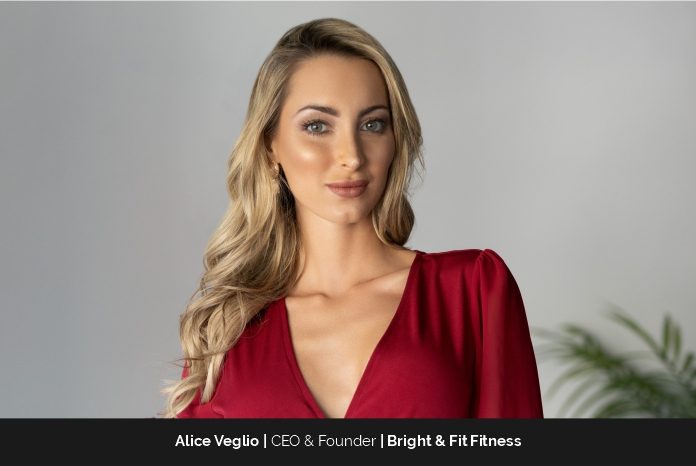 Born on July 6th, 1995 in Italy, Alice Veglio has been battling a significant health problem since she was 13 years old: a diagnosis of a hazardous spinal rotation that would have required her to give up physical activity for the rest of her life. Since then, Alice's life objective has been to study at the top institutions and find effective techniques to reclaim her independence and ability to move, as well as to permanently erase the dread of immobility from her life. Alice has many certifications in the world of wellness and health, in addition to an Economics and Marketing University degree: diploma in holistic sciences for health, a specialization in nutrition sciences at Stanford University, a personal trainer diploma, a yoga teacher diploma, and a specialization in bioenergetics manual techniques. At the conclusion of her studies, Alice was able to get the necessary information to see her body as healthy, changed, and finally able to move without risking her spine.
As a result of this extraordinary accomplishment, Alice felt compelled to share the strategy that allowed her to regain perfect shape, regain confidence and self-esteem, and push beyond the limitations she believed she had set for herself with as many people as possible.
Alice formally launched her first start-up focused on holistic fitness and female empowerment in the United Arab Emirates in January 2019, Bright & Fit, which already has over 35,000 women registered and has generated over $1 million in revenue in its first two years.
Bright & Fit is a company founded by a woman for women, with the goal of allowing even those with limited time, who are unable to train in a gym, or who do not have access to fitness equipment, to train effectively for 15–30 minutes per day without the use of any equipment and simply by using their smartphone.
Today, Bright & Fit has a team of over 15 people dedicated solely to the project, and the incredible results achieved by the program's users have prompted numerous magazines and television networks to cover Alice, including Forbes Italia, Forbes India, RAI 3, La print, Thrive Global, Yahoo Finance, California Herald, and London Daily Post.
Prior to Embarking as an Entrepreneur
Alice's dual degree in two important fields (economics and health) piqued the interest of a number of government offices, including Dubai Carbon and the Dubai government office dedicated to green economy, where she worked as a project assistant, then as a sustainability journalist, and finally at the United Nations' WGEO office. Alice began her career as a Junior Project Manager at the United Nations WGEO Dubai office when she was just 23 years old.
Despite the high levels of satisfaction she received from these significant organizations, Alice became increasingly aware of the need to be able to contribute to the world on her own terms, rather than abandoning the approach that had improved her health and physique in earlier years. It is therefore for this reason that she founded Bright & Fit.
Combination of Holistic Program and Innovation
Bright & Fit is undertaking a daily transition in order to provide the highest quality, efficiency, and technological standards possible. Only three years ago, the company had three employees, ten active users, and one website; today, it has more than 15 employees, 35,000 active users, a native app, and a 200 percent annual increase in turnover.The corporation saw the need to boost production, both in terms of the number of people engaged to the project and in terms of technology, especially during the COVID-19 epidemic. Alice shares, "We invest every day to offer the best quality content, the highest levels of technology in our app, and the maximum level of support for each person that uses our service to have the most beautiful transformation and growth experience of their life."
Bright & Fit is the first medically certified online holistic fitness program in Italy. Bright & Fit's contemporary and sophisticated native app is now accessible in the Apple and Google stores, allowing women all over the world to have everything they need to keep fit and happy with just one click. Bright & Fit is more than a workout program; it's a personal transformation tool that strives to help women rethink their boundaries and reclaim self-esteem and a better quality of life via home training, thinking exercises, and dietary counseling.
A Vision to Bring Transformation to Lives
Bright & Fit Fitness Program has its roots in the history and life experience of its creator and founder, Alice Veglio. She asserts, "My greatest ambition in my everyday life is to be able to make a concrete difference and make my effective contribution to the lives of women regardless of their physical, geographical, and social condition." Her primary goal is to help individuals live better lives, evaluate their potential, and realize that everything is possible in life. Every innovation and endeavor in the organization is guided by this goal. That is why, in June 2021, Alice's team launched a major charity project called "Bright & Fit Cares," through which they provide practical assistance to women who are physically or socially challenged. "Our first initiative was to support ANDOS, one of the most important breast cancer prevention and treatment organizations in Italy," says Alice.
In November 2021, Alice was also recognized as a successful case study for the world of female empowerment on the stage of WomenXImpact, one of the most significant events in entrepreneurship and female empowerment on an international basis.
An Ultimate Fitness Enthusiast
Alice does not go a single day without studying and training. She always sets aside at least two hours of her busy daily schedule for research and experimenting. She invests in learning the greatest skills from the top specialists in the medical field. She continues to study in the best institutions, and she tests every aspect of the program personally, as seen by her participation in the Ironman 70.3 using the Bright & Fit technique.
Every day, according to Alice, a variety of metrics are utilized to assess the company's progress. The Bright & Fit staff works to calculate the number of pleased users every day, even before the turnover and the number of registered users. Having a 98% customer satisfaction rate makes the company extremely proud and happy. The number of registered users has been on the rise since the first day of activity. As Alice states, "Our social communities have more and more registered members, and in December 2021 we reached more than 35,000 registered users."
Perfect Time Management is the Key to a Successful Life
"Knowing how to manage time is a fundamental skill for having a happy and successful life," says Alice. She felt the need to learn how to manage her time well since her undergraduate years, when she worked and attended two institutions at the same time. She explains that time management is not only connected with being a good trainer for her, but also with being an entrepreneur, an athlete, a student, a wife, a coach, and a point of reference for others who follow her at the same time.
Alice asserts, "I think the most significant example of my time management skills is what I am doing now. In order to complete the preparation for Ironman 70.3, I need at least 15 hours of training per week. Together with all this, I have to dedicate at least 9 hours of work a day to my company, and in the remaining hours, I want to give the best of myself to relatives and friends. It may seem difficult to do all this, but in my opinion, the secret is to be organized and make sure you get a good quality of sleep: it does not matter how many hours we sleep but how well we sleep."
Alice has been practicing meditation since the age of 16 in order to have a restful night's sleep. She also believes in the importance of a good morning routine. She always devotes the first two hours after waking up to the most critical chores and completes all of the things that she would not be able to complete during the day.
Success for Alice
For Alice, success is being able to make a difference in the world, being able to contribute in some tiny way to improving people's quality of life. She emphasizes that success, in her case, is fighting every day to demonstrate, even via her own life narrative and experience, that there are no boundaries and that every woman has the endless capacity to achieve everything in life. She considers success to be assisting as many women as possible in believing in themselves and acquiring the tools necessary to live life completely and happily.
Alice advocates for female empowerment by implementing the latest technology and tools into the conventional fitness industry and using them to assist women all over the world in becoming the best versions of themselves. She adds, "Success for me is doing all of this in conjunction with a life where I struggle every day to be a better person and an example for others."
Future Endeavors
Alice envisions herself at the pinnacle of her profession as an athlete, coach, and businesswoman in the coming years. Despite the challenges she had in life, she was able to recuperate and emerge stronger than before.
In this New Year, Bright & Fit is working on a number of exciting initiatives, including the release of the first film/documentary on Alice's life and the first live event, which will bring together thousands of women from all over Italy and the world. She opines, "We work every day to ensure that Bright & Fit increasingly becomes a company capable of representing innovation and quality and making a difference in the world of online fitness."
A Note of Inspiration for All Women
Alice believes that the only limit for a woman as a leader is the limits imposed by the environment around her. "A woman can be a caring mother, a loving wife, a successful entrepreneur, and a performing athlete all at the same time!" she says to all women. Stereotypes are the real obstacles to the success of many women. It is for this reason that my company and my daily mission is to demonstrate that we must not give up on our dreams and that every woman can be anything she wants to be in this life."