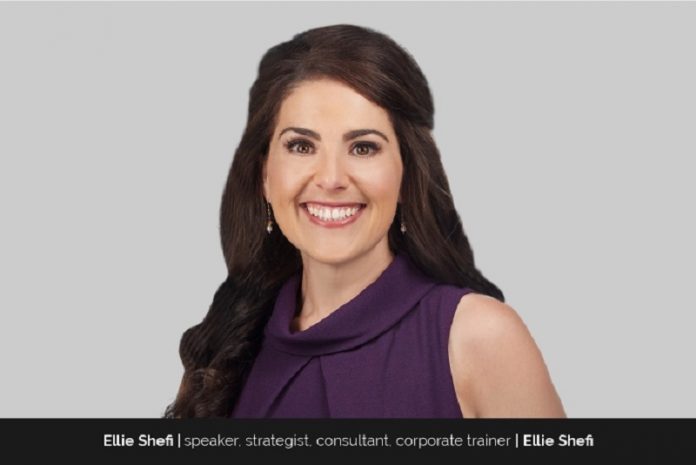 CIO Views had the privilege of interviewing Ellie Shefi, a speaker, strategist, consultant, corporate trainer, and trusted advisor to governments, universities, NGOs, corporations, and entrepreneurs, who helps organizations optimize their culture and individuals expand their influence. Ellie shares inspiring insights with us in this exclusive feature capturing her phenomenal journey as a businesswoman.
Every leader has a unique definition of success. What is your definition?
I firmly believe that the adage "doing well by doing good" is the ultimate measure of success. Each of us has the option and the opportunity to be a force for good. And through all of my businesses and all of my professional roles—consultant, strategist, advisor, educator, advocate, attorney, and entrepreneur—being a force for good and helping others do the same is my greatest achievement. Everyone has a message to share with the world. And I'm proud to use my voice to empower others to share their story—to shine their light in the world. Then they too become a force for good and impact not only in their lives, but the lives of their companies, their families, and their communities. It's a ripple effect.
Challenges make you stronger. What is your take on this? What were the roadblocks that taught you valuable lessons in your professional journey?
Indeed, challenges make you stronger … especially if you approach them as opportunities just waiting to be revealed! I've found that rather than focusing on an obstacle, it's much more empowering to focus on finding the solution. Ask yourself, "How can I get around this to achieve my goals?" I believe that bigger opportunities lie on the other side of big obstacles. With this perspective, you'll smash through whatever is in the way.
I've had many, many roadblocks—personally, professionally, and financially—from domestic violence to a cancer diagnosis. Let me tell you a story about one of my earliest challenges and how I overcame it. Almost 30 years ago, I launched my management training company—my first full-scale business. My plan was to find potential salespeople, managers, and receptionists for other businesses, train them in the skills required, send them to the businesses who were hiring, and collect referral fees. But at that time, I had no job, no money, and was even living out of my car! I had a major obstacle: where and how would I do the training?
You see, even though I had a plan, I ran into roadblocks. But I allowed the obstacle to inspire me to come up with creative ways to get past that barrier. And I kept moving forward. I started looking for an inexpensive space and found a building that offered a very small (120 square feet), very cheap office with a desk, a chair, and a telephone. It had a low security deposit and two months' free rent; it included electricity, heat, air conditioning, and its own phone line.
Two months was enough time for me to start generating revenue, so I signed the lease for the location that would become my management training center. Bonus: I even moved out of my car and slept on a mat under the desk! Within a few months, I generated enough money to move from my tiny one-room office into a bigger one. Soon, my management training company became a healthy, growing business.
Tell us more about your early career.
Through my management training company, I helped to launch the careers of hundreds of individuals, which felt wonderful. But for me, it was a successful venture that served a personal purpose: funding my college and law school education. Becoming an attorney so that I could advocate for human rights, civil rights, and constitutional rights was (and still is!) my passion.
After law school, I spent two decades as a staff attorney for a federal judge writing opinions on civil rights cases, constitutional rights cases, discrimination in employment cases, and prisoner conditions of confinement actions—causes that I have long been passionate about. I also advised universities regarding their disability services, and nonprofits regarding their operations and their advocacy. I then was appointed both Dean of the School of Law and Dean of the School of Criminology and Criminal Justice at California Southern University.
Leading a company to success is not an easy road to take. What inspired you to take that journey? What led you into advising governments, NGOs, businesses, and individuals?
As you've read, for many years, I was happy being a force for good "behind the scenes" as a staff attorney in the judiciary and an advisor for academia. But a 2019 cancer diagnosis spurred an even stronger desire to be a visible force for good.
I decided to come out from behind the scenes. I said to myself, "No more playing small. I am going to step out from the shadows, use my voice, and step into the full embodiment of who I am meant to be."
But how? I began writing books, speaking on stages, and being more of a media presence. I stepped up my individual advising and consulting. Wanting to further integrate my legal and advocacy roles, I began globally advising governments and NGOs on criminal justice reform, civil rights, and human rights issues.
And once I became a trusted advisor to NGOs and governments, I brought my education, entrepreneurship, advocacy, and legal expertise to HR departments and C-suite executives. My experience in education and entrepreneurship prior to and contemporaneously with my legal and advocacy career all aligned, and I realized that I am uniquely qualified to help businesses and individuals navigate and best position themselves in a new business era.
"Business is changing, but with that is a tremendous opportunity to build better company cultures and more diverse and inclusive environments"
I recognize that there's now a chance—and a responsibility—for business to do better, and I use my voice and my expertise to make sure leaders have the best training and tools to get it right.
Tell us more about what you do day to day as a trusted consultant, strategist, and advisor.
Through my consulting company, MTC Consulting, I offer corporate HR departments and C-suite executives, as well as governments and NGOs, my expertise to holistically modernize company culture, mitigate risk, optimize operations, and strengthen their bottom line by truly developing their people. I offer assessments, audits, and strategic plans, plus full implementation that includes workshops and training for HR and executives, as well as ongoing quarterly assessments and refinements. My goal is to optimize HR departments in order to build an inclusive, aligned, and efficient company.
My full-service, independent publishing house, Made to Change the World™ Publishing, is the vehicle through which I help individuals use their voice, share their message with the world, and build their brand. My team and I help guide entrepreneurs, leaders, and experts to publish best-selling books, which in turn, prompts their invitations to keynote speaking engagements, TV appearances, and podcast interviews. The best-selling books that we consistently produce are fundamental to successfully building their brand so they can scale their income and impact.
Additionally, I write books and contribute chapters in the books of other renowned experts like Les Brown and Jack Canfield. And I develop, deliver, and lead international courses, training, workshops, retreats, and masterminds for entrepreneurs, authors, and speakers.
I've been very fortunate to have all that work recognized by receiving awards like the Quilly Award and the Impact Award and being invited into many distinguished professional associations like the Forbes Coaches Council, the Forbes Business Council, the Association of Transformational Leaders, the National Academy of Best-Selling Authors, Forming Impact, and Lawyers of Distinction, to name a few.
How do you differ from other consultants?  
I am the complete contrast from the usual (and old-style) consultant types who look at the bottom line and maybe pay lip service to "employee contentedness." While many of my competitors have been schooled in "best business practices," I've lived them. I'm not a white horse who'll come in and dictate how employees should feel from the top down. I believe in cultivating employees from the bottom up. You have to know—to deeply understand—the psychology, emotions, fears, and life challenges of your workforce. And I do. I've been there, and I've worked in all kinds of roles—from mall shop employee to fast-food cashier to restaurant server to receptionist to salesperson to manager to owner. And I am genuinely concerned for the lives of the people in a company and know how to teach HR and C-suite executives alike. I help those in charge create a culture where diverse employee experiences and ideas are welcomed. When I'm finished, all oars are rowing in the same direction.
"The workforce knows and feels that the bottom line is a byproduct of their personal development. Employees feel seen and celebrated for being a whole complete person even outside of the scope of their employment."
It's a holistic approach that only a person with significant advocacy, business, education, and legal backgrounds can offer. It's the intersection of humanity and high performance.
How do you wish to influence the rising generation as a woman in leadership? 
I wish to acknowledge and celebrate them! The rising generations are extremely different from their predecessors. Whether the COVID-19 pandemic spurred it, or simply accelerated it, a major shift occurred. The upcoming workforce has a different mindset; fundamentally, they demand from their employers to be seen and heard; to have an ascension path; and, most of all, to do work that aligns with their visions and values, like philanthropy, diversity, inclusivity, sustainability, social responsibility, whole life wellness, and genuine employee happiness. Businesses seem somewhat aware of these demands, but few are yet adept or facile in building (or rebuilding as necessary) their company cultures to truly embody these values.
But I get it! As a woman, these values are not new to me—they are what I've been fighting for through my years of advocacy. And that makes me a master at creating company cultures where employees are not merely grateful for a job, but where they feel like their company and team is the place where they're seen and heard and valued, especially if they don't get such recognition elsewhere in their lives.
You've done so much and have been recognized globally. What have been some of the pinnacle moments you've experienced as a woman in leadership?
Being sworn into the United States Supreme Court Bar by my childhood hero, Ruth Bader Ginsburg, was definitely a "pinch me" moment! Becoming a trusted advisor to governments, universities, NGOs, and nonprofits has also become a pinnacle achievement for me and is a responsibility I don't take lightly. I am honored to be a leader stewarding change in constitutional rights, civil rights, human rights, and prison reform issues.
Being named one of the "10 Most Inspiring Businesswomen of the Year 2022" and the "Discrimination and Human Rights Lawyer of the Year 2022" from the Women in Law Awards have really been capstones in my career to this point! As have being inducted into the National Academy of Best-Selling Authors and receiving the Quilly Award and the Impact Award for my literary works. These awards show that I've effectively used my voice for causes that I champion—doing good, ethical business, and successfully advocating for positive changes across all industries for human and civil rights. Receiving these awards reminds me of the importance of stepping up and speaking up and it spurs me on to continue to do so!
On a more personal note, beyond all the accolades and achievements, the true pinnacle for me as a woman in leadership is getting to facilitate and witness the moment when the women I coach, mentor, and advise become clear on their vision, their mission, and their purpose. It's a magical moment, the moment they claim and embody clarity, certainty, and confidence.
"I never tire of watching women step into their power and use their business, their voice, and their life as a force for good."
How do you keep your team and yourself motivated to deliver the best services?
I practice what I preach! I treat my business culture as a living, breathing entity. I know my team—and their various priorities beyond the work that they do for me. I respect and champion their lives outside of the workplace. Consequently, when it's time to deliver, they're 100 percent engaged and work efficiently and smartly. We trust each other to complete top-notch products in a timely manner without micromanagement. It also empowers us to ask each other for and offer each other advice and insight even if it's outside of our usual forte since we're all working toward the same goal. Because we all have a sound work-life balance, we stay motivated to deliver the best services—be it consulting, advising, strategizing, branding, marketing, or publishing.
What are your future consulting plans?
I intend to focus on teams, organizational cultures, and executives. I hope to continue to work with companies that want to bring in modern and progressive company cultures— those that believe in people over profit, and those that are willing to innovate, optimize, become efficient, and align with their mission, vision, and values. With my insights, these companies can cultivate symbiotic and long-lasting relationships with the next generation of the workforce.
"Companies that genuinely put people first actually see the best bottom line. It makes sense, right? If your people are more engaged, invested, and present, they'll be excited to share ideas, which creates innovation and leads to optimization."
Plus, they'll stay longer, thus reducing the burden on recruiting and repeat training, which enables a company to be more efficient. All in all, a happier workforce results in greater profits.
Any parting words you'd like to share with aspiring women in leadership?
To aspiring women in leadership: I especially want to work with you! I want to help cultivate women-owned and women-led businesses because you want to build a bigger vision that will have greater impact and you understand the need to walk the walk. You embody the principles—like authenticity, transparency, inclusivity, social responsibility, and balance—that attract the top talent who also embody those principles. You are willing to stand shoulder to shoulder with other women in leadership and use your voice to advocate for yourself and others. So, let's do it! Together, we can make a bigger impact on companies and create well-rounded organizations that best serve our wider communities.