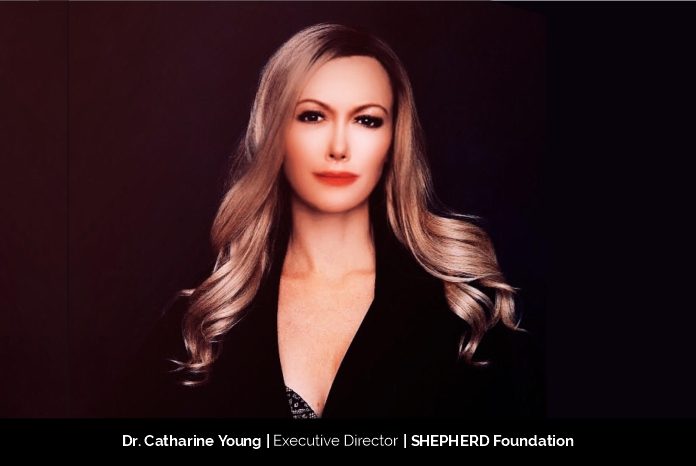 Dr. Catharine Young was born in South Africa during the height of "apartheid" and witnessed its abolishment with the election of Nelson Mandela – a historic moment that deeply impacted her outlook on life and ultimately shaped the type of work she would undertake in the future. Compelled to build a career that, at its core creates a positive impact on inequitable systems, Catharine currently serves as the Executive Director of the SHEPHERD Foundation, a non-profit organization whose mission is to transform the rare cancer system.
Catharine began her career as a trained scientist because she felt that conducting biomedical research had the potential to contribute something impactful, both to the world and the people who reside in it. However, soon after completing her post-doctoral studies, she realized that she wanted to be able to apply the skills learned through her scientific training to global solutions, outside of the four walls of a lab, and so entered into the field of science policy. First as an American Association for the Advancement of Science (AAAS) fellow placed at the Department of Defense Chemical Biological and Nuclear Warfare division where she was a part of the DoD's response to the Ebola outbreak. Followed by serving as the Senior Science and Innovation Advisor for the British Embassy and then as the Senior Director of Science Policy at the Biden Cancer Initiative. Ultimately, Catharine found a home at the SHEPHERD Foundation, which serves to challenge the barriers in the healthcare system and accelerate treatments forward for all patients – a position that has been the culmination of both her career aspirations and personal life lessons so far.
The Meaning of Success
Catharine considers success to be more than attaining a specific objective, although discrete goals serve as benchmarks for her work. To her, success is determined by how challenges and barriers have been approached and the lessons learned in the process. "It is about whether or not I did everything in my power to provide what I needed for my team, was flexible and open-minded enough when challenges were faced to pivot quickly, course corrected as needed, and learned from the failures that were experienced." She continues, "Ultimately, what I have learned is that success can be expressed in many different forms, not just in the pinnacle of achieving of something tangible, and most often, the best lessons learned come from failures, not successes."
Leadership Lessons
Catharine considers herself incredibly fortunate to have had such a varied and rewarding career thus far. Although she never set out with the intention to head an organization; her diverse career experiences ultimately prepared her for this role. She explains that each professional opportunity provided a wealth of essential lessons and skillsets, including those centered around leadership, and that as a result, she has been able to seize new opportunities as they have arisen. She adds, "Oftentimes I feel like we allow fear to hold us back. We second guess whether or not we are ready for a new challenge or a new career move. But if we are able to quell those fears enough to accept a new path, while understanding that there will be a steep learning curve, that mistakes will be made, and lessons will be learned, then we can allow ourselves the space to grow into leaders and fulfill our potential."
Obstacles as an Inevitable Part of One's Journey
Through her career journey, Catharine has learned that obstacles are an unavoidable part of every path, whether personal or professional. She says, "It's how we view them and respond to them that really makes the difference. Do we view them as an opportunity to learn and grow, or do we see them as something to hold us back? Challenges are often experiences that expose the weak points of a strategy or raise questions that have never been considered before. They are an integral part of driving a sustainable solution forward or growing as a person."
SHEPHERD Foundation
The SHEPHERD Foundation is dedicated to working towards creating an equitable healthcare system, one that serves all patients equally. This is especially important when one considers that 380 of the 400 known forms of cancer are considered rare, and yet these patients are often left without the treatments, resources, and the support they deserve.
The SHEPHERD Foundation is working to build a global grassroots effort that is united and organized, and to ensure that all patients are equipped with the resources, tools, and funds necessary. Catharine emphasizes, "We are also working to provide all patients with equal access to accurate information, support and treatment options that are tailored to their unique disease and experience." The foundation aims to unite those that suffer from rare cancers as one chorus of voices demanding a better system that works for all cancer patients and their families, so that all patients may live.
Everyday Brings Something New
 "What I love about my job is that no one day is ever the same," says Catharine. She enjoys being part of a lean but motivated and driven team. She finds herself involved in the decision making of almost every aspect of the organization, from branding, operations, strategy, writing, and fundraising, and it is always exhilarating. She thinks one of the most important aspects of her job is relationship building, both with the major stakeholders within the oncology space and also within the patient community. Ultimately, advocacy work and the ability to push for change relies on the ability to build coalitions and form allies from all sectors, including philanthropy, government, industry, and academia, because one cannot operate without the other.
The Significance of Achieving Work-Life Balance
Maintaining a work-life balance in the advocacy field, where one's job is driven by a great sense of urgency for patients – is challenging. However, with time and growth, Catharine has realized how important it is to establish boundaries between her personal and professional life. As a leader, it's critical to lead by example and create a culture that values rest and rejuvenation. She asserts, "You cannot build great things if you are running on fumes. Your team will ultimately take cues from you and so it is of the upmost importance that you set the standard of self-care and mental and physical wellbeing yourself and that means setting boundaries between your two worlds and sticking to them, regardless of how hard that may be"
A view on the Challenges Women Leaders Face
According to Catharine, although we are in the year 2021, women still face many challenges as leaders, ranging from overcoming misconceptions and biases to being devalued as a team member. However, she notes that, "I have found that building a strong network of supporters for yourself and your work is critical—those who can serve to not only keep you grounded on your path as you move forward, but also serve as a source of strength when challenges arise." 
A Vision to Accelerate Precision Medicine in the Field of Oncology
The SHEPHERD Foundation recently announced the introduction of a landmark bipartisan federal bill that mandates insurance coverage of molecular diagnostics for all cancer patients at the time of diagnosis. These tests compare a patients cancer DNA to their healthy DNA, uncovering their unique genetic drivers and mutations. 'What is the significance of this?' Catharine explains that receiving molecular diagnostics at the time of diagnosis can lead to a more accurate diagnosis and to improved treatment options, especially for cancers that lack specific treatment guidelines. Not only that, but the data obtained from these tests will aide researchers in understanding the underlying biology of all cancers, which could eventually lead to the creation of new and novel treatments. She says, "Most importantly, it will equalize access to the highest standards of care for patients treated in hospitals that are unable to pay for diagnostics out of pocket."
The foundation is also set to launch the SHEPHERD Justice Lab, an initiative that seeks to extend the foundation's mission to serve the most neglected among the neglected—the incarcerated, refugees, immigrants, and underrepresented minorities. To do so, it has created a fellowship programme to gain insights from those who have experienced these unjust systems first-hand, while, at the same time, offering fellows the opportunity to expand their own breadth of knowledge and networks by working on research, advocacy, policy, and storytelling so that when they leave the programme they become even greater advocates for themselves and others. Catharine says, "Our goal is to learn from those who understand the system, the inequities that are faced, and are equipped with the ideas on how best to make effective, long-lasting, systemic changes to these broken systems so that all patients may live."