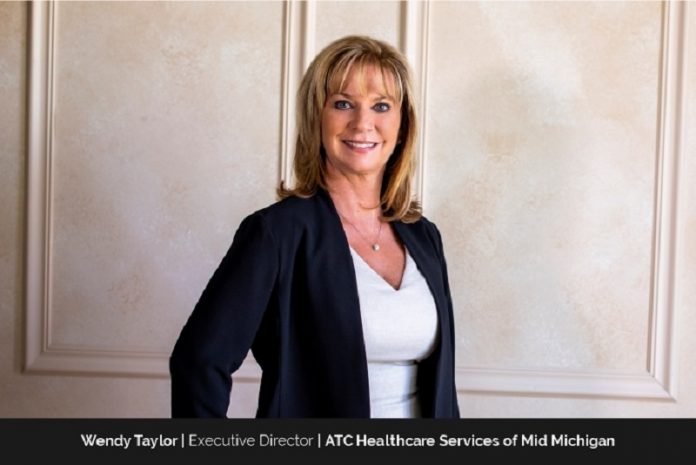 "Motivated" is how Wendy Taylor defines herself in a word. As Independent Owner and Executive Director of ATC Healthcare Services, MidMichigan Branch and Western Michigan Branch, she is motivated to provide the best healthcare staffing company in Michigan that healthcare professionals wish to work for and has the most satisfied clients.
Wendy owns and operates two offices of ATC Healthcare in Michigan. She is responsible for all financial, operational, and strategic development of her company branches in Michigan. Her management team is responsible for hiring all their healthcare professionals and placing them in appropriate positions with their clients.
It is the compassion and dedication reflected in individuals in the healthcare field that inspired Wendy to mold ATC Healthcare into a staffing company that treats employees and clients alike – more than just a number.
"It was important for me to set ATC Healthcare Services apart from other healthcare staffing companies by building strong relationships, creating our employment brand, and functioning as a strategic partner with both our healthcare professionals and our clients," says Wendy.
Making a Difference in People's Lives
Wendy has always had a passion for making a difference in people's lives. In the earlier part of her career, she focused on improving company culture, employee benefits, and employee relations as a Human Resource Director. After 20 years of leading culture change and cultivating leaders at all career levels, she started looking for new and challenging ways to incorporate the skills she had gained over the course of her career. Wendy wanted to apply that knowledge to a people industry that focused on meeting the needs of others.
"In 2013, taking the leap and starting an independently owned healthcare staffing company felt like a very natural step, but honestly a bit frightening as well." Wendy recalls, adding that there is a significant risk involved in leaping from a role as an executive employee of an organization to entrepreneurship.
The risks, however, could not dissuade her from taking a plunge into entrepreneurship. Wendy was compelled to start a business where she could make a difference in both the lives of healthcare professionals and the clients they served.
Wendy started from a small two-person office, with ten medical professionals, in 2013. Now, in 2022, she leads a twelve-person office, with 150 medical professionals.
ATC Healthcare: Filling Staffing Gaps
ATC Healthcare exists to assist in filling staffing gaps through long-lasting relationships with its clients. Not only does ATC provide "on-demand" staffing coverage for surrounding hospital systems and health care facilities, but it also provides short- and long-term contract staffing and permanent placement services. And its core values are a commitment to excellence, gratitude, appreciation, honesty, integrity, and accountability.
ATC benefits its clients by providing high-quality medical personnel who are fully licensed and credentialed and offering management, HR, and payroll tasks that go along with the employment of medical professionals. "We have a per diem arm of the business that assists many of our clients throughout Central and Western Michigan," Wendy adds. "This department focuses on filling last-minute staffing needs."
At Wendy's ATC offices, per diem staffing equates to approximately 25 percent of its business. The remaining 75 percent of its business falls under its contracts arm, which is made up of short- and long-term contractual work throughout the State of Michigan.
The company's short- and long-term contract clients include the Michigan Department of Corrections, Michigan Health and Human Services, Veterans Administration, Rapid Response, Michigan Department of Transportation, state and county juvenile detention centers, and hospital systems.
Life before ATC Healthcare 
"In some ways, I feel I have come full circle with a lot of growth along the way," says Wendy. From an early age, she always had an interest in human resources. And this interest of hers has never wavered.
Wendy's career originally started with owning and managing a small convenience store, but the desire to earn a degree and have a career in human resources led her to pursue human resource-related jobs. She started as a Benefits Specialist in a small independent hospital in Alma, Michigan. "This is where I first acknowledged the staffing need in healthcare environments, but knowing I needed a degree to jumpstart my career, I accepted an HR position at Central Michigan University (CMU)," says Wendy. "It was here that I was able to complete both my undergraduate and master's degree."
During Wendy's tenure at CMU, she held several positions within a large 48-person Human Resources Department and ended her career at CMU as Assistant Director of Benefits. From there, she moved on as Human Resource Director for the City of Bay City, where she was responsible for overseeing a broad spectrum of human resource needs such as policy management, health & wellness plans, retirement plans, employee relations, and contract negotiation.
"After five years working in city government, I felt I had achieved my goals as Director of Human Resources and started looking for my next career challenge," says Wendy. She is known for continuously stretching for the next opportunity or goal.
In late 2012, she received a call from the ATC Healthcare Services franchise owners who thought she would be a good fit for running an independently owned franchise in Michigan. Wendy says, "As I looked back on my 20-year career in small business and human resources, I decided to take the plunge and try entrepreneurship because I felt I had gained valuable experience that would ensure success!"
Failures Teach How to Succeed
Wendy believes that failure only teaches one how to succeed. So, according to her, "if at first you do not succeed, try again!"
When she left her role as Human Resources Director at the City of Bay City, her friends and colleagues cautioned her that she was making the wrong decision. "I was walking away from a successful career, where I was highly respected at senior levels in my existing and surrounding communities," Wendy recalls.
Those who climb up a career ladder to a senior level have opportunities to make great connections in those circles. So, when Wendy first opened ATC Healthcare's doors, she was "naive in thinking" that she would utilize those connections to break into the healthcare staffing world.
"To my surprise, what I learned very quickly was that I needed to cultivate relationships at various levels within those organizations," Wendy says. "With individuals who were responsible for implementing healthcare staffing solutions." This lesson taught her the value of the relationship.
She points out that while she might have had great relationships with her peers, just because she knew the CEO of a hospital or the HR Director of a hospital, it did not mean the professional handling the organizational staffing solutions would automatically agree to implement ATC Healthcare's staffing services. This realization made her learn to adapt and spend time building her brand and relationship with those individuals.
"Relationships take time, one does not create a company reputation overnight," Wendy says. "It took years of consistency to build ATC's reputation and brand which led to being recognized as a premier health care staffing provider in Michigan."
Challenges are plenty when someone is starting a business. There can be days when they also question their decision to branch off on their own. Wendy, too, encountered such moments, but her determination to succeed overshadowed any twinge of regret. She continued to push forward even in the most challenging times, which has resulted in enormous success as an entrepreneur.
Reputation Tied to Company's Success
Wendy believes her success as a leader is reflected through the dedication, loyalty, and passion of those she employs! She has been very selective in choosing her management team, ensuring they have similar values and can articulately communicate the company's culture and brand.
As a healthcare staffing provider, ATC's challenges are similar to that of other healthcare providers, such as hospitals, long-term care, assisted living, and state-run programs through Health and Human Services, juvenile detention, and prisons. Wendy says that every day they compete for the same medical professionals during nationwide nursing shortages, the COVID-19 pandemic, vaccination mandates, and other illnesses such as influenza, and monkeypox. "We are in a 'People Industry,' and therefore, it is important for me to create a unique employer brand that my team can utilize when recruiting and competing for high-quality medical professionals," she adds.
Under Wendy's inspirational leadership, ATC has been able to employ different strategies by determining what its competitors have been doing wrong. This has set it apart from its competitors. And, the company's management team has spent countless hours strategizing ATC Healthcare's core focus to properly secure the relationship, assess the need, match the health care professional, fill the need, and sustain the partnership.
"The strategies we have implemented have allowed us to exceed employee and client expectations, and I believe our niche is our reputation! Our reputation is directly tied to our success as one of the best medical staffing companies in Michigan," Wendy says. "Happy employees and clients are a direct result of our success as a company."
List of Achievements
Wendy is proud of many moments in her life; a few of them stand out as life-changing, starting with graduating with a bachelor's degree in 2004 and a master's degree in 2009. She considers them achievements because she obtained the two degrees while raising her four children and working full-time.
"I distinctly remember arranging my class schedule around my son's football schedule so I would never miss his games," Wendy says. "Earning my degrees was also an opportunity to lead by example and show my children that anything is possible if you are disciplined and work hard."
Taking the leap to entrepreneurship is another proud moment for Wendy. It was a "huge stretch goal" for her because of two reasons. While she was following her dream of owning her own business, her family was following that dream right along with her. "They were subject to many of the same difficulties of entrepreneurship as I was, and it was because of my family that I was so determined to succeed," Wendy points out.
And, as a leader, to date, her proudest moment was when the company was awarded a multi-million-dollar contract with the State of Michigan in October of 2020. This state-wide contract allowed ATC Healthcare to rise to the challenge and show what Wendy and her team were made of. "It was my goal to show the state that ATC Healthcare was not just another staffing company, but we existed to exceed our client's expectations," Wendy says.
She and her team have spent countless hours collaborating with the state to produce solutions to the current nursing crisis and brainstorm ways in which they can help them achieve their goal of filling nursing needs state-wide. "We can measure this success by being awarded two additional state-wide contracts in 2022," Wendy adds.
Responsibilities of a CEO
Wendy makes a point of spending at least 50 percent of regular business hours collaborating, leading, and coaching the management team between their two offices. As a leader, she believes that it is important to empower their team to have the knowledge, confidence, and accountability to tackle a wide array of employee and client services.
"When you are in the people business, every day presents new and unique challenges, and my goal is to ensure that the ATC team has the knowledge and tools needed to tackle those challenges in a way that is best for all involved," Wendy says.
Like other business owners, Wendy, too, spends a fair portion of her day on business operations, financials, and formulating strategic plans for the next steps that will ensure business growth and prosperity. "Over time I have learned to never get too comfortable in the status quo and understand the importance of flexibility and change," she says. "If you are not willing to pivot and switch directions, you may find that your original business has dried up."
Wendy also points out that having the ability to be one step ahead of change can honestly make or break a business. She believes in pulling everyone together to brainstorm ways to overcome hurdles. For example, in late 2021, Federal mandates were presented requiring healthcare professionals to be COVID-19 vaccinated for employment eligibility in healthcare facilities. Wendy explains that this mandate had the potential to negatively impact the service they provide; therefore, they needed to put their heads together and identify solutions that would help them as a company withstand the business impacts of the mandate. "We pivoted and began heavily advertising for many of our state prison positions which did not fall under that mandate," she adds.
There were many healthcare professionals uncomfortable with the new vaccinations. But Wendy quickly changed their recruitment strategy, and because of that, they were able to employ several premier healthcare professionals at state prisons and keep their staff working.
Wendy holds weekly meetings to keep track of their strategy and goals, and they utilize "War Boards" so that everyone can visually see where they are at and just where their actions are leading them. Not only does this help keep teams motivated with their eye on the goal, but it also ensures that anyone can pick up where the other leaves off. "This is especially important in small business environments where you have so few office staff to pick up the slack," says Wendy.
Wendy and her team also take time to celebrate their victories, sales achievements, contract awards, employee birthdays, and holidays.
Loves the Work She Does
For Wendy, the work that she does rarely feels like work. She loves what she does. "When you love what you do, it can be difficult to balance professional life with personal life," she says.
When Wendy started ATC Healthcare, she was a single parent, with three of her four children still at home. Running a business of her own allowed her to step away at any time to take care of personal items, from appointments to sporting events. Wendy has never missed an event.
"I feel very blessed to be an entrepreneur because as an employee I was not always afforded the opportunity to participate in every activity my children were part of," she says. "I often felt I missed out on family activities because as employees, we tend to be trapped in the clutches of company leave policies, workload, and supervisor approvals."
Also, having flexibility between her work and family has made her a more empathetic and engaged leader, as well as a better wife and parent. "I am more present and productive when I am working, and I also recognize the need to ensure my employees have similar flexibility," Wendy says.
What Is Next?
Wendy does not see herself and her team slowing down anytime soon. She is continuously looking for new and challenging contract opportunities where they can show their clients how ATC Healthcare is different from other healthcare staffing companies. In addition to that, they are also offering their medical professionals a wider array of positions and environments to choose from.
Wendy's personal goal is to see ATC Healthcare viewed by employees and clients alike as the premier healthcare staffing company in Michigan. She also wishes to inspire empowerment, accountability, and an understanding that a business's greatest asset is its employees.
Women in Workplace
Wendy believes that women in the workplace incorporate tremendous benefits by adding an outstanding level of compassion and understanding. It is important for women to understand the value they add and feel confident in their approach to business, she says, adding, "while each one of us might blaze a path in our own way, we must be willing to take calculated risks to build a dream."
Owning a business is not for everyone, but if someone is willing to take the risk, the payoff can be tremendous, Wendy points out. It results not only in stable business growth and financial gain but also in an amazing team of people who invest themselves in the success of a business!
"If we take the time to nurture the business growth and invest our time, money, and ideas; the outcome can be everything you aspire to and more," she adds.
Message to Aspiring Healthcare Leaders
In her message to aspiring healthcare leaders, Wendy asks them to treat their employees with the utmost respect and compassion. She points out that the healthcare industry is a challenging one and employees are stressed over the burden of nursing shortages. "How we treat others will also be how your team treats others," Wendy says. "Let's face it, as leaders we set the culture for our companies. Respect and compassion are the least we can do for an industry so stressed."
Wendy also stresses the importance of taking time out to reevaluate the company's vision and core values. "Involve your employees and plan to deliberate at length, this is no easy task! By involving everyone, it ensures complete buy in on the direction you are moving," she tells aspiring healthcare leaders.
"I always find myself referring to the book, 'Traction, Get a Grip on Your Business,' written by Gino Wickman," Wendy adds. "This book is chucked full of tools and ideas to get your team started on tracking your vision for the future."