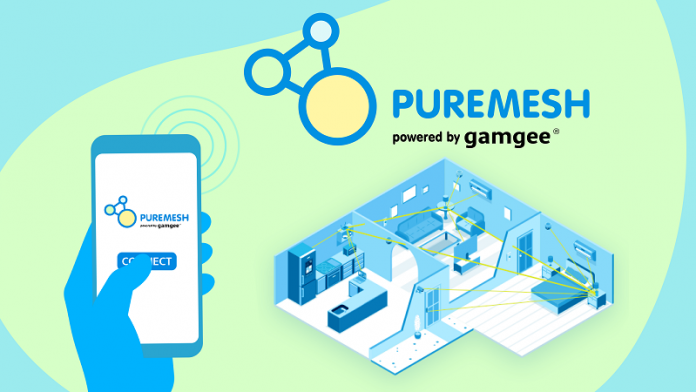 AMSTERDAM – Amsterdam-based smart home company Gamgee announces the launch of its PureMesh Wi-Fi software solution that turns multi-vendor and multi-product consumer networks into a fully integrated and universal smart home ecosystem. With its power to make devices from various vendors, product lines and chipsets communicate and interact with each other, Gamgee causes a seismic shift to the smart home industry that has been recently evolving into a single-vendor lock-in on consumers' networks.
"We at Gamgee believe in smart home networks that are universal, integrated, non-discriminative, protected and a delight to use. We believe in consumers' freedom of choice to pick-and-mix the components of their smart home ecosystem," explains Paul Hendriks, the CEO of Gamgee.
PureMesh by Gamgee can remotely upgrade routers, extenders and modem-router gateways into enterprise-grade mesh nodes immediately and from one place in a mobile app. The solution works across various vendors, product lines and chipsets, and on a variety of access technologies including  FTTH, DOCSIS, 4G and 5G.
Gamgee changes the contemporary "mesh paradigm" whilst offering the ability to upgrade both new and existing/already deployed hardware. As a result, broadband service providers have the opportunity to offer a network upgrade to their customers remotely and hardware vendors have the chance to enhance their large inventories by remotely "meshifying" existing routers, gateways and network extenders. Additionally, with its ability to synchronize interaction between various chipset prototypes and standards, PureMesh is the go-to option for all hardware vendors that wish to avoid endless adaptation of the mesh configuration to new chipset versions.
Gamgee has built PureMesh on top of its existing smart home solution offering consumers at home with a plethora of smart digital services – such as VPN, parental controls and network, user & device management – through one place in a mobile app.
About Gamgee 
Gamgee is an Amsterdam-based team of software developers and smart home specialists that develops and designs pioneering smart home technology for consumer smart homes. With their hardware-independent smart home and Wi-Fi management solution, Gamgee boosts the digital experience of users at home offering plenty of dependable smart services such as parental controls, cybersecurity and management of the network, users, and devices. Gamgee works with broadband service providers and hardware vendors to optimize and enhance their offering. Gamgee offers its services worldwide. www.gamgee.com
Media Contact: Natalia.pavlovicova@gamgee.com