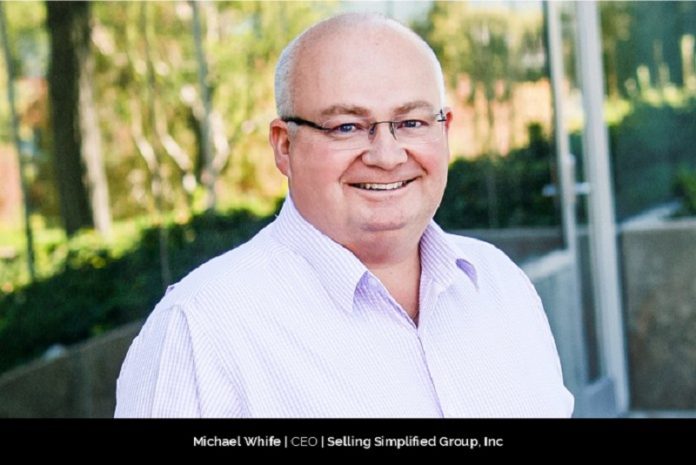 As Seth Godin rightly said, "There's no shortage of remarkable ideas; what's missing is the will to execute them."
Since the evolution of data intelligence and analytics, the world is positioned to be data-driven. Selling Simplified, Inc. (SSG) leverages comprehensive first-party data make more meaningful B2B interactions. SSG strives to connect businesses to decision makers who could benefit from their products or services. Harnessing the power of data is core to what Selling Simplified does best.
Michael Whife, CEO & President of Selling Simplified, shared, "Early on, we realized that we could provide more value for our clients by delivering digitally-engaged sales leads. To do this, we would need data. As our proprietary database of B2B decision makers grew, the lead gen sphere became increasingly data-driven and started leveraging more digital methods."
Selling Simplified has grown consecutively for nearly five years, owing to their advanced digital content hub, Visionayr, and their robust global database backed by intent.
Navigating Barriers
In its early days, Selling Simplified struggled to survive in the existing saturated market. But the company emerged stronger and better, establishing itself as a global leader through operational trial and error. Whife stated, "While Selling Simplified's core mission has always revolved around helping our clients make more fruitful B2B connections, we approached that mission in a few different ways before finally finding a path that set us apart and enabled us to grow. Some of the changes that we've made to our operating model over the years have been tumultuous for the company and were difficult to implement as a leader, but in hindsight I can now say that they were in the company's best interest."
Selling Simplified's Core Services
Selling Simplified extracts customer insights that help its clients better position and promote their products and services to target audience sets. SSG's extensive database of 170M+ B2B records operates on top of an opt-in, subscriber framework. Through Visionayr, clients can promote content to targeted accounts and track engagement, building intent data. Together with their integrated programmatic capabilities, Selling Simplified is positioned competitively in the B2B demand gen scene.
Visionayr: This is the complete marketing solution from Selling Simplified, designed to give B2B marketers a real-time view of organic demand and intent surrounding their products and customers. Backed by SSG's robust global data, Visionayr allows users to host and promote multiple pieces of their content in a centralized branded hub and trace engagement analytics back to key accounts and prospects at a highly competitive cost per lead.
Integrated Programmatic: These programmatic solutions leverage SSG's first-party data to target and retarget customers via display ads around the web. Unlike a third-party data approach, utilizing first-party data ensures 100% targeting accuracy for more relevant impressions and can be leveraged as part of a multichannel lead gen strategy.
Selling Simplfied's Vision, Mission, and Culture
"We aim to continue evolving as a software-oriented demand generation company and are considering multiple strategic acquisitions that would not only enhance our martech portfolio but increase our client portfolio considerably," said Whife. "The end goal is to become the go-to shop for leading technology and software companies around the world looking for innovative and data-driven solutions to marketing and demand generation."
Part of SSG's success comes from embracing the human element of their work. Whife shared, "We are committed to identifying and analyzing human behavior that's useful to both our clients and their prospects." The Visionayr content hub is just one smart solution that captures individual interactions and engagement, building robust lead profiles for clients.
Many SSG clients praise their unique and out-of-the-box approach, and the company's global workforce shares pride in working for such an innovative, technologically advanced organization. Whife added, "Our core values also center around customer service and localization, which we consider to go hand-in-hand. We take a hyper-localized approach to doing business—one of the biggest elements is our model of hiring local to create fully-operational regional offices. We don't believe in servicing clients from overseas, and we make sure to create jobs in the countries where we do business."
Meeting the Changing B2B Demands
From telemarketing to digitally captured intent data, the B2B market has shifted largely to a data-first focus over the past decade. Using this data-centred approach to identify product demand has become extremely essential amidst the recent digital transformation. There is a strong emphasis on content personalization, account-based marketing (ABM), as well as integrated/omnichannel approaches.
"In 2020, we paired the Visionayr solution with data-driven programmatic offerings that push display ads to our client's target audience and add a layer of awareness," said Whife. "By innovating our data-backed offerings, we've been able to remain competitive in all of our existing markets and expand our global footprint. We've especially seen success in Asia, where the quality of our data and the novelty of our products are unmatched."
Consecutive Annual Growth
In recent years, Selling Simplified has experienced exponential growth. They opened 10 new offices in APAC across 14 regions in 2020. They also added 94 new employees along with 200+ new clients. With an evolving product portfolio and advancements in their proprietary technology and global database, SSG is positioned to experience yet another year of growth in 2021. "For five straight years, we've earned a spot on Inc. 5000's list of America's Fastest-Growing Private Companies, which solely considers company financials," shared Whife.
He quoted Malcom Gladwell's Outliers: The Story of Success, "Those three things—autonomy, complexity, and a connection between effort and reward—are, most people will agree, the three qualities that work has to have if it is to be satisfying." Whife oversees SSGs' efforts to adopt an agile approach to meet the fast-changing market needs and expand its growth horizons consistently. "We're focused on developing tools that work symbiotically with our database to improve overall output while continually adding intelligence to our data. In this sense, we can exponentially improve the ways we serve our clients." This allows them to remain competitive in the global market.
Michael Whife Background
Before Whife founded Selling Simplified, he contributed to building the U.S. operation for Target 250, a lead gen company based in London. His exposure to the world of demand gen allowed him to witness gaps in industry and eventually led to starting his own venture fueled by data Intelligence and smart technology.
"I've been fortunate to have had a rich professional life prior to founding Selling Simplified. I've worked with international teams at an executive level for nearly 30 years and have held leadership positions in IT, sales, marketing, and financial capacities, as well as C-Level roles," he said. "Being from England, my career started in London and exposed me to many global markets, including working for two Moscow-based companies."
Before joining Selling Simplified, he gained extensive industry experience in the following roles:
Vice President Sales of NameNetLine/All About Sales, where he launched a lead generation firm and generated $100K+ revenue in four months with a $350K pipeline.
CEO and Executive Director of Target 250, where he created peak profits and raised $5M equity.
Senior Sales Executive and Consultant of MajescoMastek, Evoke Software, where he closed about $1M+ EUR in sales and built a $10M EUR pipeline.
VP Commercial Operations & co-founder of e-Vantage Company Ltd, where he led company growth to $3M EUR and +50 staff members in just one year.
Associate Partner and Principal of Company-I, where he worked on rebranding to expand the company's image and reach more sales targets.
President & VP of Vega Technologies Group, where he led efforts to achieve $3.9M first-year sales and $8M+ second-year sales.
Group IT Director of Renaissance Capital Group, where he created all IT infrastructures and settlement mechanisms.
Director of CWB
Consultant at Swiss Bank
Assisted in IT Support of Credit Suisse Financial Products
Whife's dream of developing a demand generation company finally came to fruition when he started Selling Simplified with Chief Operations Officer and co-founder Jag Sidhu. They are proud of the team's dedication and hard work to set industry standards, and they are poised to continue evolving as a global leader in years to come.  "We're big advocates of promoting from within, and by eliminating professional stagnation, we symbiotically facilitate innovation and exceptional service," said Whife of their investments in talent and employee innovation.
Life as CEO
Whife strongly believes in the words of Warren G. Bennis: "Effective leaders allow great people to do the work they were born to do." As CEO, his main goal is to champion employees to shine in their work and strive hard to make the company even more innovative. And he supports and encourages leadership to continue bringing about change and creating efficiencies for the future.
"Growth and success are the main motivators that run through Selling Simplified's culture," said Whife. "While the collective success of the company has contributed to the overall drive of our team, individual successes are also extremely prevalent. Thanks to an outstanding core leadership team, we've been able to create an environment that nurtures and cultivates our employees as professionals in the industry and allows them to grow within the organization."
Whife also emphasizes the importance of giving something back to the community and calls this his corporate social responsibility. "When we talk about Selling Simplified's hyper-localized approach to doing business, one of the biggest elements is our model of hiring local to create fully-operational regional office," said Whife. "We don't believe in servicing clients from overseas, and we make sure to create jobs in the countries where we do business," he added.
In the Digital Age, Whife believes that quality data plays a crucial role in understanding the market and empathizing with the buyer's evolving needs. "The data is an incredibly personal form of currency that, when mishandled, can have dangerous effects," he said. "We've always taken data security and privacy seriously, and I consider this a major responsibility of mine and my company."
Looking to the Future
"As we continue to gain midsize status, I foresee Selling Simplified becoming a truly viable competitor to top publisher and demand gen companies," Whife hypothesized. "While our presence in the Asia Pacific will continue to grow and further establish us as the APAC market leaders, we have expansion plans for Europe, North America, and Latin America."
The leadership team has positioned the company in a way that allows them to deeply examine and understand changing market needs and diversify their global operations rapidly and in agile fashion. "We plan to sustain our trend of growth and expansion and continue taking a hyper-localized approach to demand generation while adapting our products and offerings for a subscription-based model that allows clients to tap into real-time intent and quality data," said Whife.
Additionally, their growing global footprint adds depth to Selling Simplified's thought leadership and provides a competitive edge in the market.
"With regards to our global model," said Whife, "we're working to develop each location further with local specialists in data, marketing, product, and leadership while maintaining the existing company culture of a diverse, global family." Selling Simplified continues to scale to a level of local understanding. Their expansion in the global market and efforts to build quality local data are just some of their contributions to the world.