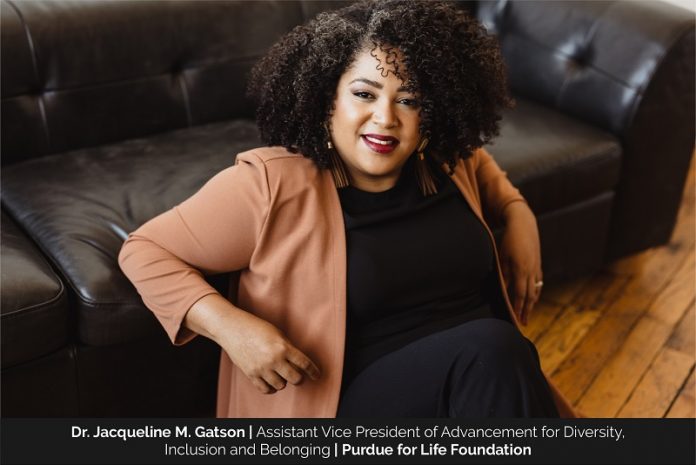 As a passionate advocate for diversity, equity, and inclusion (DEI), Dr. Jacqueline M. Gatson has impacted higher education greatly. She is the Assistant Vice President of Advancement for Diversity, Inclusion and Belonging at the Purdue for Life Foundation, an independent organization that acts for the benefit of Purdue University. With nearly two decades of experience, Gatson's expertise spans university and industry engagement, STEM academic programs, student success programs, strategic partnerships, and diversity and inclusion initiatives.
Before joining the Purdue for Life Foundation, Dr. Gatson held the position of Associate Director for Purdue University's Minority Engineering Program (MEP). While in that role, she was crucial in driving the program's operational success, overseeing student engagement and outreach, industry engagement, program management, and curriculum design and instruction. In response to the COVID-19 pandemic, Gatson is also credited for creating the first virtual academic and programmatic framework for the unit's signature summer programs. This blueprint shaped MEP's ability to serve current, incoming, and prospective students both domestic and abroad, thereby showcasing her adaptability and resilience.
In 2021, Dr. Gatson spearheaded the strategic planning efforts to incorporate the first credit-bearing model in MEP's Engineering Academic Boot Camp, a summer bridge program for incoming freshmen. Moreover, she founded and curated the award-winning "We Support Black Engineers" campaign for Purdue's College of Engineering during the fall 2020 semester.
In her current role at the Purdue for Life Foundation, Gatson is responsible for designing, leading, and directing various advancement initiatives that support the university's diversity, inclusion and belonging priorities. She manages fundraising activities, foundation relations, industry partnerships, and community partnerships to increase representation and access for diverse students, faculty, and staff. In addition, she collaborates with Purdue alumni to enhance alumni relations in effort to connect potential volunteers, mentors, and donors. Her role also supports the strategic goals and initiatives of Purdue's recently formed Equity Task Force.
Dr. Gatson's leadership and creativity have been widely recognized throughout her career. She held various positions at Kansas State University before joining Purdue University. She previously served as Assistant Director for Career and Employment Services where she led career development, industry engagement and partnerships for the College of Engineering and STEM Careers. She also served in additional capacities such as First-Generation Scholars Program Coordinator for the College of Engineering, and Special Coordinator for Strategic Partnerships for the College of Education. She is an alumnus of the James R. Coffman Leadership Institute, a former Oxford Round Table participant and a previous affiliate of the Carnegie Project on the Education Doctorate (CPED).
Gatson is also a professional member of the American Society for Engineering Education (ASEE), the National Association of Colleges and Employers (NACE), the Council for Advancement and Support of Education (CASE), and the National Black MBA Association (NBMBAA). She is also a former national executive board member and Region D Chair of the National Association of Multicultural Engineering Program Advocates, Inc. (NAMEPA). In addition to these organizations, Gatson is also a proud member of Delta Sigma Theta Sorority, Inc.
As a thought leader and advocate for science, technology, engineering and math (STEM) and diversity and inclusion, Dr. Gatson has received multiple accolades, including the 2020 New Employee Award from Purdue University's College of Engineering and the 2021 Distinguished Service Award from Purdue's Black Graduate Student Association. This award honors those who have contributed significantly to diversity in higher education within the State of Indiana.
Gatson holds a B.A. in Mass Communication from Grambling State University and both a M.S. in College Student Development and an Ed.D. in Educational Leadership from Kansas State University. Her exemplary career and unwavering commitment to DEI genuinely make her an inspiring leader to follow in 2023.
Impact, Legacy, and Sustainability: A Perspective on Success
Throughout her career, Gatson's perception of success has evolved. Initially, her idea of success was influenced by the environment, job responsibilities, and performance expectations. However, through personal and professional growth, her definition of success has shifted to focus on impact, legacy, and sustainability. Gatson believes that when one works with purpose, passion, and preparation, the desired metrics and measurable outcomes will naturally follow.
Her approach to leadership now emphasizes the significance of impact, legacy, and sustainability. She begins by contemplating the mark she wants to leave behind, how she can positively transform the culture, and the initiatives or individuals to whom she can provide advocacy, allyship, or sponsorship. She considers these concepts – advocacy, allyship, and sponsorship – vital and distinct, each playing a crucial role in fostering success.
"A Mother's Influence": From Role Model to Catalyst
Dr. Gatson's inspiration to embrace leadership in diversity and inclusion stems from a deep personal connection rather than a specific event. She attributes her commitment to serving underrepresented and underserved communities to her mother. Gatson is the daughter of Mariah J. Cooper, a remarkable woman who dedicated her career to education and public service in Louisiana. Cooper began her career in education during segregation and played a significant role in the integration of schools in Concordia Parish. She later became the first African American woman elected mayor of Waterproof, Louisiana, following her retirement from the Concordia Parish School System.
Raised with a powerful example of excellence, strength, and perseverance, Dr. Gatson was profoundly influenced by her mother's leadership, bravery and empathy. She states, "I am cut from a great cloth. My mother's example has been a beautiful tapestry that I continue to admire. The fabric of my fortitude was woven with steady hands." This formative experience has guided her life and career, thus shaping her character and determination. Cooper's example laid the foundation for Gatson's resilience, ultimately empowering her to fearlessly pursue opportunities to be a catalyst for conscious change.
Roadblocks Redefined
Dr. Gatson has faced numerous roadblocks in her professional journey that taught many invaluable lessons. She draws inspiration from Maya Angelou's words, "You may encounter many defeats, but you must not be defeated, ever. In fact, it may be necessary to encounter the defeats so you can know who you are, what you can rise from, how you can still come out of it." Gatson's challenges included disappointment, underestimation, discrimination, lack of support, and character attacks. There is also the lived experience of being the "only" one or "only one of the few" people of color, women of color, in spaces or leadership roles.
Gatson states, "As a Black woman, when you embody characteristics that are equivalent to male or majority peers in non-diverse spaces, you may be perceived as angry, aggressive, or difficult. Seldom are you considered congenial, equipped or creditable. You constantly combat stereotypes and labels. Some mistake your confidence for non-compliance, your aptitude for attitude, and your excellence for ego. Oftentimes, people are intimidated by your greatness. Be great anyway!"
While roadblocks are part of the journey, how you navigate them is what counts. She shares, "I have learned that adversity is inevitable. It can present itself in the most minuscule or monumental forms. You can't let it distract you from your goals or purpose." She indicates that what truly matters is how one handles these challenging situations. Although roadblocks may seem insurmountable at the time, they can serve as divine detours, guiding individuals toward the direction they need to go.
Connecting Purdue Alumni: The Role of Purdue for Life Foundation
The mission of the Purdue for Life Foundation is to help those who love Purdue stay connected, get involved, and give back. The foundation accomplishes this through various avenues, such as alumni engagement, mentoring and volunteer opportunities. Additionally, it secures financial contributions and scholarship support to further the university's objectives.
The Purdue for Life Foundation also fosters meaningful partnerships, connecting Boilermakers with industry leaders, groundbreaking research, and entrepreneurial endeavors. Doing so strengthens the alumni network and enhances the overall Purdue experience for current students and future generations. All these efforts combined help sustain the university's continued success.
Fostering a Culture of Engagement and Giving
The Purdue for Life Foundation is dedicated to staying ahead in the competitive landscape through consistent innovation and engagement strategies. In addition, the foundation seeks to effectively connect with its alumni, meet and surpass fundraising goals, and enhance its community and partnership presence. This is achieved by fostering a culture of giving that welcomes contributions in various forms, such as time, talent, and treasure.
Established in 2020 through the unification of the Purdue Alumni Association and the University Development Office, the Purdue for Life Foundation drives and coordinates all alumni-related activities for the Purdue family post-graduation. Alumni can engage in numerous ways, through joining the Purdue Alumni Association or connecting with an international or domestic alumni club. They can also engage through special events, alumni travel, and lifelong learning. Through giving, alumni can support the efforts of the Purdue President's Council, Purdue Athletic's John Purdue Club, the Lacey Mason Giving Circle or the Women's Network Scholarship Endowment to name a few. Alumni also have the option to engage with a variety of affinity networks such as the Purdue Black Alumni Organization, the Latino Alumni Network, the LGBTQ+ Alumni Network, the Asian Alumni Network or the Alumni Entrepreneurship Network.
The foundation's mission is to inspire well-being in the lives and global communities of all Purdue alumni, students, and friends while advancing Purdue University through deepening the sense of value experienced in continued association with the university.
Gatson's Impact on Redefining the University Advancement Space
Dr. Gatson serves as the inaugural Assistant Vice President of Advancement for Diversity, Inclusion and Belonging. By incorporating diversity, inclusion, and belonging (DIB) into the organizational structure of the Purdue for Life Foundation, Gatson's role and division plays a pivotal part in redefining the university advancement space. She has been instrumental in emphasizing the importance of DIB to university and foundation's leadership, alumni, and the broader Boilermaker community.
Since 2021, Dr. Gatson and her team have developed new and signature events and programming to foster a sense of inclusion and belonging, as well as celebrate, educate, and raise awareness about the diverse spectrum of culture and identity. For example, the foundation has curated official events to celebrate diverse alumni and initiatives during Homecoming and Purdue's Annual Weekend in Naples, a staple event for university alumni and donors. Gatson also introduced a university-wide multicultural and international student graduation celebration, which includes undergraduate, graduate, and professional graduates.
The foundation has also launched a Diversity, Inclusion, and Belonging Advancement Summit, which brings together the advancement team along with university, industry, and alumni partners to engage in dialogue about community building, best practices, collaboration opportunities, philanthropic education, and more.
In addition to these efforts, Gatson plays a critical role in fundraising activities for new and existing DIB initiatives, scholarships, and capital projects. Since her arrival, the foundation has implemented a three-year strategy for Diversity, Inclusion and Belonging. She states, "The first year was focused on investing in personnel. In the second year, we focused on pipeline development. We implemented new DIB fundraising metrics and accountability practices to increase philanthropic giving. As we approach year three, we will focus on production and sustainable goals that will allow the organization to stretch and maintain a realistic approach. We have set an internal working goal of $20M-$25M annually, doubling production from previous years. These incremental steps will lead to future growth and sustainability."
Transparency and Accountability: Building a Culture of Integrity
Dr. Gatson believes that fostering a culture of integrity within her team begins with her leadership and daily interactions. She sets a strong example for her team to follow by exemplifying integrity in both visible and behind-the-scenes actions. This approach involves practicing transparency and supporting her team members' professional and, at times, personal growth.
Gatson also emphasizes the importance of holding herself accountable for successes and failures alike, demonstrating a willingness to take responsibility for leading and protecting her team through both triumphant and challenging circumstances. As her team observes this sense of honor and responsibility in her actions, they are inspired to emulate those values in their behavior.
Kickstarting Her Career: The Role of Education
Gatson is a native of Louisiana and a product of Tensas and Concordia parish as well as the Lake St. John community. She is a graduate of Ferriday High School, Grambling State University and Kansas State University. She firmly believes in honoring her home and educational foundation, as they have significantly shaped her into the person she is today. Gatson developed resilience and drove to excel in her career through the support and challenges she encountered on her educational journey.
Before joining the Purdue for Life Foundation, Dr. Gatson's career in higher education can be traced back to her time as a student leader at Grambling State University. Actively involved in student government, her sorority, and various clubs and associations, she later assumed diverse academic roles after completing her graduate education at Kansas State University. Her extensive experience spans career services, STEM university and industry partnerships, strategic partnerships, curriculum development and instruction, research, engineering student services, diversity programs and initiatives, and university advancement.
Furthermore, she has been honored to serve on national boards for professional organizations, such as the National Association of Multicultural Engineering Program Advocates. In addition to her illustrious career in higher education, Gatson is also a successful entrepreneur. She is the owner and principal consultant of Cooper Gatson & Associates, LLC and is the founder and co-owner of 81 Pines, a signature vacation rental home located in Grambling, LA.
Celebrating Achievements: The Story of "We Support Black Engineers"
Among the various recognitions Gatson has received in her career, one stands out as particularly significant. In 2020, she spearheaded the creation and direction of the campaign entitled "We Support Black Engineers" for the College of Engineering at Purdue University. This initiative emerged as a response to the racial unrest and global outcry following the tragic deaths of George Floyd, Breonna Taylor, Ahmaud Arbery, and countless others amid a worldwide pandemic.
Dr. Gatson's determination and courage led her to use her voice and platform for good during these challenging times. She describes the project as a humbling experience, because participants entrusted her with their voices and vulnerability. The "We Support Black Engineers" campaign resulted in a video series and microsite featuring candid stories from black engineering students, faculty, staff, alumni, and their supporters. It exemplified the power of community and the ability to achieve great things when united for a common cause.
The series is comprised of 100 video profiles and statements from students, faculty, staff, and alumni. These stories take the viewer on a journey of both triumph and tribulations. They showcase allyship, support, and affirm commitments to use platforms for progress. This effort garnered several accolades, including a Silver Addy and Mosaic Award from the American Advertising Federation – North Central Indiana Chapter in 2021. Additionally, Dr. Gatson was named the 2020 New Employee of the Year by the College of Engineering, further highlighting her exceptional leadership and commitment to making a difference.
The Challenges of D&I Leadership
Leading diversity, inclusion, and belonging efforts can be described as a calling. Gatson often characterizes it as a combination of head, heart, and hard work.
She states, "It is head work because you have to be strategic. Your actions have to be purposeful and intentional. You must have a willingness to learn and grow. It is heart work because at the core you have to care. You have to believe that the work of diversity, equity, inclusion and belonging matters and that your role, regardless of the position, is significant to progress. It is hard work because the journey is not easy. It is not popular nor easily understood. Sometimes it is very isolating and can be a lonely walk.  Despite these challenges, it is always necessary. You have to be willing to use your hands, roll up your sleeves, till the soil and plant the seeds. I may never see the full harvest of my efforts or the efforts of my team, but I take pride in knowing that I had a hand in ensuring the ground in which we will continue to work, was properly prepared to offer sustenance and sustainability."
The Business of Relationships
As Assistant Vice President of Advancement for Diversity, Inclusion, and Belonging at the Purdue for Life Foundation, Dr. Gatson works to ensure that practices and programs are inclusive, engaging, innovative, and equitable across alumni engagement, university development, and industry partnerships. As a university ambassador, she advances the institution's mission and vision through authentic engagement and strategic collaborations.
Gatson is deeply involved in building relationships and trust. When reflecting on this mission, she says, "This work is rewarding but at times restorative in nature. My job is to listen, learn, leverage and hopefully leave things better than I found it."
All in a Day's Work
Dr. Gatson's role at Purdue for Life Foundation offers her an exciting and dynamic work environment. Her tasks range from developing new fundraising strategies and organizing events to creating marketing assets and training curriculum for the advancement team. Her work also involves interacting with alumni and industry partners in West Lafayette, Indiana or across the country. In addition, she engages with campus and community partners, supports university and alumni programs, and mentors students and young professionals.
The diversity of experiences and the people she encounters in her role makes her work enjoyable and fulfilling, reflecting her commitment and passion for promoting diversity, inclusion, and belonging within the Purdue community and beyond.
Turning Visions into Tangible Results
When asked to describe herself in a single word, Gatson confidently chose "visionary". For her, this term encapsulates her innate ability to transform the invisible, the impossible, and the inconceivable into reality. She states, "If you give a traveler a map, they can follow it, but someone had to foresee the destination. If you give a carpenter a blueprint, they can build it, but someone had to first envision a home. If you give an artist a canvas, they can paint it, but the masterpiece is formed within the mind."
This characteristic aptly defines Dr. Gatson. Her unwavering commitment to building a more inclusive and diverse environment at the Purdue for Life Foundation and Purdue University demonstrates her visionary nature as she continues to deliver tangible results.
Achieving Work-Life Balance
Achieving a healthy balance between personal and professional life is crucial for Gatson. She attributes her success in maintaining this balance to her family support system and a flexible work environment. She states, "As a mother of three young children, balance is a requirement. I am very blessed to have a supportive husband and mother that give me the space and support to soar professionally and ground me personally. Having their support, along with the support of our village, makes a huge difference."
Gatson also emphasizes the importance of her faith, self-care, and reflection in achieving balance. She carves out time for activities she enjoys, such as cooking, traveling, live music, and photography, as well as attending sporting events and exploring nature. Valuing time spent with family and friends, she enjoys creating memorable experiences. During the pandemic, Gatson discovered a new passion for plants, which she now enjoys incorporating into her personal life. These moments and activities allow her to recharge and maintain alignment.
Leading by Example and Fostering Accountability
Dr. Gatson's leadership style is transformational. She strives to push her team and those around her to think big. Gatson is a connector and problem solver. She excels in process improvement and innovation. She infuses her roots in southern hospitality to ensure her team feels valued and appreciated. She is dedicated to celebrating their accomplishments, helping them overcome challenges, and amplifying their growth. On special occasions, these celebrations feature southern cuisine, with Gatson herself cooking meals to honor and serve her team.
Through intentional relationship building and getting to know her team members as individuals, Gatson creates an environment where they can thrive. She is genuinely committed to their growth and professional development, and actively advocates and invests in their progression. As a leader, she prioritizes protecting her team's morale, self-efficacy, and navigating challenges.
Gatson also believes in servant leadership. Her team knows that she would never ask them to do anything she isn't willing to do herself. This approach fosters motivation, accountability, and a willingness to go the extra mile for one another. She is driven by making a difference and promoting progress. Gatson summed up her leadership style with this quote from Dr. Dorothy I. Height, "Progress comes from caring more about what needs to be done than about who gets the credit."
Diversity, Inclusion, and Belonging: Key Priorities
The future of Diversity, Inclusion, and Belonging at the Purdue for Life Foundation brims with excitement and momentum. At the forefront, Gatson identifies that supporting Purdue's vision to become a national model for inclusive excellence is a top priority. Innovative and culturally informed methods are being designed to engage and activate momentum with diverse alumni, donors, and all that support university-wide diversity initiatives. Gatson and her team are cultivating relationships with industry partners to poise the university as a premier destination for diverse talent, research and enterprise. Gatson states, "Amplifying inclusive advancement is the goal."
To sustain internal impact, the Division is committed to developing and supporting the advancement team and campus partners while exploring opportunities to enhance staff recruitment and retention efforts. In addition, the Division is working to expand participation in affinity networks and exploring the creation of new networks that represent growing populations with strong affinity to the university. Gatson also emphasizes the importance of campus engagement in contributing to the experiences and success of current students, as they are the future alumni who will sustain the institution's legacy and impact.
Paving the Way for Others to Follow
Dr. Gatson's personal goal revolves around being a catalyst for conscious change. She aims to utilize her influential position to promote awareness, advocacy, and action, building tables where none exists. As the inaugural Assistant Vice President of Advancement for Diversity, Inclusion, and Belonging, she is determined to pave the way for others to follow in her footsteps and make even more significant contributions.
Gatson acknowledges the immense responsibility of being the "first" in any capacity and does not take it lightly. She hopes that her efforts and influence will inspire those within her organization and serve as a powerful example for others to follow.
Standing Up Against Injustice and Creating Lasting Impact
Dr. Gatson's message to aspiring leaders emphasizes the importance of courage, confidence, and compassion in pursuing their callings. She encourages them to lead purposefully, striving to uplift others. Aspiring leaders should assemble a personal advisory council to serve as a sounding board and safe space that they consult with frequently.
In the face of adversity, Gatson advises leaning into the lessons learned, echoing Winston Churchill's words: "Success is not final, failure is not fatal; it is the courage to continue that counts." She urges future leaders to seek new opportunities or create their own when situations no longer align with their goals. She states, "Promise yourself that when the table is no longer serving what fulfills you, find another table or build one yourself and invite others to have a seat."
She also underscores the significance of doing the right thing at all times and designing a legacy of leadership that reflects their vision, morals, and values without compromising their integrity. Drawing inspiration from the late Congressman John Lewis, Dr. Gatson encourages aspiring leaders to stand up against injustice, make their voices heard, and engage in "good trouble" and "necessary trouble." In doing so, they can create a lasting impact through their work.
Conclusion
Dr. Gatson's journey showcases a remarkable blend of vision, determination, and commitment to positive change. As a trailblazer and an inspiring leader, she has forged a path that benefits her organization and serves as an example for future generations. Her insights and advice provide valuable guidance for aspiring leaders who seek to create meaningful impact in their professional endeavors while maintaining balance in their personal lives. Gatson's story is a testament to the power of perseverance, passion, and purpose in shaping successful careers and leaving lasting legacies.